THE ADVENTURES OF JENNY AND PHILIP: The Naughtiest Girl in the World is the first book in a new series and a modern fable about appreciating what we have and helping those who are less fortunate.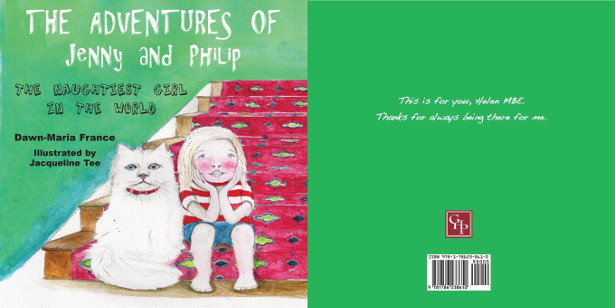 By Dawn-Maria France 
'The adventures of Jenny and Philip the naughtiest girl in the world' children's picture-book.
Dawn-Maria's children's book 'The adventures of Jenny and Philip the naughtiest girl in the world' which is set in Yorkshire and challenge stereotypes in children's books by featuring a strong female character, Jenny, a strong-willed and adventurous little girl and her cat Philip. Through the character's adventures the book touches upon a number of issues affecting children around the world.
Jenny, a young girl from Yorkshire who has aspirations to be the naughtiest girl in the world, doesn't appreciate her long suffering aunt and uncle with whom she lives, and the safe, loving environment which they provide for her. Her best friend, a talking cat named Philip, takes Jenny on adventures in her imagination. Can Philip show Jenny how lucky she is we'll see?
A timely story which ties in to many difficult events happening in the world right now, this is also fun, engaging and joyful, and accompanied by beautiful illustrations. It is aimed at ages 4-7.
This book combines fun, imagination and learning for 4-7 year olds. It's the perfect book for adults to read to pre-school children, and for young people to read for themselves. Interwoven with humour and learning, this book aims to guide younger children through basic issues of ethics and morality, understanding their place in the world.
Leeds author and award-winning journalists Dawn-Maria France said. "I have written a children's book set in Yorkshire, because as a northern woman, a sense of place and home is important to me, and I'd like children to recognise that books can be set in different places and different counties.
I wanted to include engaging characters and a storyline that instils a sense of joy. I also wanted to create the main character as a strong little girl, with faults like everyone, but with an ability to listen and learn."
Available to buy from Amazon
www.amazon.co.uk/Adventures-Jenny-Philip-Naughtiest-World
Available to buy from all stockists