Made by Hand!
Kids Learn 6 Time-Tested Fiber Crafts by Nicole Blum & Catherine Newman…..

TWITTER | FACEBOOK | INSTAGRAM | YOUTUBE
Stitch Camp 208 pages;
Full-colour;
photographs and illustrations throughout £14.99 paper w/ flaps and 2 sheets of punch-out gift tags
ISBN: 978-1-61212-750-7 Available October 2017
Today's thriving maker culture is rubbing off on kids, who are hungry for hands-on guidance in creating stylish wearables and practical objects, or hacking and customizing existing ones. Stitch Camp gets them started with complete instructions for mastering six all-time favourite fibre crafts: sewing, knitting, embroidery, crochet, weaving, and felting.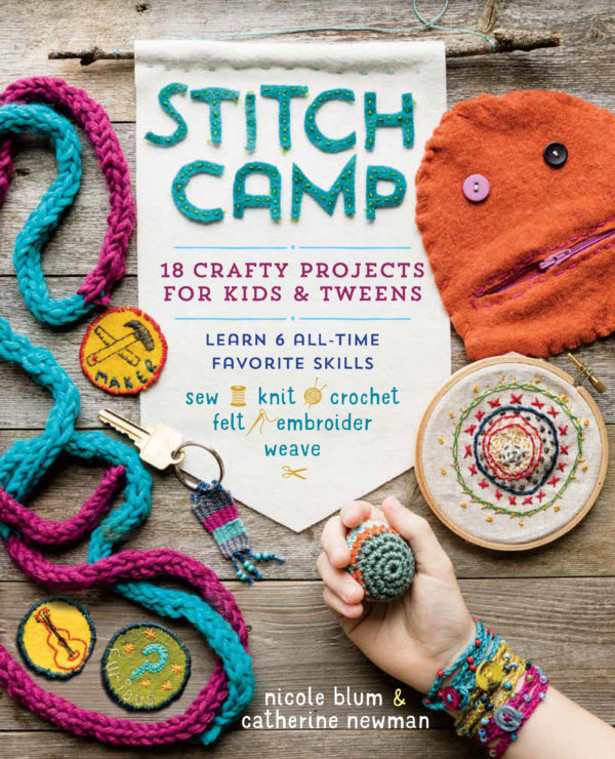 Step-by-step photos teach kids ages 9 to 14 the basics of each craft, and 18 irresistible, kid-created projects inspire young makers to practice their new talents. From a woven patch and knitted backpack to an embroidered merit badge and a crocheted bracelet, the projects invite creative interpretation and variation and build confidence along with valuable life skills. Authors Nicole Blum and Catherine Newman explain, "These are productive activities instead of consumer ones, which means that you're making things rather than buying them and using them up, and there's pretty much no better feeling in the world than that." All 18 projects are kid-tested for wearing, using, and giving as gifts, and pop-out gift tags are the perfect finishing touch to youngsters' handmade creations.
ABOUT THE AUTHORS
Nicole Blum and Catherine Newman are longtime friends and co-creators who have been crafting for many years with each other, their families, and groups of kids at home camps and studio workshops. Blum is the coauthor of Improv Sewing. Newman edits ChopChop, a nonprofit family cooking magazine, and is the author of One Mixed-Up Night, Catastrophic Happiness, and Waiting for Birdy. Blum and Newman live in western Massachusetts.
AT A GLANCE
• Teaches the basics of sewing, knitting,
crochet, embroidery, felting, and weaving
• Step-by-step photos of every technique and project
• 18 kid-tested projects to wear, use, or give as gifts
• Includes pop-out gift tags • For ages 9-14