MAGNUM TUBS: REVEL IN THE RITUAL
Magnum's answer to the perfect me-time treat in three delicious flavours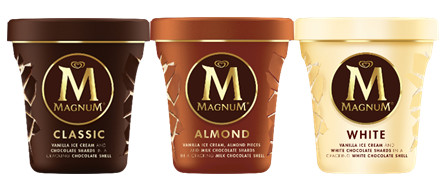 FACEBOOK | TWITTER | INSTAGRAM | YOUTUBE
Magnum, the ice cream brand synonymous with indulgent pleasure, has launched Magnum Tubs; an invitation to indulge in some me time with a completely unique, and delicious chocolate & ice cream experience.
Magnum tubs are designed with special care and attention for an indulgent chocolate experience in every spoonful. Squeeze the pack and listen to the satisfying crack of the thick Magnum classic chocolate shell created to be carefully broken. Then, as you open the tub, crack through the thick chocolate disc, to delve into velvety smooth vanilla ice cream with generous shards of Magnum chocolate throughout.
Each tub is designed for those solo moments of pure indulgence- the moment you have been looking forward to all day, where you leave everything else behind and focus completely on pleasure.
On shelf now, the brand new range is available in the three most popular Magnum flavours: Classic, Almond and White. The sophisticated real life photography on pack brings the product to life and encourages ice cream lovers to crack the shell and celebrate life's precious pauses.
CLASSIC
The timeless Classic Magnum Tub has velvety vanilla ice cream and thick chocolate shards, surrounded by a cracking Magnum Classic chocolate shell. The tub is topped with a thick chocolate disc.
RRP: £3.85 440ml
ALMOND
Velvety smooth vanilla ice cream and thick milk chocolate shards and almond pieces, all encased in a cracking milk chocolate shell. This tub is also topped with a thick chocolate disc with almond pieces for the ultimate nut-lovers experience.
RRP: £3.85 440mL
WHITE
Featuring generous shards of Magnum white chocolate encased with layers of velvety smooth vanilla ice cream and topped with a thick white chocolate disc.
RRP: £3.85 440mL
The Magnum Tubs range can be found in all major retailers, nationwide.