TRADING DOWN
Stephen Norman
Published by Endeavour Press
9th November 2017
Paperback £8.99 | eBook £2.99
www.endeavourpress.com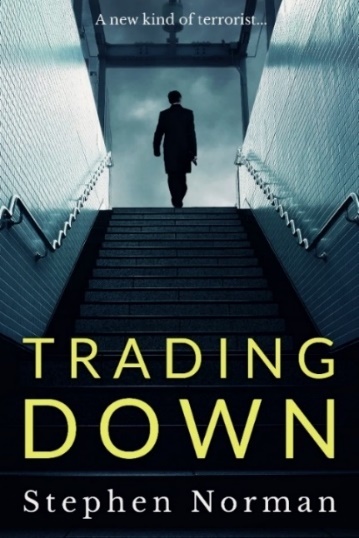 'If this program is run, it will destroy this bank as surely as a neutron bomb.'
A chilling financial thriller that brings home the true threat of cyber terrorism, perfect for fans of Stephen Frey and Robert Harris' The Fear Index
A terrifying look at what would happen to the world if the banking infrastructure was entirely destroyed, written by longest-standing ex-CIO of RBS Global Markets
Inspired by 20 years' experience, Norman reveals the real world behind the trading floors: the greed, the politics, and the relentless pressure to perform
London – Chris Peters loves his work: the excitement of the trading floor, the impossible deadlines and the constant challenge of the superfast computers in his care. But the dream turns sour as mysterious meltdowns begin to hit datacentres across the grid and a true banking collapse threatens. Desperately trying to hold his marriage together as systems crash and traders turn on him, Chris must uncover the sinister truth before chaos is unleashed…
Yemen – When Zahra's father fails to return from a work trip to Dubai, she is sure there is a simple explanation… until gruesome warnings arrive on the doorstep. As the threats become more violent Zahra's family are thrown into a desperate race to pay off their father's captors. But how far will her family go to meet the abductors' demands?
"The world has experienced cyber-warfare since the 1980s and built up elaborate defences against external attacks. The elephant in the room is treason – an attack from within. Every week we see the devastating effect of accidental IT errors on airlines and banks and phone companies. A determined insider could create mayhem on a different scale entirely. Without its hundreds of systems, a major bank would sink as swiftly as the Titanic, leaving its customers without cash, wages, cards, loans and repayments – and threatening the entire financial system.
"It is difficult to convey the terror and mind numbing panic that accompanies the simple words 'The trading floor is down.' During my 20 years in the financial markets, I experienced that fear many times. When you read Trading Down, I hope you will share it, and also glimpse the brutal, high pressure world behind the slick images of traders and trading floors that you see on the news." – Stephen Norman
Stephen Norman spent 20 years at the forefront of investment banking IT, facing industry turbulence, from the rise and fall of the dotcoms, the destruction of 911 and the banking collapse of 2008. He has worked in financial centres across the world – from London and New York, to Hong Kong and Tokyo – and has fulfilled a range of high powered roles including Chief Technology Officer at Merrill Lynch and an unusually long 7 year stint as CIO of RBS Global Markets. In 2012, he left the world of finance to focus on his writing. Trading Down is Stephen's first novel.