The Muscle Relax Massage Balm|Reflexology Balm is ideal for body massage, Reflexology, Myo-fascial Release and Indian head massage. The massage balm melts in contact with the skin.
AMAZON VOUCHER >>> www.amazon.co.uk/dp/B08F3PJ6HC
15% voucher applied.
Your voucher will be applied at checkout.
Voucher valid until Monday, 07 September 2020 or while stocks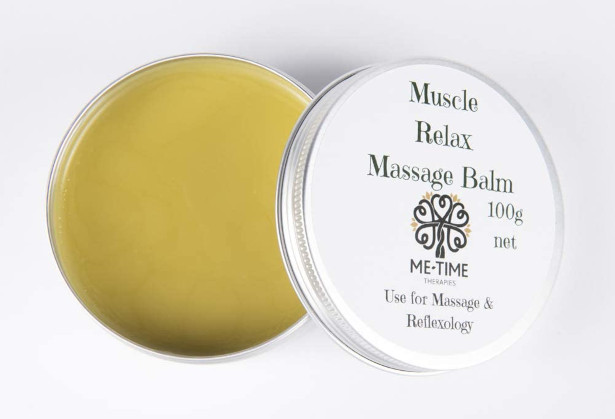 The Muscle Relax Massage Balm contains Lavender, Marjoram, Juniper Berry and Black Pepper Aromatherapy Essential oils. This blend helps to ease muscle pain and tired muscles. The massage balm is also suitable to use post-exercise i.e. rugby, cycling, running & hiking.
The Muscle Relax Massage Balms are hand-poured and the Aromatherapy Essential oils are added individually to each tin to ensure equal distribution of Aromatherapy oils. The Massage Balm provides a strong grip and has a low glide thus allowing massage strokes to flow easily.
They contain No Wheatgerm oil. Wheatgerm oil is not a safe product for celiacs and gluten intolerant individuals.
Ideal massage medium – No mess or spills.
Avoid using in pregnancy.
Cost £8.50
Link to website – www.me-time-therapy.co.uk/product/muscle-relax-massage-balmreflexology-balm/
Link to Amazon – www.amazon.co.uk/dp/B08F3PJ6HC