1918 – 2018 CENTENARY EVENT
WW1 ARMISTICE RUGBY COMMEMORATION
COMPIEGNE, FRANCE
NOVEMBER 8th to 11th 2018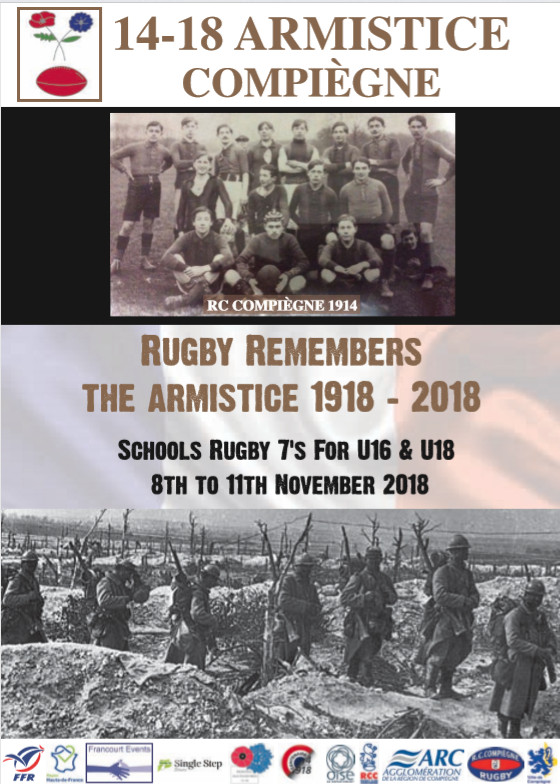 This event marks the signing of the First World War Armistice combining Education, Remembrance and Sport, providing a unique experience of taking part in a Centenary Event.
LOCATION
The City of Compiegne in the Oise Department, France.
HOSTS
The Mayor of Compiegne and Rugby Club Compiegne.
Co-Founded by John Dennison from the World Rugby Memorial Project & Francourt Events and Pascal Mitchell, Director of Rugby at RC Compiegne.
The project is supported by Rugby Club Compiegne, Francourt Events, City of Compiegne, Federation Francais Rugby, Oise Department, Oise Tourist Office, Conseil Department l'Oise, 14-18 Centenaire Mission and Single Step Tours who are all represented on the Steering Committee
PARTICIPATION
A combination of Adult and Youth represented by the Armed Forces and Schools.
The Military will include Male and Female Teams, and Schools age grade teams.
KEY ELEMENTS
1) Education
Friday November 9th is reserved for Schools who will visit local sites in Compiegne and the Somme.
Saturday November 10th the same format for the Military.
Each day will be fully guided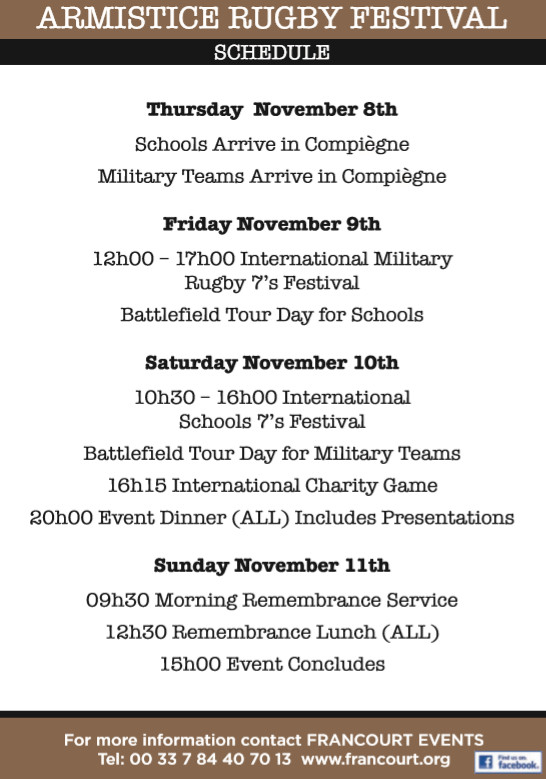 2) Remembrance
A special Multi Faith Remembrance Service will be held on the morning of Sunday November 11th and dedicated to the Game of Rugby and to the memory of all who served in WW1 from around the world. Led by French and UK Military Chaplains
3) Sport
It has been decided to make the Rugby Festival "7's Based" in order to increase the potential number of participants.
Friday November 9th is reserved for the Military Teams. Featuring Male Female Teams including the French & UK Army, Navy and Air Force. In addition, the French Pacific Army and Gendarmerie Nationale. Teams from Australia, New Zealand, South Africa, Canada. Italy, Germany and Belgium have also been invited.
Saturday November 10th is reserved for Schools and there will be a maximum of 10 Teams in each of 2 categories, U16 & U18.
Squads are limited to 12 players, 3 trainers/managers and there are 5 places for Senior Officers and other team members such as physio's, or students, teachers. See additional notes below.
The Rugby will conclude with a Charity Game on November 10th. At this stage we anticipate between Stade Francais Veterans v Crawshay's.
ACCOMMODATION
There is going to be a huge demand on accommodation in and around Compiegne and we are working with the Regional Tourist Office to secure spaces for all. This will be on a bed & breakfast basis.
PERSONAL CONTRIBUTION & TRAVEL
There will be a requirement to make a contribution to the event per person. Packages are available from our appointed Tour Operator, Single Step in the UK.
Groups will be required to make their own travel arrangements to/from France. A detailed schedule with timings will be made available and those arriving by coach must ensure that there are enough "driver hours" to meet the timings. Failure to do so may affect your participation in certain elements of the event.
Those arriving via Paris on flights to CDG, or Eurostar, we will provide a costing from a local coach company covering all transfers and event scheduling for your approval. Compiegne is approximately 45 minutes from these locations.
INCLUDED FOR PARTICIPANTS
ALL Accommodation in twin rooms on a bed and breakfast basis
Friday Military Teams, food boxes including water, fruit, energy bars, yogurts
Military Vouchers for use at Food Market at RC Compiegne
Friday School's Packed Lunch
School's Guide and Meet & Greet Member for Education Tour
& Entrance Fees where required
Saturday Military & School's arrangements reversed
Saturday ALL Event Dinner & Presentations
Sunday ALL Event Lunch
ALL will receive 1 of each
Event Polo Shirt
Event Book
Event Programme
Event Memorial Lapel Pin Badge
Men's Event Tie or Ladies Silk Scarf
MEET & GREET TEAM
The Volunteer Team will be an important component at the Event and will allocated to specific tasks at the Rugby Festival but also looking after individual teams and groups. They are there to assist all visitors and will also be a conduit to the Event Management Team
RUGBY FESTIVAL FORMAT
Military & Youth
Although the pitches are floodlit, we have to consider the weather and temperature possibilities in November.
Therefore the following format has been agreed.
The maximum number of entries per category is 10.
Military Men
Military Women
School U16
School U18
Each Team will play 4 games in a pool format, and everyone is guaranteed a final. You will play a maximum of 5 games in the Festival.
2 Pools of 5 Teams per category
Each team will play the others in their pool for ranking points in a league format.
The Pool Winners will meet in the Final.
The 2nd ranked teams will play each other through the 5th placed. Therefore each team will play in a final.
EVENT SCHEDULE
Thursday November 8th
12h00 to 20h00
Meet and greet team at RC Compiegne for those travelling direct
Meet and greet teams at Paris CDG and Paris Eurostar
Book into accommodation on a Bed & Breakfast basis
Time at Leisure
Early arrivals can book a training session at RC Compiegne. The Club will be open from 12h00 to 18h00
19h00 Option to attend WW1 Centenary Concert at St Paul des Sablons, Avenue de Huv, Compiegne
Welsh Male Voice Choir & Compiegne School of Music and Chorale
Friday November 9th
Military
RC Compiegne
09h00 Team arrivals and registration
10h00 Men's and Women's Military 7's Rugby Festival begins
16h30 Rugby Festival Ends
Men's Festival "Hugh Diaz" Trophy
Women's "Hugh Diaz" Shield
School's
Education Day
09h30 Depart Accommodation
10h30 Arrive Somme
Site visit menu
Villers-Bretonneux, Thiepval, Lochnagar Crater, Beaumont Hamel, Mametz Wood, Albert WW1 Museum, Peronne WW1 Museum
If there are other sites of interest to your group please let us know so that it can be included. Please note it will be dark by 17h00 local time.
All Educational Tours will be fully guided and a member of the Meet & Greet Team will also accompany you. Includes packed lunch.
Return to accommodation Compiegne by 18h30
19h00 International Rugby Conference at RC Compiegne
Special Guests include
Michel Merckel leading French Historian and advisor to the FFR
Dennis Gethin President Wales Rugby Union
Saturday November 10th
Military
Educational Tours. Please see School notes above
School's
10h00 Rugby 7's for U16 & U18 begins
16h00 Conclusion of Rugby
U16 Earl Haig Cup
U18 Marshal Foch Cup
The draw for both Rugby Festivals will take place on Saturday September 22nd and will be made available on Facebook live "World Rugby Memorial" Confirmation will be e mailed to all Team Leaders.
A printed programme will be made available to all at the Event.
Charity Game
16h30 International Charity Rugby Match
Stade Francais Veterans v Crawshay's
18h30 Conclusion of Rugby
20h00 Event Dinner & Presentations
23h30 Venue Closes
Sunday November 11th
09h30 Remembrance Service starts
11h00 2 minute silence
11h02 Tribute to the Rugby Players of WW1
11h15 Conclusion
12h00 Event Lunch and Closing Speeches
14h30 Event End & Farewells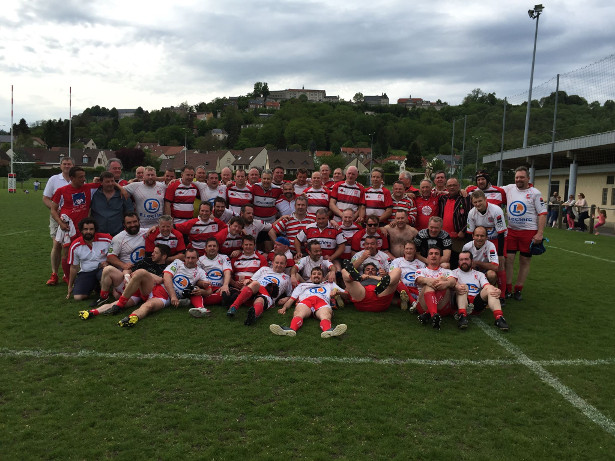 CHAMPAGNE VETERANS RUGBY WEEKEND
LAON, AISNE, FRANCE
Friday May 25 (option)
Arrival in Laon
Check into accommodation
19h30 Evening meal at RC Laon & Champagne Reception
Saturday May 26
10h00 Visit World Rugby Memorial, Craonnelle, Chemin des Dames
11h00 Visit Medieval Town of Laon
12h30 Arrival at RC Laon
13h30 Start of Vets Rugby
18h30 End of Vets Rugby
Evening Rugby Party & Presentations at RC Laon
Sunday May 27
11h30 "Hair of the Dog Lunch" at RC Laon
13h30 Depart to Epernay to visit Champagne House
16h00 End of visit
Return to Laon
Evening Soiree at Les Bruscades, Laon
Monday May 27
Depart Laon
Although a Bank Holiday in the UK it is a normal working day in France.
Saturday May 26
11hoo Arrival in Laon
Check into accommodation
As above
Sunday May 27
As above
Monday May 28
As above
Option A
Friday, Saturday, Sunday, Monday £250.00 p/p
Option B
Saturday, Sunday, Monday £190.00 p/p
Both options include accommodation based on twin rooms and breakfast
Meals as listed at RC Laon
Visit to Champagne House in Epernay
Not Included
Travel to/from France
Rugby Games are 20 minutes each way with unlimited substitutions. FFR to appoint referees.