ARE YOU ACTIVELY COVERED?
For a Chance to Win £100 Sports Direct Vouchers, answer 6 simple Yes/No Questions!
Go to www.surveymonkey.co.uk/r/3F3TG9M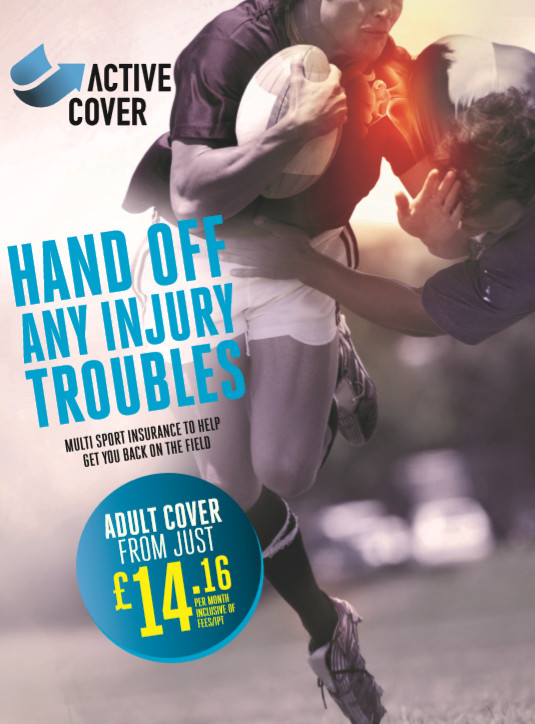 (Survey Closes Jan 31st 2018)
Active Cover Personal Accident Sports Insurance has been designed to help amateur sports enthusiasts overcome injuries by providing financial support to aid in many elements of their recovery rather than simply handing over a total lump sum for the injury.
Policies for adults start from £14.16 a month and Active Cover's aim is to get people back playing sport as soon as possible. Customers are covered for most sports and over 60 disciplines are listed on their policy document. Under their diagnosis, treatment and rehabilitation sections, Active Cover will reimburse customers for up to 75% of the costs incurred up to the maximum limits of the policy, dependant on which package is chosen.
Users can access private treatment, such as physiotherapy anywhere in the UK without total reliance on the NHS, speeding up the recovery process. If an injury is serious enough that it prevents someone from going to their gym, Active Cover will reimburse the membership fees. Team sports like football and rugby are covered, as well as any organised sporting activities for both adults and children.
INJURIES COVERED CAUSED BY AN ACCIDENT WHILST PLAYING A COVERED SPORT
• Your Accidental Death, Permanent Total Disablement, Permanent Partial Disablement, Quadriplegia, Paraplegia, or Hemiplegia
• Broken bones that require Hospital treatment
• Fractures due to trauma (excluding hairline fractures and shin splints) that require Hospital treatment
• Muscle tears (Grade III only)
• Tendon tears and ruptures (Grades II and III only)
• Ligament tears and ruptures (Grades II and III only)
• Joint injuries (dislocations, slipped discs, herniated discs, meniscal tears, torn knee cartilage), excluding myofascial injuries such as plantar fasciitis, runners knee, repetitive strain injury, etc.
• Traumatic nerve injuries (excluding non-traumatic nerve injuries such as carpal tunnel syndrome and sciatica)
• Dental injury which becomes apparent within 5 days of the Accident. All Bodily Injuries must be confirmed by a Doctor prior to a claim being assessed
Read more at activecover.co.uk/injuries-covered/#PlelZhlHzioKD4m2.99