ALKAMIND LAUNCHES THE FIRST TRIPLE PURIFIED FISH OIL SUPPLEMENT WITH A 2:1 RATIO OF EPA TO DPA
ALKAMIND INTRODUCES DAILY OMEGA-3 TO ITS PRODUCT LINE, THE ONLY ORGANICALLY TRIPLE PURIFIED FISH OIL SUPPLEMENT FREE OF ENVIRONMENTAL CONTAINMENTS AND HEAVY METALS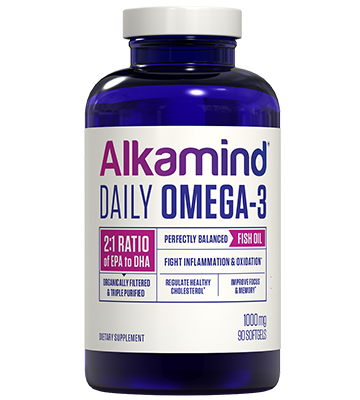 FACEBOOK | INSTAGRAM | PINTEREST | TWITTER
NEW YORK, NEW YORK – January 03, 2018 –Alkamind, a line of wellness products and detox programs designed to fuel the body with nutrients and fight acidity, launches the first organically filtered, triple purified fish oil supplement with a 2:1 ratio of eicosapentaenoic acid (EPA) to docosahexaenoic acid (DHA), the Alkamind Daily Omega-3. Unlike other fish oils on the market that don't contain adequate levels of EPA and DHA to have the desired anti-inflammatory effects, the Alkamind Daily Omega-3 contains the ideal 2:1 ratio of EPA to DHA in a highly concentrated form, making it one of the most superior fish oil available.
"Omega-3 is an essential fatty acid that works to improve health, promote brain function, and prevent many illnesses, some of which can be life-threatening," says Dr. Daryl Gioffre, author of Get Off Your Acid and founder of Alkamind. "Most people don't consume enough Omega-3 rich foods and the body can't produce the fatty acid, which causes a significant deficiency in many individuals."
Research has shown that the Standard American Diet (SAD) is dangerously deficient in Omega-3 fatty acids, and links to severe illnesses such as ADHD, allergies, cancer, depression, diabetes, high blood pressure, back pain, neck pain, fatigue and headaches.
"Toxins and acid in the body lead to inflammation, which is a cause of many illnesses," says Dr. Daryl Gioffre. "Omega-3 can fight against inflammation and promote better health, but many fish oils can contain harmful contaminants. In creating the Alkamind Daily Omega-3 fish oil, our proprietary process ensures potency, but removes the heavy metals and other impurities."
The Alkamind Daily Omega-3 fish oil is organically filtered, triple purified by Molecular Distillation, and immediately infused with proprietary blend of antioxidants to ensure maximum potency and freshness, Every batch of Daily Omega-3 is regularly tested by an independent, FDA-registered laboratory and has been determined to be free of mercury and all other heavy metals, plus 400 other environmental contaminants. Each soft gel serving of Alkamind's fish oil contains the required 2:1 ratio of EPA to DHA in a highly concentrated form, requiring users to ingest the supplement only three times a day, which is less than the eight servings required by some brands.
Extracted in a pharmaceutical drug-licensed, NSF and cGMP certified facility; the Alkamind Daily Omega-3 is sourced from wild anchovy, sardine, and mackerel from pristine, cold waters. In effort to be environmentally conscious, Alkamind dedicates every step taken in processing equally to production efficiency and sustainability of resources.
The Alkamind Daily Omega-3 fish oil retails for $59.99 for 90 soft gels and is available at www.GetOffYourAcid.com