AQUA SPHERE LAUNCHES VISTA PRO SWIM MASK
Always ahead of the curve, Aqua Sphere has developed the world's first
single-lens swim mask to provide uninterrupted distortion-free panoramic vision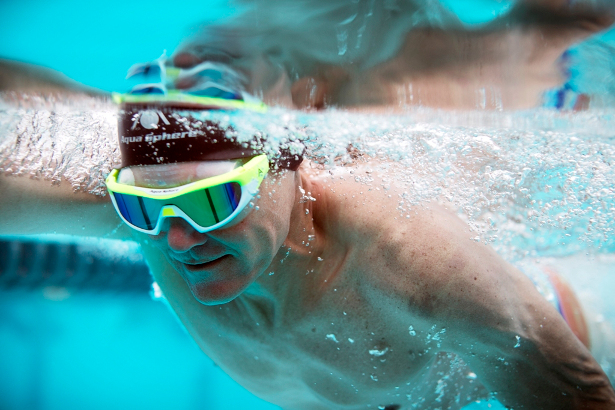 FACEBOOK | TWITTER | INSTAGRAM
Building on the success of its best selling VISTA mask, swim equipment specialist Aqua Sphere is proud to launch the VISTA PRO™, the world's first swim mask to use a single sleek curved lens to provide uninterrupted 180 degree panoramic vision. Ideal for open water and active swimmers, the VISTA PRO challenges the boundaries of aquatic eyewear technology to stay ahead of the curve, combining exceptional hydrodynamics, advanced fit, excellent comfort and patented Made in Italy construction quality with the most technologically advanced distortion-free vision ever available from a swim mask.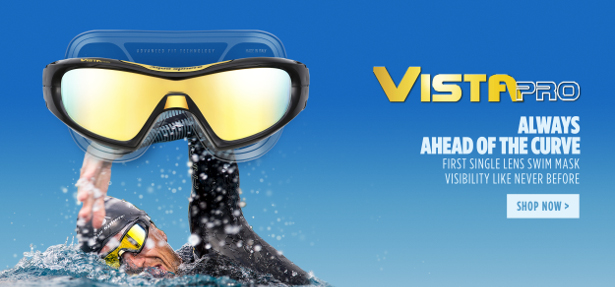 Featuring Triaxial Curvature Technology to provide uninterrupted superior optics, the stunning single curved lens of the Vista Pro is made in optical grade polycarbonate for unparalleled visual clarity. Clever new Pivoting Quick-Fit buckles make tightening and loosening quick and simple whilst the mask is in place and the pivoting action of the buckles allows the mask to adjust and rotate to accurately mirror the shape of the head, creating a truly comfortable watertight fit without undue pressure points and without risk of bending or warping the frame. To further enhance comfort, the hypoallergenic Latex-free flexible Silicone skirt includes patented Advanced Fit Technology which uses alternating matte and polished zones throughout the gasket to provide a watertight seal which feels soft against the skin. The VISTA PRO has been tested amongst Aqua Sphere's roster of global athletes who have verified the innovative technology of its remarkable unobscured field of vision as well as its comfort credentials, wearing the mask for prolonged periods without tenderness or irritation.
Stylish, streamlined and delivering 100% UVA/UVB protection from its dramatic single lens, the Vista Pro is available to buy from February from quality sports retailers including Simply Swim, Pro Swimwear, Wiggle, Mail Sports, Allens and Sigma and all good dealers. Available in clear or dark lens options and a choice of gold, blue or green mirrored options which significantly reduce light transmission in bright outdoor conditions, this is a ground breaking addition to the Aqua Sphere mask stable. Prices start at £49.99 for clear and dark lens versions to £54.99 for mirrored lenses. For more info please visit www.aquasphereswim.com/uk
About Aqua Sphere
Established in Genoa, Italy, in 1998, Aqua Sphere is the premier swimming equipment manufacturer for fitness and recreational swimming, aquatic exercise and triathlons. With the launch of its cutting-edge Seal Mask—the world's first swim mask to offer curved lenses for wide panoramic vision, the company set the industry standard and today continues to innovate with a complete range of premium swim products including goggles, masks, triathlon wetsuits, footwear and aquatic fitness and training products. The designs have gained the respect and loyal following of many celebrities and notable athletes, including the world's most decorated Olympian Michael Phelps, with whom Aqua Sphere has partnered to develop the MP swim brand for competitive and elite level swimmers and for those with aspirations to improve their swimming. Alongside its parent company Aqua Lung and supported by an international distribution network, Aqua Sphere has grown into a worldwide enterprise representing unparalleled design, development and manufacturing expertise, with a global footprint in more than 90 countries. Follow the brand on social media using @AquaSphereUK and check out the web site www.aquasphereswim.com/uk for full product information
About Aqua Lung
Aqua Lung pioneered the creation of modern diving equipment in 1943 when Captain Jacques-Yves Cousteau teamed with Emile Gagnan to develop the first "aqua-lung" that made underwater exploration possible. Today, the brand continues to be the leading global designer and manufacturer of dive and water sports gear. With a deep commitment to quality, research and testing, Aqua Lung has revolutionized the scuba diving experience by setting industry standards for scuba equipment in technology, comfort, safety and design. The company's rich history as an expert in the dive and water sports industry has led to the demand of Aqua Lung equipment for recreational, technical and military applications in more than 90 countries around the world, under brand names, Aqua Sphere, Apeks, U.S. Divers, and Stohlquist. For more information, visit www.AquaLung.com.