Back to school? Don't forget the OGGS®!
OGGS® Marvellous Mini Cupcakes under 90cals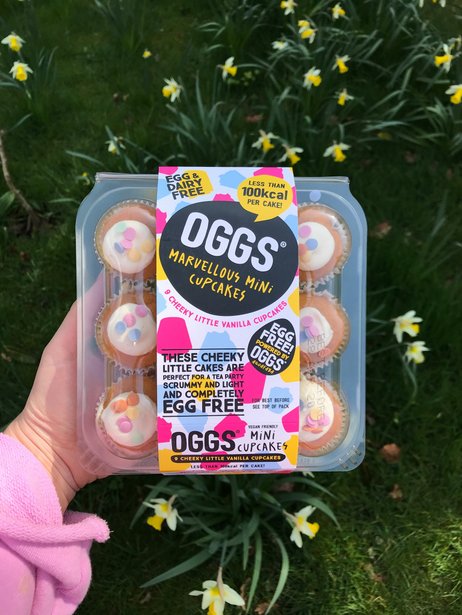 FACEBOOK | TWITTER | INSTAGRAM | PINTEREST
As you dust off your lunchboxes ready to return to your new normal, don't forget to pop an OGGS® Marvellous Mini Cupcake in as a little lunchtime treat.
OGGS® Marvellous Mini Cupcakes come in packs of nine tasty, colourful, low calorie cakes that everyone can enjoy. If you fancy a light bite-sized treat, then these marvellous mini cupcakes are the perfect snack whatever your age or dietary requirements as they are entirely egg and dairy-free.
Soon everyone will be back to planning portable lunches as the nation returns to schools and workplaces. These OGGS® bite-sized treats are Mumsnet approved – 82% of mums love OGGS® cakes – making them the perfect lunchbox snack which won't fail to hit the sweet spot.
Ethical and vegan-friendly and baked using OGGS® new Aquafaba, (a liquid egg alternative made from chickpea water).
Marvellous Mini Cupcakes' fluffy vanilla flavoured sponge is topped with vanilla frosting and colourful sprinkles to brighten up any packed lunch. Perfect for little fingers or if you fancy something a little bit lighter, each cake is only 88kcal.
No part of any animal is used in the creation of the OGGS® range and each cake is made with the future of the planet, animals and people in mind. The packaging itself is sustainably sourced with 100% recycled plastic which is fully recyclable, and even if it ends up in landfill is completely biodegradable. Cakes, without any compromise.
Why wouldn't you? Available in Sainsbury's, currently priced at £4.00 for a 9 pack. Also available from the TheVeganKind.
@loveoggs www.loveoggs.com