Bug Bite Thing's 1st New Color Launching on Black Friday!
thebugbitething.com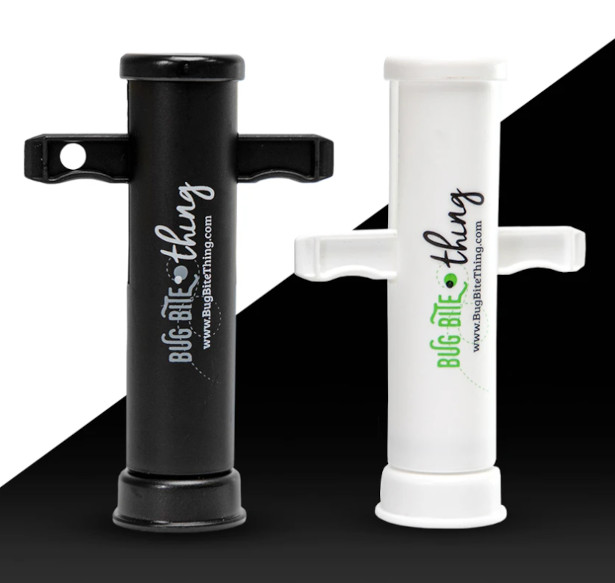 As Seen on Shark Tank and Consumer World Awards 2020 Gold Winner for Consumer Product of the Year, Bug Bite Thing is Amazon's #1 selling product for insect bite relief with over 20,000 positive reviews. This "game-changing" product is also eco-friendly, reusable and completely chemical free.
Just in time for the holidays, Bug Bite Thing is introducing its 1st new color! It also includes a new feature, a keychain ring, so you never leave home without it.
The black Bug Bite Thing is a chic update to the original which retails for $9.95. They both make the perfect stocking stuffer for the entire family.
Bug Bite Thing is offering an exclusive Black Friday promotion in conjunction with its launch. For a limited time, purchase the new black Bug Bite Thing and receive one white unit for free for $10.95 plus free shipping on Bug Bite Thing.com! This BOGO offer runs from November 27, 2020 at midnight EST until November 3o, 2020 at 11: 59pm EST.
The new black Bug Bite Thing will also be available on Amazon.com for $10.95, starting on December 1st at 12am EST, while supplies last!
Following the BOGO promotion as of December 1st at 12am EST, the new black Bug Bite Thing will be available on BugBiteThing.com for $10.95 plus free shipping, while supplies last!
Bug Bite Thing uses suction to extract the insect saliva/venom from under the skin to eliminate itching, stinging, and swelling by removing the irritant – totally unlike topical creams and ointments which only mask it.
When you buy Bug Bite Thing this year you are also supporting female-founded businesses; Bug Bite Thing is run by mompreneurs, mother/daughter team, Ellen McAlister and Kelley Higney of South Florida.
Founder and CEO Kelley continues to be a "mom on a mission" since creating the brand and is passionate about increasing awareness of the thousands of chemicals approved for use in personal care products used on children in the United States.
Bug Bite Thing has taken social media by storm. The product has gone viral on TikTok and was featured in Glamour's 12 Genius Amazon Finds to Add to Cart, Courtesy of Savvy Shoppers on TikTok and People's 10 Viral TikTok Items on Amazon That Are Actually Worth Buying.
revolutionmath.com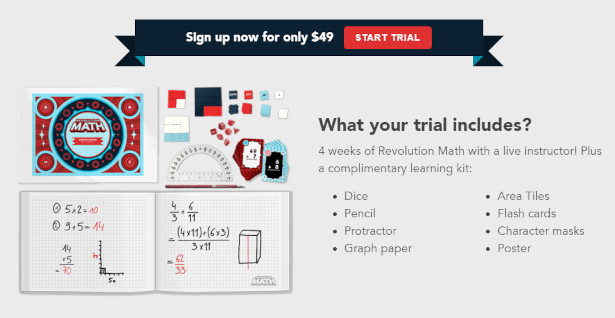 toRevolution Math, an interactive learning activity that combines live tutoring with an immersive, story-based curriculum (2nd-5th grade). The program offers live tutoring from a live teacher with other children 1x per week an hour at a time. It comes with a learning kit that gives children a chance to immerse themselves in learning activities that doesn't feel like learning! With Revolution Math you get the below:
Online Class
Same Teacher Each Week
Small Class Size
Story-based curriculum
Exciting Math Games
Common Core Aligned
Costs less than Mathnasium and Kumon with an annual membership
www.bowwowlabs.com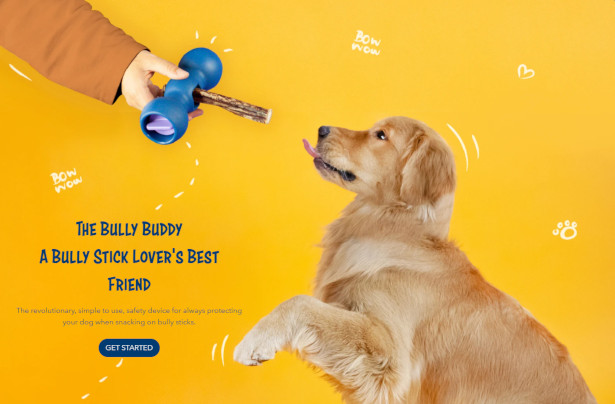 Black Friday promo:
Get up to 25% off sitewide, November 25 (day before thanksgiving) – November 30th (cyber monday).
Spend $50, get 15% off
Spend $100, get 20% off
Spend $200, get 25% off
About Bow Wow Labs: At Bow Wow Labs we are on a mission to keep dogs happy, healthy and safe. Our team of dog lovers and dog experts create and curate innovative products that build lasting bonds between pets and their owners. Our proprietary product, The Bully Buddy was designed to keep your dog safe while chewing on one of dogs' favorite treats, a bully stick! With it's durable design and screw twist technology
Emuso.buzz

As you know 1 in 10 people are Musicians! Most are working from home!!!
Our passion and goal is to help everyone build the confidence, technique, and musical understanding to improvise and understand music. And join the global conversation that is music! Hence our product, emuso/Studio, is a software application for Windows 10 and MacOS 10.12 up. Emuso is explicitly designed to help teenagers and adults alike, at all ages and skill levels, with learning, practicing, exploring and teaching music. This 2 minute video captures the essence of emuso: vimeo.com/446840240
Emuso's design and auto-correcting interactive content (lessons and practice regimes) are based on the findings of music psychology that continuously reinforce awareness of the building blocks of music, (intervals), and provides access to their individual sounds, whether in scales, chords, or progressions. There is no need to learn music notation, even to understand very advanced theory. Emuso employs a unique visual approach to theory and can separate (or combine) rhythm from pitch. Consequently, their users rapidly absorb the concepts available, to free up their brains' working memory to focus on the task in hand. The interactive content will be growing over time, including paid for content. More information, videos and to BUY are available on their website (emuso.buzz).
You don't need a box, just a License Number provided, to put in this year's Stocking for your Musician!
Basepaws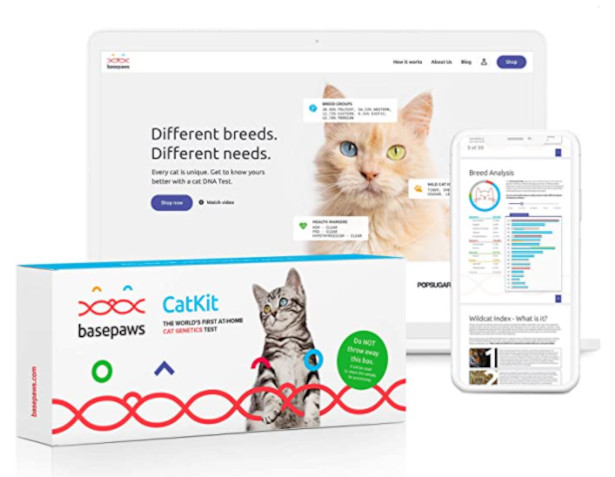 Every cat is unique, and Basepaws, the world's only at-home cat  DNA test kit (think 23andMe but for cats) is the perfect way to get to know your kitty better! You may already be familiar with the product from Shark Tank and Ellen's List. Basepaws is great for the curious cat lover who wants to know the best way to care for their pet, inside and out. Basepaws can even find out if your cat is related to tigers, lions, and cheetahs. After the wild success of Tiger King, every kitty lover is eager to see which big cat is related to theirs!
Basepaws offers two cat DNA testing products. The first test kit listed here offers insight on ancestry and health, while the second product listed is a bit more affordable and just offers ancestry insights. The testing process is simple and east – quickly swab your kitty's mouth and send the test kit back to the Basepaws laboratory. From there, customers will receive their pet's full report in 4-6 weeks with personalized updates throughout their pet's lifetime.
Basepaws will be offering some of the best deals of the year during their Black Friday sale, and the savings don't stop because testing kits will be marked down for an entire week as a part of Amazon's Cyber Week sales.
A cat with its mouth openDescription automatically generated
Basepaws Breed + Health DNA Test – This product will include your cat's detailed breed analysis and their status for 38 genetic health markers.
ORINGAL PRICE: $149.00
BLACK FRIDAY/CYBER MONDAY SALE: $74.99
Basepaws Breed Groups DNA Test – find out if your pet has tiger, cheetah, or lion relatives using the Basepaws test kit (you know you want to!). This DNA Test includes a comparison to 4 main breed groups and 21 individual breeds, a chromosome map, and the wild cat index.
ORINGAL PRICE: $99.00
BLACK FRIDAY/CYBER MONDAY SALE: $66.99
Glass Handbag
glasshandbag.com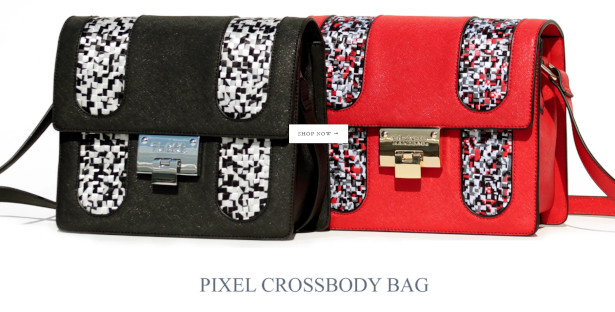 Designer handbags with a patented built in lighting system. The lighting system is one of a kind and valuable for finding items in dark locations or at night. Glass Handbag's are a safety feature while being fashionable and functional. Glass Handbag's are designed and manufactured by the company female owner/designer. They are a vegan product which mixes fashion and function. There are a variety of styles and colors.
www.glasshandbag.com
Tiege Hanley
www.tiege.com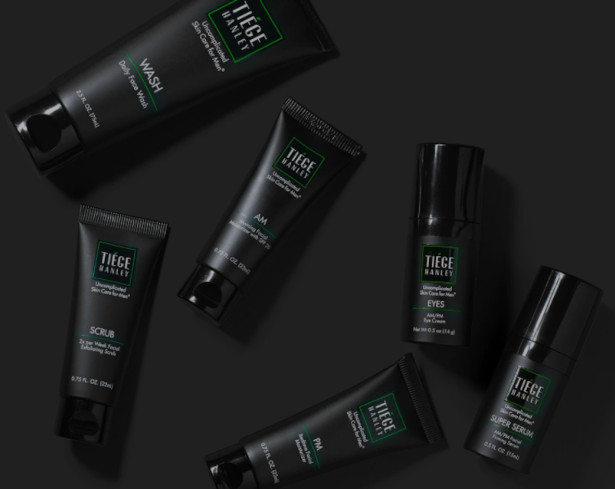 Whether your dad, brother, partner or the random Secret Santa guy you pulled out of a hat likes gaming, fishing, sports or literally nothing — don't fret because we've got the gift for you.
Every dude, whether he admits it or not, NEEDS to keep his face/body clean. It's the first (and hopefully last) holiday season spent in a pandemic, so this Christmakkuh, there are no excuses or time for guys that say, 'I'm just not a face wash guy.' (Like, what?)
The days of poor hygiene are done folks! And here to help you give the gift of clean, handsome skin, is Tiege Hanley. This Black Friday and Cyber Monday, from November 23-30, Tiege is offering you the Mega Box, a cover all the bases type of skin care set. The best part is that this super deal has got the face and body covered.
The goods: The Mega Box includes the Level 3 System, Tiege Hanley's most comprehensive system, which includes all the daily basics for an awesome complexion. Products include a WASH, AM (with SPF) and PM Moisturizers, a facial SCRUB, EYE cream, and SUPER SERUM products. This all encompassing system is TSA friendly (in case you're travelling anywhere…?) and has the perfect amount of product for a 30-day regimen, providing your Secret Santa with a simple skin care set that men can use with confidence.
Also included are a Moisturizing Lip Balm with SPF 30, hand cream, and always needed hand sanitizer. On top of that, you'll get the awesome daily WASH BODY BAR, which has high-quality ingredients like jojoba oil and aloe, designed to clean, gently exfoliate and moisturize at the same time, and the powerful charcoal SCRUB BODY BAR, meant to be used just twice a week. The perfect winter duo, these bars will help keep dead, dry skin out of your life all season long.
This Mega Box has a retail value of $124.00, but you'll get it for just $59.99. If you want to be an awesome pal and give the gift of great skin year round, once he's done with these products, you can opt into the Level 0 system, which will deliver the basics (WASH and AM) direct to his door for just $15/month. Happy holidays!
Blue Bungalow
Blue Bungalow running a massive Black Friday and Cyber Monday sale this year.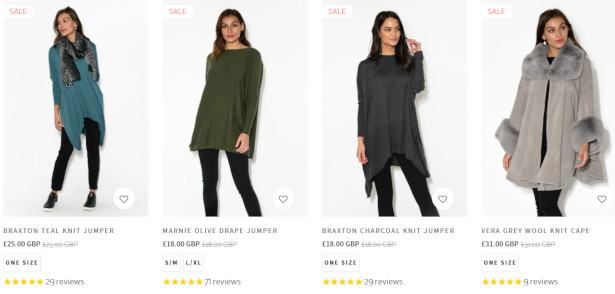 Blue Bungalow is the home of everyday fashion and dreamy summer styles for real women.
From workplace to weekend, or weekday basics to resort wear, Blue Bungalow exists to represent, and accommodate for, the real modern woman in all her dimensions.
Sale | Up to 60% OFF – bluebungalow.com.au/collections/womens-clothing-sale
Basics | Essentials under $50 – bluebungalow.com.au/collections/basics-edit
(the sale will automatically go live on Black Friday)
Behalf of S'well money off deals.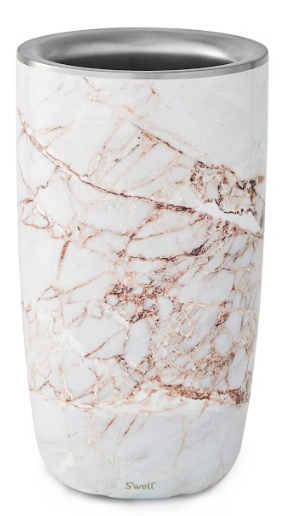 Enjoy 25% off from S'well's range of sustainable products this Cyber Week.* Choose from a plethora of popular styles and designs including barware, so you can mix up and enjoy your favourite drinks during lockdown, as well S'well's selection of signature reusable bottles to keep you hydrated all day long. Also included are S'well Eats food containers.
As well as this, to celebrate Cyber Monday, S'well will be offering not only 25% off a range of products, but also a FREE 450ml Traveler when you spend £125.00 or more.
S'well helps you discover the sustainable alternatives to household essentials and easy ways to reduce our impact on the environment. From the brand's signature water bottles to new innovations like barware and food ranges, S'well products are here to deliver stylish sustainability this holiday season.
A colour for every occasion or theme, the kitchen and barware is available in a variety of on-trend colours and styles, so there's something for every palette or page theme.
Barware
S'well wine cooler, WAS £35.00 NOW £26.25
The ultimate entertaining essential. Keep your favorite wine cool longer with the S'well Wine Chiller. Offering condensation-free handling, this bar cart must-have will fit most red, white, and rosé bottles.
Assets for the wine cooler can be found here.
S'well cocktail shaker set, WAS £40.00 NOW £30.00
Take your mixology game to the next level with the S'well Cocktail Shaker. Offered in our most-loved Calcatta Gold, this sophisticated shaker and stainless steel jigger keep cocktails and mocktails measured, mixed, and chilled for effortless entertaining.
Assets for the cocktail shaker set can be found here.
S'well ice bucket and tongs, WAS £50.00 NOW £37.50
Keep ice for cocktails cooler longer or chill your favorite bottle of champagne with ease. This sophisticated condensation-free ice bucket—and easy-to-use tongs—add a little je ne sais quoi to your bar cart.
Assets for the ice bucket can be found here.
S'well Eats
Savour those leftovers another day with S'well sustainable containers and bowls. Whether working from home or on the go, these handy, insulated containers are perfect for storing food and look great in any kitchen.
These smart containers help keep your food hotter or colder for longer, made from quality material that is leak proof and BPA free.
Teakwoods Eats WAS £24.50 NOW £18.37
Available in two handy sizes, these fashionable containers are the perfect storage for both hot and cold food that is reusable and fully sustainable.
Assets for S'well Eats can be found here
S'well bottles
S'well iconic bottle 500ml, WAS £24.50 NOW £18.37
The 500ml emulates a standard size water bottle, and is perfect for staying hydrated at the gym or on-the-go. Keeps beverages cold for 36 and hot for 18.
Assets for these bottles can be found here.
Additional items
Other S'well products that are available for 25% off include the Traveler, Roamer and Tumblers (all sizes).
BLEAK FRIDAY FOR HIGH STREETS AS SHOPPERS SET TO SPEND ONLINE IN 2020
8 IN 10 BARGAIN HUNTERS PLANNING TO SPLASH OUT ON BLACK FRIDAY SALES
Almost 9/10 shoppers will order online for Black Friday items in 2020
Shoppers will turn their backs on the high street with just 0.3% planning to spend exclusively in stores on Black Friday
40% intend to spend more on Black Friday purchases than in 2019
Brits will spend an average of £350 on Black Friday Purchases in 2020
One in 10 will spend £500
Fashion, Beauty and Household items are this year's must-haves
Black Friday budget tool helps shoppers plan their gift spending
Britain is set to shop online and go BIG on this year's Black Friday sales, new research by personal finance experts has revealed.
Seventy-seven per cent of adults in the UK are planning to bag a bargain during this year's Black Friday bonanza, according to new data from the experts at money.co.uk.
The data also reveals that due to the coronavirus pandemic, an overwhelming majority of shoppers will buy their Black Friday bargains online – steering clear of high street shops.
Eighty five per cent of those surveyed said they would either shop exclusively online or a mix of online and in store this year with just 0.3% spending exclusively on the high street.
Four in 10 say they will spend £200 – £300 more this year than they did last year on Black Friday, with one in 10 spending £500 more. A further 15% admit they will splash out between £600 – £2,000 on Black Friday, which this year falls on 27 November .
Salman Haqqi, personal finance expert at money.co.uk, said: "While it is encouraging for the economy to see that shoppers are set to spend more than ever this year, it's going to be a Bleak Friday for the UK high street, with just 0.3% of people set to spend exclusively in physical stores.
"Fifty percent said they would shop exclusively online this year with a further thirty five percent saying their shopping would be done mostly online.
"Four out of 10 shoppers admit they will spend more this year than in previous years when, famously, desire for Black Friday bargains even resulted in scuffles in some stores.
"The great news for some retailers is that one in 10 shoppers tell us they intend to spend "much more" on Black Friday purchases than last year. The average spend for Brits in this year's Black Friday sales will be £350."
So, what are the most popular Black Friday purchases likely to be in 2020?
Salman Haqqi added: "Clothes top the list, with 49% saying they're looking for a fashion bargain. Beauty and grooming products are next – with 34% of shoppers looking to improve the way they look. Three in 10 will look to land a household product on Black Friday and 29% are hoping to bag a videogames console or games.
A quarter of Black Friday shoppers have a smart TV on their Black Friday shopping list and 24% say they want to purchase home furnishings, a further 23% of shoppers say they are looking to buy a smartphone and 1 in 5 want some Black Friday jewellery bargains."
More than half (52%) of Black Friday shoppers are planning to pay for their sales purchases using their debit card, according to the research, with 27% saying they will pay on a credit card instead.
Protecting your purchases
Salman Haqqi recommends paying for your online purchases using a credit card for extra protection: "For added protection on Black Friday and Cyber Monday purchases, online or in-store, consider using your credit card.
"Under Section 75 of the Consumer Credit Act 1974, if you pay for an item using your credit card, then you have rights to claim a refund from your credit card provider as well as the seller if something goes wrong.
"This extra protection applies when you buy an item that costs between £100 and £30,000 and means if the seller goes bust or fails to deliver your item you can approach your credit card company to get your money back."
Just 1 in 10 bargain hunters will pay for their Black Friday splurge using cash, with a further 5% using Klarna or Clearpay to Buy Now, Pay Later.
UK'S TOP 10 BLACK FRIDAY WISHLIST
1. Clothes (49%)
2. Beauty & grooming products (34%)
3. Household items (29%)
3. Videogames console and games (29%)
4. Smart TV (25%)
5. Home Furnishings (24%)
6. Smartphone (23%)
7. Jewellery (20%)
8. Amazon Echo Device (19%)
9. Music System (18%)
9. Furniture (18%)
10. White goods (17%)
To plan your Black Friday spending use this guide that includes a gift budgeting tool:' www.money.co.uk/guides/how-to-get-ready-for-black-friday-and-cyber-monday.htm
Red Roof are offering 30% off for travelers when they book between 11/29 and 12/1, valid for stays through December 2020.
Sleep Soundly this Winter with Black Friday Offers from Online Hybrid Mattress Retailer, OTTY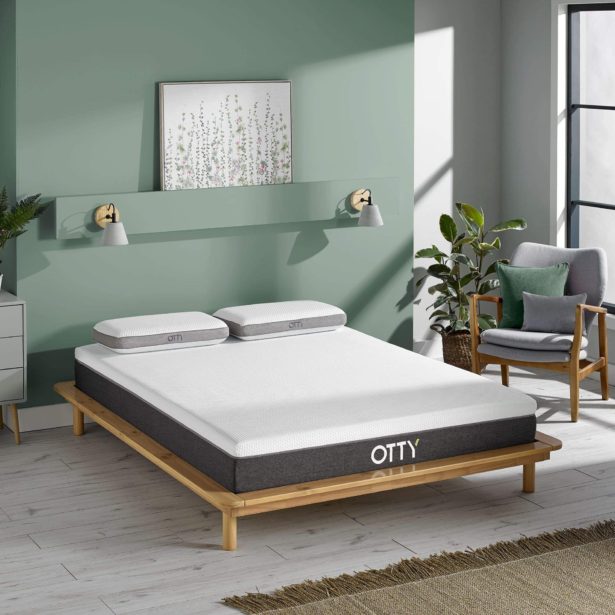 Many people seeking a restful night's sleep are discovering the comfort and support that hybrid mattresses offer. With Black Friday around the corner, you can join them with a fantastic discount in your shopping basket.
From today (12/11/2020) until 30/11/2020 you can get up to 45% off OTTY products, including some of their market-leading hybrid mattresses.
Their newest mattress, the OTTY Pure, will be available to snap up at its lowest price it's ever been, at £324.99 (usually £499.99). The OTTY Pure was released earlier this year and is the UK's first bamboo memory foam mattress with charcoal infused layers.
While serving its purpose as a hybrid mattress, containing both springs and memory foam, the bamboo and charcoal properties in the Pure mattress work together as an antibacterial agent, meaning that your mattress works to keep optimal cleanliness.
This is all while providing comfort and support, minimising motion transfer, regulating temperature, wicking away moisture, eliminating odour, and serving its hypoallergenic status.
This labels the Pure as OTTY's premium mattress and is ideal for those with asthma, allergies and sensitive skin, though sadly, it doesn't make a brew in the morning.
Included in OTTY's Black Friday discounts are also their other two market leading mattresses: the Original and the Aura.
OTTY are renowned for their market leading hybrid mattresses which combine encapsulated pocket springs and high density support memory foam to provide you with optimal comfort and support.
The technology behind their mattresses; to minimise motion transfer and regulate temperature; means that you can get a good night's sleep with minimal disturbance from any tossers lying next to you.
Their mattresses are also rated as medium-firm which works to provide maximum support to alleviate aches and pains.
If you've been thinking of purchasing a mattress for a while then why not take the plunge this month, when there's an opportunity to make a great saving?
For full details on OTTY's Black Friday deals, visit otty.com where you can see their range of products at discounted prices. A chat service is available on their website should you need purchasing advice.
Wax Lyrical has a 30% off everything for Black Friday weekend.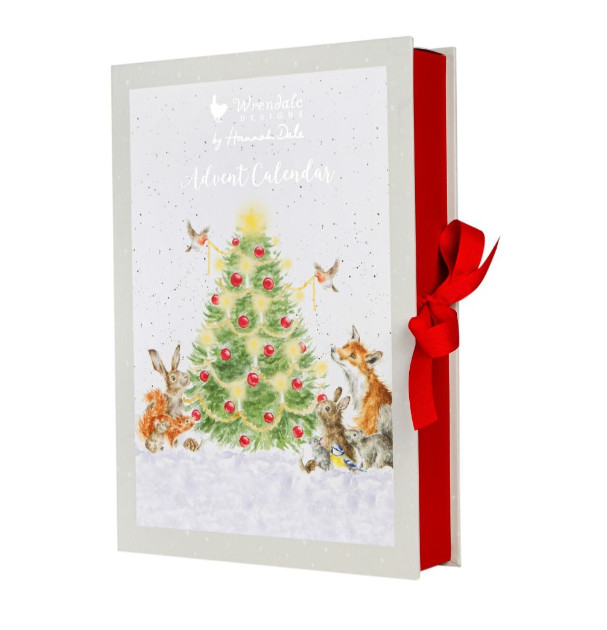 For example a CANDLE advent calendar
Especially when it's not possible to see people in person.
They have three fantastic candle advent calendars
All made in England, and to summarise:
Wrendale Advent Calendar at £30.00 – less the Black Friday 30%
Hannah Dale's classically British woodland design with our 100% fragrance including: frosted pine, hawthorn blossom & rosehip, wood sorrel & oak and meadowsweet & white lilac.
Spode Christmas Tree Advent Calendar at £35.00 – less the Black Friday 30%
With a mix of festive favourite fragrances each day
Yvonne Ellen Advent Calendar at £35.00 – less the Black Friday 30%
Quirky and enchanting with the favourite Yvonne Ellen fragrances including safari nights, vintage palm, wild jasmine and artic breeze.
They can be found here on our website www.waxlyrical.com/search/?q=advent+calendars
Black Friday deals at the Swan at Lavenham Hotel and Spa
Classic Break for two, Prosecco high tea and spa treatment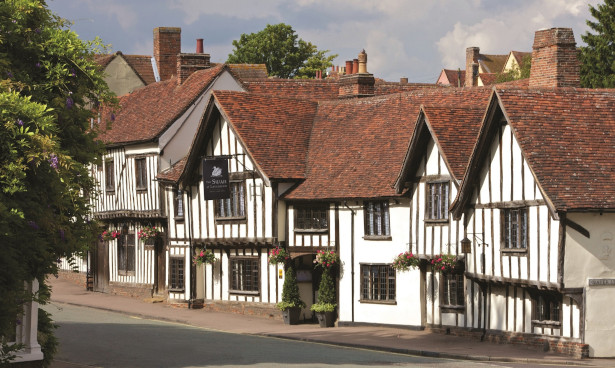 Make savings with Black Friday deals at the 15th century Swan at Lavenham Hotel and Spa, Suffolk. Online vouchers available between 27 November and 11 December include a Classic Break, High Tea with Prosecco or a relaxing Taste of Weavers' 90-minute spa treatment. All these great offers are for two people and valid for 12 months from date of purchase (T&Cs apply).
The 15th century, half-timbered hotel has roaring log fires and cosy nooks to sit around amongst the centuries old oak beams. The Classic Break includes an overnight stay in a Heritage room, three-course dinner in the beamed Gallery restaurant and a full Suffolk breakfast, plus a pre-booked 30-minute session in either the outdoor vitality pool or sauna and steam room in Weavers' House Spa. All for £180 for two, saving around £50 on the full price of £232.
The High Tea includes a glass of Prosecco priced at £53 for two, saving £18 on the full price of £71, or purchase the Taste of Weavers' spa voucher and you and a friend can indulge in a rejuvenating treatment finishing with a glass of Prosecco priced at £170, saving £50 on the full price of £220.
To treat yourself or purchase a voucher as a gift for a loved one visit www.theswanatlavenham.co.uk; or call 01787 247477 for more details. The Black Friday deals exclude bank holidays, Christmas, New Year and Valentine's weekend; Saturday night's accommodation may be subject to a two night stay.
Black Friday deals at the Brudenell Hotel, Aldeburgh
Short break and 2 for 1 fish and chips and cream tea
Make savings with Black Friday deals at the Brudenell Hotel, Aldeburgh on Suffolk's Heritage Coast. Online vouchers available between 27 November and 11 December include a one night luxury dinner B&B break in a sea view room, two portions of fish and chips for the price of one and a half-price cream tea by the sea for two. All these great offers are valid for 12 months from date of purchase (T&Cs apply).
Located in a stunning seafront setting, just a few steps from the beach, the Brudenell has wonderful panoramic sea views to the front, while at the back it overlooks the river Alde and surrounding countryside. With its chic coastal themed décor, the hotel is renowned for its fine dining Seafood & Grill restaurant and large sea-facing terrace for relaxing al fresco on warmer days.
The short break for two includes an overnight stay in a double seaview room where a bottle of Prosecco and luxury chocolates await your arrival, plus an indulgent cream tea, three-course dinner in the Seafood & Grill with a welcome Bellini cocktail and full Suffolk breakfast. All for £249 per couple, saving around £50 on the full price of £299.
Two for one offers include a fish and chips lunch deal priced at £12.50, against the full price of £25, and a delicious cream tea by the sea for two at £6 served from 10am. Both are available Monday to Saturday only.
To treat yourself or purchase a voucher as a gift for a loved one visit www.brudenellhotel.co.uk or call 01728 452071 for more details. The Black Friday deals exclude bank holidays, Christmas, New Year and Valentine's weekend; Saturday night's accommodation may be subject to a two night stay.
Black Friday at Boots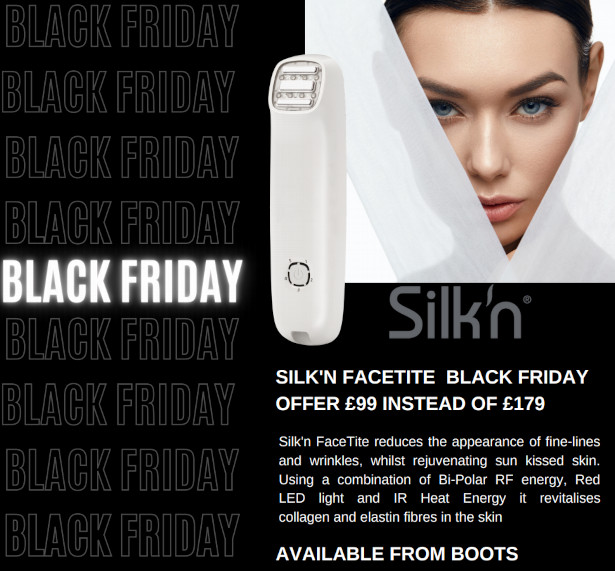 Silk'n, the Global Leader In Professional Aesthetic Devices For Home Use, have a Black Friday offer at Boots that you don't want to miss out on. The Silk'n FaceTite will be £99 instead of £179!
Silk'n FaceTite reduces the appearance of fine-lines and wrinkles, whilst rejuvenating sun kissed skin. Using a combination of Bi-Polar RF energy, Red LED light and IR Heat Energy it revitalises collagen and elastin fibres in the skin.
BLACK FRIDAY SHOPPERS WOULD QUEUE ONLINE FOR AN HOUR TO SAVE £200

Shoppers happy to wait an hour (65 minutes) in an online queue if they could save £200 this Black Friday[1], and a fifth (18%) would do yoga or exercise to kill the time[2]
Almost half of adults (46%) — more than 24 million people — plan to take part in Black Friday sales this year[3]
40% of consumers regret a previous Black Friday purchase[4], but only 14% are likely to actually return anything[5]
Three in ten shoppers are looking for an iPhone 12 deal this year, but 70% of those only want one if it's discounted by more than 25%[6]
Four in five (83%) shoppers are set to visit major retailers' websites and only a third (38%) plan to shop at independent stores[7]
Uswitch.com offers tips for Black Friday shoppers looking for deals online, including how to spot genuine deals.
With the vast majority of Black Friday purchases likely to be made on the internet this year due to lockdown, shoppers say they would be willing to wait over an hour in an online queue if it meant saving £200[1], reveals new research by Uswitch.com, the comparison and switching service.
Some 24 million people — almost half of consumers (46%) — say they will be taking part in the annual sale this year, but while seven in ten (70%) shoppers aged 18 to 34 will join the hunt for bargains, only a fifth (22%) of over-55s will do so[3].
The closure of non-essential stores due to lockdown is set to drive shoppers online, meaning that virtual queues could be a feature of this year's event.
Almost a quarter of people (24%) say they would be willing to wait longer than an hour in an online queue for a £200 discount, and 4% of Black Friday shoppers say they would happily spend six hours waiting[1].
Many people will take advantage of the fact they are working from home, with one in six (17%) saying they will wait in online queues while on the job. A fifth of consumers (18%) will practice yoga or exercise at home while they sit in a virtual queue, while almost three in ten people (29%) will play games on their phone, and 15% will laze in bed[2].
Top 10 activities to pass the time in an online queue
Percentage of people planning to do them
Play games on mobile phone
29%
Look-up more Black Friday deals
27%
Life admin tasks, such as paying bills
24%
Phone or text a friend/family member
21%
Read a newspaper/online news website
20%
Practice yoga or exercise at home
18%
Working from home
17%
Stay in bed
15%
Personal meditation and mindfulness
9%
Home exercise
9%
Source: Uswitch.com
Shoppers might be advised to use any time spent in an online queue to carefully consider their planned purchase, as four in ten people (40%) admit regretting a Black Friday purchase[4]. Nevertheless, despite millions rueing a previous Black Friday purchase, only 14% of these say that they would return what they had bought[5].
Online shoppers are more likely to compare purchases than high street consumers, with three in five web browsers (59%) visiting three or more stores to check the price of a prospective purchase, while half of those buying in-person (51%) considering only one or two shops[8]. On average, web shoppers spent 17.3 minutes deciding on a purchase, five minutes longer than high street consumers who deliberated for only 12.6 minutes[9].
The iPhone 12 — launched by Apple last month — is expected to be one of this year's must-have Black Friday gadgets, with three in ten people (30%) looking for one in the sales. However, seven in ten of those after an iPhone 12 would only take the plunge if it was discounted by 25% or more[6].
Top 10 wish list items for Black Friday 2020
iPhone 12
Playstation 5
Amazon Echo Dot
Xbox Series X
Robot vacuum cleaner
Nintendo Switch
Apple AirPods
Amazon Fire TV Stick
Smart TV
Wireless headphones
Source: Uswitch.com
The current lockdown in England means that many big retailers and smaller, independent shops will be closed to the public on Black Friday. Larger stores are more likely to pull in the virtual crowds this year, with four in five (83%) people expecting to visit the sites of major retailers, and only a third (38%) planning to visit those of independent stores[7].
Uswitch.com is offering tips for Black Friday consumers in its useful How to be a savvy sales shopper guide, including knowing how to spot genuine deals, setting a budget and how to master your timings.
Catherine Hiley, Black Friday deals expert at Uswitch.com, comments: "Black Friday is likely to feel more like Cyber Monday this year for millions of shoppers, most of whom will find themselves browsing for bargains online.
"The rush online raises the spectre of shoppers having to wait in virtual queues, and most consumers would be willing to spend more than an hour in line for a £200 discount.
"Shopping online gives you the chance to plan in advance. Ahead of the event, write a list of the items you want, and note the price so that you can judge any Black Friday discounts.
"If you spot something appealing on the day, stick to your budget so you don't find yourself regretting a purchase like the whopping 40% of people who admit that has happened to them.
"With online queues looking increasingly likely for 2020, use the time wisely and keep an eye on social media for any deals you may have missed. Stay alert, and don't let your place in the queue be timed out."
Find out how you could save nearly £1,000 a year with Uswitch @ www.uswitch.com .
Black Friday Starts Now! The best wireless earbuds deliver more than just freedom from wires. They afford you a comfortable fit, crisp audio for media streaming and phone calls, and a hands-free experience to interact with your smartphone via digital assistant. And though some have often been compared negatively to some of the best wireless headphones, improvements in Bluetooth, microphone technologies, and battery life have made them a must-have purchase for people who love to consume their music on the go.
www.activityearbuds.com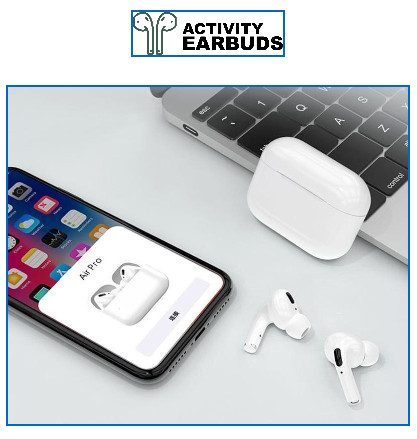 Black Friday has come early to Tesco Mobile with our lowest ever prices on a select range of smartphones1

2 November 2020: Black Friday has come early and from today, until 9 November, customers can bag themselves great value deals with some of our lowest ever prices on select pay monthly smartphones from Tesco Mobile1.
The iPhone 11 Pro Max is available from just £42.99 a month (reduced from £44.99) giving customers a saving of £722. It comes with 3GB of data, 5000 minutes and 5000 texts.
If you're a Samsung fan, Tesco Mobile is offering the Samsung Galaxy A71 for £18.99 a month (reduced from £19.99) complete with 500MB, 5000 minutes and 5000 minutes. The Samsung Galaxy S20 FE 5G will also be on offer for £33.99 a month (reduced from £34.99), including 6GB of data, 5000 texts and minutes. Both phones have a saving of £362.
Customers can also get a super low-cost deal on the Samsung Galaxy A21s for just £11.99 a month2, with 500MB of data, 5000 minutes and 5000 texts. This deal is available until 29 December.
Tesco Mobile share O2's network, so customers can enjoy 99% 4G UK network coverage, and be confident in staying connected when its needed most.
For more information on Tesco Mobile's Black Friday deals, head to tescomobile.com/black-friday.
Handmade furniture and shelves from the North East of England.
As everything is handmade they don't offer massive discounts like the furniture stores with warehouses full of imported items, but they are doing an offer on some of their coffee tables and TV stands.
www.funky-chunky-furniture.co.uk/bowes-82-c.asp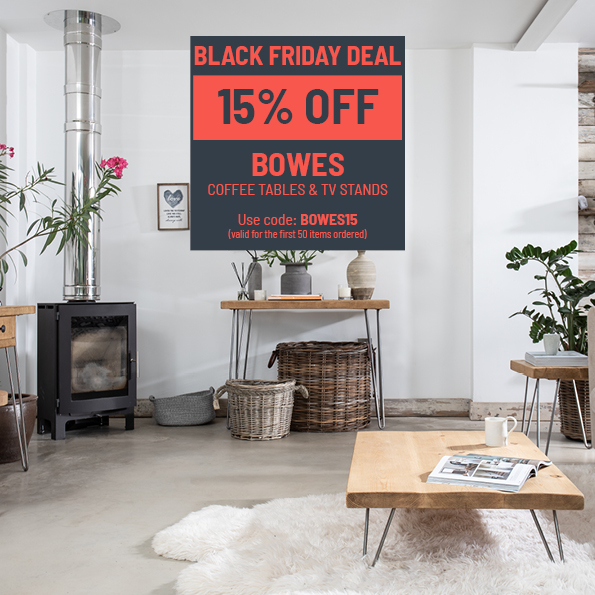 For Black Friday the family-run, designer wallpaper stockist Ilovewallpaper www.ilovewallpaper.co.uk is offering 20% off everything for the full Cyber weekend using code BF20. If you sign up to the email subscription on-site or follow them on social media you can also get early access.