BLACKEYE GIN, THE UNOFFICIAL SPIRIT OF RUGBY, FOUNDED BY MIKE TINDALL, JAMES HASKELL, AND ALEX PAYNE, LAUNCHES WORLDWIDE
Rugby legends Mike Tindall and James Haskell, alongside television presenter Alex Payne, announce the worldwide launch of [Blackeye Gin , the unofficial spirit of rugby.
Blackeye Gin is born out of the overwhelming enthusiasm from the loyal listeners of the founders' podcast, The Good, The Bad, & The Rugby, who initially made the suggestion to create a gin. The trio has since developed a brand on a mission to support the future of rugby, creating a fund with the backing of an impressive advisory board and significant support from some of the most iconic names in rugby globally.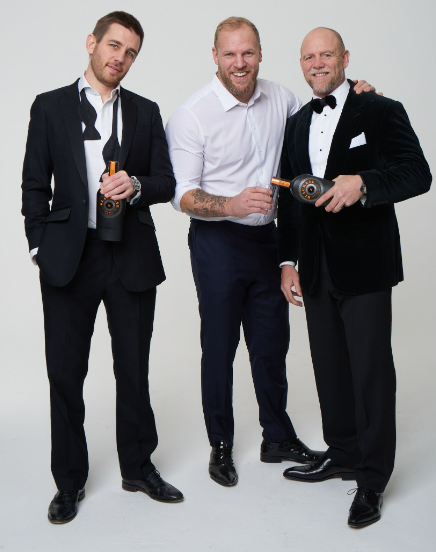 The fund will invest £1.50 from each bottle sold to support its three key pillars: Research, Risk, and Recovery, for rugby players past and present. The goal of the fund is to tackle industry issues and become
one of the largest donors to rugby-related causes within the next five years.
Named to pay homage not only to the physical nature of the sport, but also to the spirit of riding the storm and celebrating the sunshine, Mike Tindall remarks, 'We're thrilled to be launching Blackeye Gin.
It's been a journey full of challenges, but a whole lot of fun too! James, Alex, and I have had various battles along the way – both on and off the pitch – and the name reflects the physical and emotional
resilience and kinship we share. I think it really captures the essence of what this brand is all about – for those who give their best even when times are hard, and celebrate the good times!"
The three founders have partnered with the award-winning gin distillery, Hawkridge, to create a unique recipe they all loved, with the outcome being an exceptionally smooth spirit, that boasts a blend
of fresh citrus-forward flavours, subtle floral notes, and a burst of juniper, rounded off with a unique combination of botanicals hailing from each of the rugby nations. The brand, a product from Catalyst
Spirits and distributed by Maverick Drinks, will be available to buy at Master of Malt, selected Sainsbury's stores and online at blackeyegin.com . RRP £35.95.