One Hundred Steps: The Story of Captain Sir Tom Moore Hardcover
by Captain Tom Moore (Author), Adam Larkum (Illustrator)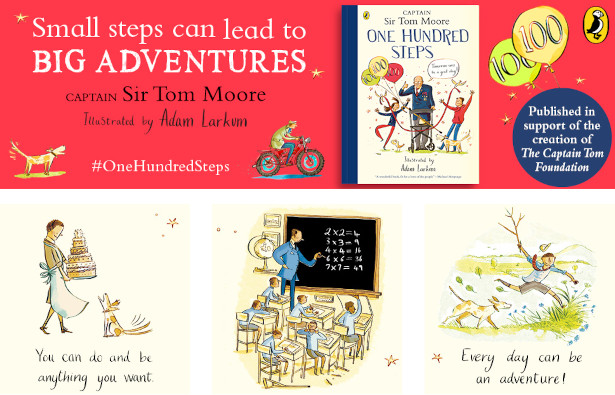 A book about adventure, about family, about never giving up, and about what we can achieve when we work together.
see more and buy at :- www.amazon.co.uk/One-Hundred-Steps-Story-Captain
This is an inspirational picture book, published in support of the creation of the Captain Tom Foundation, which tells the incredible story of the man who walked 100 laps of his garden and captured the heart of a nation. Fully illustrated for younger readers, and following the key moments from Captain Tom's incredible life, the book shows what is possible when we come together and never, ever give up.
Captain Tom Moore was born in Yorkshire in 1920. With the outbreak of World War Two he enlisted in the British Army and served throughout the war. He holds two Guinness World Records, for the largest sum ever raised by an individual charity walk, and for being the oldest person ever to have a number one hit single. He lives with his family in Bedfordshire. He set up the Captain Tom Foundation to help people help other people.
@captaintommoore