PASSING THE TORCH – Sportswomen Who Inspire Edited Mary Peters
ISBN: 978-1-90247116-7
£12.99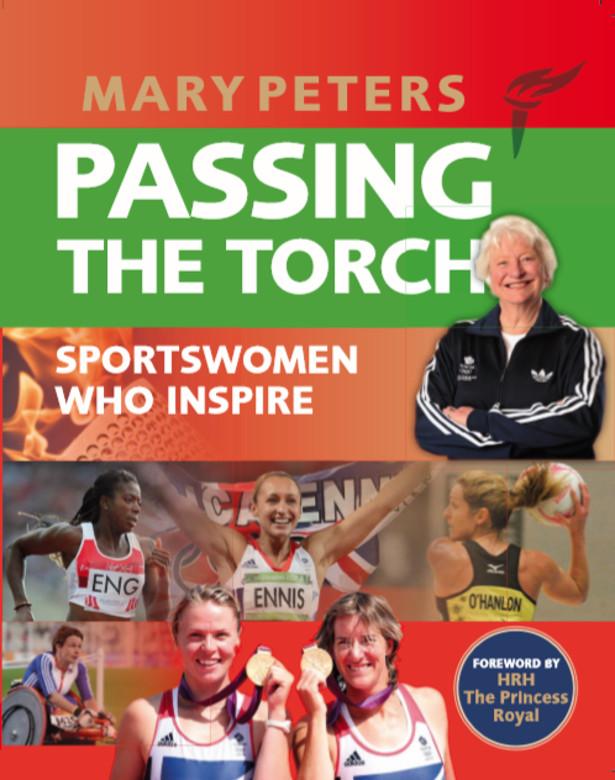 This book is to inspire and support women in sport
It is a series of short inspirational stories from established sportswomen across a variety of disciplines, whether in their prime or post competition. The book gives a lively insight into the stars' initial motivation, the highs and lows of competing, the physical and mental benefits of exercise, the camaraderie of female sport and what careers the stepping stone of sport can provide. Initiated and edited by Lady Mary Peters to help ensure her passion for sport is passed down to young people for many years to come
Foreword by HRH The Princess Royal
Includes interviews with:
• Lady Mary Peters • Dame Jessica Ennis-Hill • Dame Katherine Grainger • Dame Tanni Grey-Thompson • Dame Kelly Holmes • Sue Barker
• Maria Costello • Sally Gunnell • Caroline O'Hanlon • Christine Ohuruogu • Shirley McCay • Paula Radcliffe
and many more …
This book celebrates the relentless determination of women on the road to achieving their sporting goals, for instance the courage of people like Maria Costello who broke 24 bones in her body before becoming a record breaking motor-cycle racer, and Tracy Edwards who was expelled from school age 15 after the tragic loss of her father but still found her purpose in sailing, coming second in the Whitbread Round the World Race and becoming the first women to win the Yachtsman of the Year Trophy in 1990.
All the interviews, including Mary's own story, of practicing on a home-made high jump and hurdle, epitomize the grit and focus required to succeed in sport, but also the huge joy and opportunity it brought to all of their lives. As Mary says in the introduction:
"My message to all young people is: if you have talent, or even if you haven't, have a go. The opportunity for friendship, travel and good health is one which can never be replaced."
About the editor: In the 1972 Summer Olympics Lady Mary Peters won the gold medal in the women's pentathlon. She represented Northern Ireland at every Commonwealth Games between 1958 and 1974. Lady Mary now spends most of her time helping young sports men and women to achieve their dreams by supporting them through her charity, The Mary Peters Trust. In 2000 she was appointed Dame Commander of the British Empire and she was bestowed the member of the Order of the Companions of Honour (CH) in the 2015 New Years Honours list. Mary was names as Lady Companion of the Order of the Garter on 27 February 2019 and we installed in St George's Chapel, the Chapel of the Order, on Garter Day 17 June 2019.
Mary Peters Passing the Torch is published by Gateway Publishing Ltd and distributed by Chris Andrews Publications Ltd, Oxford. It will be available in all good bookshops from 17th October and the distributors www.cap-ox.com