BOOK! The Amazing Tennis Ball BACK PAIN CURE by Justin Price.
www.amazon.com/Amazing-Tennis-Ball-Back-Pain/dp/0979132401/ref=sr_1_1?ie=UTF8&qid=1467231588&sr=8-1&keywords=tennis+ball+back+pain+cure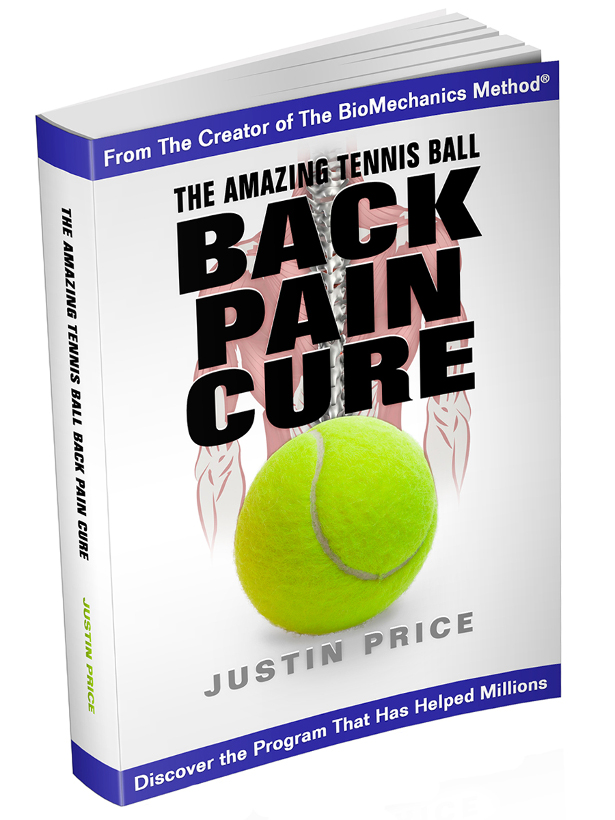 This easy-to-follow book from Justin Price, creator of The BioMechanics Method® and one of the world's top back pain experts, is the ultimate guide to helping you overcome back pain. Unlike other books on back pain relief that recommend dynamic stretching or strengthening exercises that can make the problem worse, The Amazing Tennis Ball Back Pain Cure provides simple techniques and soothing exercises that address the underlying cause of your pain and prepare your entire body to move without the constant discomfort that has become an unwanted part of your life.
If you want to get rid of your back pain naturally and for good, you must address the two most prevalent causes of pain (overworked muscles and irritated joints) before you start putting your body under the stress of exercise. Justin has spent more than 20 years helping people put an end to chronic pain with his easy, insightful, and intuitive tennis ball program and he has taught his remarkable techniques to other health professionals around the world who use them to successfully eliminate their patients' muscle, joint, and back pain. Now his methods are available to you in this truly amazing book.
The way The Amazing Tennis Ball Back Pain Cure works is simple. You use a tennis ball as a tool for self-massage in strategic areas around the body. Knowing exactly where to place the ball and how to perform the easy techniques in this book can bring about incredible relief from:
• Lower back pain
• Upper back pain
• Sciatica
• Disc issues
• Muscle tension and joint pain
• Pain in the feet, ankles, knees, hips, shoulders, neck, and head
It really is possible to cure your back pain with a tennis ball. So stop living with pain and get back to enjoying the things in life you love. Get The Amazing Tennis Ball Back Pain Cure today.
AUTHOR BIO
Justin Price is an award-winning pain relief exercise expert with over 20 years' experience in understanding the causes and cures for chronic muscle and joint pain. His internationally recognized programming and techniques (The BioMechanics Method® www.thebiomechanicsmethod.com) are used in nearly 60 countries by Specialists trained in his unique methods. He is a subject matter expert in musculoskeletal assessment and therapeutic exercise for the world's premier health and fitness organizations including The American Council on Exercise, PTA Global, IDEA Health and Fitness Association, Personal Training on the Net, Fitness Anywhere/TRX, and Fitness Quest/BOSU. Justin is also a consultant to numerous media outlets such as Time Magazine, Newsweek, The New York Times, The Wall Street Journal, The Los Angeles Times, The Chicago Tribune, MSNBC, WebMD, FoxNews, Discovery Health, Prevention Magazine, The British Broadcasting Association, Men's Health, Women's Health and Fitness, Tennis Magazine and Arthritis Today.