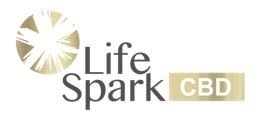 6 out of 10 CBD Products Mislabelled
Consumers urged to check what they are buying
Life Spark CBD sees sales jump 300%

FACEBOOK | TWITTER | INSTAGRAM
THE RESULTS
Lab results on 30 High St. CBD products:
One product had zero CBD in it and was retailing for £90. 11 had less than 50% of their stated CBD content. 8 products had solvent and heavy metal contamination. One product had a dangerous level of ethanol in it and 13 had illegal levels of THC in them.
You don't want to buy any ol' CBD. Ours isn't any ol' CBD. This is your health, it goes in your body…but most of all, if you're going to stop aches and pains or get rid of anxiety and start to feel like yourself again…you want to know that the CBD you use has the possibility of accomplishing that.
Life Spark CBD = Natural, Pure, Organically grown CBD, Organic Coconut MCT (carrier oil), ZERO THC, 3rd Party Lab tested, and delivers Actual Active CBD you can Trust.
Premium Grade, Organic Life Spark CBD Oil, 1000mg/30ml bottle. This Organically grown CBD Oil is paired with Organic C8 Coconut MCT Oil for extra energy and brain power, while being sustainably sourced and cruelty-free. Fabulous Taste! Have you tried the others…green & grassy? This fine CBD is Terpene-rich with all waxes and chlorophyll removed yielding a completely different taste experience; clear, smooth and pleasant! Zero THC, the part that gets one high, so everyone, even professionals, can safely benefit from it. 3rd party Lab Tested so you can Trust what you are taking. Calibrated Droppers for precise dosing. Tamper-Evident and Child-Resistant Caps. Try it. Be You Again!
September 2020: Sales of CBD have soared during the pandemic. Life Spark CBD, the fast growing online retailer for one of the only fully Organic CBD products in the UK, and just a handful to offer Zero THC products, has seen orders jump 300% on 2019. However, the UK CBD industry is unregulated with 6 out of 10 CBD products in the UK market mislabelled. Concerned that consumers struggling with health issues are not getting the benefits they could be, founders Amy Burgess and Joanna Szala are offering some simple tips on how to buy and use CBD.
Unlike most other CBD retailers, Life Spark provides customers with very clear guidance and assistance in reaching the optimum dose for the individual's needs – whether that's pain management, stress, anxiety or sleep disorders.
Life Spark CBD's 5 Top Tips for Buying CBD
1. Look for the CTA mark – this provides reassurance that the supplier is following the Government guidelines, offering legal, safe and effective CBD products
2. Always pay careful attention to product labelling and marketing
3. Buy mg of CBD per ml, not %
4. Check out the 3rd party Lab Results on the CBD supplier's website
5. Always choose Organic – be aware of what's going into your body
Life Spark CBD's Top Tips for Using CBD
1. Everyone's optimal dose is unique to them – experiment until the symptoms are resolved which is your ideal dose
2. CBD is considered to be very safe – gradually increase, you can even double it
For CBD Oil, hold under your tongue for 1 – 2 minutes. Body Salve apply liberally as often as needed. Simply add Soft Gels to your daily vitamin routine.
3. Be Consistent; take CBD regularly
4. Instant results happen for many but for significant health issues, be patient
Instant results happen for many but for significant health issues, be patient
Amy Burgess, Director of Life Spark CBD said: "The CBD industry is unregulated and growing rapidly which allows disreputable retailers to sell ineffective products. The quality and potency of available CBD products on the market varies significantly and labelling can be deceiving. This means many people buy ineffective products and are quickly disappointed with the results. Also, many people are unclear about the best way to take CBD for their needs.
"We import our 100% Organically Grown, THC free CBD from the US which has led the world in the development of CBD and where millions of people benefit. If we can do as much as we can to improve consumer awareness of the best ways to buy and use CBD products, more people will benefit and the CBD industry could become a great success story for the UK."
1 THC is the psychoactive part and is unwanted by many people
2 www.phytovistalabs.com/how-bad-is-cbd-oil-mislabelling-in-the-uk/
3 www.cannabistrades.org/