British Sandwich Week, 20th – 26th May – Sarnies Don't Have To Be Boring!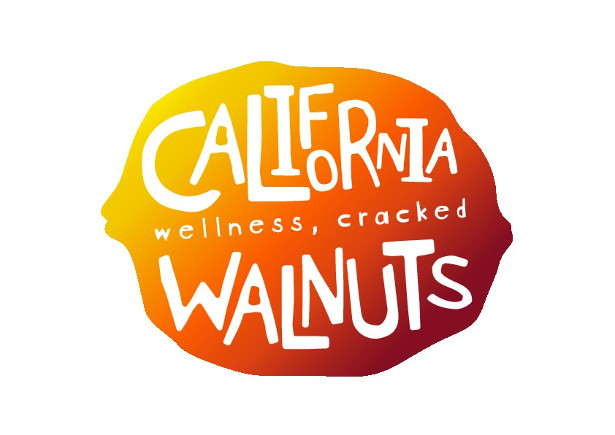 FACEBOOK | TWITTER | INSTAGRAM | PINTEREST
According to recent research more than 56% of Brits will eat at least one sandwich a day, with over a third having the exact same filling every single day 😲
Below, some  fabulous alternative sandwich recipes that mean you can move away from the same old cheese and pickle or tuna mayo!
California Walnut and Date Yoghurt Toast
Perfect for breakfast, lunch or dinner, this easy to prepare dish contains the natural sweetness of dates, peppery rocket, and that California nuttiness – toast just got gourmet!
Preparation time: 5 mins
Serves: 2
You'll need:
4 tbsp Greek yoghurt
3 dates, roughly chopped
8 California walnut halves, roughly chopped
Half a clove of garlic, minced
1 tbsp walnut oil
A pinch of salt and pepper
2 large slices of bread, toasted
2 tbsp pomegranate seeds
A handful of rocket
Method
1. Stir the yoghurt and place in a mixing bowl. Add the dates, walnuts, minced garlic and walnut oil and stir to combine. Season to taste with salt and pepper.
2. Top the toasted bread with the date mixture, then sprinkle with pomegranate seeds and rocket to serve.
Goats' Cheese, Griddled Cherry and Gremolata Toast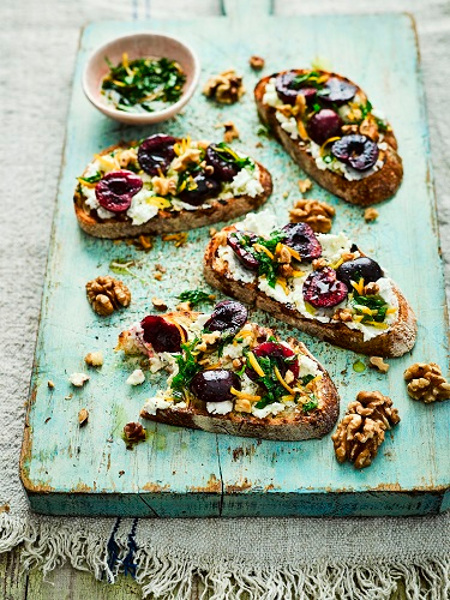 With the tang of goats' cheese, the sweetness of cherries, and the smooth creaminess of California walnuts, get your gremolata on and upgrade your toast! Ideal for an easy starter, or a fancy lunch.
Preparation time: 15 mins
Serves: 4
You'll need:
Small bunch flat leaf parsley, roughly chopped
Zest of 1 orange
1 small clove of garlic, minced
2 tbsp extra virgin olive oil
A pinch of salt and pepper
100g cherries, cut in half and destoned
8 slices of sourdough bread
120g soft goats' cheese
60g California walnuts, toasted and roughly chopped
Method
1. To make the gremolata, mix together the parsley, orange zest, garlic and extra virgin olive oil, and season to taste.
2. Heat a griddle pan until searing hot, then place the cherries in cut side down. Sear for 2 minutes.
3. Lightly toast the bread until golden brown and spread each slice with the goats' cheese. Top each toast with the cherries and gremolata and finish with a sprinkle of walnuts to serve.
Rainbow Veggie Toastie with California Walnut Aioli
This isn't your standard sandwich! Sourdough bread packed with grilled Mediterranean veggies and a lemon walnut aioli makes for a delicious meal guaranteed to satisfy lunchtime hunger pangs.
Preparation time: 25 mins
Serves: 4
You'll need:
For the lemon walnut aioli:
125g California walnuts
2 tbsp Dijon mustard
2 tbsp tahini
2 tbsp mayonnaise
Juice of 1 lemon
For the sandwich:
1 medium courgette, sliced into 1cm rounds
1 small aubergine, sliced into 1cm rounds
1 orange pepper, sliced into strips
2 small tomatoes, sliced in half
1 onion, sliced
4 tbsp olive oil
Salt and pepper
8 slices sourdough bread
1 clove garlic
Handful basil leaves, shredded (optional)
Method
1. Dry fry the walnuts at a medium to high heat for 3 to 5 minutes, or until golden brown and toasted, stirring frequently to ensure the walnuts don't catch
2. Place all the ingredients for the aioli into a food processor and blitz into a chunky paste
3. Toss the courgette, aubergine, pepper, tomatoes, onion, half the olive oil, and salt and pepper in a large bowl to coat, then grill the veggies to your preference
4. Brush the bread with the remaining oil and lightly grill on both sides, then rub each slice of bread gently with the peeled garlic clove
5. Spoon 1 tablespoon of the lemon walnut aioli over two slices of bread, and place a quarter of the grilled vegetables between the slices. Repeat with the remaining bread and veggies
6. Garnish the sandwiches with the shredded basil leaves to serve, if using