"BROTHERS IN ARMS" RECEIVES WIDE ACCLAIM ON PUBLICATION
A personal journey to meet the golden generation of French rugby
Written by David Beresford Photography by Pierre Carton Foreword by Sean Fitzpatrick
The version in English is Self-Published and the French version is published by Hugo Sports. The cover of the English version is Jean-Pierre Garuet (L) and Philippe Dintrans (R). The cover of the French shows Jean-Pierre Rives leading his team out against the All Blacks in the second test on 14th July 1979.
Please note all photos (C) Pierre Carton www.pierrecarton.com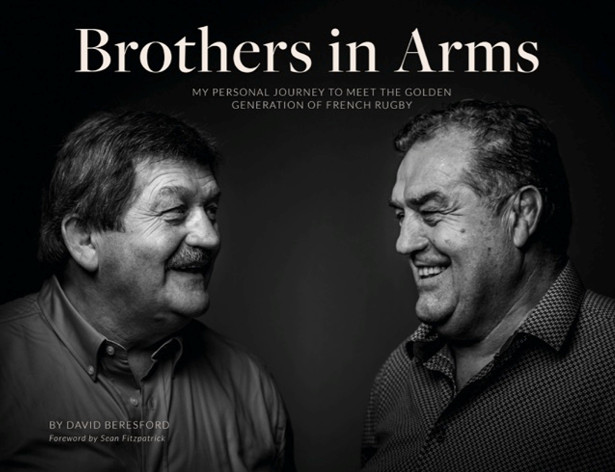 Brothers in Arms is a personalised account of Beresford's travels to track down the golden generation of French rugby and discover their life adventure. Going straight to the source, the players themselves, he meets Rives, Sella, Blanco, Garuet, Ondarts, Berbizier, Gallion, Champ, Imbernon, Cécillon, Dospital and many more. Where are they now? What are their memories and regrets? What are they like and what do they think?
Gathering insights and opinions from the crème de la crème of former international players and coaches (such as Sean Fitzpatrick, Michael Lynagh, Brian Moore, Will Carling, Mick Skinner, Buck Shelford, John Kirwan, Fergus Slattery, Gavin Hastings, André Boniface, Raphaël Ibañez and Pierre Villepreux), Beresford weaves a rich tapestry of the battles that the golden team were to win and lose on and off the field, telling the stories of how they lived to fight and fought to live.
Pictured are Jean-Pierre Rives, Laurent Pardo, Serge Blanco and Pascal Ondarts.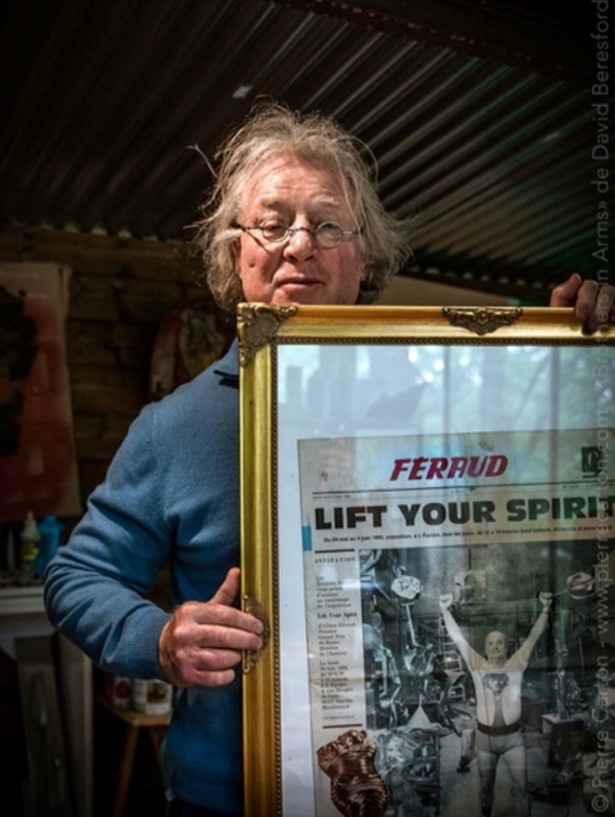 If Wales was the rugby team of the '70s, France deserved that accolade in the '80s. They brought poetry to the sporting battlefield with their mix of flair and brute force. But the course of true love never did run smooth and theirs is also a story ruptured by rivalry, politics, regret, tragedy and death.
Commenting on the publication in the UK and France, Beresford said: "This book is about former rugby players, but it isn't simply about rugby. It is about life and its kaleidoscope of colours and emotions – love, fear, loss, pain, regret, joy and hope. My inspiration to write this book came from my memories and love of watching them. However, there was another personal reason why I wrote it – because in my heart, back then, I wanted to be one of them; to play and live like they did, to seduce the public with the looks, swagger and guile, to bathe in the glory and fame, to taste the Latin camaraderie. Even after all these years, I wanted to meet them all, united by the love of a game and the love of life."
Words from some of the brothers…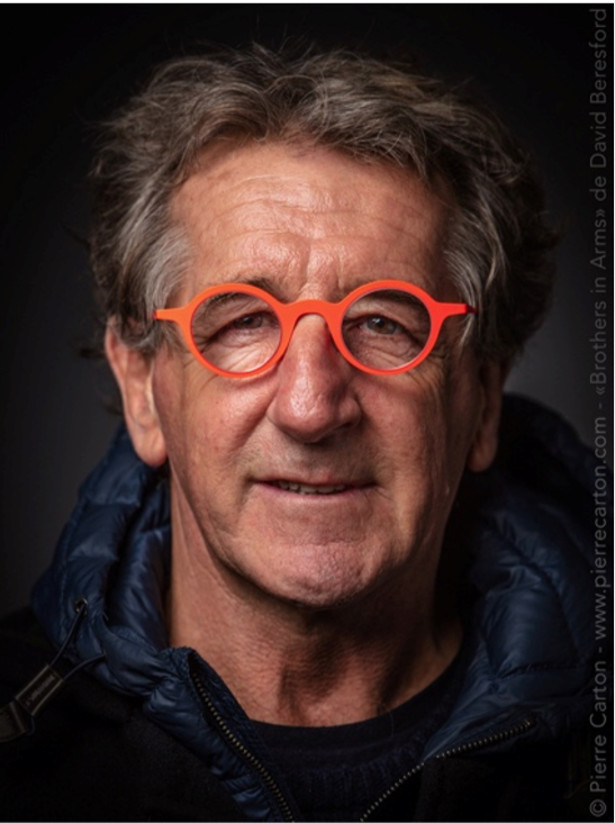 "Passionately and sensitively written, Brothers in Arms is an unrestrained insight into David's love for France, its people and golden rugby generation of the 1980s. It is a book of intense honesty, spirit and humour which evokes all the emotions." (Serge Blanco)
"When you read it, David will transport you alongside him as he takes you on his personal journey. You will see, feel, smell and taste what he does, as he paints his canvas with colour, empathy, humour, love and emotion." (Jean-Pierre Rives)
"Only someone with a deep love, respect and knowledge of France could write such a book. David packs 30 years' worth of stories and memories into this wonderfully researched work. But it is also a masterpiece of personal joy, generosity and compassion, which has at its core his ability to connect easily with people, understand them and communicate their stories." (Laurent Pardo)
"When I first met David, I was blown away by his knowledge of France and us, the former players, and of French rugby. And after his first sentence, I stopped him and said: 'Hold on, you're English yet your French is better than mine!' What he has achieved is magnificent." (Pascal Ondarts)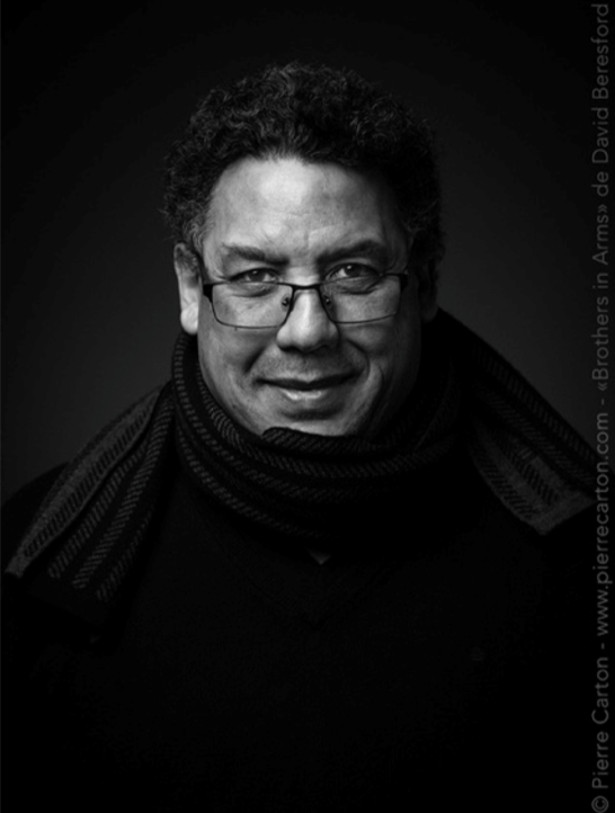 "This book is as much a story about France, life, friendship and the human spirit as it is about rugby. It is bursting with wonderful stories, photos and, most importantly, a deep love and respect for France, its people and regions. It will make Francophiles, humanists and rugby fans across the world very happy. (Sean Fitzpatrick)
"Brothers in Arms is available now from Amazon:
www.amazon.co.uk/Brothers-Arms-DavidBeresford/dp/1916009905/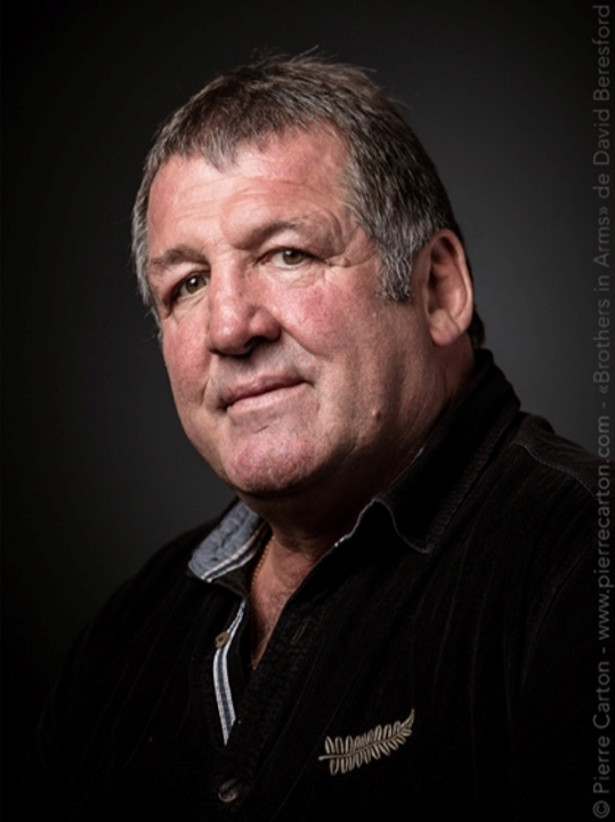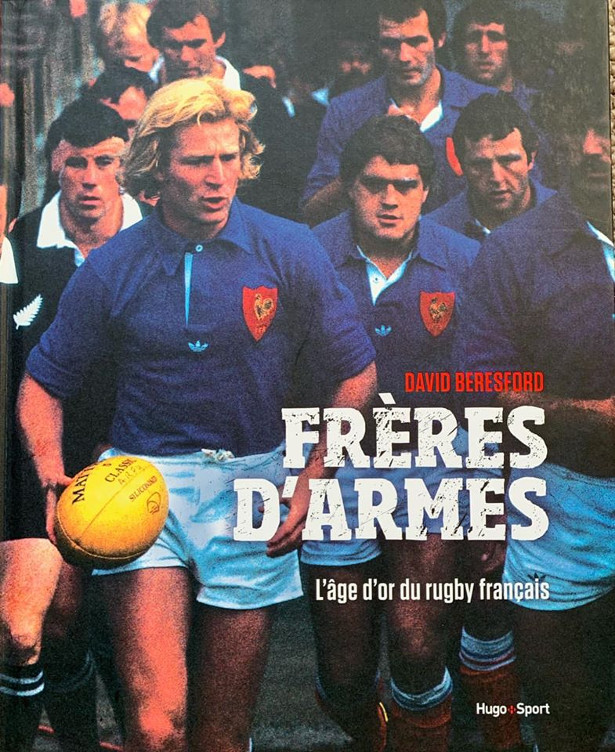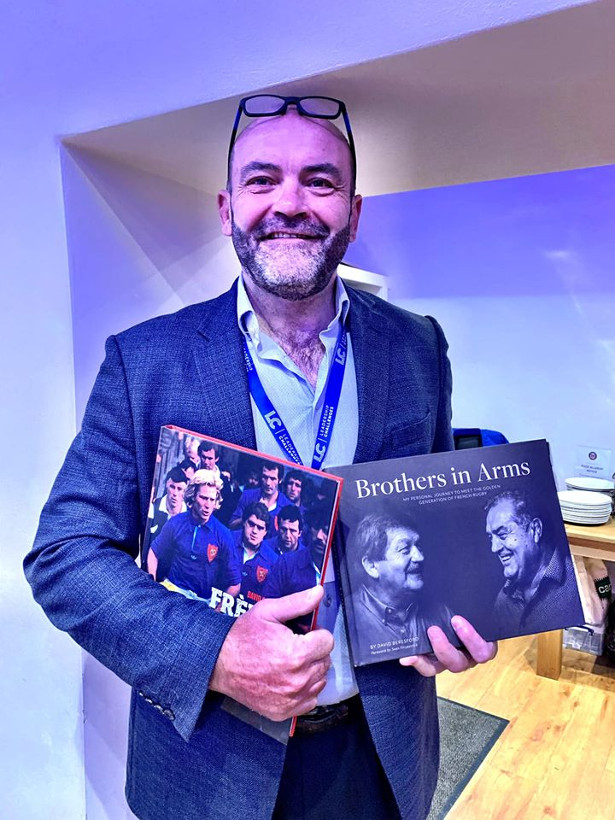 Above: John Hall, former Bath and England flanker, and Below: Jean-Pierre Romeu who was fly half in the great French side of 1977, captained by Jacques Fouroux, which won the grand slam with the same 15 players and conceded no tries.