Richard Harmes, head gardener at Myddelton House Gardens in North London, part of the 26 mile long Lee Valley Regional Park explains why getting into gardening can be so beneficial and gives his top tips for gardening with children and in small spaces.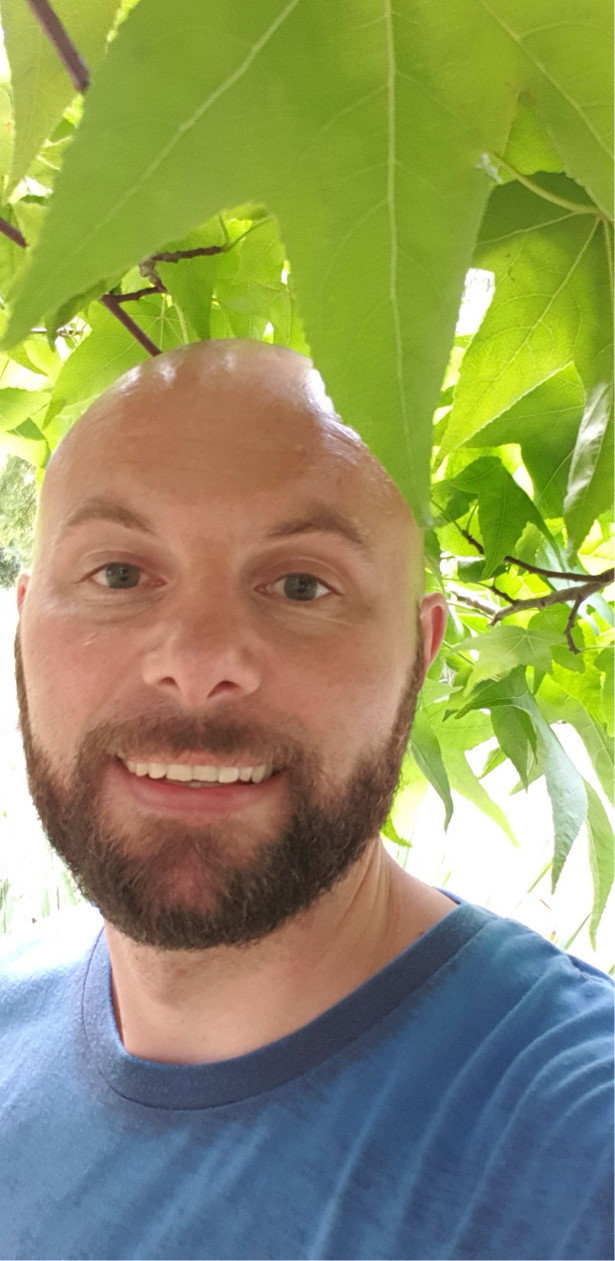 Richard said, ''Gardening and working with plants is said to boost productivity, creativity and reduce fatigue and stress, so it's the perfect activity to help boost your well-being during lockdown. It's also something the whole family can do together and is educational for the children.''
''Spring is a busy time for gardeners, professional and amateur alike. But many nurseries and Garden Centres are now closed to the public. However, many are offering home delivery services, meaning you may still be able to get the resources you need. You can find out more and discover which ones deliver, here.
Gardening Activities for Children
Gardening is great for children of all ages. It caters for little ones who just want to get their hands dirty right through to those with a thirst for knowledge who are inspired and fascinated by the idea of getting to grips with 'how things work'.
The Quick Fix
Children can quickly lose interest if they don't see results quickly. So a good way to get them interested is to start with an exercise that does just that.
Sowing sunflower, cress and salad seeds is easy to do and you will get results fast. To make things more interesting, these seeds can also be sown in between wet paper towels or cotton wool, in addition to traditional pots.
Watch it Grow
Children are often more fascinated by how things grow when they can clearly see all the processes. A good way of doing this is by taking cuttings and growing them on. The usual way is to pop the cutting into compost and then wait patiently for some time until new growth appears.
An alternative method is to put the cutting into a jam jar (or something similar) that is full of water. The water will need changing every few days but the result will be fascinating as you can actually watch the roots form and grow in the jar until they are ready to be potted on.
Herbs and Vegetables
Growing something you can eat is a great way to encourage children to try new foods and take pride in their homegrown produce. You don't need an allotment or a huge plot to grow vegetables. In fact, a small raised bed of 1m x 1m is more than enough to grow a range of veggies. Failing that, pots and window boxes are also good and these can even fit onto a balcony or windowsill. Dwarf tomatoes are great for window boxes, as are chillies, if your children are brave enough!
The Sensory Garden
Children are discovering new sights and smells all the time, and gardening is the perfect way to enhance this. Growing plants that smell, such as mint and lavender, is a great way to stimulate the senses, as is growing plants with really bright or unusual colours. Some plants also have unusual textures or rustle when touched. Sensory plants are great especially for great for children with special needs and sensory impairments. Examples include rosemary and lavender.
Sustainable Gardening
It's good practice, and fun for children, to use what you have lying around for gardening. Old yoghurt pots and toilet roll inners are perfect for seed sowing and growing on of plants. If they aren't made of plastic they can be planted straight in the garden as a good biodegradable alternative to plastic pots. Even old wellies and barbecues can be used to plant things into and are a lot a fun to look at, too.
Watch it Grow, Reap the Rewards
Children should enjoy their hard work. Keeping a record of the different stages will help to keep things interesting and help them to better understand the what, when and how of the process. At the end of it, they'll be able to enjoy the rewards by either eating and tasting their produce, marvelling at the beauty and brightness of their blooms or even collect the seeds and cuttings to begin the whole process again!
GARDENING IN SMALL SPACES
Gardening can be a pleasure, regardless of the size of the space you have available. Here are my top tips for balcony gardening and activities you can do if you have a window box at your disposal.
Balcony Gardening
Know your Light. Don't try to grow plants that will only thrive in full sun if you have a shady balcony. The key to success is always 'right plant, right place.'
Good Drainage. Ensure your pots have a good base of shingle or broken crockery to allow good drainage and prevent waterlogging.
Grow veg and herbs. You can grow quite a few of these in a small space. One thing to consider is 'Square Foot Gardening'. This practice can be applied to large containers on balconies and involves growing different vegetables in square feet areas. Tomatoes grow very well on balconies.
Grow fragrant plants and attract bees. Don't shy away from having bees working busily on your balcony. Easy to care for fragrant plants for the balcony include roses, peonies, rosemary and lavender. You could even grow jasmin that you could train along the outside barrier of the balcony.
Invest in railing planters and plant some trailing bedding plants such as Bacopa and Lobelias. These soften the railings and give the look of a 'living wall'. Ensure to water and feed regularly.
Window Boxes. Check the size of your windows before purchasing new window boxes and ensure they are in easy reach. Frequent watering and regular feeding is needed, so this is essential.
Line and insulate. Your window boxes should be insulated to protect them from dropping temperatures and to promote more vigorous root growth if they are exposed to heat. A good method is to line them with corrugated cardboard before filling with soil.
Used bedding plants. Good bedding plants include Petunia, Geraniums, Zinnias, Nasturtiums and Begonias.
Trailing plants such as strawberries, sweet potato vines and trailing geranium offer a great display and give you something edible too. Pack the plants in so they burst with colour and foliage.
Grow edibles such as dwarf tomatoes, lettuce and peppers as well as herbs like thyme, parsley and sage. Plant them near the kitchen so you can take them right off the plant for cooking.
Remove plants once they've finished performing and replace with new, and preferably different, ones. Always completely change the compost because the old compost will be depleted of any nutrients and full of roots at this stage.
For more information about Lee Valley Regional Park, visit: www.visitleevalley.org.uk
Pinterest launches Today Tab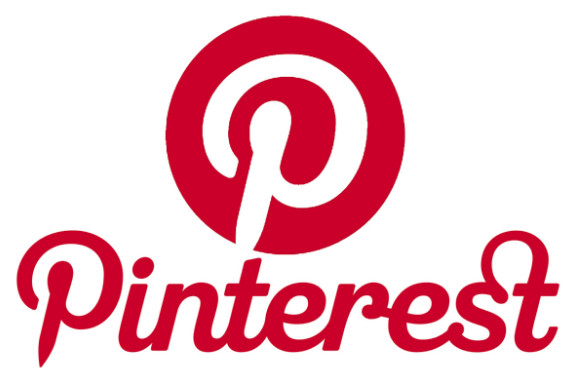 As many people find themselves at home during these uncertain times, they're turning to Pinterest as a positive space to find inspiration as they adjust to this new normal. In fact, searches for "stay at home kids activities" are up 4,055% and "tips for working from home" are up 1,411% in the last two weeks.
In response to this, Pinterest fast-tracked the launch of a new feature called the Today tab – a fresh source of daily inspiration with curated topics and trending Pins.
The Today tab makes it easier than ever to jump into the positivity of Pinterest and find inspiration at a time when it might be in low supply.
To make the new space as relevant and helpful as possible right now and with the fight against misinformation a top priority, Pinterest is launching with expert information from the World Health Organisation and the Centres for Disease Control. Additionally, inspirational content such as kid-friendly baking ideas, self-care tips and family-favorite movies based on trending Pins will also be featured. The content will be refreshed daily. Currently the topics are curated by the Pinterest team and in the future will feature guest editors.
To ensure Pinterest is a place people can go for calming activities, they've launched compassionate search on web, to make the mental wellness feature available on all devices. That means when you search for terms like "stressed out" from your desktop computer or your phone, you'll see the options to check out a collection of emotional wellbeing activities to help relax and feel better with content from health experts.
Methodology
Percent increases are calculated using global searches over the last two weeks (3/4/20 – 3/17/20) compared to the two weeks prior (2/19/20 – 3/3/20)
PIONEERING MUSIC MEDITATION APP MEYA INTRODUCES 'EMBRACE CHANGE' SERIES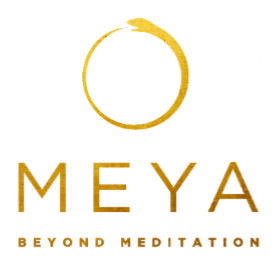 London: To help facing today's challenging moments, new electronic music, NLP and meditation app
MEYA, introduces its 'Embrace Change" series within its free version- a daily music tool to help
listeners control their mind, feel positive.
Combining music and alchemy can create a very powerful tool to help individuals meditate, feel
inspired and transform emotion. MEYA's 'Embrace Change' series contains specific music mind
journeys to provide help during this uncertain period, including: sleeping help, deep healing and
protection meditation, guided practice of ho'oponopono, an ancient mantra to resolve conflicts, a
session on how to transform fear, breathwork to help strengthen the immune system, uplifting
positive affirmations and dance meditation for those wanting to be more active. More content will be
added regularly.
The series will be complemented by daily mental and mindfulness exercises via MEYA's Instagram
channel, providing practical and effective practices to do at home to help increase self-awareness.
MEYA will also be giving free access to all members to its premium content throughout this period.
MEYA's modern Alchemy facilitates a powerful tool to truly "Embrace change" and offer emotional
techniques to help transform fear into a force on our side. NLP based suggestions to set the mental
focus on how to change challenges in opportunities will also be provided as well as meditations to
promote a shift to a higher level of awareness to help individuals feel empowered and supported
throughout this time.
MEYA's in-house music producers and DJs have created specific, mood-enhancing rhythms and
binaural beats to put the mind at ease and more receptive to empowering messages. Each MEYA Track
is recorded in 432hz and includes latest binaural technology to entrain the mind, combined with
cinematic techniques to trigger positive emotions. For those getting accustomed to a new way of life
at home and looking for mental wellbeing support, MEYA's tracks make meditation accessible – like
listening to a song – and can be completed at any point throughout the day.
Raffaele Ricci, Founder of MEYA says: "In these challenging moments, inner Alchemy is a powerful tool
to control the mind and awaken a powerful force within. Using our inner resources we all have an
opportunity to transform challenges into opportunities, our the unpleasant emotions like fear into a
force on our side to ride the storm and flow with life"
Available on the app, YouTube and SoundCloud, MEYA is offering free access to premium content to
its members for the next three months. For listeners looking to contribute to their self-development
over the series, a subscription option is also available.
For more information about MEYA, please visit welcometomeya.co.uk
HOW SUSTAINABLE IS YOUR FLOOR?

When we talk about sustainability, what comes to mind? For most of us, it is about meeting our own needs whilst ensuring our choices don't negatively impact future generations.
With sustainability in flooring, each product has its own benefits and factors to consider before making a final decision. The Australasian Timber Flooring Association (ATFA) have outlined how the range of 'timber' flooring products measure up when considering the lifecycle of the product and its environmental credentials.
ATFA CEO, Randy Flierman reminds us that "If you're considering which flooring choice will be the most long-lasting, timeless and sustainable, then look no further than timber".
Timber needs to have been harvested responsibly in order to be considered sustainable. There are both Australian and international standards around harvesting timber, with major production forests ensuring that timber is harvested in a rotation which means there are always new trees being grown.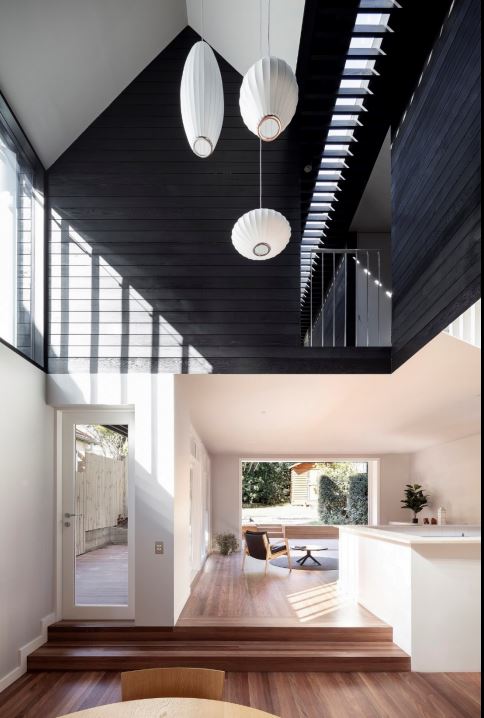 When considering sustainability and benefit to the environment, traditional solid timber flooring (including solid parquetry) is king. This is because all solid timber flooring stores carbon, which contributes to offsetting the carbon dioxide emissions, and this in turn helps reduce the effects of climate change. Other flooring products do not provide the same benefit.
Also, as indicated, these products are made from sustainably managed forests and with some floors known to have had a lifespan exceeding 100 years.
Solid timber floors are also made to be refurbished many times during their life, whereas most other flooring products will need to be replaced when they age and become worn. When you sand solid timber flooring back to bare timber and recoat them, the floor comes back to near new condition.
Solid timber flooring is known to add up to 3% to the value of your home. Therefore, whilst the initial costs may be higher, this is recouped when the house is sold.
Alternatively, engineered flooring is generally made up of layers of timber that are glued together. These products can be either fixed to the subfloor or they can be floated on an underlay, and they are generally pre-finished, so no site sanding and coating is needed, making it a more convenient and time effective option. Only the decorative layer is of high value timber, which enables our high value slower growing timbers to cover a greater area on the floor.
Laminate flooring resembles timber boards, and often has a textured surface to replicate the appearance of solid timber boards. Underneath the surface, wood fibre provides the structure of the product and makes up most of the volume.
Laminate flooring shares some of the advantages of engineered flooring in that it is a finished product after laying and it also provides a very durable floor surface. This flooring is only laid as a floating floor over an underlay and would usually be replaced within 20 years.
Cork flooring is also a highly sustainable option, as only the bark is used, so the tree does not need to be harvested at all. Cork flooring is often sought after for its softer and more forgiving feel. It is a stable product which can last around 30 years. Like timber and some engineered flooring, it can usually be re-sanded and coated when needing to be refurbished.
In regards to hybrid flooring, many people question whether it is or isn't timber flooring. Hybrid flooring is a general term covering products that you may know as LVT, WPC or SPC flooring. Although some SPC flooring can have a sliver of timber on the surface, these products are generally timber look alike products and differ to laminate flooring in that core layer is a form of plastic.
Hybrid flooring products are moisture resistant, durable and easy to care for which is beneficial. Due to these generally being lower cost options, owners see less value in keeping them for long periods and therefore may be more inclined to replace them after 5 to 10 years.
When choosing your next flooring, ensure you consider all of these environmental attributes and make sustainable choices for the future generations.
Spring Green – And environmentally green
The new Forest Green mats from LIND DNA bring a wonderful feeling of spring onto the table and into the house.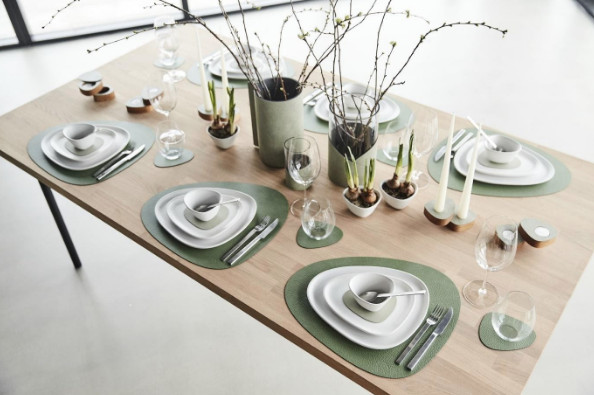 The new colour is available in various shapes: curve, leaf, round and square and in sizes for dinner, lunch and coasters.
The leather is from remnants of furniture, bag or shoe productions which are mixed with natural rubber from trees. The result is a durable quality of 80% core leather and 20% natural rubber, which is dyed and embossed in decorative patterns.
Prices from £17 for a small table mat and £5 for a coaster.
Available on-line from www.linddna.com. Free delivery over 100 Euros. Delivery 3 to 5 days.
And from various shops in the UK
SUMMER VIBES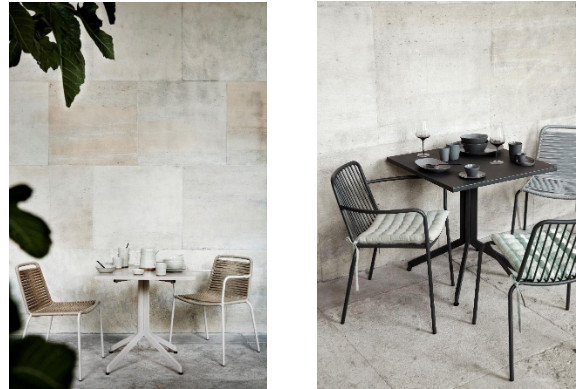 It won't be long before our garden, terrace, deck or balcony become a central part of our home. As spring approaches and temperatures start to rise, it is time to embrace the urge to spend every minute outdoors. We seek places to retreat and recharge, embrace the fresh air and enjoy blissful evenings with friends and family.
Broste Copenhagen has brought out a range called Alton, which consists of 10 different pieces. Two tables and eight chairs. The Alton chairs are available I n 4 different designs and available with or without arms. One of the designs is a chair with the seating areas made from 100% polyester rape, giving it a unique look. The frames are produced in stainless aluminium and all chairs are stackable.
The Ava cushions can be used outside all season and the cotton material is GOTS certified and UV protected.
The Alton table retails at £417, The Aluminium tube chair £20, with arms £221
And the chair with rope £229 and £242 with arms. The AVA cushions retail from £30.
www.brostecopenhagen.com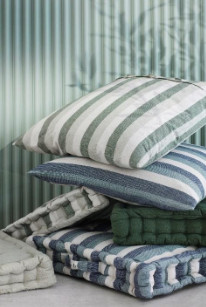 Spring Green – And environmentally green
The new Forest Green mats from LIND DNA bring a wonderful feeling of spring onto the table and into the house.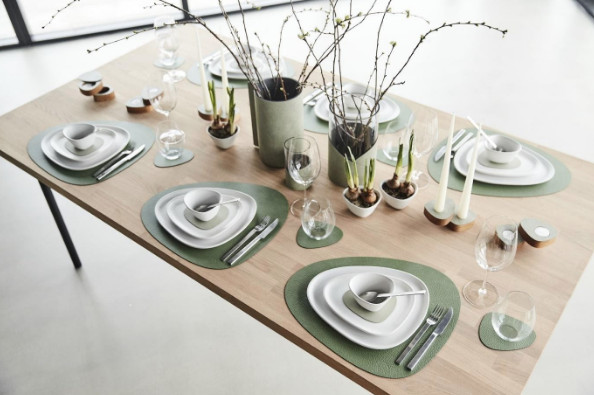 The new colour is available in various shapes: curve, leaf, round and square and in sizes for dinner, lunch and coasters.
The leather is from remnants of furniture, bag or shoe productions which are mixed with natural rubber from trees. The result is a durable quality of 80% core leather and 20% natural rubber, which is dyed and embossed in decorative patterns.
Prices from £17 for a small table mat and £5 for a coaster.
Available on-line from www.linddna.com. Free delivery over 100 Euros. Delivery 3 to 5 days.
And from various shops in the UK
SUMMER VIBES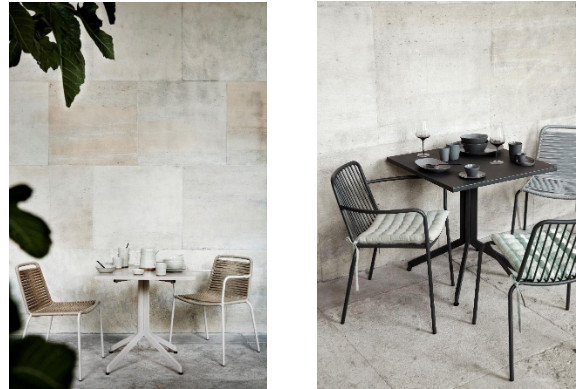 It won't be long before our garden, terrace, deck or balcony become a central part of our home. As spring approaches and temperatures start to rise, it is time to embrace the urge to spend every minute outdoors. We seek places to retreat and recharge, embrace the fresh air and enjoy blissful evenings with friends and family.
Broste Copenhagen has brought out a range called Alton, which consists of 10 different pieces. Two tables and eight chairs. The Alton chairs are available I n 4 different designs and available with or without arms. One of the designs is a chair with the seating areas made from 100% polyester rape, giving it a unique look. The frames are produced in stainless aluminium and all chairs are stackable.
The Ava cushions can be used outside all season and the cotton material is GOTS certified and UV protected.
The Alton table retails at £417, The Aluminium tube chair £20, with arms £221
And the chair with rope £229 and £242 with arms. The AVA cushions retail from £30.
www.brostecopenhagen.com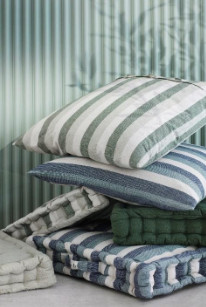 TIME magazine names Cosm, designed by Studio 7.5 for Herman Miller, one of the 100 Best Inventions of 2019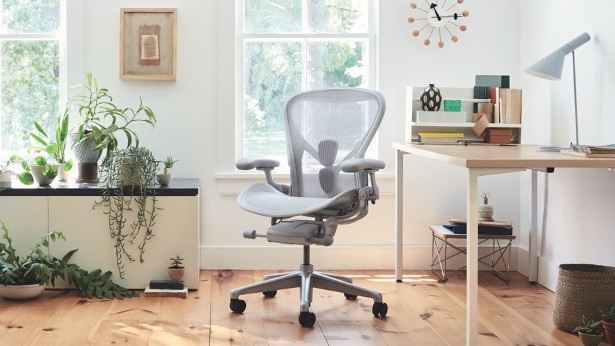 Studio 7.5's elegant task chair, the Cosm, has taken the design world by storm since launching at Salone Del Mobile in 2018. Celebrated for its sophisticated ergonomic design, the Cosm appears to be simplicity itself, yet it took a decade of form-making, engineering and testing to achieve the support, comfort and aesthetics this revolutionary chair offers today.
The Cosm has already received numerous awards – this year, it scooped the Green Product Award and the Red Dot Best of the Best Product Design Award in the 'Office Chairs' Now TIME magazine has named the Cosm as one of the 100 Best Inventions of 2019, among a slew of inventions that change the way we live, work, play and think about what's possible. Nominations across a variety of categories were solicited by editors and correspondents across the globe and online, with each contender scored for factors like originality, effectiveness and influence. The prestigious list honours innovative thinking across disciplines, with the Cosm one of only three items recognised in the Design category.
What makes the Cosm so special? As the world's first chair with an automatic tilt, thanks to its Auto-Harmonic mechanism – 'smart' technology situated in the gearbox below the seat – the Cosm automatically adapts to the user's body, movement and posture, which makes manual adjustment unnecessary. This means that whoever sits in the chair will always feel balanced and comfortable – and this is also partly due to Intercept, the continuous suspension material that supports the user's contours. The chair's flexible frame allows for free upper body movement while ensuring the sitter keeps his or her feet on the ground – critical to maintaining ergonomics. Form and function blend seamlessly to make sitting a pleasurable experience, which is no small accomplishment.
The smart solution for corporate and home offices, the Cosm can be purchased from All Office, the sole stockist of Herman Miller furniture in South Africa. The high-back, mid-back or low-back Cosm can be purchased with no arms, fixed or height-adjustable arms, or the attractive leaf arms, which provide a soft but firm cradle for elbows. There are six core colour schemes offered in the Cosm family, which have been selected by industry colourists and designers to satisfy both traditional and contemporary spaces. These core colours can be accented by choices of frames, arms and bases to create a chair suitable for any environment. The Cosm comes with a 12-year warranty.
Visit www.alloffice.co.za for more information.
Keeping busy during lockdown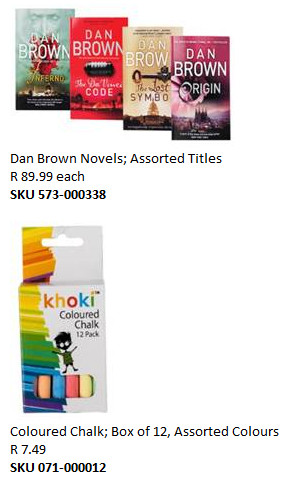 Scott Harrison, founder of The Six Pack Revolution online health, fitness and personal development programme and co-founder of Strong Powerful Resilient Juniors shares his top tips for keeping the whole family fit and healthy in mind and body while we practice social distance and isolation:

After the news last week that schools across the country were to close for the foreseeable future, a sense of nervousness swept families across the nation as we are all suddenly faced with the task of keeping our children fit and healthy without leaving the home.
With childhood obesity and mental health problems on the rise, Jen Frost Teacher of secondary Physical Education BA Hons (QTS) and I used our knowledge of health and fitness as well as the National Curriculum to develop SPR Juniors (Strong Powerful Resilient) for Primary schools.
Following government recommendations that children between the ages of 5 and 11 should do 60 minutes or more of physical activity each day at a moderate intensity (with three of those days including vigorous intensity), we constructed a programme of high intensity workouts and mindfulness for KS2 pupils.
We've created a home-friendly version of a PE lesson which we are sharing for the first time to help families through this difficult period – https://youtu.be/QC9qLlZxw-U
The programme includes family-friendly recipes, fun home workouts and confidence building techniques and I would like to share my top tips to help parents navigate incorporating health and fitness into the family routine during these uncertain times – after all, we're all in this together!
Tip One | Get Cooking
Get fussy little eaters into the kitchen and turn them into little chefs with some easy and fun cooking projects. They'll love tasting their handiwork, too!
Some of my favourite recipes from the programme – and my kids' too – are the following:
Secret Vegetable Tomato Soup
Hawaiian Vegan Pizza
Knickerbocker Glory
Pineapple Pancakes with Coconut
TIP TWO | PREP YOUR FRIDGE
We love the idea of using the door in your fridge to serve as a 'snacks on tap'. Swap out sugary cakes for prepped raw vegetables; fruit or cheese the options are endless.
Remember, if you want your children to be able to help themselves, set some clear boundaries.
TIP THREE | TRY SOMETHING NEW
Picky eaters can make mealtimes hectic and stressful. The best way to encourage any child to try a new food is to do it regularly and never be put off if the first 'try' of the new food isn't a positive experience. It can take between 10 to 15 exposures to get a child to like a new food.
TIP FOUR | OFFER THE SAME FOODS FOR EVERYONE
At least once a week, make sure your children eat the same meal as you. Whether it is healthy cottage pie or a roast dinner, they need to know that you are not their personal chef and they need to eat a regular meal with their family! This period at home is the perfect time to regularly eat together as family. Use this time to talk about fun and happy things they love. Turn off the television and make it as stress-free as possible.
Friday nights are for dancing
Clear some space in your living room or playroom so your children can enjoy moving around without the risk of hurting themselves or breaking something.
Whether it is ballet; street dance or just a good old boogie… get into the grove and have some fun.
If you want to make it a proper party, turn the lights down low, get out the glow sticks and turn up the music!
Even the tech loving boys can get involved. Invest in the 'Just Dance' game which is available for a wide variety of platforms. This uplifting game turns physical activity into a fun competitive event for all the family!
As long as everyone is involved (mums and dads included) then everyone will get a bit of exercise whilst having a blast!
Create a move jar
This is the basis of a game very similar to charades…
All you need to do is get the children to write down or draw some moves that they need to guess. It could be an animal's movement like a monkey or an elephant; someone washing up or, a person doing up their shoelace.
Place them in your decorated jar and then start the game. You can play in teams of two with the other team having to guess the movement using a timer.
Fun; easy to play for all ages and it gets everybody moving!
Having fun in the garden
Especially whilst we are spending so much time indoors it's important to get out into the garden if you are lucky enough to have one.
Encourage leaf collecting and make a large pile of leaves to encourage visiting hedgehogs to nest. Replenish the bird feeders as this is the time they need our help the most. Turnover the vegetable patch ready for springs planting activities. Or, just clear out the play house and wash down the bikes!
Keep an eye on the SPR Juniors socials for positive and practical posts
www.instagram.com/spr_juniors/
www.facebook.com/StrongPowerfulResilientJuniors/
www.sprjuniors.com/
6 IDEAS TO KEEP YOUR LITTLE ONES – AND YOU – BUSY DURING THE COVID-19 LOCKDOWN
As families across South Africa settle into the new reality of lockdown, here are some creative activities – along with teaching opportunities – to keep children of all ages engaged and happy.
Bust that boredom
British garden designer and author Dawn Isaac knows that anything out of the ordinary means a lot of fun for restless kids. To keep sane during these long days together, Isaac and her family suggest creating a boredom buster. Use a large jar and fill it with squares of paper, each detailing a specific activity. These should be things everyone can do, such as playing a board game, making a snack and – to add some suspense – chores like cleaning your room. Each time someone says they're bored, pick an activity from the jar to do together.
Extra, extra! Read all about it
The current crisis has made us more aware of how important it is to keep up-to-date with what's happening in the world. If you regularly read the news, have magazines or old newspapers in your home, or have a printer to print out online news, use this time to teach your kids about world events, spelling and grammar, and so much more. Have the little ones search for different letters or words in an article, while the older kids can identify words from word classes like adjectives and nouns. Cutting out large letters from headlines and creating an alphabet chart, or finding stories from different parts of the world and marking them up on a map, will also teach invaluable English and geography skills. Your kids can also create their own newspapers about their day and what they've seen or read.
Explore the world (virtually
We may be stuck indoors but technology has rendered all excuses for learning about the world null and void. Appreciate the art of more than 1 200 museums and galleries across the globe with Google Arts & Culture, which also features SA's Zeitz Museum of Contemporary Art Africa (Zeitz MOCAA), and has a free app for Android and Apple. YouTube Kids also offers a plethora of entertaining, educational and age-appropriate videos so kids can learn about everything from science to nature and beyond.
Bring the outdoors in
Even without access to the internet, your kids can still play and learn. All you need is some household junk and lots of creativity. Create a terrarium using a clean two-litre cold drink bottle by cutting it near the bottom, filling the base with soil and plants from your garden then wedging the upper half of the bottle on to the base. Or have your kids grow their own herbs using the bottom of empty eggshells (hardboiled eggs work best for this), spooning in some potting soil and seeds from vegetables then watering regularly. Give the kids some khokis to draw faces on the front of the shells so when the herbs start to sprout, it looks like hair. Not only will this give them something to do but will also teach them the importance of the environment and perhaps encourage them – and you – to take part in a Greenpop urban greening and forest restoration project once the lockdown is over.
Make some memories
Long gone are the days when we took photographs with our point-and-shoot cameras and waited in anticipation for the images to be developed so we could add them to our already bulging photo albums. These days, all our most cherished memories are stored inside our phones alongside hundreds of memes and pictures of old till slips. Use the extra time you have to sort these memories into digital albums using the free ForKeepsApp. You can create Forever Albums, send personalised messages or even create a time capsule using the Digital Legacy feature.
Back to school
Although schools are closed during the lockdown, many have provided support tools, such as online classes. However, if that's not the case or you're looking for additional resources to keep them occupied and learning, there are plenty of educational tools you can turn to – and some won't cost you a cent! IDEA Digital Education provides innovative and interactive programs that help learners of all ages and levels engage with the subject matter – find out more here. WorksheetCloud, an online platform that provides online and printable worksheets aligned with the National Curriculum Assessment Policy Statements (CAPS), is offering free live online lessons for all grade 3 to 7 learners in South Africa. All you have to do is register your child here and, if you're a MySchool MyVillage MyPlanet cardholder, you can get R100 off a regular WorksheetCloud subscription, too. To sign up for a free MySchool MyVillage MyPlanet card, visit myschool.co.za or download the app. In addition to incredible offers, its partners will make a contribution to schools, charities and conservation beneficiaries of your choice – at no cost to you!
New Nordic Hair Volume (£24.95)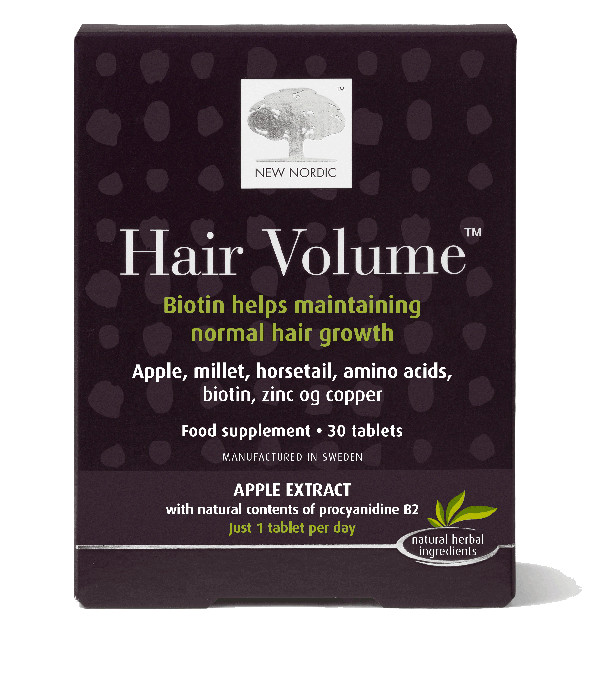 Helps maintain voluminous hair growth
Nourishes and activates the life processes of hair follicle cells
Contains micronutrients and herbal extracts including apple extract, procyanidin B12, biotin, zinc and copper
Hair Volume is the tablet you need to help maintain normal voluminous hair growth. The unique bioactive nutrient hair growth factor combination contained in each tablet nourishes and activates the life processes of hair follicle cells.
The tablet works from the inside out. The tablet, which is manufactured in Sweden, contains micronutrients and herbal extracts including apple extract rich in procyanidin B2. The content of biotin and zinc contributes to the maintenance of normal hair and copper contributes to normal hair pigmentation.
Available from www.newnordic.co.uk and www.hollandandbarrett.com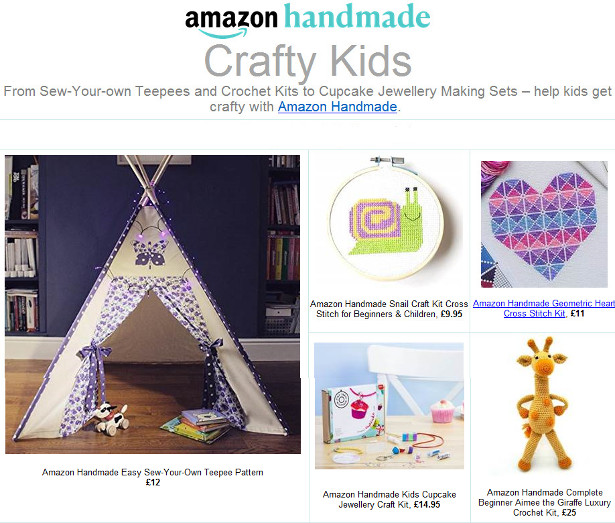 VICKY PATTISON IS PERFECTLY PERKY THANKS TO NEW AMBASSADOR ROLE FOR LIFT AND SHAPE TAPE BRAND
CELEBRITY FAN VICKY PATTISON BECOMES THE FIRST BRAND AMBASSADOR FOR PERKY PEAR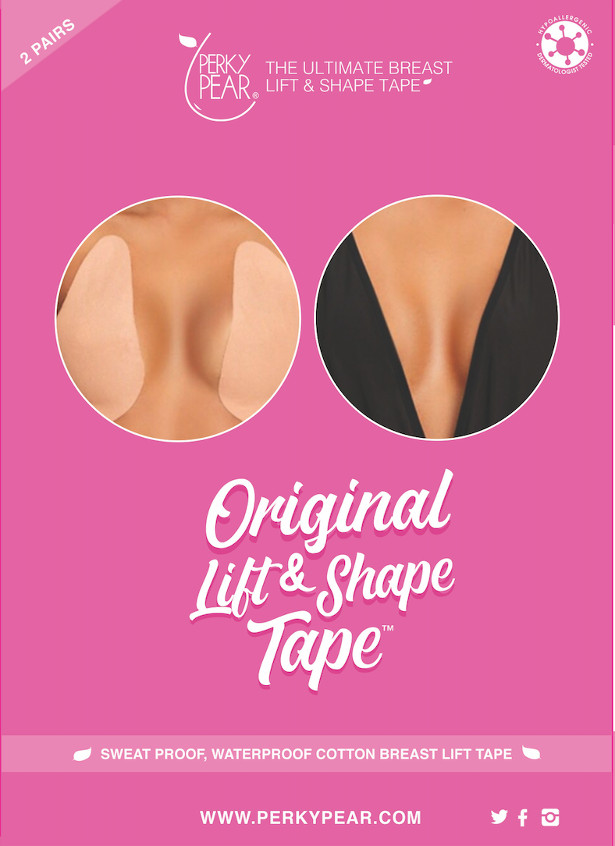 Perky Pear Lift & Shape Tape has named TV's Vicky Pattison as its first celebrity brand ambassador.
The former Geordie Shore star will showcase the one-of-a-kind product, dubbed the ultimate non-surgical solution for Britain's boobs, via Instagram, red carpet appearances and events.
Perky Pear selected Vicky for the job as she's a genuine fan of the brand and an advocate for body positivity, mirroring the company's belief that no style should be off limits to any woman.
Vicky kicked off her ambassadorship with a glamorous photoshoot and will hold a launch party at glamorous celebrity hotspot Menagerie, in Perky Pear's home town of Manchester.
Perky Pear is an all-in-one tape that caters for busts of all sizes, not only lifting, but shaping, creating a firmer, rounded effect and ensuring that cleavage of all shapes and sizes is red-carpet ready, every time.
Breathable, elasticated and lightweight, the tape offers a comfortable and discreet lasting hold for any occasion – guaranteed to keep things perky exactly when needed. The heat activated adhesive works with body heat, so the hotter you get, the stickier the breast tape becomes. Perky Pear has an ever-expanding celebrity fanbase including, of course, Vicky, as well as Gemma Collins, Marnie Simpson and Malin Anderrson.
Vicky Pattison, brand ambassador for Perky Pear, said: "I have never previously been able to go braless which has meant many dresses – be they backless or sexy and plunging – have been a no-go. That was until I started using Perky Pear. These products gave me a wicked cleavage at events including the TV Choice Awards and National Television Awards and I'm thrilled that my genuine love for the product has developed into a true collaboration.
"I can't wait to perk up the nation's wardrobes by showing women they can wear whatever they want, whenever they want and am excited to be the first ambassador for one of my all-time styling hacks."
Samantha Ryder, Perky Pear's founder, said: "We are passionate about finally providing an affordable non-surgical breast lift solution that delivers real results. We have helped women across the world feel confident about wearing the styles they were once unable to wear.
"One such woman was Vicky Pattison and we're delighted to have her aboard as our first ambassador who will help show other women how Perky Pear has given her the confidence to wear anything and everything she likes, showing that no style is off limits whatever your shape or size.
"Innovation, women, design and technology are at the heart of our products which is why they work so well and why we've won legions of fans including Vicky. We are proud that our tape is designed and created in the UK and is now leading in the industry with headquarters located in the UK and USA as we expand worldwide."
Vicky's ambassadorship for the brand comes ahead of its first TV advertising campaign, #nostyleofflimits, which premieres on ITVEBe in April 2020.
Visit https://perkypear.com/ for your pair of Perky Pears. Prices start from £12.99.
Free 12 week subscription to L1VE l1vefit.com/collections/all/products/l1ve-fitness-all-workouts-bundle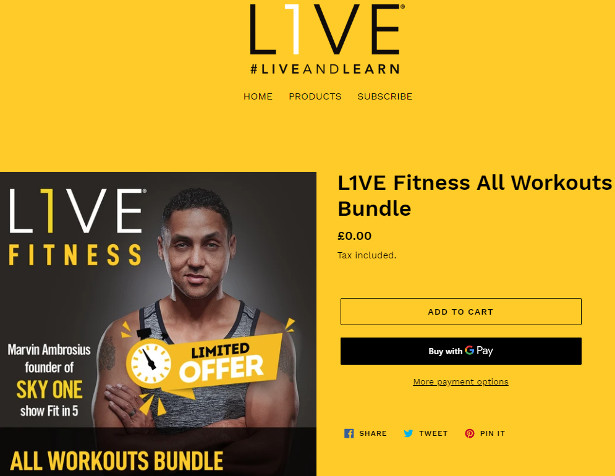 The LEGO Foundation and the LEGO Group have joined forces to help address the critical needs of children in these unprecedented times.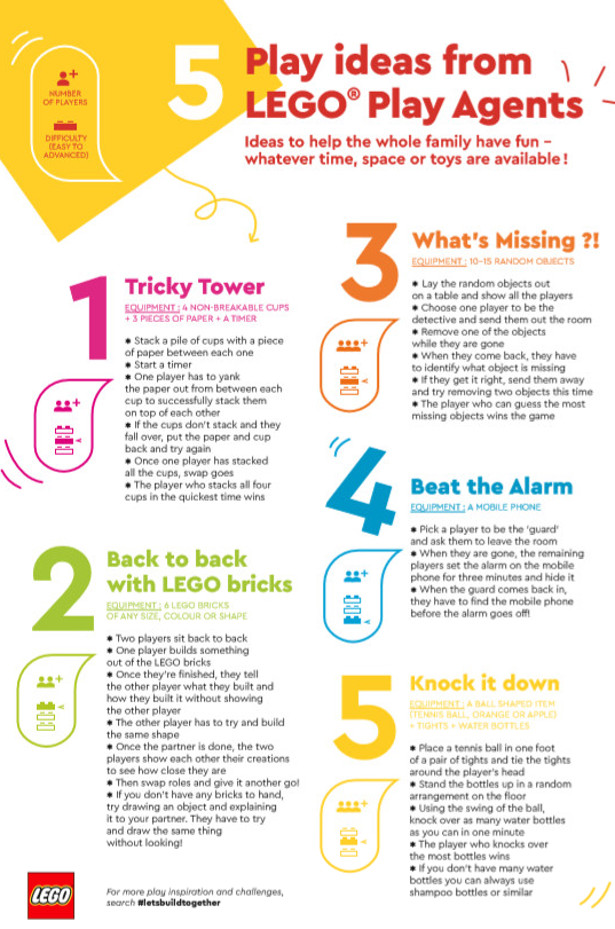 The recent launch of the #LetsBuildTogether initiative aims to give a hand to parents and families alike who are struggling with creative ideas to keep kids occupied at home, the hub including daily play challenges, new play ideas and live build-a-longs. Please do let me know if there are any round ups in the works on how to keep young ones (and parents alike!) entertained during the lockdown as I would be happy to answer any furher questions on the initiative.
—
#letsbuildtogether
Inspired by the amazing LEGO creations being shared by people of all ages on social media, the company has delved deep into its archives and assembled LEGO designers, STEM gurus and play experts to come up with new ways to help families stay creative, curious and connected while at home.
Daily play challenges, new play ideas and live build-a-longs will be shared on social media using the hashtag #letsbuildtogether and at www.lego.com/letsbuildtogether. Play inspiration can also be found by searching #letsbuildtogether on social media.
The LEGO Group is committed to sharing the very best play inspiration to:
a) help families stay curious, creative and connected whatever time, space or toys they have access to
b) helping to support families as they face the challenge of keeping children educated and engaged while juggling their own work and wellbeing
Over the next few weeks, hundreds of play ideas will be shared on www.lego.com/letsbuildtogether, and LEGO social channels, inviting builders across the globe to:
Have a go at daily building challenges and join live build-a-longs
Share their creativity online using #letsbuildtogether
Attached is a taster of the sort of play inspiration that the LEGO Group will be sharing to help families find moments of playful joy in the coming weeks
David Pallash, a LEGO Play Agent, commented: "With many parents worried about juggling work with childcare and schooling, play could be one of the easiest, and most fun ways of keeping a child's education and development on track. Children say they learn best when activities feel like play, while 9 in 10 parents feel that play helps their child develop key skills such as resilience, collaboration, creativity and communication[1].
"Not only is play essential to a child's development, but it benefits the whole family too. Parents say that playing with their child is good for their own wellbeing and happiness and importantly in tough times, it also helps them relax and connect with their children [1] ."
David is available to talk (on Skype!) about how he is keeping his own kids entertained and on track educationally at home, as well as sharing some of his own play inspiration.
A taster of the sort of play inspiration families can expect, images, b-roll and #letsbuildtogether videos can be found here.
Also announced today, the LEGO Foundation has pledged $50M USD to a number of NGO and charity partners to support children most in need and ensure they have access to essential supplies and continued development through learning through play.
More details about how the grant will support crisis-affected children and commentary from the LEGO Group and LEGO Foundation can be found below in a letter from Niels B Christiansen, CEO at the LEGO Group and John Goodwin, CEO at the LEGO Foundation
While we currently can't go to pubs, bars and restaurants, we can certainly still enjoy a drink at home.

So, if you're looking for fun things to do while isolating, I would love for you to consider Winebuyers , the exclusive and free online wine club who deliver wine direct to your door.
Winebuyers has a simple mission: to bring wine and spirits into the 21st century. Using custom built API technology, developed over 18 months, Winebuyers connects wine lovers directly with some of the best vineyards, specialist merchants and distilleries. Winebuyers provides access to over 50,000 bottles, spanning 40 countries, all with zero mark-up and all with a commission free price-tag.
Three Gins from Around the World to celebrate US International Gin and Tonic Day (9th April 2020)
India – Jaisalmer Indian Craft Gin:the whole of India in one bottle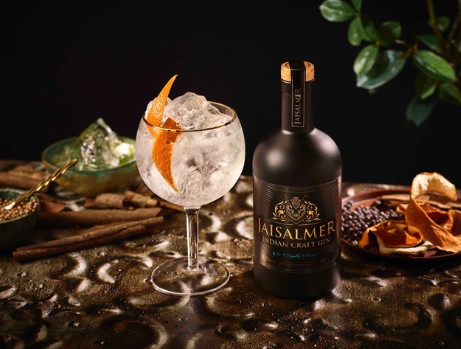 Jaisalmer Indian Craft Gin is a triple-distilled spirit, handcrafted in a traditional copper pot still in small batches at one of India's oldest distilleries, located in the foothills of the Himalayas. The use of botanicals is a time-honoured tradition in India and the recipe combines the ancient knowledge of herbs and spices, vibrant juniper berries and hand-picked botanicals. Seven of the 11 botanicals have been sourced from all four corners of India.
Available from: The Whisky Exchange, Master of Malt and DrinksSupermarket.com
RRP: £34.95 for 70cl
England – Cotswolds Dry Gin
Cotswolds Dry Gin is distilled with a blend of carefully-considered botanicals including freshly hand-peeled grapefruit and lime and local Cotswolds lavender. All botanicals are sourced locally to the distillery in the heart of the Cotswolds. It is non-chill filtered meaning the oils are retained in the gin, causing a pearlescent cloud to appear when mixed with ice or tonic.
Cotswolds Dry Gin RRP: £34.95 for 70cl. ABV: 46%
Available from: Cotswoldsdistillery.com, Waitrose, Majestic, Oddbins, Laithwaites, Harvey Nichols, Selfridges and Fortnum and Mason.
International – Barentsz Gin Mandarin & Jasmine Gin
Barentsz Gin is a premium distilled Gin, inspired by Dutch intrepid explorer Captain Willem Barentsz, whose pioneering spirit led him to seek a passage through the Arctic during the Dutch Golden Age. His discoveries and adventures led to The Barents Sea being named after him. Barentsz Mandarin & Jasmine Gin is infused with Jasmine flowers from China and natural mandarin peel as well as eight other botanicals for an elegant, dry and well-balanced finish, making it a truly international gin, which finished its journey in London where it is distilled. Made from the marriage of two different grain spirits – Winter Wheat and Golden Rye, this unique combination gives the gin a soft and smooth, pure flavour – smooth enough to sip neat.
Barentsz Gin RRP: £36.95 for 70cl. ABV: 40%
Available from: barentszgin.com and Heavenly Drinks
The importance of human connection – and finding new ways to do it
Research has shown that humans are a social species, and that our brains and bodies have evolved in an environment where we depended on the closeness of and connection to others. Connections have also been shown to make us smarter and happier, and even boost our immunity.
"Now, more than ever, we want to feel safe and loved, and we need imaginative ways to connect with each other," says Jacqui O'Sullivan, Head of Corporate Affairs, MTN SA.
"During this crisis, we have seen incredibly creative, useful and inspiring connection ideas – from connected study classes and Facebook exercise classes to video conferencing with friends and family, and cooking tutorials via WhatsApp. These connections are helping us feel more resilient, confident and loved, and less isolated. We might be physically distanced from our friends and family, but these online connections are bringing us closer in many ways."
There are a number of apps that South Africans are using to stay in touch and stay connected during lockdown. Here are some favourites:
For Work
Zoom: A favourite video conferencing platform, Zoom can be used for meetings, audio conferencing, webinars, and meeting recordings. The first 40 minutes of chatting are free and there are great features like virtual backgrounds and 'touch up your appearance'.
Slack: This is a chat app for your company that you can use to replace email and collaborate better. You can use channels for group discussions or have one- on-one chats and share files and documents
Yammer: This is a private social network for your company that will help you to connect with people and teams. It allows users to create public groups and private groups, share ideas, files, videos and more – essentially enabling employees to create a social space to connect and work.
Basecamp: This is another very effective productivity app which helps you organise projects and teams in one place, segment a project into many portions and assign tasks to each team member.
Skype: This is still one of the most loved and used platforms for personal and business communication, via chat, and voice and video calls. Users can also share files, images and documents.
"MTN is aware of how important network quality and coverage will be for businesses trying to meet their commercial obligations. To enable this, we're offering business customers 6.5GB of data bundles, free calls within their own user group (500 minutes) and free video and teleconferencing with a SIM-only R439 Made for Business month-to-month contract," continues O'Sullivan.
"In addition, for as little as R599 paid upfront, prepaid customers can get a 30GB Work from Home package which includes 1GB of data per month over 12 months, 13GB once off data valid for 30 days, 5GB once off YouTube bundle valid for 30 days, for those in between work breaks, and a ShareLink Mi-Fi router that can connect up to ten devices".
For Play
Houseparty: This video app allows for up to eight people to join. There are fun filters and sound effects, and users can play games such as Heads Up and Quick Draw!
Netflix Party: This app lets you watch Netflix with your friends and family online. It synchronizes video playback and adds group chat to the show you want to watch.
Audible: Part of Amazon, Audible has released hundreds of free audiobooks for children.
Free museum tours and exhibits: Travel the world from your couch as museums and cultural institutions around the world offer free virtual tours, exhibits, videos and performances.
Yuppiechef Online Cooking School: Get unrestricted access to all online cooking school courses, which include video tutorials, course notes, guides and quizzes, worth more than R3 000.
SuperCook App and Fridge Food App: Find easy to follow recipe ideas from items already in your fridge or cupboard. So, no need to go to the shops.
What If: Ask your family and friends a set of challenging questions to keep connected during lockdown – and maybe even get to know each other a little better. There are 100,000 questions on the app to challenge you and pass the time. Some questions are personal, others could spark a debate amongst the members of your lockdown household.
"There are millions more unique and exciting apps and online entertainment ideas to try. And because we understand that more data is needed to enjoy these types of apps, MTN is offering postpaid or contract customers up to 120GB for R299. It includes 40 anytime and 80GB night Express data. We could only offer 80GB for the same price last year, so the value for money that customer receive has increased considerably", says O'Sullivan.
"Although these are very trying times, we remain confident that our MTN customers will get a seamless network experience and connectivity that is second to none in South Africa as they venture into the new and wonderful virtual world of apps and programmes."
"MTN also offers all MTN ayoba subscribers free 20MB of data daily. The beauty about ayoba is that it is free for MTN customers and can also be used by customers who use basic and feature phones – allowing them to stay connected to their loved ones".
MTN during lockdown
"For convenience during this time, customers are still able to buy devices, recharge and manage their MTN services from home via our online store. We are in this lockdown together, and our focus remains to give our customers all the support they need to stay connected to their friends, family and social lives for the next few weeks," says O'Sullivan. "Our new TVC reflects this sentiment – we're in this together!"
View the new MTN television commercial here: www.youtube.com/watch?v=Fb9K9eReFZ0&feature=youtu.be
"We encourage our customers to download the MTN App on Google Play or the Apple store and make use of our self-service channels to recharge, buy bundles and manage their accounts. These include bundle purchases through our USSD lines, through WhatsApp and on the mtn.co.za website. All of our online services are zero-rated so that you won't use any data and our call centres are still open if clients have any questions or concerns," concludes O'Sullivan.
"And if you need to upgrade, you can still do so. Our online store will provide you with all our latest deals and the ability to sign-up or upgrade in the safety of your own home. Our courier partner will continue to deliver your device during lockdown, according to strict safety and sanitation guidelines."
View details on all MTN's self-service channels, still operational during lockdown, here: www.mtn.co.za/Pages/covid-19.aspx
MTN South Africa – Everywhere you stay
Self-Isolation Running Tips from Virgin Sport CEO Jessica Frey
How to Train When Your Race Is Postponed
It's tough to motivate yourself when the goal race you were working toward is cancelled or delayed, especially when training has been going so well! Sometimes, taking a step back helps you to move forward. Think about the bigger picture – start by asking yourself why you started running in the first place. Put pen to paper and do some journaling. Write about the feeling of achievement you got when you finished a long run or hit a milestone. Most of us don't run just to race. It's all about the journey – the ups, the downs and everything in-between.
If you were training for a spring race and you're feeling a bit lost, why not try out a new training plan to build a stronger foundation. Creating a routine can give you a sense of normalcy. Mcmillan Running is a good resource to learn more about base training.
If you were training for a spring marathon or half marathon, a lot of coaches recommend decreasing your mileage by 25% from what would be "high" for you. There is no sense in continuing extremely long runs and compromising your immune system during this time. Taper down your long sessions and concentrate on form and having fun. There are lots of online exercise programmes available at the moment to guide you through stretching and mobility – all important to keep you fit through this turbulent time.
Running During 'Self Isolation'
Use the time that you would have used commuting to get in some exercise. Research suggests that moderate physical activity can boost your immune system and positively affect your mood. Keep moving, even if it's for less time than you'd like. Small gains add up to big achievements.
Make sure you don't become a slave to your laptop while you work from home. It is important to have regular breaks away from the screen and moving your body. A 20- minute lunch time run or walk can help re-set for the afternoon.
Work on your weaknesses – "prehab". Take the time to focus on strength work and those exercises from your Physio that you never do. There are a multitude of free classes online right now. I like the NIKE Training Club app and Peloton has a 90-day free trial of their app with HIIT classes, strength and yoga (no bike or treadmill required!).
Tips For First Time Runners
Start Short – Start with a really short distance, one kilometre or even one lap around the block. If you tell yourself that's all you have to do to tick the box it doesn't seem as daunting.
Accountabilibuddies – Find a mate to hold you accountable and check in on them.
Post your runs on Strava, Runkeeper or Nike Training club if the idea of social kudos will help get you out the door.
Create incentives – Buy yourself something new to wear, create a new playlist you can only listen to while you run or save your favourite podcast for the run.
Splurge on good socks to avoid blisters. No cotton!
Don't get hung up on how you look – no one is watching. It is all in your head – trust me!
Pump your arms and keep your shoulders relaxed, arms are always underestimated in running but they are important to keep rhythm and momentum.
Rest is important, listen to your body and take a day off when you feel you need it – your body needs time to recover in order to improve your performance. Patience is key.
Distract yourself – podcasts and audio books are an awesome way to make time go by faster on more difficult runs. My favourite running podcasts are Ali on the Run, The Morning Shakeout and The Work Play Love podcast.
MTN launches GiGYMa digital workout series for South African women during lock-down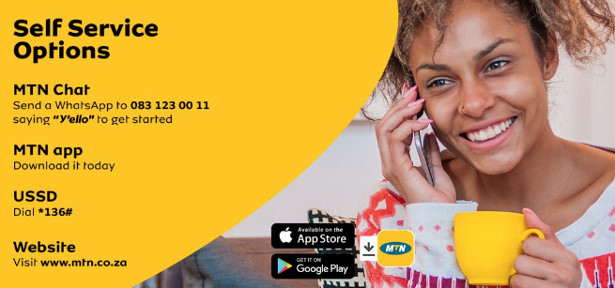 A workout series by a South African woman, for South African women using household items
As we enter the sixth day national lockdown, MTN is enabling South African women to exercise whilst in isolation in their homes. Available on MTN's Youtube channel and on social media @MTNza, GiGYMA is a digital home-based workout series that is easily accessible from any smartphone, tablet, laptop, or PC.
While there has been a revival of healthy living amongst all South Africans over the past few years, the popularity of online fitness challenges and workouts has grown rapidly over the past two weeks. Now that South Africans can't go to the gym, a walk or run may prove ever-more challenging as the 21-day lockdown progresses.
"We understand how difficult it can be for women to find the time to live a healthy and active lifestyle under normal circumstances, now with the lockdown it may seem impossible. And, while GiGYMa was originally designed with women in mind, the exercises can work for all members of the family and are a great way to stay active during the lockdown" says Jacqui O'Sullivan, Executive for Corporate Affairs at MTN SA.
"When developing the GiGYMa concept, we wanted to create a series that would truly resonate with the majority of South African women. Not only is the name a play on 'gijima', which means 'run' in IsiZulu, we also selected a South African ambassador who is not a fitness instructor in her own right, but someone who is passionate about exercising and wants to share tips that are helping her continue to live healthily during this time".
MTN GiGYMa features Ncumisa Pongoma in a series of videos, showcasing how everyday household items can help you get into shape and keep up with your fitness goals whilst at home.
Each of the MTN GiGYMa work-out videos is accessible through MTN's Youtube channel and shared across MTN's Facebook, Twitter and Instagram pages for the next 21 days.
"Using our network for good, we hope that GiGYMa will motivate and get South African women moving whilst under lockdown. Not only is it a practical fitness solution costing only the data to stream, working-out will also go far in maintaining health and keep the immune system fighting," add O'Sullivan. "We're always exploring ways of harnessing the power of connectivity to develop solutions that are relevant to our customers and South African at large. GiGYMa is one such initiative".
MTN – #EverywhereYouStay (for the next 21 days)
HEALTH BEYOND THE NORM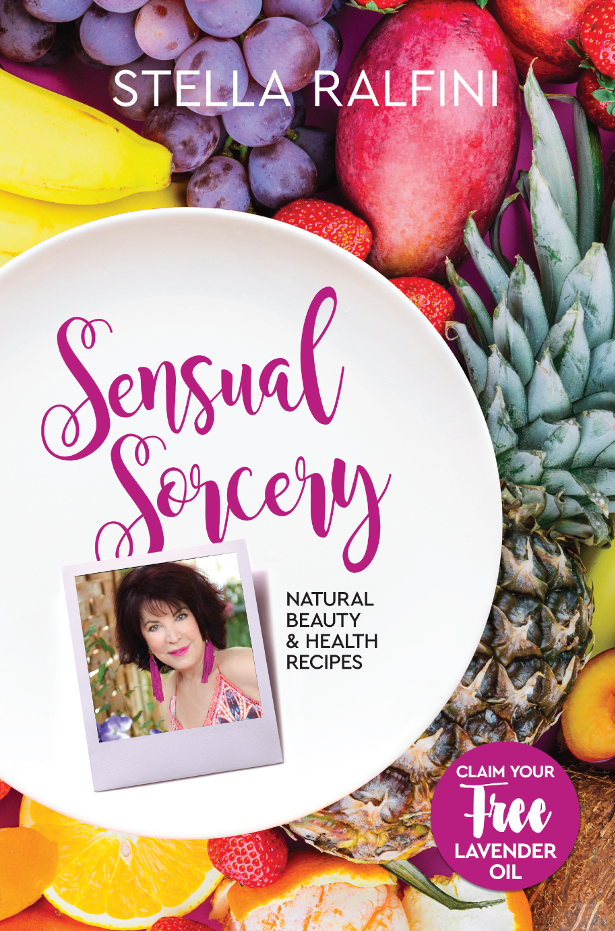 My point when encouraging folk back to Mother Nature is always the same. There is no product on the market to equal homemade. There is no better cure for health than by natural means.
At 73, I'm damn proud of what I've achieved in both looks and terms of health. I've been a dedicated Mother Earth follower and Hippy most of my life. It isn't easier moving folk over from shop bought products and pharma meds since we live in a fast solution era. Even holding someone's attention for a minute is a feat.
My aim is to convince everyday women that they can look like celebrities at little cost if they are willing to swap reliance for self-reliance. That men who embrace mother nature to take care of looks aren't sissies and since all is done at home, no-one needs to know.
Since we currently have more time on our hands, I want to entice you into a new hobby. Instead of making food recipes, these will be for face and body to get rid of blackheads, dead skin and nourish it to a glow. Or you can concoct natural remedies for muscle strain, aches and low energy. Let me tempt you into a mustard bath that deals with all and offers a chilled experience of calm. Think you'll love it.
MUSTARD BATH RECIPE (for 2-3 soaks)
Half cup Epsom Salts. Quarter cup sea salt. Quarter cup mustard seed powder. 8 drops essential Eucalyptus oil. Mix together and pour third of contents into hot bath water, climb in and soak.
When it comes to looking good, that starts on the inside, from what we eat, to the way we take care of health. You'd be amazed what can be done with a carrot – and how can we not love avocado, banana and honey? They're not only mega healthy foods but do wonders for the skin. You can tune into my Stella Ralfini Official YouTube Channel where I show you how to become an alchemist in the art of concoction. I can see you now concocting a carrot, parsley and egg white mask – as beneficial to men as women.
Regarding health, I'm a huge fresh ginger fan. Reduces risk of diabetes, is an anti-inflammatory protector against injury and sickness and boosts immune system. I grate half tsp ginger into 1 tsp honey daily, have a good chew then swallow.
Since I'm a huge fan of essential oils, these also play a daily role in my life. I haven't worn shop bought designer perfume for years. What goes on my wrists is from its pure source and not only smells delicious but serves dual purpose. Could talk on this subject for hours but will adhere to one minute guideline and give a few quick suggestions that calm, balance and uplift mood. For men, try Lime or Vetiver. For women, try Ylang Ylang or Rose.
Sounds obvious but to stay healthy we have to breathe. I mean to take a few minutes every day to pump our stomach in and out, lightly close mouth and exhale through the nose with all our might. In times of stress, our breathing pattern is shallow and not enough oxygen reaches the brain. This can result in partial memory loss somewhere down the lane. Dynamic breathing also gives organs a boost and as an extra bonus, all that oxygen rushing into the face, is equal to the most expensive oxygen spa treatment and an anti-aging must. Wink, wink guys. No-one need know your secret.
Stella Ralfini is qualified in 3 schools of yoga, a natural health and beauty expert, empowerment mentor and best-selling author who is regularly featured in UK beauty and health mags. Her latest book 'Sensual Sorcery' sells steadily worldwide and when Corona Virus curfew ends, Stella will get back to her European workshop tour. After that she will finish a project to bring back 70's Hippie Love in a huge gathering to celebrate Jimi Hendrix's 50th anniversary. 'I'm much too young to be put out to pasture,' Stella said. 'I keep ticking things off my bucket list but it gets longer with every year.'
FILM NEWS
A STONE-TURNER FILM
UNITED NATION: THREE DECADES OF DRUM & BASS
OUT IN UK CINEMAS & ON SKY BOX OFFICE FROM FRIDAY 21ST FEBRUARY!
A shocking and entertaining exposé of the origins of the Electronic Dance Music scene!
OUT ON DVD & DIGITAL DOWNLOAD FROM 6TH APRIL
WHEN MUSIC MEETS FILM!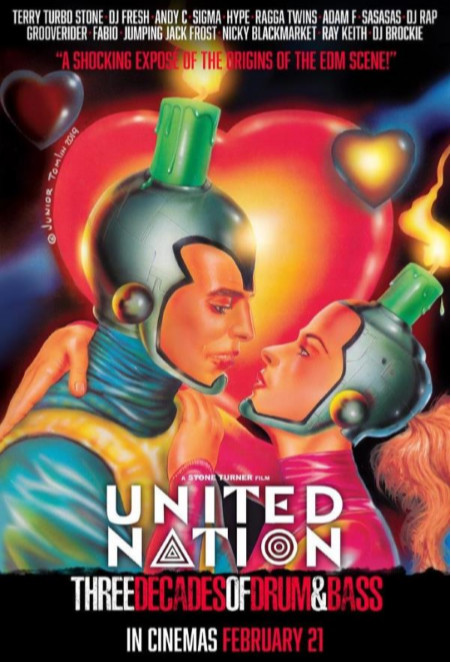 Art-K Online, an online art class platform for children and adults.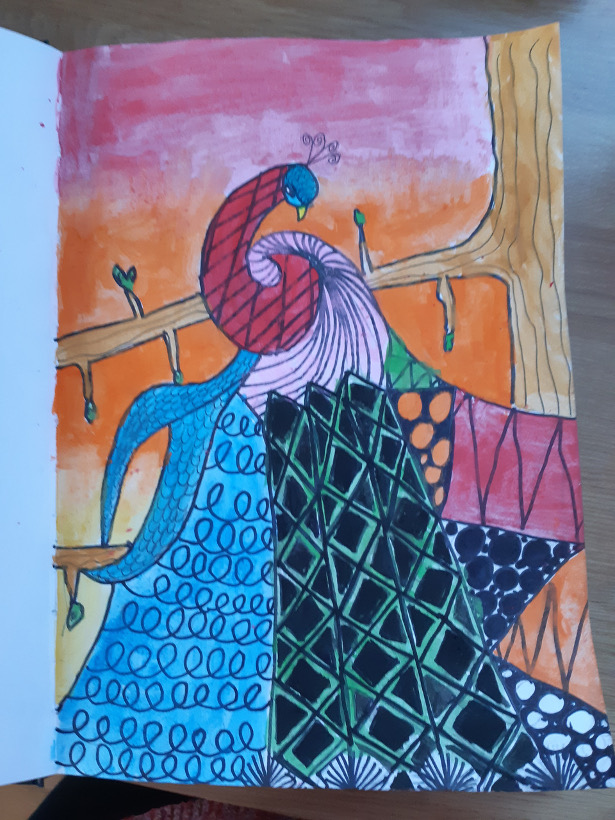 art-K Online has hundreds of hours of art videos, we've grown to 600 members in 2 weeks and had lots of fantastic pieces of artwork created at home. We have 2 specific offerings:
1. A free daily Youtube art games show; all it uses is a pen/pencil and paper so accessible to everyone. Link: https://www.youtube.com/c/artkclub
2. Access to our online platform with 100s of hours of amazing art classes. We have a 7 day free trial. Link: https://www.art-k.co.uk/membership-levels/
Our aim: to get the country creatively inspired at home and to build an artistic community who can share their achievements with each other.
art-K Background:
art-K has been teaching art to children and adults for 20 years, across 30+ studios nationwide teaching 2000 students per week. Our programme stems from our desire to spark individuality and new ideas in our students.
The BBC has covered core subjects online-learning for schoolchildren but there is a large gap for creative learning, which is crucial for children's development and happiness. This is where we hope to support parents and teachers alike. For children aged 6-11, we have interlaced the projects with 'brain breaks' to entertain and hold their attention; for older students and adults the focus is on developing technique and boosting confidence & wellbeing
Looking After Curly Hair at Home
When you wash your hair make sure you do it right. Due to long twists along the hair shafts, curly hair is prone to tangling. Never start detangling from the top as this can result in breakage.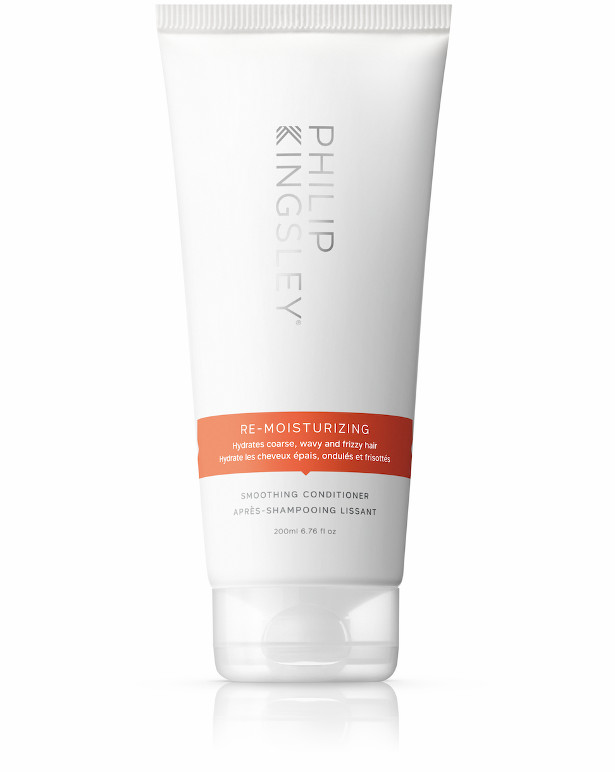 Curly hair should be treated like dry skin, so look for products that moisturise and condition without weighing the hair down. I would recommend using Philip Kingsley's Re-Moisturising Smoothing Conditioner.
Some people forgo shampooing because they think the natural oils that build up between shampoos will moisturise their hair. However, this is not the case. Our hair's pliability and elasticity is due to water, not oil content. Oils simply sit on top of the hair which can irritate the scalp.
Natural tightly coiled hair, as in many African-Caribbean hair types, is very susceptible to damage and breakage. Look for an intensely hydrating shampoo that gently cleanses fragile hair. I would recommend using Philip Kinglsey's Moisture Extreme Enriching Shampoo .
It's also vital to protect and hydrate Afro-Caribbean hair if you colour or bleach it. Lightening Afro hair is potentially more damaging than lightening any other hair texture as the hair's flat shape allows it to absorb chemicals more rapidly. Bleaching also significantly weakens the hair shaft, causing breakage. To help prevent this, use an intensive pre-shampoo conditioning treatment at least once weekly. I would recommend Philip Kingsley's Elasticizer Extreme Rich Deep-Conditioning Treatment.
Greek and Mediterranean fine food producer, Odysea has a broad range of store cupboard ingredients available to be delivered straight to your door.

All of Odysea's products are sourced with provenance, quality and authenticity at their core. Their range of oils, vinegars, mezes, molasses and dips provide a hugely diverse kitchen army enabling consumers to add interest and flavour to even the most staple of ingredients
All products are available on the Odysea website (Odysea.com), with lines also available from Sainsbury's, Waitrose, Whole Foods and Abel & Cole.
Odysea PGI Chania, Crete extra virgin olive oil.jpg Odysea Chickpeas in tomato sauce copy 2.jpg Odysea Gigantes Beans in tomato sauce copy.jpgOdysea Pomegranate Molasses copy.jpg Odysea Flame Roasted Red & Yellow Peppers copy 2.jpg Odysea Aubergine Meze copy.jpg
The range includes:
Odysea PGI Chania Extra Virgin Olive Oil 500ml – RRP £6.99
A medium strength olive oil with a pleasant pepper finish, produced exclusive from Koroneiki olives grown in Chania, Northern Crete.
Odysea Chickpeas in Tomato Sauce 355g – RRP £2.60
Tender chickpeas cooked in tomato sauce with spices and carrots. Perfect served with rice and salad for a meal or used as a recipe base.
Odysea Baked Gigantes Beans 355g – RRP £2.99
Giant butter beans cooked slowly in a rich tomato sauce with Mediterreanean herbs and extra virgin olive oil. Can be enjoyed on its own, as part of a meal or used as a recipe base.
Odysea Pomegranate Molasses – 250ml – RRP £3.29
A thick ruby-coloured syrup with a balanced sweet and sharp fruit kick. Made with 100% pomegranate juice from fruit harvested from late August to mid-Autumn.
Odysea Flame Roasted Red & Yellow Peppers 450g – RRP £2.99
Ideal for salads, pasta dishes, pizzas or stuffings, the peppers are flame roasted on the day they are picked for maximum sweet smokey flavour.
Odysea Aubergine Meze 220g – RRP £2.89
Based on traditional Greek recipe – Melitzanosalata, the meze can be served as a dip or spread and has a smokey, creamy flavour.
Other products in the range include:
Mezes such as Spicy Harissa, Roasted Red Pepper and Feta and Roasted Sweet Pepper
Preserved Beldi Lemons
Date, Carob and Grape Molasses
Balsamic Vinegar of Modena
Limited Edition Raw Honeys
Greek cheeses such as PDO Organic Feta, Manouri and Saganaki
Olives such as Nocellara, Kalamata and Halkidiki
Pressed Heirloom tomatoes
All of which is available for home delivery from the Odysea website.
REVOOLA is a wellbeing app offering inclusive and engaging mindfulness and body fitness for everyone.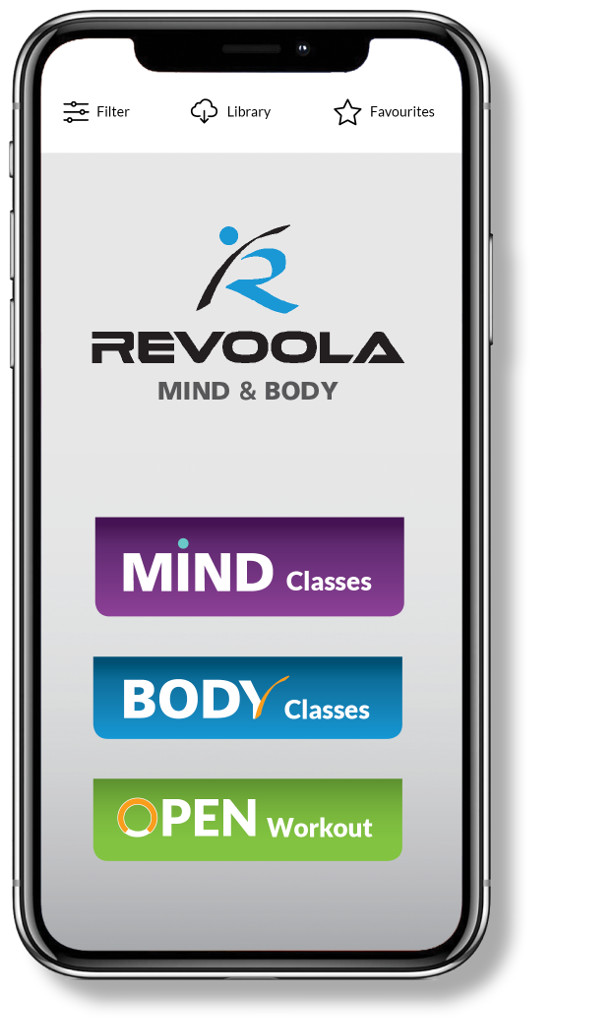 REVOOLA offers a huge choice of instructor-led mindfulness activities and body fitness classes and activities to suit everyone from all ages and levels of mind and body fitness. On-demand classes and activities can be accessed whenever it suits, wherever the user is located.
Mindfulness classes are split into six categories: energise, focus, happiness, mindful movement, relax, sleep.
Body fitness classes are split into hiit, dance, pilates, ride, warm and yoga.
In addition to classes, REVOOLA's 'open workout' enables users to track their own body fitness activity including walking, running, cycling, yoga and pilates.
REVOOLA uniquely enables users to measure, track and manage the quality of their physical exercise and mindfulness activities by using REVOOLA Effort Value and REVOOLA Mindful Score.
www.REVOOLA.com
#Fakehunter – world's largest anti-infodemic system has launched
The Polish Press Agency and GovTech Polska (Polish Prime Minister's Office) have released the #FakeHunter web application – a new tool to combat disinformation about COVID-19.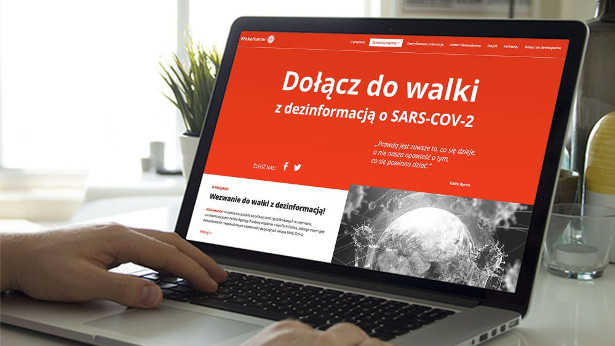 On the 11th of March, the World Health Organisation has designated the spread of the new coronavirus (SARS-CoV-2) a global pandemic. Following in the wake of this announcement was another epidemic – that of misleading information, also known as "infodemic". This combination of real and false information causes widespread panic and confusion among the population and prevents legitimate advice from reaching the wider audience.
During this time of crisis, societies are particularly vulnerable to such misinformation. False reports about the virus-inflicted COVID-19 disease are often repeated on social media and even by reputable news outlets. The lives of millions of people and further existence of an untold number of businesses rely often on their ability to access verified information from reliable news sources.
This is why the Polish Press Agency (PAP) and the GovTech Polska Programme – a cross-ministerial task force operating in the Prime Minister's Office – have launched the #FakeHunter project – a community-based system for verification of online resources. The goal of the system is to create a quick, user-friendly and error-free way of denouncing false claims surrounding SARS-CoV-2. The tool relies on a web application, through which all internet-users can submit a passage they wish to verify. This input is then redirected to community leaders and expert misinformation fighters who ensure the user receives feedback within 24 hours. The verdict, alongside the expert commentary and relevant sources is then automatically published on the project's website (fakehunter.pap.pl) and its social media accounts for everyone to see.
Following a dedicated recruitment campaign, over 300 volunteers have joined the ranks of the FakeHunters. Most have already been trained on how to quickly assess the validity of online claims and use the system correctly. Together with the PAP team of experts they will now begin to verify the user-supplied information related to the coronavirus. The system is entirely open – we think of it as a first step in the project's development. – Wojciech Surmacz, President of the Board of PAP.
#FakeHunter is a bold step in the struggle against disinformation. The project's aim is to fight against a common enemy at the time of this infodemic. We invite all journalists, Internet-users and misinformation-haters to fight this common threat together – Justyna Orłowska, Prime Minister's High Representative for Government Technology.
The plugin can be downloaded and installed from the project's landing page – https://fakehunter.pap.pl/ and its code will be made open-source in the future.
The project's partners include Demagog.pl, DO OK, Objectivity and Amazon Web Services.
The Polish Press Agency is Poland's largest news agency. It gathers, processes and releases objective news as seen from many perspectives from Poland and abroad. 250 journalists and 40 photojournalists work 24 hours a day 7 days a week to populate the Agency's portals with information later used by media outlets, government institutions, businesses and individuals.
The GovTech Polska Programme is a multidepartmental task force operating in the Chancellery of the Prime Minister of Poland and reporting to the Prime Minister. The Programme is responsible for coordinating strategic cross-ministerial projects that pertain to innovation, emerging technologies and digitisation. Its goal is to foster the development of the modern State together with outside innovators – entrepreneurs, start-ups, the scientific community and the citizens themselves. The Programme gathers around it a community of innovators dedicated to jointly contribute to the cause of building a modern, fully digital Poland.
Source: Polish Press Agency (PAP)
Bleaching Booming: Jolen Have Doubled Their Revenue As Retailers Push For Earlier Orders To Help Cope With The High Demand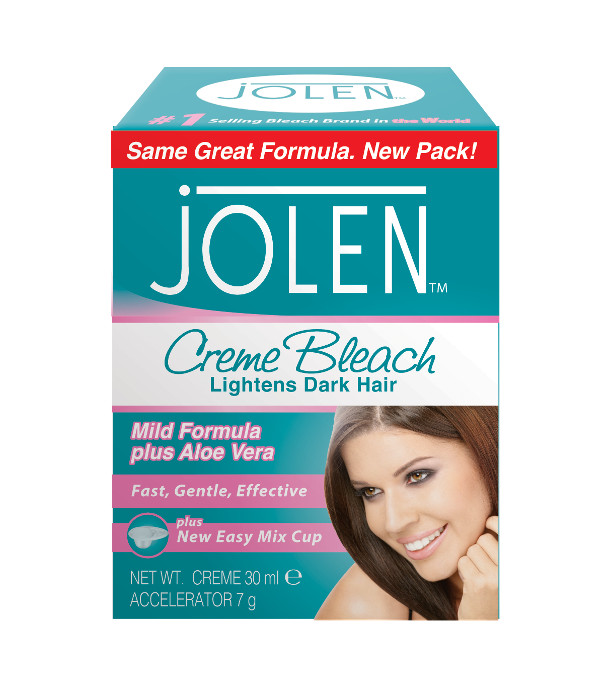 Can't go for your wax? Not to worry – a home-kit for body hair bleaching is a great alternative to a salon treatment, many consumers agree as sales hit the roof since self isolation kicked in.
Jolen, the most trusted brand in the facial and body hair bleaching sector, have doubled their sales over the last four weeks! This has resulted in some of the retailers pushing for earlier orders to help cope with the high demand.
Jolen's Creme Bleach range comes in two formulas, Original and Mild to gently remove the pigment from any unwanted hair. From bleaching your upper lip, to arm hair, Jolen is at hand (£4.35, www.superdrug.com).
This no drip application makes dealing with unwanted hair a breeze and includes a no-mess mixing cup.
Self isolation and working from home has been a prime opportunity to really invest in health and wellbeing.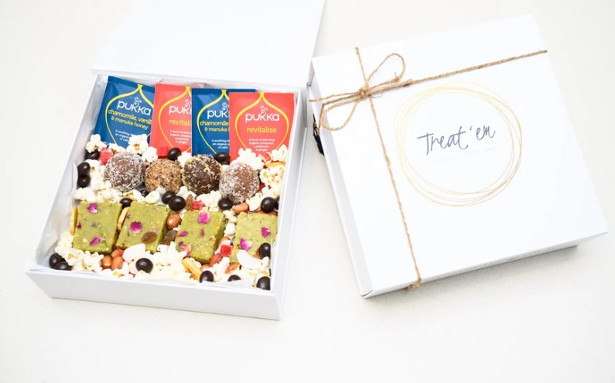 Self Care and Self love is incredibly important from a wellness perspective – being able to invest in yourself and your family to deepen meaningful relationships, but also taking this as an opportunity to better achieve work life balance or raise personal wellbeing.
By Venus Sun
In light of recent times, it's the perfect opportunity to invest in new interests, hobbies or activities to bond. Picking up things you may not have done in a long time from the day to day distractions. This could be going back into reading, learning a new hobby, arts and crafts, jigsaw puzzles, knitting, or creating fun, easy to make recipes with limited ingredients. Pro tip, for those with limited ingredients, you can go onto google for a recipe generator and put in what you have, and it'll provide you a recipe you can make based from what you've inputted! Sometimes new things come up.
For those with families or kids, bring out the board games. Scrabble, Monopoly, or maybe something more strategic like Settlers of Catan. There are so many options and it's some great fun that requires time. For those that may not have a lot of people in the house, there are plenty of games you can download on your phone, you can play some of your favourite board games on your laptop, iPad or phone. If you like being outdoors, or doing things, take on that gardening or maybe mini home renovation jobs.
At the same time, you still have access to internet, you can still get active! Use this time to go onto youtube, follow home workouts, or yoga to find inner peace and wellbeing. I've been following Yoga with Adriene – a 30 day program.
For those maybe looking to do something different, go pursue the thing you never had time for if it's something you were seriously thinking about. I've also taken the time to really invest in my eCommerce start up, Treat 'Em which is being able to balance convenient and delicious snacks with door to door deliveries. The reason why Treat 'Em started investing in delicious protein ball recipes is because there was multiple benefits in our product, protein balls have a shelf life of up to 3 months, they're easy to snack on, delicious, but most importantly, packed with nutrition. @treat.em and treatem.com.au, a venture I previously didn't have enough time to invest into. Times like this gives you back time to put into your passions and pursue interests.
There are so many things you can do, it's all a matter of perspective. I've loved this period to invest in myself and it's given me an opportunity to appreciate all the small things. We live in a modern, fast paced society where maybe it's not so bad to slow down for a second, to stop and enjoy what you have. This is a great time to increase closeness.
Nourishing the Mind & Body While Spending More Time at Home
By Liz Isenring
With more time at home, now is the perfect time to nourish the mind and body with some yummy and healthy cooking ideas. Pantry staples like rolled oats, rice, pasta and dried beans (e.g. lentils and chickpeas) can all be used as a source of complex carbohydrates, fibre and nutrients.
Focus on plenty of fresh and frozen vegetables in your soups and casseroles to add flavour and important nutrients for gut and brain health.
Good sources of fat from fish, seeds and nuts are also important to help the mind and body function optimally. Keep well hydrated with around 2L of fluid a day. Water is best but teas and coffee (try and limit to 2 cups of coffee or less a day) do count as well.
There are plenty of free recipes on the internet that are both healthy and delicious. Now is the time to look after the health of yourself and your family.
Some people find that they tend to eat more when they are based at home. So switch to healthier options to discourage boredom snacking.
A great snack is home-made hummus with vegetables and crackers.
To make the hummus- Blend 1 x can (375g) of chickpeas (drained) with 2 cloves of garlic, 2 tsbp of lemon juice, 2 tsbp of olive oil. Add some of the drained juice or water if you would like a thinner consistency. Use with cutup vegetables and crackers. Enjoy!!
Dr Liz
www.lincnutrition.com.au
Professor Liz Isenring
PhD, AdvAPD, BHSc(Nut&Diet)(Hons1), GradCertHighEd, Health & Wellness Coach
MËNAJI Relaunches 911 Eye Gel for Men in Response to COVID-19 and an Increase in Tired Eyes
Look good. Feel good. Dial in.
Turn that camera on.
The Kolisi Foundation has this morning supplied 1000 masks to Groote Schuur Hospital Neonatal Unit.
Siya Kolisi has said via Instagram;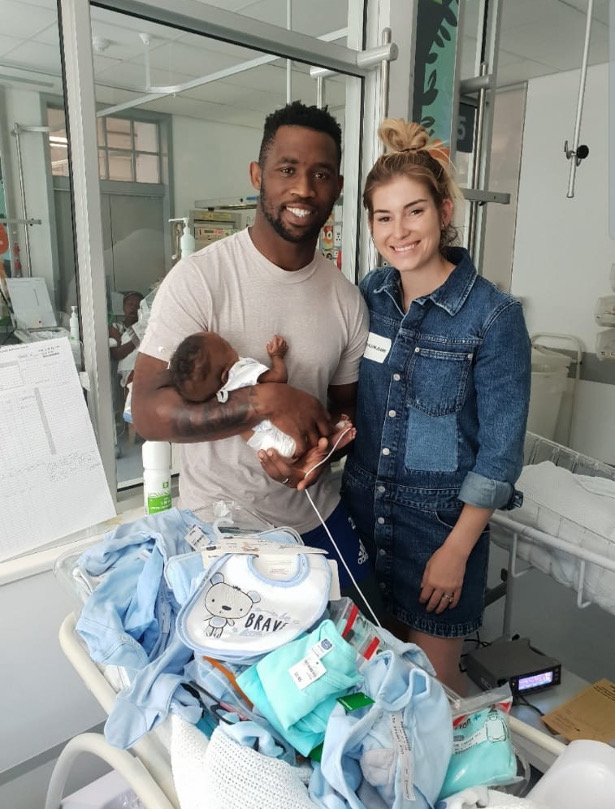 "For those that know me well you'll know the important role that women played in my upbringing.
When setting up the Kolisi Foundation, it was so important that we focused efforts on supporting women who are going the extra mile for their children.
The amazing mothers at Groote Schuur Hospital Neonatal Unit have been travelling by any means necessary to breastfeed their premature babies during this lockdown. Those mothers are superstars and the Kolisi Foundation wanted to help.
A couple of years ago, Rachel and I visited the unit to donate baby clothes, and I'm proud to announce that this morning, the Kolisi Foundation delivered 1000 masks to the Neonatal Unit at Groote Schuur Hospital.
The pictures speak for themselves."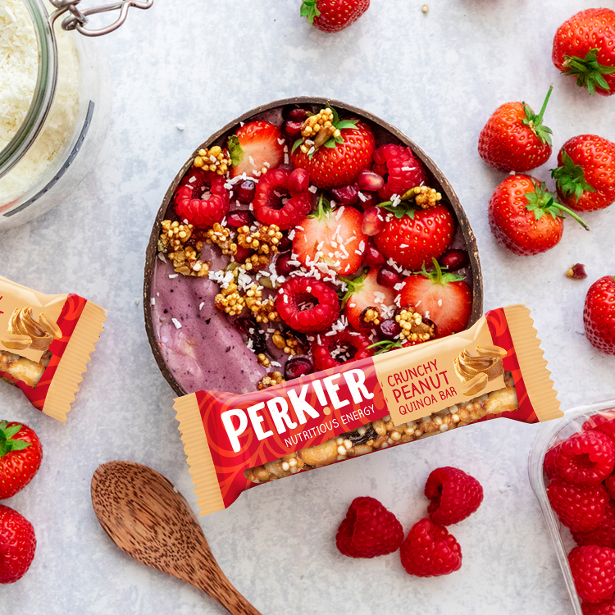 BPAS launches Emergency Abortion Pills by Post for women in Northern Ireland amid shameful political gameplay with women's health during the COVID-19 pandemic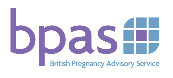 The charity the British Pregnancy Advisory Service, BPAS, will today launch a telemedical abortion service for women in Northern Ireland up to 10 weeks of pregnancy in partnership with healthcare professionals from Northern Ireland.
From today, women in Northern Ireland will be able to call a dedicated number 0300 500 8086 to arrange teleconsultations with a doctor in Northern Ireland. Women who are eligible will be sent abortion medication by post so that they do not have to travel to England during the COVID-19 pandemic
Abortion is legal in Northern Ireland on request up to 12 weeks, but no services have been made available to women as politicians delay commissioning services
In preposterous and reckless public health announcements, women are being told by the Northern Ireland Office to travel by ferry to England to access help – risking their health on a 2 day journey at a time when everyone is being advised to stay at home to save lives as the UK death toll rises
Officials have informed BPAS of 2 women attempting suicide because they could not access abortion care in Northern Ireland, and women with serious health conditions needing abortion who cannot leave their homes have been completely abandoned by formal healthcare structures
Telemedical abortion services are already available to women in England, Wales, Scotland and the Republic of Ireland
The service will be provided under regulation 11.2.b of the Northern Ireland regulations which allows clinicians to provide abortion by telemedicine for the purpose of preventing grave, permanent injury to the woman's physical or mental health.
This service will be free of charge to women in Northern Ireland. BPAS will meet the costs of treating women as part of its charitable remit.
BPAS today (April 9) launches a service to enable women in Northern Ireland to receive abortion medication by post to prevent grave, permanent injury to the their physical and mental health, in line with the abortion regulations for Northern Ireland published by the UK Government on 25th March. BPAS wrote to the NI Health Minister, Robin Swann, to explain the plight of the women for whom he has responsibility in the current crisis and to offer a free telemedical service on 1st April, but we have received no response from the Minister.
Abortion was decriminalised in Northern Ireland in October 2019, and a legal framework for the provision of services – including the provision of abortion on request up to 12 weeks – was published on March 25th 2020. However, services have not been made available to women. As a result, women needing an abortion are being told, by the Northern Ireland Office, to travel to England – where services are already reduced as a result of the crisis – to obtain healthcare that could safely be obtained at home, placing these women at a significant increased risk of contracting and spreading Coronavirus, completely needlessly.
Due to the lack of flights, women's only option is to undertake an 8-hour ferry journey to England before further onward travel to a clinic. Effectively, women from Northern Ireland needing abortion services will need to spend around 2 days – including up to 24 hours on public transport – travelling to access care during a pandemic in which every UK citizen is being advised to stay in their homes. Pregnant women have been identified by the UK Government as a particularly vulnerable group who have been told to significantly limit outside activity, including avoiding public transport and accessing healthcare remotely where possible.
The nature, length and risk of the journey today makes it impossible for most women, and particularly the most vulnerable, including young women, those in coercive relationships and women who are ill. BPAS has been informed of 2 suicide attempts by women needing abortion care and we are also aware of women with serious underlying health conditions who cannot leave their homes due to the risk of COVID-19, who have been completely abandoned by the formal healthcare system.
Abortion regulations introduced by the UK government on 25th March allows abortion on request up to 12 weeks and on grounds akin to the 1967 Abortion Act thereafter in Northern Ireland. The regulations allow for the use of the second abortion pill, misoprostol, at home but not the first pill, mifepristone. The same regulations were recently amended in England, Wales and Scotland to allow both pills to be used at home – enabling telemedicine – but the same measure has not been introduced in Northern Ireland.
However, under regulation 11.2.b of the Northern Ireland abortion regulations, clinicians are permitted to provide abortion outside of this part of the regulation for the purpose of preventing grave, permanent injury to the woman's physical or mental health. The telemedical service will be provided to eligible women under this provision in the regulations.
Ann Furedi, Chief Executive of the British Pregnancy Advisory Service, said:
"We can no longer stand back and watch this shameful political gameplay with women's health at a time of national crisis. We will no longer be complicit in Government policy of booking bleeding, vomiting women on interminable ferry journeys, putting their health at serious risk, nor will we abandon women with serious health conditions, when we can ensure they are cared for in the safety of their own home.
Working with our phenomenal colleagues from Northern Ireland we will provide a lawful telemedical abortion service to women in need, with access to the same high quality care and support we provide to women in England. We vow we will be here for the women from Northern Ireland for as long as they need us and until their politicians step up and do what's right."