CCGrass Appointed as a World Rugby Preferred Turf Producer
TWITTER | FACEBOOK |LINKEDIN | YOUTUBE
CCGrass, the world's largest producer of synthetic turf products, is delighted to announce that World Rugby has confirmed CCGrass's appointment as an official World Rugby Preferred Turf Producer.
The Preferred Turf Producer process has been developed to ensure Rugby pitches have the highest level of quality, no matter what level of play is required, and to recognise the manufacturers capable of delivering to this high standard.
The role of each Preferred Turf Producer is to oversee the manufacture, installation, and maintenance of rugby fields to conform to World Rugby Regulation 22. Under the supervision of the Preferred Turf Producers, rugby pitches across the globe are tested and regulated ensuring player safety and pitch performance.
With the role of Preferred Turf Producer comes the responsibility to promote rugby world-wide, and it is a task that CCGrass is excited to take on. European Office CEO, Bryn Lee adds: "Whilst rugby is extremely popular in many countries, there are others where the sport's development is ongoing. As CCGrass supplies products to over 100 markets, we are committed to promoting World Rugby Regulation 22 into areas where the sport is not as well known."
CCGrass also looks forward to the opportunity for growth opportunities, introducing a new range of rugby systems to its extensive network of partners this year.
CCGrass General Manager, Mr. Qiangxiang Wang comments: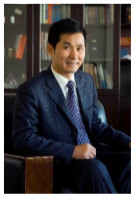 " W e a r e d elig h t e d t o h a v e b e e n r e c o g ni s e d b y W o rld R u g b y a n d b elie v e t h a t t h e Preferred Producer status will help CCGrass to ensure better quality rugby fields that are installed globally. This is another example where CCGrass is trusted by the world."
About CCGrass CCGrass is the world's largest producer of artificial grass, supplying to over 100 countries. In addition to becoming an official World Rugby Preferred Turf Producer, CCGrass is also a FIFA Preferred Producer for football turf, and a FIH Preferred Turf Supplier. Based in Nanjing, China, CCGrass has recently opened its European office in Frankfurt, Germany.
About World Rugby World Rugby is the global governing body for the game of rugby union, setting its rules and regulations, whilst monitoring the game. Its values are Integrity, Passion, Solidarity, Discipline and Respect; values that are inherent throughout the sport.