THE PERFECT IN-HOME ENTERTAINMENT GIFT FOR EVERYONE THIS CHRISTMAS:
THE ROXi MUSIC ENTERTAINMENT SYSTEM

Over 55 million tracks streamed straight to your TV
Karaoke and Sing With The Stars sing-along tunes
Music trivia games and Worldwide Radio access
Music for yoga and meditation
ROXi's music entertainment experience is available on Sky Q and Android TV for just £6.99 per month, visit www.roxi.tv for a 30-day free trial. The ROXi Console is available from £19.99 (5 monthly payments) or a single payment of £99.95 and includes for the ROXi set-top-box, ROXi controller and a 1-Year Premium Music Pass from www.buyroxi.com.
Time to think Christmas, and since it is likely we will all be staying at home more than usual this Christmas there is no better gift for everyone to share than the ROXi Music Entertainment System.
With a fantastic range of shared music entertainment; music, karaoke, singalong, games, radio and more, ROXi's fully interactive music experience with all the world's music to stream straight from your television is the perfect gift for shared musical experience around the biggest screen in your home. There is nothing more uplifting than sharing music with friends and family, especially at Christmas time.
On top of its unlimited music streaming, ROXi has lots of features that make it a perfect way to spend time with family and friends. With over 60,000 Karaoke and "Sing With The Stars" singalong tracks, you can sing all your favourite songs while "Name The Song" music trivia games will test your music knowledge of different music genres and eras give you the chance to compete against your loved ones.
Hundreds of expertly curated playlists allow users to sit back and relax whilst ROXi picks the very best tracks for your mood, decade, or genre. ROXi's Sound Machine provides the perfect ambient soundscapes for relaxation, meditation, yoga, or even getting little ones off to sleep. For parents worried about offensive language, ROXi comes with its Family Protect explicit content filter, ensuring any songs with explicit lyrics will disappear. And the "Worldwide Radio" features over 10,000 radio programmes across music, news, talk, sport and more.
Visually ROXi has it covered too, either tap into Facebook and display your personal photo albums and pictures on screen or select one of ROXi's curated art shows of beautiful images from Getty that play on your TV while the music plays.
So, get the family off their smartphones, tablets and social media and make your TV the beating music heart of your home this Christmas with ROXi.
Willow And Tea – Sustainable Scented Candles and Reed Diffusers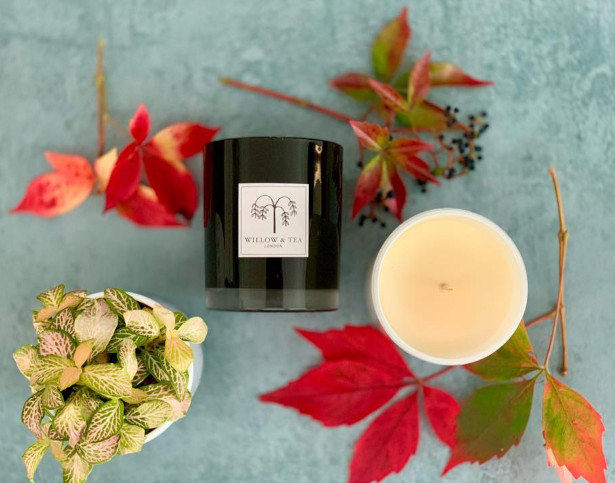 Create serenity, calm and a beautiful scent throughout your home with our scented candles and reed diffusers. Research shows that scent has an effect on mood and is connected to memory. Sustainable Luxury | Ethical | Handmade In The UK | Eco-friendly
www.willowandtea.com
Peli Introduces the Peli™ EZ-Click™ MOLLE Panel
The Only Quick Release MOLLE Mounting System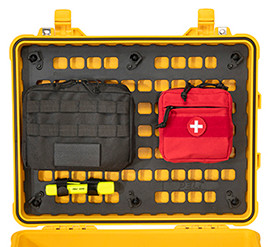 Barcelona, September 2020 – Peli Products, the global leader in high performance protective cases, has introduced the Peli™ EZ-Click™ MOLLE panel system; the first lid organiser of its kind that can be quickly released and swapped out without tools.
Engineered to fit in the lid of select Peli transport case models, the EZ-ClickTM panel is secured with exclusive swing-cam latches for rapid mounting and removal. With rapid access to the back of the grid panel, users can quickly switch out an unlimited combination of user-supplied MOLLE style pouches and VelcroTM brand straps to organise their gear.
'We've seen our customers innovate their Peli cases with various DIY MOLLE attachment solutions. This inspired our engineering team to build a reliable quick-release system so users can switch out their kit according to their next mission or adventure,' said Pavel Levshin, Product Marketing Manager, Peli Products.
Designed to be compatible with user-sourced MOLLE style pouches and Velcro™ brand straps, the Peli™ EZ-Click™ panel system is infinitely customisable. Built Peli tough to excel in harsh conditions, the EZ-Click™ system is available as an accessory for these Peli models:
For more information, visit: www.Peli.com
Tucci Polo
TucciPolo offers classic handcrafted luxury shoes for men
TucciPolo Classic Blue Suede Tassel Loafers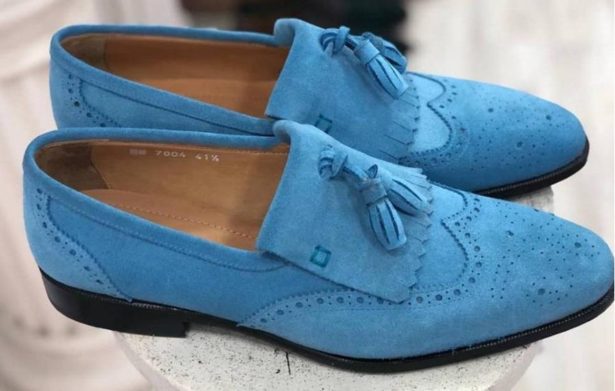 tuccipolo.com/for-men/2018-New-Release-Mens-Luxury-Shoes/TucciPolo-Mens-Handmade-Luxury-Blue-Suede-Tassel-Loafers
TucciPolo Classic Blue Suede Tassel Loafers handcrafted by the best shoe makers with guaranteed quality and comfort. Unique in style and exclusively designed for Men who can dress.
www.tuccipolo.com
BAG THE PERFECT GIFT THIS CHRISTMAS FROM BRITISH LUGGAGE COMPANY
STUBBLE & CO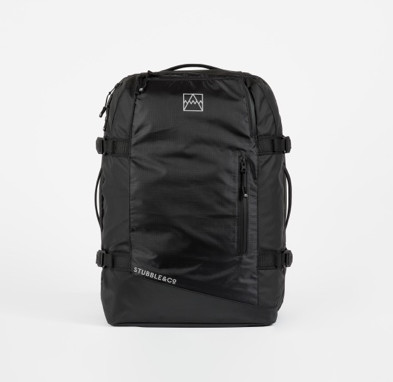 Choose from the new Adventure Bag, a multi-functional Backpack and the Weekender holdall
Tough, durable, weatherproof and made from 100% recycled plastic, British start-up luggage brand Stubble & Co has launched a lightweight yet multi-functional Adventure Bag in time for Christmas. www.stubbleandco.com
The Stubble & Co Adventure Bag £185
From tackling epic road trips to scaling mountain peaks and for city-stays and camping in the wilderness too, Stubble & Co's new Adventure Bag is the present for explorers.
With a minimal and timeless look, the all-black "go-anywhere-do-anything bag" has been designed to provide great functionality and versatility. Lightweight, exceptionally comfortable and sized to be taken as an airline carry-on, it ticks the eco-friendly box too as it's made from robust, recycled and waterproof materials.
The soft-sided clam shell design makes for easy packing, while the outer compression straps means it can be packed to the limit. Inside is a 16-inch laptop padded pocket, separate shoe compartment and pockets for security items, cards and valuables. To ensure maximum comfort, there is a breathable and cushioned back panel, with adjustable straps as well as a removable waist strap, grip handles and trolley sleeve. Plus, once unpacked, it folds super small for easy storage.
Capacity: 42L Laptop size: 16-inch Weight 1.8kg Dimensions: 55 x 38 x 24cm
The adventure bag is the latest addition to Stubble & Co's portfolio of handmade bags.
Other Christmas gift options include:
The Stubble & Co Backpack £95
With a simple, minimalist design, Stubble & Co's weather resistant and multifunctional Backpack is perfect for day to day and weekend adventures. It has a generous capacity of 18 litres and comes in four colours: all-black, olive, smoke and navy. The bag closes with a simple draw string and magnetic top cover fastening. It features a high density padded laptop pocket, inner zipped valuables pocket, and has two side pockets perfectly sized for a water bottle, umbrella or bottle of wine.
Capacity: 18L Laptop size: 15-inch Weight: 1.1kg Dimensions: 28 x 45 x13 c
The Stubble & Co Weekender £155
Perfect for long weekends away, this holdall style bag has been crafted with premium waterproofed canvas, natural full grain leather and ultra-reliable YKK zips. Providing timeless good looks, whilst being exceptionally durable, the roomy 42 litre capacity Weekender features a high-density protection 15-inch laptop pocket as well as a safe secure inner pocket for valuables. There is also a practical outer pocket (sized for passport and smartphone), a detachable and adjustable shoulder strap that's double width for comfort and extra reinforced base with six studded feet shaped for protection.
Capacity 42L, Laptop size: 15-inch, Weight: 1.5kg, Dimensions: 52 x 28 x 31cm
For more information visit www.stubbleandco.com
About
After years of fruitlessly searching for the perfect bag – one that could be used for short business trips, going to the gym, commuting to work and making the most of weekend adventures – Stubble & Co was founded by Ben Watkiss through the Kickstarter crowdfunding initiative.
He has meticulously developed a portfolio of affordable products – balancing timeless style, long-term durability and exceptional quality. Every feature, detail and dimension is tirelessly tested to ensure the greatest functionality and highest quality.
The Stubble & Co logo proudly signifies the quality of the stitching, as well as the mountains, to reflect a sense of adventure – for those who travel.
Standout.
Standout stock a huge range of men's designer clothing and accessories from a wide range of popular brands to save the hassle of visiting several stores to find the latest trend or style.
Here are some of our top picks from Standout:
Lyle & Scott Cotton Merino Crew Jumper – Priced at £64.95
This classic Lyle and Scott jumper is a lightweight version of the popular 80s knitted Lyle and Scott jumpers this time with a ribbed, round neckline. The all-important golden eagle sits proudly on the chest to complete the look. A great subtle piece for a smart or casual look.
Levi's Vintage Fit Sherpa Trucker Jacket – Priced at £119.95
The Vintage Fit Sherpa Trucker Jacket from Levi's comes in Dark colour, featuring a spread collar and zip closure with branded buttons. Featuring Sherpa lining and an inside pocket, this jacket includes a minimum of 50% Repreve a polyester fibre sourced from recycled plastic bottles. A twist on the original jean jacket since 1967.
Tommy Hilfiger Signature Artwork Pullover Hoodie – Medium Grey Heather – Priced at £109.95
The Signature Artwork Pullover Hoodie from Tommy Hilfiger comes with elasticated cuffs and hem, featuring the classic Tommy Hilfiger logo embroidered on the front. Coming in Medium Grey Heather colour, this hoodie sports a drawstring hood and open pocket. This hoodie also features an embroidered logo above the sleeve.
Christmas gifts perfect for men.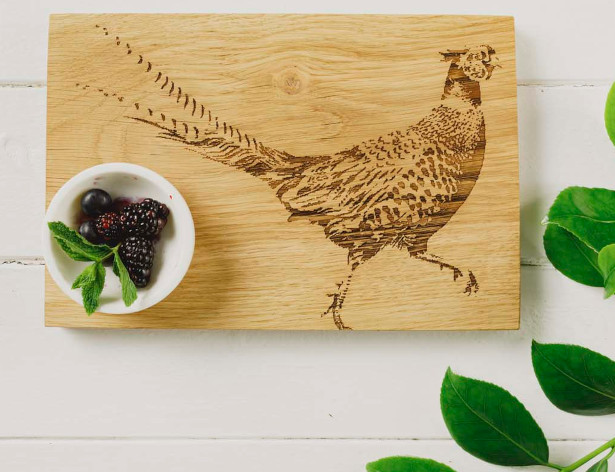 Small Scottish brand Scottish Made has some stunning wooden boards or mats homewares which make the perfect gift for men. Scottish Made's wooden boards are all made from sustainable Scottish oak or sycamore and then have unique Scottish or country designs etched onto them, making them something a little different. Some of the designs are very male orientated so appeal particularly to those who love the countryside, such as a stag, highland cow, Labrador or a simple saying. The boards come in different sizes for serving cheese, bread, meats, or for chopping lemons, limes or herbs or the larger sharing platters are ideal for generous amounts of antipasta. The boards start at £30 for the smaller ones and can be accompanies by a bottle opener or cheese knife.
For a smaller gift, perhaps as a Secret Santa or stocking filler there are oak bottle openers. Again produced from Scottish sustainable wood and stainless steel, with designs such as the stag, hare, duck or Gin design these are priced at £16
Scottish Made is part of a family run company and with the current trend to shop local these products tick all the boxes of designed and produced in the UK from sustainable sources.
All are available online at: www.justslate.co.uk/scottish-made
YALE'S YULETIDE SECURITY GIFTS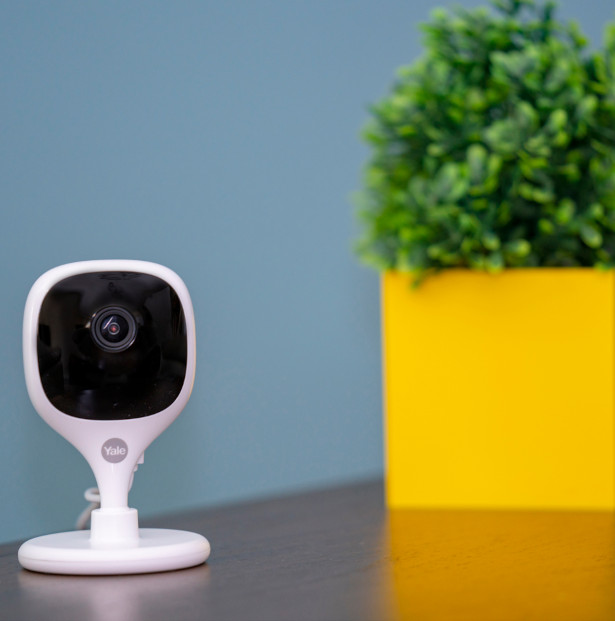 Security experts Yale look at the top home security gift ideas, which will not only put smiles on your families' faces but also keep them safe this festive season.
It's never an easy task to try to find that perfect gift for your loved one, and when Christmas rolls by knowing what to get them can feel like a huge task. There's nothing better than buying a gift that is a bit different and yet you know will be used over and over again. Sometimes it's the practical gifts that are appreciated the most.
We've rounded up some of the key home security must-haves from Yale, to suit all budgets for Christmas 2020.
For Pet Lovers
While external CCTV systems have become standard for many homes across the UK, standalone smart indoor cameras that can show you what's going on in the home, all from your smartphone. These smart indoor cameras are now becoming more popular. Smaller and less obtrusive than a full CCTV system, considerably cheaper and easy to set up and install, we can see why smart indoor cameras are becoming much more prevalent.
The Yale Indoor Camera range, has a selection of smart and compact looking cameras, which can be moved around the home. Ideal for watching unwanted visitors, or if you have friends or family who have a pet, this is the perfect gift for helping them keeping an eye on that mischievous furry friend while they're at the shops, out at work or even from just another room when working from home!
For DIY Dad
Can't find the perfect gift for your DIY dad? The Yale All-in-One Security Camera has got it all; security light, camera with-quality footage, motion detection, and two-way talk and a loud siren. This compact and discreet unit is ideal for that security-conscious DIY dad.
Easy to set up and install, the All-in-One Camera can be used to keep an eye on the front door while you wait for that all-important parcel or fitted in the back garden, watching out for unwanted intruders, and all viewed and controlled through the Yale View App on your smartphone.
For Bike Fanatics
With the popularity of cycling growing, more people are starting to dust off their old bikes or splash out on a new one. Looking for something for your cycling enthusiast friend, a Yale Bike Lock can help keep their pride and joy safe and secure.
Bike locks can come in many shapes and sizes, with a number of different options available depending what security is needed. Ultra-heavy-duty models, such as Yale's new Maximum Security Defendor Chain and Lock, are perfect for keeping a bike locked and secure in a garage or out-building. If the recipient is a fitness fan and enjoys long rides, the Yale Cable Lock featuring a self-coiling cable and lightweight design is easy to carry and will keep their bike secure whilst away from home. The look of a bike is very important for many cyclists and to ensure protection against any scratches caused by a lock, the Yale U Bike Locks are designed with a rubber protective layer, so their pride and joy is kept pristine.
For Gardeners
Our gardens are often a sanctuary from everyday stresses, a place to escape to all year round. For many keen gardeners their tools and equipment are items which they've collected over time and can be costly, so it's important to keep these safely locked away.
Help keep your gardening enthusiast friend or family member's tools all locked safely away with a selection of shed security products. The Yale High Security padlocks and hasps offer a level of protection ideal for keeping tools and garden equipment locked up, securing ladders and keeping gates locked shut. And as an additional level of security, the Yale Shed & Garage Alarm is simple to set up, with a motion detector alarm. The alarm can be either free standing or can be mounted on the shed wall – a practical piece of kit to protect against any unwanted visitors!
Check out the range of products available from www.yalehome.co.uk and find the perfect Christmas gift for your loved ones.
Gluten Free Pineapple and Coconut Trifle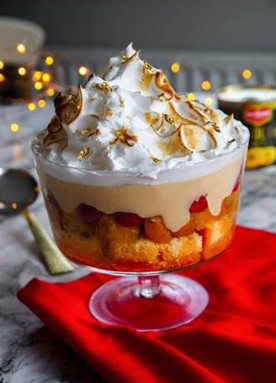 Serves 6-8
Prep Time: 20 mins
Cook Time: 40 mins
Ingredients
· 250g gluten free Madeira cake
· Edible gold leaf (optional)
For the coconut custard layer:
· 1 tin full-fat coconut milk (400g)
· 4 egg yolks (as fresh as possible)
· 50g caster sugar
· 40g cornflour
· 2 gelatine leaves
For the caramelised gold pineapple layer:
· 1 435g can Del Monte® Gold Pineapple Chunks (drained)
· 75ml pineapple juice (from the pineapple can)
· 2tbsp lime juice
· Zest of one lime
· 200g caster sugar
· 2tbsp dairy free margarine
For the meringue layer:
· 4 egg whites (as fresh as possible and room temp)
· 200g caster sugar
· 100ml water
· 1/2tsp cream of tartar
Method
1. Firstly, we'll create the sponge layer in our trifle dish. Slice your gluten free Madeira sponge cake into thin finger shapes. Take your 2.5l trifle bowl and fill the bottom with your gluten free Madeira sponge fingers. That's your first layer done!
2. For your coconut custard, start by pouring your coconut milk into a small saucepan and simmering until all the chunks have melted.
3. Take your gelatine leaves and soak them in a bowl and set aside. We'll need these later.
4. While that's warming, grab a glass bowl and add in your egg yolks, caster sugar and cornflour. Whisk this all together until nice and smooth. Add your now warmed coconut milk. Whisk again until smooth.
5. Now take your glass bowl and place it on top of a large saucepan of gently simmering hot water. Make sure your bowl doesn't touch the water! Keep whisking your mixture until it thickens to look like custard.
6. Keep whisking again until you're left with a nice, smooth consistency. This will take about 15 mins.
7. Remove from the heat and place onto a tea towel. Add your gelatine leaves and whisk in until smooth. Immediately cover the bowl with clingfilm and place in the fridge.
8. Next up, the caramelised Gold pineapple. Start by melting your dairy free margarine and caster sugar in a large saucepan until the sugar is totally liquid. Then, add your drained Del Monte® Gold pineapple and juice. Keep on mixing at this point, as the caramel will get really sticky!
9. Add your lime juice and zest. Increase the heat a little so that all the lumpy, sticky bits of caramel melt again. You should be left with pineapple in a nice, clear consistent drizzle.
10. Ok – back to your trifle dish! Add your caramelised Del Monte® Gold pineapple on top of the sponge layer and pour the drizzle all over so the sponge can absorb it. Now for the final layer – the Italian meringue!
11. Start by melting caster sugar and water in a small saucepan on a low heat whilst constantly stirring. Keep this nice and warm while you do the next bit.
12. In a standing mixer, add your egg whites and cream of tartar and mix at a medium speed for 2 minutes. It should be nice and frothy with no lumps from the cream of tartar.
13. After two minutes, pour in your melted sugar and water mixture into your standing mixer while it's mixing. Turn it up to a higher speed for 2-3 minutes. You should be left with soft, fluffy meringue that doesn't drip when you spoon it.
14. Back to your trifle dish for the last time! Add your fresh raspberries around the edge of your dish, on top of your pineapple layer. Then add your now cooled custard. Give it a stir if it's become a little set.
15. Then, add your meringue layer on top. You can optionally blowtorch the top for a nice finish and/or add edible gold leaf – it's up to you! The hot water and sugar mixture will cook the meringue so there's no need to do anything else to it.
16. Enjoy!
This recipe has been created by London-based gluten free recipe creator and vlogger, Gluten Free Cuppa Tea
From Olympic Champion Michael Klim's fragrance Aqua Beyond: Deep Blue is the perfect addition to your gift guide – it's been thoughtfully developed for Australian men and is available at an affordable price point.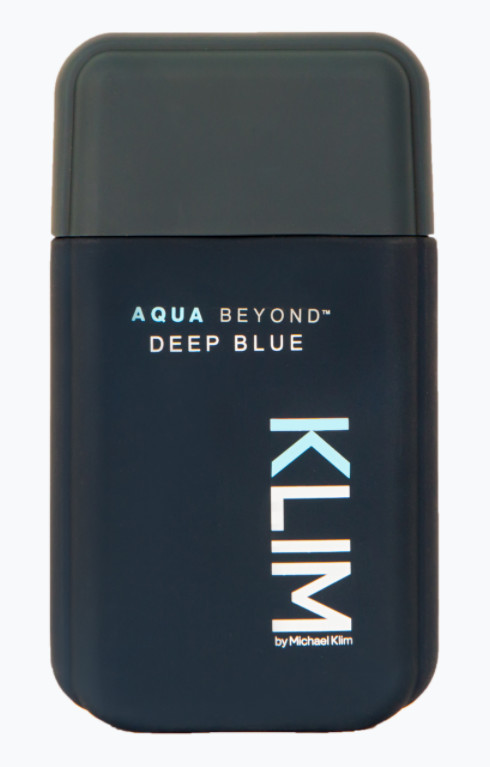 The perfect gift, AQUA BEYOND: DEEP BLUE is an intense and active fragrance designed by Aussie swimming legend Michael Klim himself. This fragrance begins with a deep woody amber and cedar aroma that surges upward to invigorate with a fresh punch of citrus and spices from lime to red ginger.
Mysterious and unpredictable like the ocean, AQUA BEYOND: DEEP BLUE is Michael Klim's second fragrance which represents a man who is bold, sophisticated and ever-changing.
Stockists: Chemist Warehouse, www.milkandco.com.au
RRP: $29.99
Instagram: @klimbymichaelklim
Facebook: Klim By Michael Klim
"Where is God? Is He there? It sure looks like He's not anywhere!" – quote from 'Where is God'.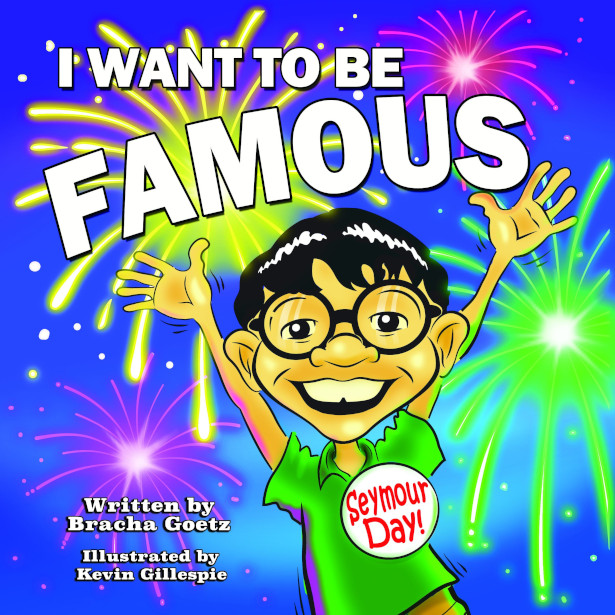 Bracha Goetz is a supreme children's author when it comes to using a story to satisfy the natural curiosity in children and help parents answer their children's most basic questions.
image.png
www.amazon.com/gp/product/1932443738/ref=dbs_a_def_rwt_bibl_vppi_i21
Teach your toddler about Chanukah with this bright and colorful word-and-picture book! Children will learn basic vocabulary while becoming familiar with the objects and concepts that are unique to this special time of year.
www.amazon.com/gp/product/0997536349/ref=dbs_a_def_rwt_bibl_vppi_i34
This is the dynamic story of a boy who suddenly finds fame through a serendipitous event. Ultimatell he discovers that he doesn't really need all that attention from others because there is a spotlight within him that never dims, emanating from the radiance of his soul.
Teal Trunk bottle brush.
Its unique ergonomic shape fits all those skinny neck reusable water bottles and makes cleaning so much easier and hygienic. Might fit perfectly in with your sports enthusiasts.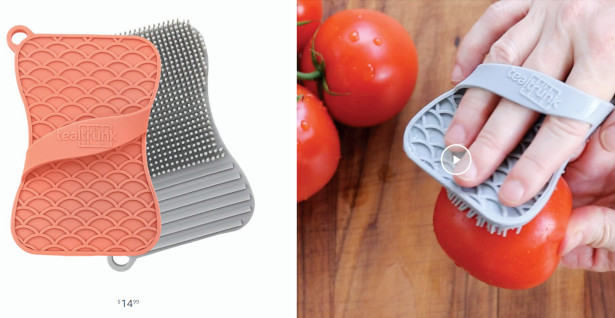 Teal Trunk Silicone Scrubber Hygienic bacteria resistant products used for multiple uses around the home. Moms are loving that they don't stain or hold odors as well as being hygienic and bacteria resistant.
Consumers are loving them for everything from doing dishes, washing their produce to cleaning their tennis shoes. Some Love using my scrubbers to wash their pets and a favorite use is hanging one in the bathroom for a quick sink clean from makeup and toothpaste spills or a reminder to use it to clean their makeup brushes.
Consumers also love that it's reusable and reducing their waste footprint. They post videos and of their favorite uses with tips all labeled in my highlights on IG @tealtrunk
Joe & Seph's new Christmas 2020 range!
We have a wealth of delights from the family business this year (in their 10th anniversary year!) all handmade in North London:
Official James Bond 007 Dry Martini Popcorn (RRP £4)
Gourmet, Vegan & Tipsy Advent Calendars (all RRP £25)
A Salted Caramel Christmas Cracker Box
Dozens more Christmas Gifts – including Prosecco Popcorn Baubles, Beautiful Kilner Jars of your choice of popcorn, Luxury Popcorn Hampers and Popcorn Subscription Bundles
Unusual flavours like Eggnog, Toffee Apple, Brandy Butter, Mince Pie, Ginger Bread, Gin & Tonic, Espresso Martini, even savoury flavours like Marmite, Cheese on Toast, Camembert and Curry all make for terrific stocking fillers/Secret Santa gifts
More info below and in the press releases attached, full set of images here, just let me know if you'd like to try any/all!! 🙂
A little flavour of the North Pole has arrived in an industrious corner of North London, the Joe & Seph's (www.joeandsephs.co.uk) family of confectionery creatives have dreamed up some seriously indulgent and utterly charming popcorn-based gifts, decorations and mouth-watering treats to keep Christmas 2020 delicious. Joe & Seph's consistently keep their loyal following spoiled for choice with their extensive range of gourmet, handmade popcorn and caramel sauces. This festive season sees their elves pack selection boxes chockfull of festive favourites including Salted Caramel, Toffee Apple & Cinnamon and Prosecco Popcorn.
Popcorn lovers can count down to the big day with a daily fix from the Joe & Seph's Classic Gourmet Popcorn Advent Calendar, featuring a new festive design and more unique flavours than ever before; brand new for this year is the world's first Vegan Gourmet Popcorn Advent Calendar and the Tipsy Gourmet Popcorn Advent Calendar, for a taste of all your favourite festive tipples (all RRP £25). Making popcorn this year's must-have Christmas staple, friends, family and colleagues can be well and truly indulged with the new range of gift tins, stockings, baubles and mini gift boxes.
Christmas is the perfect time to indulge and this year, the family behind Joe & Seph's: Joseph, Jackie, Paul and Adam Sopher, have created their essential Christmas list of decadent treats. Kick-starting the countdown to Christmas is the return of Joe & Seph's much-awaited, larger than ever, Classic Gourmet Popcorn Advent Calendar. Opening up like a giant storybook, it depicts a snowy scene of Joe's Popcorn Kitchens crafting festive gifts, with each stage of the special, handmade process beautifully illustrated. This year's calendar features 19 unique flavours behind the 24 windows; from the most popular gourmet flavours, festive favourites and several marvellous exclusives including Brandy Butter, Apple & Custard and Gingerbread popcorn, as well as an extra large, special treat behind Door 24!
This year also sees the launch of the world's first Vegan Gourmet Popcorn Advent Calendar; behind 24 festive cubbyholes discover eight unique, vegan flavours, including Joe & Seph's legendary Vegan Salted Caramel and Vegan Toffee Apple & Cinnamon, as well as some exclusive, new Vegan flavours, including Vegan Olive Oil, Sea Salt & Black Peppercorn.
For the cocktail aficionado in the family, there's the brand new Tipsy Gourmet Popcorn Advent Calendar. Discover 12 flavours of award-winning, alcoholic gourmet popcorn, including Joe & Seph's most popular flavours, Espresso Martini, Gin & Tonic, Prosecco and Caramel Macchiato & Whisky.
Find the perfect Secret Santa gift with award-winning classic Gourmet Popcorn pouches (£4), available in festive flavours such as Brandy Butter, Mince Pie and Mint Chocolate and the newest Christmas addition, Eggnog – air-popped popcorn coated in smooth caramel with fresh double cream, 4% Jamaican Rum and warming nutmeg.
Launching for 2020's festivities are the new Vegan Salted Caramel and Vegan Coconut & Cacao Festive Mini Gift Boxes (£4), which are perfect as stocking fillers, and even double as delicious edible baubles, as well as the Vegan Salted Caramel Festive Cracker Gift Box (£6) and Chocolate Popcorn Stars (£3.50), the latest in the popcorn bites family – think rich caramel popcorn, dunked into a solid chocolate star (a chocoholic's fave!).
Festive bakers can indulge in the Brandy Butter Caramel Sauce (£5.99), made with fresh butter and double cream and infused with 5% French Brandy – try drizzling over Christmas pudding or Mince Pies for the ultimate festive indulgence! The Chocolate Lover's Popcorn Selection Box (£6) is filled with Joe & Seph's rich Dark Chocolate Popcorn Bites and a trio of Chocolate Popcorn. Featuring 12 gourmet popcorn mini packs from six of the bestselling flavours, including Salted Caramel, Toffee Apple & Cinnamon and Orange Chocolate, the Ultimate Popcorn Selection Box (£8) is perfect for sharing with friends and family. Also returning to the gifting range this year are the Giant Popcorn Cracker (£17.50), Gourmet Hampers to suit the whole family (from £30.00), customisable Kilner Jars (£10) and Popcorn Gift Tins (starting from £15).
Joe & Seph's Christmas range will be available in-store at Harvey Nichols, Selfridges, QVC, Harrods, Ocado and Boots. You can find the full Christmas range online at joeandsephs.co.uk, where last minute shoppers can also purchase vouchers for the Joe & Seph's Gourmet Popcorn Subscription Service, sign up to gift 8 exclusive and classic flavours every month!
Top Ten Toys & Games of 2020 for the Whole Family.
Rubik's Amazing Box of Tricks £24.99 from Marvin's Magic – Amazing Magic Tricks For Kids Marvin's Magic proudly presents an exclusive magic set celebrating the 40th anniversary of the world famous Rubik's Cube! Includes 40 superb tricks ideal for 8 years old +. Rubiks Box of 40 Amazing Magic Tricks including: Instant solve, Mind reading puzzle cube, Jumping cubes and many more.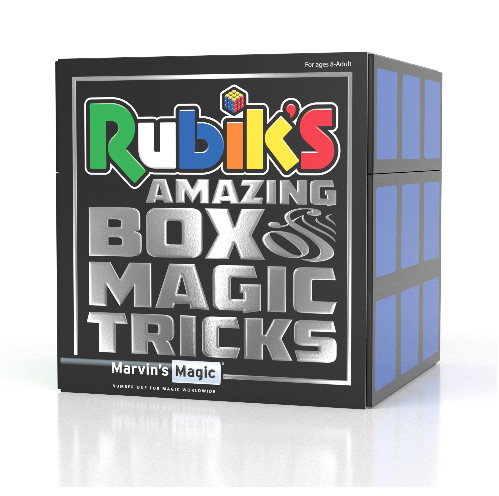 Geomag Eco Classic Colour 42 piece. £27 from The Entertainer – Enjoy a greener playtime with the 42 Piece Eco Classic Colour set from Geomag. Your favourite magnetic construction set just got environmentally friendly! Made from recycled plastic and using eco-friendly manufacturing methods, you can enjoy the same fun with less impact on the earth. This set has 42 pieces inside, which all come in amazing bright colours. You'll find a mix of rods, side pieces and magnetic balls. What will you engineer with yours?
DesignNest MagnetCubes Rollercoaster Marble Run – Modular Magnetic Building £39.99 from 2Tech.co.uk – Build. Rebuild. Combine – Easily connect multiple structures together. The structure becomes a complex and impressive multi-level design. MagnetCubes gives you far more freedom to build a near infinite variety of miniature roller coasters and structures instantly.
Kikkerland Unicornhole £28 from Amazon – For all unicorn lovers out there, here's a new play on and old game! Fashioned after the classic corn-hole/bag toss game. Game includes wooden board and horns. Makes a great gift for all ages.Perfect for the office or lunchroom. Can be played solo, or against a partner. Get your horn through the hole!
The Emoji Game £7.99 from John Lewis – Emotions are sure to run high in this riotous family card game! Be the first to collect a full set of emotions but beware, the devious action cards may hamper your progress in this hilarious family card game!
Geomag Classic Panels 35 Pieces. £14.99 from Smyths – Explore the world of the magical invisible forces of magnetism. Create an unlimited number of structures using the magnetic bars and steel spheres Use the 100% recycled plastic panels to make structures more sturdy and stable Great STEM product which is guaranteed to stimulate all levels of scientific insights.
Rubik's Puzzles £8 from IWOOT – 2020 marks the 40th anniversary of Rubik's Cube, the world's bestselling toy, being sold internationally. In this deck of large-format cards 80's nostalgia meets mind-bending puzzles!With beginner, medium and difficult levels, are you ready to put your brain to the test?
Kikkerland Fox & Geese £29 from Amazon – Fox and Geese is unique in that it is a game of odds with unequal pieces and different moves for each player. Will fate favour the fox or will luck run with the geese? Play the best of 2-5 games to see who really comes out victorious.
Marvin's Magic Treasured Tricks – Wooden Set £29.99 from Marvin's Magic – Introducing a wonderful wooden magic set that is perfect for any budding magician. Presented in a durable wooden box for easy storage and includes the Incredible escaping coloured blocks, the vanishing rabbit illusion, the amazing rising cards and much much more!
Kikkerland Goat Yoga Game £22.99 from IWOOT – In this hilarious party game, players perform real yoga poses while completing ridiculous challenges with an inflatable goat. From balancing the goat on your head to batting it in the air, to bleating the tune to a song…your game night is sure to be filled with belly laughs.
Zerowater – The Best Water Filter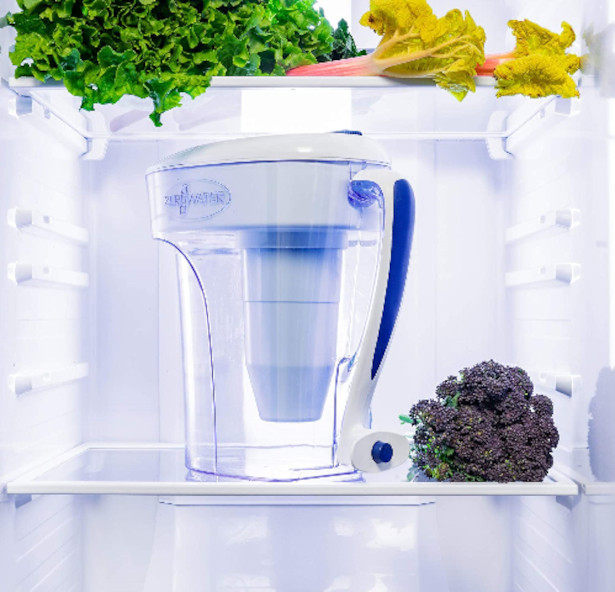 Zerowater reduces 99.6% of all total dissolved solids in your drinking water. It delivers the purest tasting water in minutes. Zerowater removes much more from tap water than other leading filter brands in the UK. Zerowater removes 97% of lead, 96% of mercury, 95% of chlorine and even 97% of asbestos which is often displaced from old and ageing water pipes.
In-fact Zerowater is so powerful that on average it removes 95% of all metals compared to 68% from Brita. Zerowater even removes 68% of all inorganics, whilst 33% is removed from Brita. The full list can be found here.
Zerowater gets better results due to a 5-stage filter, most filters only have 2-stage. Zerowater patented technology ensures that you can save money on buying bottled water and ensure your tap water is pure. The 12-Cup Zerowater comes with a free TDS Reader (Total Dissolved Solids). Some areas of the UK have reading more than 300. When water is filtered through the Zerowater filter it will score 0, Meaning you can enjoy great tasting pure water at home.
The Zerowater 12-Cup Filter costs £39.99 from Zerowater.co.uk
* The debut children's book from master storyteller Maggie O'Farrell *
WHERE SNOW ANGELS GO
Written by Maggie O'Farrell
Illustrated by Daniela Jaglenka Terrazzini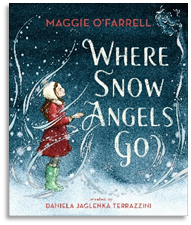 Walker Books | 5 November 2020
Hardback | £14.99 | Ages 5+
#SnowAngels
Praise for Maggie O'Farrell's writing…
'A rare talent to enthral' Sunday Times
'A masterful gift for storytelling' Observer
In Maggie O'Farrell's debut picture book for children, the best-selling and multi-award-winning author weaves an extraordinary and compelling modern fairy tale about the bravery of a little girl and the miracle of a snowy day. Drawing on Maggie's Sunday Times Number One memoir I Am, I Am, I Am – as well as her latest highly acclaimed novel Hamnet, currently shortlisted for the Women's Prize for Fiction – Where Snow Angels Go grew from a bedtime story Maggie told her own children and has a strong sense of family at its heart. Publishing as a lead title for Walker this winter with beautiful and haunting illustrations painted by the internationally acclaimed artist Daniela Jaglenka Terrazzini, Where Snow Angels Go is set to become a timeless classic loved by generations to come.
Sylvie wakes one night, suddenly, without knowing why. Then she sees the most spectacular sight – a pair of wings, enormous in size, made of the softest snow-white feathers imaginable. An angel in her bedroom… a snow angel. He tells her that he is here to look after her, for Sylvie is not as well as she seems… Many months later, as Sylvie recovers from her illness, she longs to see her snow angel again. He saved her life, after all. There is so much she wants to tell him, so much she wants to know. Will he ever come back to her? And how can Sylvie make sure that everyone she loves has their own snow angel, to keep them safe, too?
Beard Oils,Skin and Body Care for men
wolfinwoods.com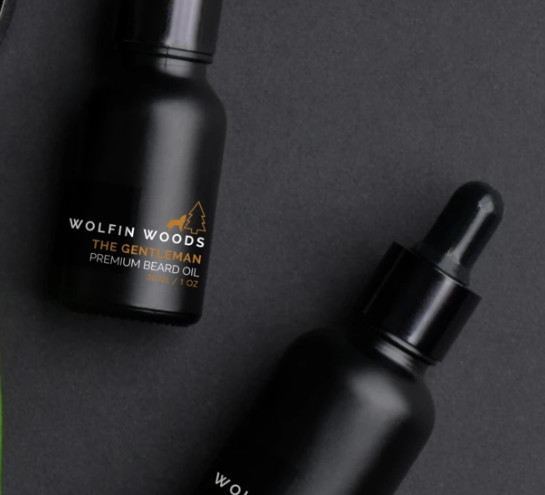 "Wolfin Woods was started to bring the best quality products to the modern gentleman. Our proprietary blends are formulated with carefully chosen ingredients and oils that are proven to enhance your mood, your skin, your thinking. With some of our oils dating back thousands of years, being used on warriors to inspire bravery, to protect against bacteria and illness, to enhance focus, and to bring good luck and fortune. We hold strong to our beliefs in these oils, our blends, and how impactful they are. We did not hold back with the quality here. Everything is made with carefully sourced essential oils and ingredients that will bring the utmost care and nourishment to your body. We believe in natural, pure, and proven ingredients that work. We stay away from harsh chemicals, that just do more damage to your skin. We stay away from diluted oils, extracts, and harmful alcohols and only focus on providing you with the best of the best. We don't want to be gimmicky, we aren't selling you on our humorous ads, we aren't promoting hyper-masculinity, saying you need to look like a lumberjack to use our products. We are for the modern man, the gentlemen. We give you a truly premium product that works, and let our products speak for themselves."
THE ONES FOR WOMEN :
NOBLE BODY CARE : High end products "where cozy meets luxury"
This product has been approved for a high end highly anticipated wow factor! gift bag going out to the producers of ten of the top talk shows in the US
They offer ;
Rose & Frankincense Face Oil and Myrrh & Copaiba Face Oil
For The Face
Body Balm and Premium Body Oil
noblebodycare.com/collections/for-the-body
The homepage : noblebodycare.com/