Clipper introduces colourful and delicious
Organic and Fairtrade Green Tea Range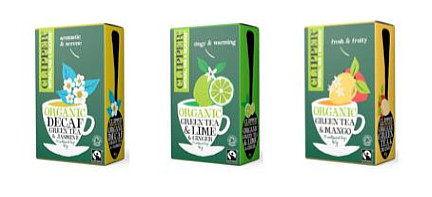 Clipper launches its capsule collection of certified Organic and Fairtrade Green Tea range. With 14 delectable green tea blends to choose from, you'll be spoilt for choice.
Clipper's masters of tea, Dan and James, work hard to create perfectly balanced green teas that are light, clear and have a delicately subtle taste characteristic of the leaves they source. They pour everything into picking the best quality leaves from trusted estates and use their expertise in the production process to deliver the uniquely fresh taste in every cup. All the teas used in the Clipper Organic Green Tea range are sourced from high elevation tea estates in Sri Lanka, South India and China. Tea plants grown at a higher altitude have to work harder to produce tea leaves and therefore the leaves they do produce have more character and better flavour. Since the tea is grown in remote mountainous areas the environment is not affected by pollution from traffic or heavy industry. What's more, Clipper only use natural flavourings in their flavoured green teas.
Clipper have been ahead of the green tea curve for almost 20 years, being the first green tea brand to launch into UK supermarkets in 1996. Since then the brand has led the way in the production of natural, fair and delicious green teas. Clipper has championed non-chemical decaffeination, introduced the distinctive unbleached tea bag and become the UK's first Fairtrade tea brand, all whilst prioritising a clean, fresh flavour.
In recent years there has been a marked move towards the purchase of organic food and drink. The 2017 Organic Market Report reveals a 7.1% growth of organic food and drink in the UK. In addition, the organic tea market is growing at 10% year on year (Source: 20th May IRI Value sales), well above the market rate.
Establishing and maintaining Fairtrade agreements with its partners is very important to Clipper. Priority is given to quality and care over yield to make sure all Clipper teas are natural, fair and delicious. Dan and James work very closely with the plantation teams to ensure the teas produced and the processes used exceed the Fairtrade standard required and that workers and their communities benefit from Clipper's investments whilst building lasting relationships with suppliers – they have been working with current estates for between 10 and 20 years.
The flavoursome blends in Clipper's Organic green tea line up vary from fruity and floral, to bright and warming – a tempting invitation to all tea lovers to try something different and incorporate more green tea into their day, because not only does Clipper Organic Green Tea taste delicious, it is good for you too! Clipper Organic Green Tea is known for being rich in natural antioxidants and has many health benefits including lowering cholesterol and blood pressure and promoting gut health, to name but a few.
14 delicious Organic Green Teas to choose from
Organic Pure Green Tea – light & delicate A clear, light and delicate green tea, ideal for pure green tea fans.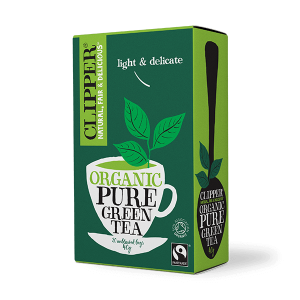 Organic Green Tea & Lemon – bright and zippy Great for those who like a little lemon lift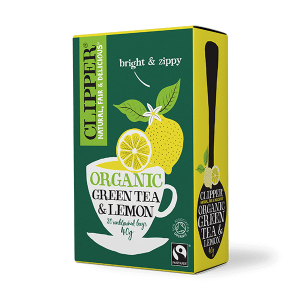 Organic Green Tea & Lime & Ginger – zingy & warming A citrus blend with a little more bite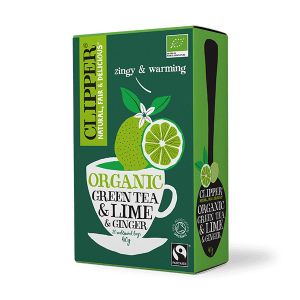 Organic Energise Green Tea – with ginger, mint and turmeric A bright and breezy alternative to a traditional morning cup of tea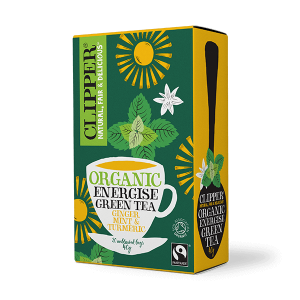 Organic Green Tea & Mango – fresh & fruity Perfect for those who like a fruity flavour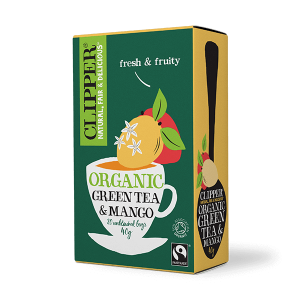 Organic Green Tea & Mint – crisp & quenching A refreshing minty blend, a perfect end to a meal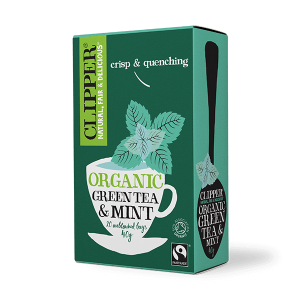 Organic Decaf Green Tea – gently decaffeinated Ideal for those who are looking to lower their caffeine intake. Clipper use the Co2 method of decaffeination which gently bubbles the caffeine out. It's the only decaffeination method certified by the Soil Association.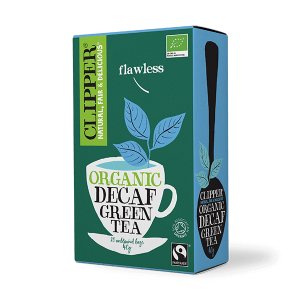 Organic Decaf Green Tea & Jasmine – aromactic & serene A delicate floral addition to the decaf green tea.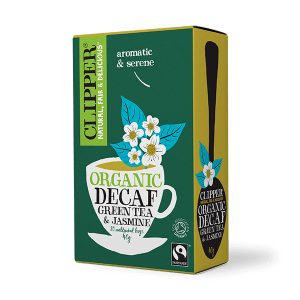 Organic Green Loose Leaf Tea –purity For those who prefer to prepare loose leaf green tea.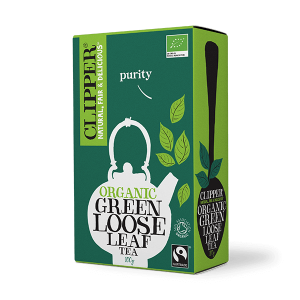 Organic Sleepy Decaf Green Tea – soothing A caffeine-free tea containing a soothing blend of Chamomile, Lavender and Lemon Balm.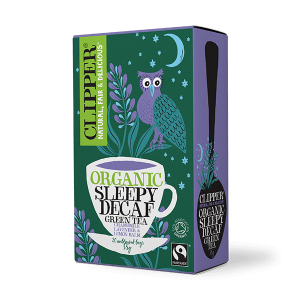 Organic Chai Green Tea – spice it up Made with traditional Indian Chai ingredients, warming cinnamon, cardamom & cloves.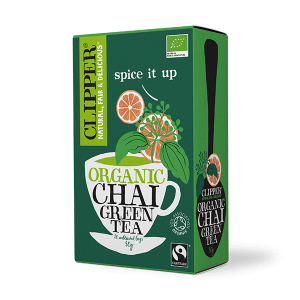 Organic Aloe Vera Green Tea – tranquil A clean tasting green tea, subtly infused with aloe vera and enhanced with a zesty lemon flavour.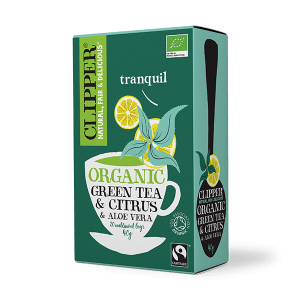 Organic Detox Green Tea – cleansing Made with Elderflower, Nettel, Fennel & Citrus to detox from within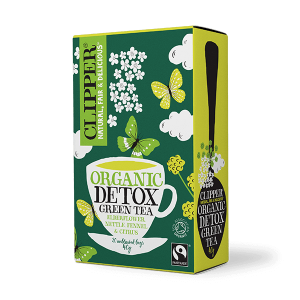 Organic Green Tea & Strawberry – sweet treat Made with natual strawberry flavouring for a fruity pick me up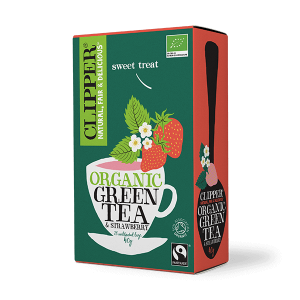 Clipper's Organic Green Tea range is available from Clipper Online, Waitrose, Tesco and health food shops, RRP: £2.19.