COMIC ART LAUNCHES SALE MONTH
Every day this month we will choose another screenprint to discount by a third!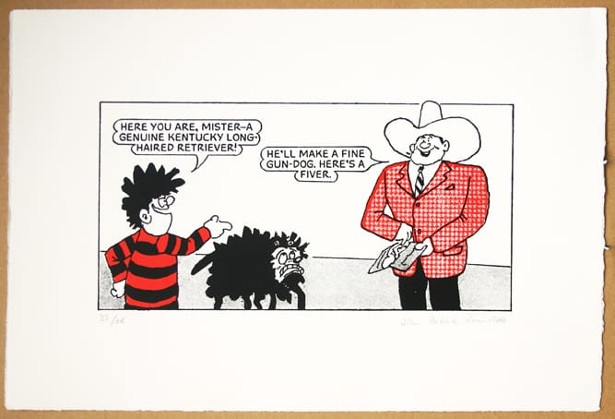 FACEBOOK | TWITTER | INSTAGRAM
So far Comic Art have discounted three prints featuring Dennis the Menace. They're all medium sized prints.
Dennis the Menace sells Gnasher to an American (56cms x 38cms)
Dennis the Menace pulls faces (38cms x 56cms)
Dennis the Menace wants a raygun (48cms x 38cms)
All were on sale unframed for £145 and are now on sale for £95.
Add youself to their mailing list (sign up on www.thecomicartwebsite.com) for more … a new one every day.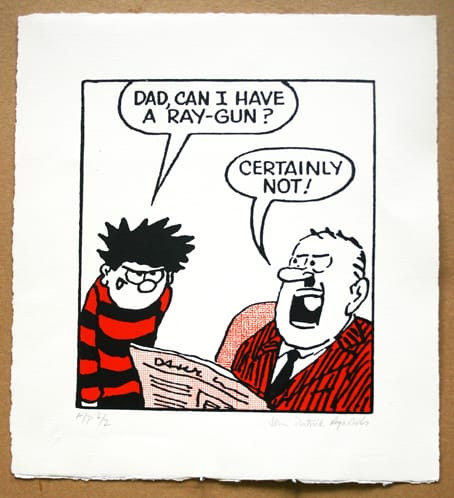 About Comic Art
John Patrick Reynolds is the first screenprinter to get permission from Britain's top comic publisher, DC Thomson, to use images from its archive of British comic characters from The Beano's Dennis the Menace, The Bash Street Kids and Minnie the Minx to The Dandy's Desperate Dan and the Sunday Post's Oor Wullie and The Broons.
Comic Art are also the only screenprinter in the UK to work with French publisher Editions Albert Réné to make screenprints of its characters Asterix, Obelix, Getafix and Ideefix, not forgetting the dog Dogmatix.
They have added US icons Popeye and Olive Oyl to their stable of characters.
Comic Art screenprints are handmade byJohn Patrick Reynolds and his team in west London, on cotton mould-made paper which is milled in Somerset.
Questions?
Please feel free to telephone John Patrick Reynolds, on 07980 844906 or message or email him at jpr@thecomicartwebsite.com.
See the full range at www.thecomicartwebsite.com
Follow at social links
FACEBOOK | TWITTER | INSTAGRAM
Buy those designs from their website
This is John in the print studio. You can see a screenprinting table in the foreground, a light box on the left and drying racks behind. He is holding one of the tools of the trade: a large squeegee, used for transferring ink from the screen to the print.
Our mailing address is:
johnpatrickreynolds@yahoo.co.uk