Holiday Gift Guide Foodie Gift- Pastene Makes it Easy to Gift + Make Meals
As the leading importer of authentic Italian foods and ingredients, Pastene makes it easy to prepare delicious meals at home with a variety of pasta cuts, tomato sauces, grated cheeses, roasted peppers, kitchen ready® tomatoes, marinated artichokes, sun dried tomatoes, and more. The real secret to great Italian cooking is pure, quality ingredients.
For the holiday gift giving season, Pastene is making it easier than ever to help make meals not only easy to gift, but easy to create! For the pasta lover, the novice chef, the hostess, the college student, the gluten-free friend or foodie in your life, Pastene features an array of epicurean specialty boxes to enhance anyone's skills in the kitchen.
Below, please find a few gift boxes under $25 and $50 that can all be purchased at www.pastene.com.
Gifts Under $50
Pastene Specialty Box- $39.99
This ultimate gift box contains Pastene's best-selling specialties featuring six different cuts of pasta and a variety of sauces fit for any feast.
This Gift Box includes:
• 16oz Gnocchi
• 16oz Italian Mafaldine
• 16oz Italian Trivella
• 16oz Italian Regine
• 16oz Italian Spaghetti
• 16oz Italian Linguine
• 28oz Kitchen Ready Spaghetti Sauce
• 15oz Italian Plum Tomatoes
• 24oz Tomato Basil Sauce
• 7oz Roasted Peppers
• 6.5oz Marinated Artichokes
• 7oz Sun Dried Tomatoes in Oil
• 10oz Kalamata
• 3oz Tonno
Gifts Under $25
Pastene Italian Favorite Box- $19.99
This gift box contains all of the classic staples everyone should have in their pantry and is perfect for the novice chef.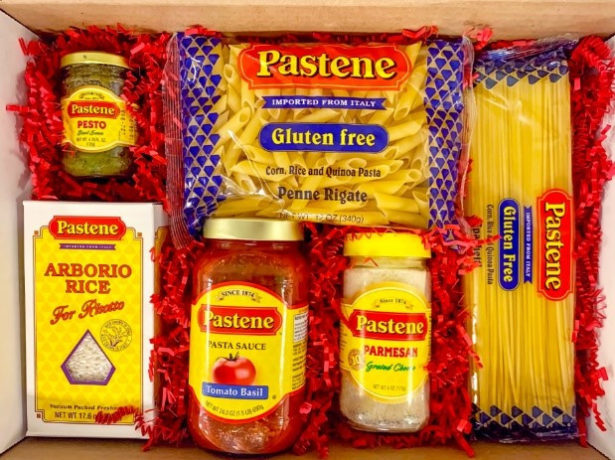 This Gift Basket includes:
• Marinated Artichokes 12 OZ
• Roasted Peppers 12OZ
• Kitchen Ready Spaghetti Sauce 28OZ
• San Marzano Tomatoes 28OZ
• Extra Virgin Olive Oil 500ML
• Italian Spaghetti 1lb
• Italian Ziti Rigati 1 lb
Pastene Gluten-Free Pasta Lovers Box- $24.99
Gluten-free Italian? Mangiamo! Pastene's Gluten-Free Pasta Lovers Gift Box has everything needed to cook up a fresh and easy meal. Filled with a curated selection of epicurean pastas, sauces, signature Kitchen Ready Tomatoes and Parmesan cheese, it's perfect for the food lover in your life.
This Gift Basket includes:
• Tomato Basil
• Grated Parmesan Cheese 6oz 4020
• GF Penne Rigate 7020
• Abrorio Rice 17.6 oz 7005
• Basil Pesto 6312 4.65fl oz