Create a classic country Christmas look, add modern and elegant sparkle or introduce fun festive touches with the new 2018 Christmas trends, exclusive to Tesco. www.tesco.com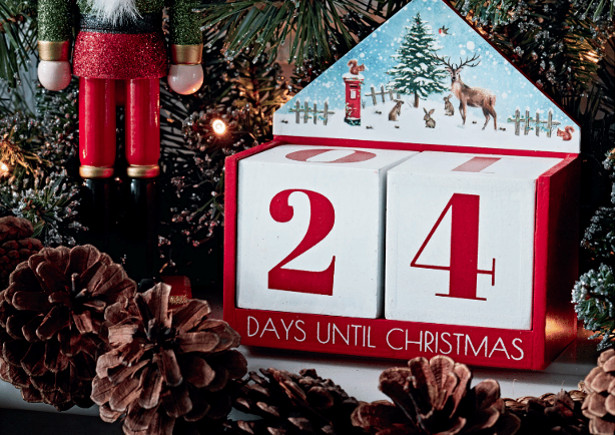 FACEBOOK | TWITTER | YOUUTBE | PINTEREST | INSTAGRAM
Create a classic country Christmas look, add modern and elegant sparkle or introduce fun festive touches with the new 2018 Christmas trends, exclusive to Tesco.Get your home ready for Christmas and create your perfect festive look with the stylishChristmas trends from Tesco: Christmas in the Cotswolds, Iced Metallics and Make it Merry.From the hand-drawn motifs inspired by the countryside within the Christmas in the Cotswolds trend, to the sophisticated style and glitter textures of Iced Metallics or playful characters and designs offered by Make it Merry, Tesco has something for all tastes this festive season.
Christmas in the Cotswolds. Bring the charm of the English countryside inside with the Christmas in the Cotswolds collection. Touches of glass, felt, hessian and wood offer a mixture of seasonal textures to update and add cosy, festive style to your living space. With classic hues of red, green and gold, and intricate designs featuring hand-drawn motifs of cottages, birds and snow laden landscapes, Christmas in the Cotswolds achieves a timeless festive look to add to year-on-year with over 60 Christmas pieces in the range.
Glass Postbox Hanging Decoration, £4.00 and Glass Telephone Box Hanging Decoration, £4.00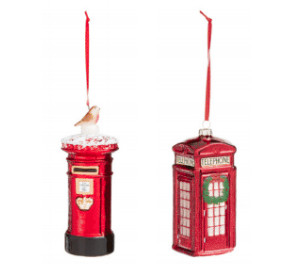 An elegant glass postbox bauble topped with snow, featuring a perching robin and finished with painted metallic detailing, this decoration brings a quintessentially British touch to any Christmas tree. Pair it with the matching Glass Telephone Box decoration to create a classic look with hues of festive red.
Christmas Mouse Hanging Decoration, £3.50 and Robin Decoration (2 pack), £2.50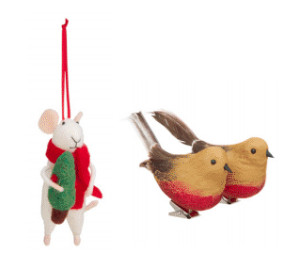 This charming woollen woodland-inspired mouse decoration comes clutching a small Christmas tree and features a delicately stitched smile and red felt scarf. Pair the Christmas Mouse Hanging Decoration with other miniature woodland animals from the collection, such as the Christmas Robin Decoration, to bring a touch of countryside character to your Christmas tree.
Red Berry Wreath, £10.00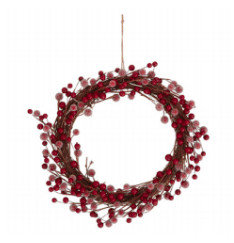 Create a rustic country-inspired style statement with this Red Berry Wreath. A classic circular shape of intertwined branches abundant with frosted winter berries, this statement piece can be displayed either outside your home to offer your guests a warm welcome or hung above your mantelpiece to achieve a cosy festive look.
Glitter Christmas Pudding Decoration (3 pack), £2.00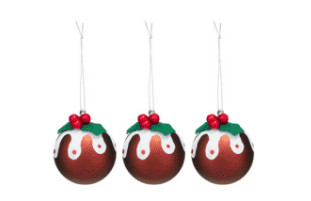 Add a fun, festive touch to your Christmas tree with The Glitter Christmas Pudding Decorations. The baubles, which look like miniature Christmas puddings and are sold as a pack of three, feature a traditional felt holly and red berry topping with a sparkling glitter finish.
Christmas Cottage Card (10 Pack), £2.50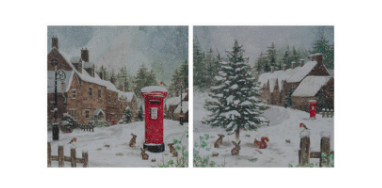 Deliver your season's greetings in these Cotswolds-inspired Christmas cards, available exclusively at Tesco. Each pack of ten cards features glitter-finished illustrations of a snowy Cotswolds village scene, complete with Christmas robins, woodland creatures and a quintessentially British postbox.
Iced Metallics Create a sophisticated seasonal look this Christmas with the Iced Metallics trend from Tesco. Featuring an array of iridescent glitter-finished pieces in a colour palette of bright white, silver and champagne gold hues, this trend is perfect for those looking to introduce modern glamour to their homes this season.
Iced Metallics Wooden Advent Calendar, £15.00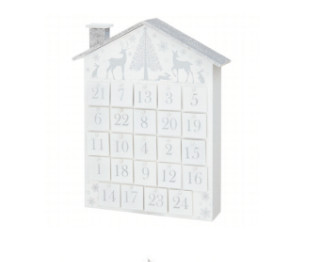 This Iced Metallics Wooden Advent Calendar boasts 24 small drawers which can be filled with daily surprises for the lead up to Christmas Day. Shaped like a small house and featuring hand-decorated sparkling glitter festive illustrations, this sophistacted alternative to a disposable advent calendar can be used for years to come.
Glitter Unicorn Hanging Decoration, £1.50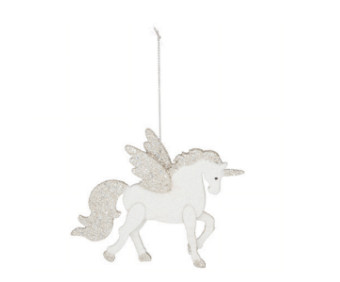 Make a statement with this on-trend glitter unicorn hanging decoration,which is crafted from wood and embellished with a dusting of shimmeringchampagne glitter. Paired with hues of gold and silver, this enchanting hanging ornament helps to create a modern seasonal look.
Faux Fur Stocking, £8.00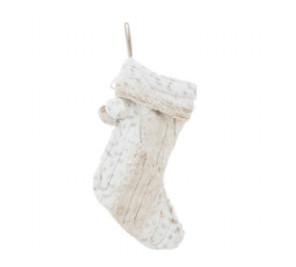 This luxuriously soft stocking is made from faux fur and is completed with a pair of pom-poms. Big enough to fill with several seasonal treats, hang it on your mantelpiece for a stylish alternative to the traditional Christmas stocking.
Glittered Stag Room Decoration, £5.00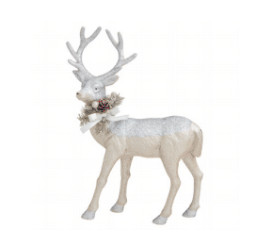 This sparkling stag ornament is dusted in champagne gold glitter and wears a luxury festive garland around its neck. Place it on a mantelpiece or window sill this Christmas to introduce a touch of elegant glamour to your seasonal style.
Glitter Snowflake Medium Bag, £1.50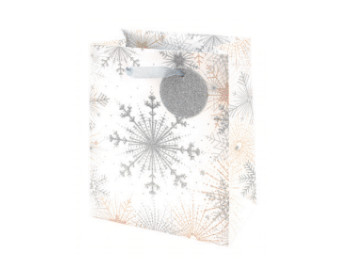 Deliver your loved ones' festive gifts in a Tesco Glitter Snowflake Medium Bag. Featuring shimmering snowflakes, and completed with a glitter-finished gift tag that won't drop, and elegant organza ribbon handle, this luxury gift bag is sure to add festive sparkle under the Christmas tree this year.
Make it Merry
Make it Merry is the cheerful Christmas trend fit for all the family. With a focus on colourful pieces featuring modern, hand-illustrated Christmas characters, Make it Merry brings a fun and playful twist to home decorations and wrapping, and is perfect for adding decorative touches to your children's bedroom this festive season.
Christmas Eve Box, £4.00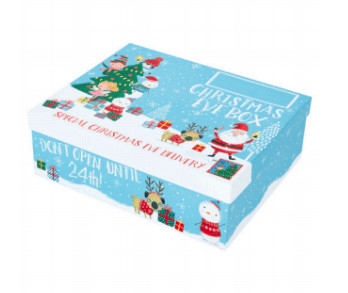 Begin a new festive tradition with the Christmas Eve Box, designed exclusively in-house at Tesco. Decorated with illustrations featuring fun, festive characters, such as Santa, snowmen and a reindeer-loving pug, the box offers a new way of building excitement for your little ones the night before the big day. Large enough to hold a selection of treats, the box also comes with stickers to personalise it with your child's name
Tinsel Nutcracker Room Decoration, £4.00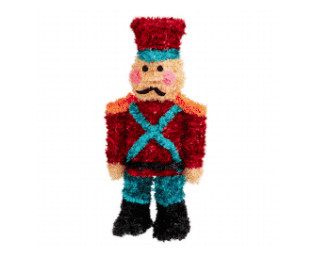 This large Tinsel Nutcracker Room Decoration is made from metallic tinsels in a bright reds, blues and oranges. A fun alternative to traditional festive figurines, this playful piece adds a colourful and festive feel to any room.
Dachshund Fimo Hanging Decoration, £2.50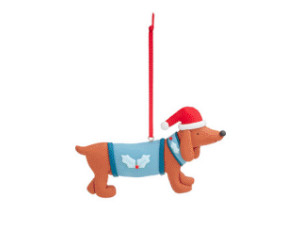 Achieve a playful seasonal statement with this Dachshundornament. This hanging decoration is crafted from clay and can be mix-and-matched with other characters from the Make it Merry range to create a fun and modern seasonal look
Make it Merry Large Bag (33cm x 26.5cm), £2.00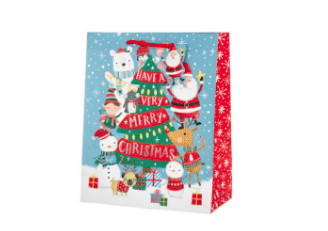 Watch your children's eyes light up with this large, colourful gift bag featuring a host of hand-drawn Christmas characters. Large enough to fill with a selection of festive treats, big or small, this fun bag is a great way to kick off present-giving.
Merry Christmas Photo Frame Hanging Decoration (6.5cm x4.5cm), £2.00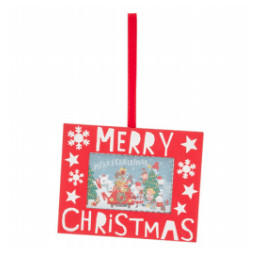 Make your Christmas tree truly personal this year with the Tesco Merry Christmas Photo Frame Hanging Decoration. Designed to fit a small photo, create a talking point by filling these playful frames with pictures of your favourite festive moments or loved ones.