The New Premium Mixers Challenging the Status Quo
ARTISAN DRINKS CO. www.artisandrinks.com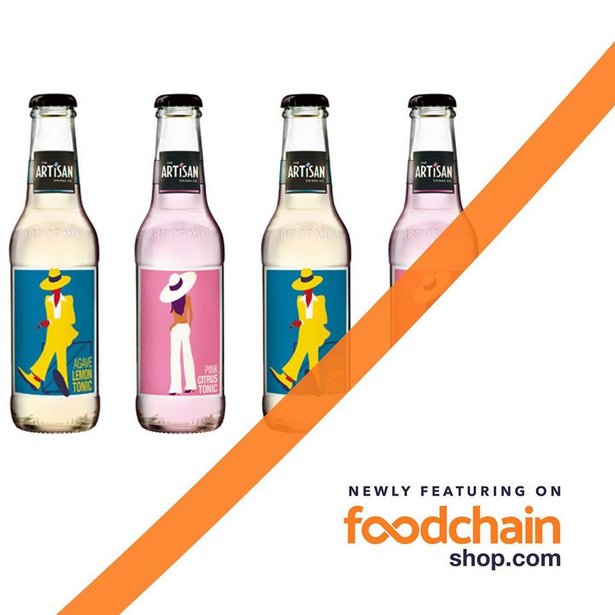 The Artisan Drinks Co., brainchild of an entrepreneur, award-winning cocktail master and international artist, is set to shake up the industry
Beverage entrepreneur Steve Cooper has joined forces with award-winning bar owner Mikey Enright, and artist Alan Walsh to launch a new range of premium craft mixers.
Designed to complement an increasingly diverse variety of premium spirits, The Artisan Drinks Company has developed four unique mixers using only 100% natural ingredients. Offering craft quality inside and out, the imaginative recipes have been expertly created by Mikey Enright behind the bar with Alan Walsh designing vibrant bottle artworks in his renowned art deco meets pop art style.
Three tonics, Classic London Tonic, Skinny London Tonic & Violet Blossom Tonic, have been created to enhance the fine flavours of craft gins and vodkas.
BORN IN A BAR, NOT IN A LAB…
With his passion for creating amazing new cocktails using the finest ingredients, co-founder Mikey Enright explained the inspiration behind the Artisan Drinks: "I know how important mixers are to the quality of a great cocktail or gin & tonic and I wanted to create a range which really complements the character of premium spirits. Balance is everything in cocktails and each Artisan recipe has been designed to work with the flavours of some of my favourite craft gins, with our barrel smoked cola also pairing perfectly with some great bourbons and spiced rums. I'm really pleased with the range and already working on some great Artisan recipes for the future" Artisan's distinctive designs and high quality, all natural recipes will help stimulate further interest in the premium drinks category, already experiencing phenomenal growth on the back of a craft gin resurgence.
Co-founder Steve Cooper, comments, "We wanted to do things differently and raise the bar higher by bringing craft quality to the mixer category. With art and craft at the very heart of our brand, we're committed to bringing drinkers more choice and opportunities to express their individuality."
"Mikey's carefully crafted mixer recipes are making great tasting G&Ts and cocktails and Alan's designs are miniature pieces of art on each bottle. We know that the best bars, restaurants and hotels share our desire to innovate and lead rather than simply follow the crowd. After all, why blend in when you can STAND OUT!"