Don't let junk food get you down – Be BioHappy!
Introducing An Innovative Digestive Health Range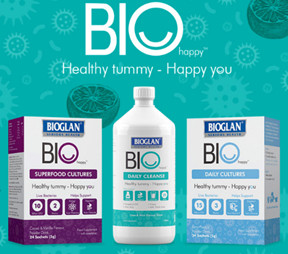 With new research suggesting junk food kills bacteria that protect against obesity, heart disease and cancer and bacterial imbalances showing linked increases of developing inflammatory bowel disease, you don't have to swap your healthy January eating habits thanks to our range of probiotics.
Bioglan has come up with an innovative way to ensure we get our daily dose of good bacteria, adding the NEW BioHappy range to its best-selling portfolio of premium quality vitamins and health-boosting supplements.
BioHappy is a three-strong collection harnessing the power of nature's most effective gut-friendly probiotics alongside other key nutrients. The three new products – Daily Cleanse liquid, Daily Cultures powder and Superfood Cultures powder – each contain a carefully researched selection of natural ingredients known to help promote good digestive health, cleanse the system and boost energy levels.
Created with the health conscious millennial in mind, this is the range for busy people with hectic lives, who simply don't have time to feel under the weather and want to continue doing the things they love
Each BioHappy product can be added to water, milk or smoothies for a delicious daily dose of probiotic power.
Biohappy Daily Cleanse, RRP £16.99/750ml
A tasty lime and mint tummy tonic formulated with grapefruit oil, aloe vera, milk thistle and celery which helps to gently cleanse the system and supports overall digestive health Take 30 ml mixed with chilled water daily.
BioHappy Daily Cultures, RRP £16.99/24 sachets
Each handy, travel-ready sachet of berry flavoured BioHappy Daily Cultures contains 15 billion live bacteria from three scientifically studied strains. It's also boosted with calcium chloride and Vitamin C to support digestive health and a strong immune system. Take a sachet a day to balance out healthy bacteria in the gut.
BioHappy Superfood Cultures, RRP £16.99/24 sachets
BioHappy Superfood Culture combines the power of Probiotics and Superfoods! It contains 10 billion live bacteria from two scientifically studied strains. This tasty cacao and vanilla powder is also packed with cacao, coconut, aronia berry, cranberry and black elderberry PLUS B vitamins to aid digestion, boost mental performance and energy levels.
The BioHappy range is available at larger Boots stores, Boots.com and the Bioglan website.