Dr. Froswa' Booker-Drew has published "Ready for a Revolution… 30 Days to JOLT Your Life" & its fantastic, please see more at www.amazon.co.uk/Ready-Revolution-Days-Jolt-Your/dp/0996428569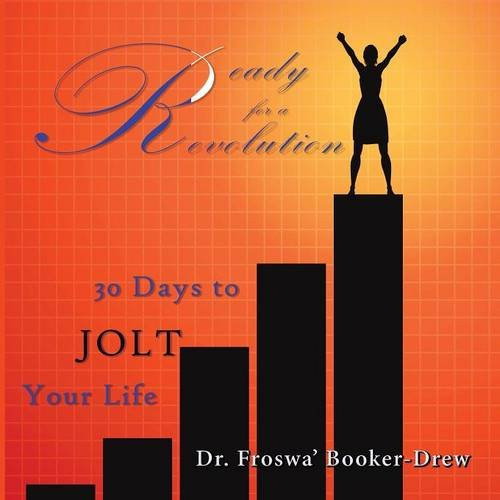 "Ready for a Revolution" is not a typical devotional book. As the title suggests, it is a 30-day adventure that will jolt your life to a new level of engagement. Unlike many devotional books that offer a nice story and a moving thought for the day, "Ready for a Revolution" is more like an interactive devotional. Each day you will be challenged with concrete activities and thought-provoking exercises. Froswa' Booker-Drew takes you on a journey of deep reflection that has the potential to transform your life. You will gain insight into yourself, your relationships, and your world. These are the kind of insights that can lead you to significant change in your life. "This journal is a guide not a solution. I am a believer in reflective learning. My goal is to make you think. In understanding your story, especially in relationship with God and with others who can support you, the changes you want to see are possible. This is a 30 day opportunity to think about your life, your habits, and your desires." Dr. Froswa' Booker-Drew is currently National Community Engagement Director for World Vision, where she serves to facilitate the emergence and strengthening of community-led initiatives to improve and sustain the well-being of children and their families. She supervises staff in several locations around the United States. She was a part of the documentary, Friendly Captivity, a film that follows a cast of 7 women from Dallas to India. She was a semi-finalist for the SMU TED Talks in 2012. Froswa' is the author of the book, Rules of Engagement: Making Connections Last. The workbook helps women build identity and psychological capital that can result in stronger social capital.
Another fantastic publication by Froswa is "Rules of Engagement: Making Connections Last"
Please see more at :-  froswasrules.com
"Rules of Engagement: Making Connections Last" is a workbook for women (but great for men, too) who understand the value of relating to others, both professionally and personally. The book provides 29 Rules of Engagement to help the reader understand how to do more than just share your name and address. Building a network can be challenging. Have you ever attended a conference expecting to meet numerous people and collect business cards from those who can be a valuable asset to you both professionally and personally, however when you try to follow up you discover that everyone is busy and you get no return calls. A friend introduces you to someone you would really like to get to know, but after a few minutes of chit chat, your new acquaintance walks away disinterested. Helping to develop the kind of relationships that pay valuable dividends to everyone involved is the goal of Dr Froswa' Booker-Drew in this book, Rules of Engagement: Making Connections Last. This powerful workbook will not only equip you with the information you need, but the workbook format will walk you through the exercises to make it a reality.
Dr. Froswa' Booker-Drew
Soulstice Consultancy
http://froswasrules.com/main_page.html
http://www.linkedin.com/in/froswabookerdrew
http://www.foundationcoachinggroup.com/froswa.html#.VV0inrlViko
To find books by Dr. Froswa' Booker-Drew please visit these links:
http://www.austinbrotherspublishing.com/RulesofEngagement.html
http://www.austinbrotherspublishing.com/ReadyRevolution.html
https://www.walmart.com/ip/53441848
Links about the work of Dr. Froswa' Booker-Drew:
https://www.youtube.com/watch?v=eExZwir8bjM talk show!!!)
https://4good.org/froswa-booker-drew