Easter recipes using OGGS® Egg Alternative Aquafaba, these recipes are instantly lower in calories by swapping out eggs for OGGS® and are better for the environment. www.loveoggs.com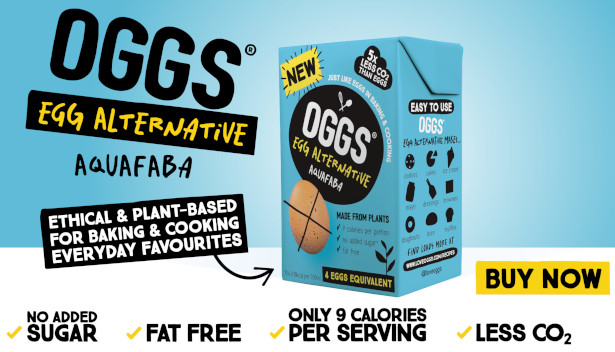 It wouldn't be Easter with Hot Cross Buns.
Made with OGGS® Egg Alternative Aquafaba, these recipes are instantly lower in calories by swapping out eggs for OGGS® and are better for the environment.
OGGS® Hot Cross Buns recipe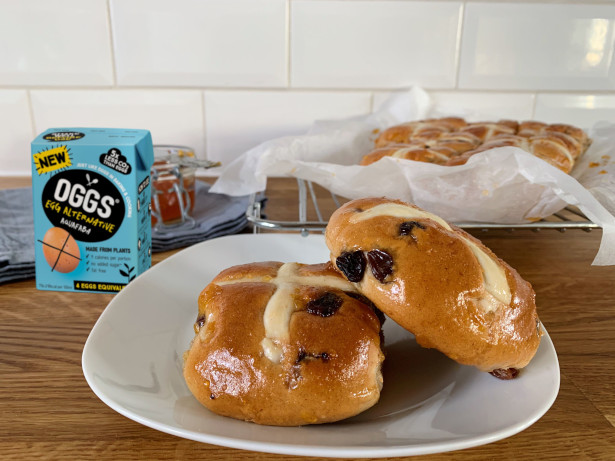 OGGS®
HOT CROSS BUNS
Serves: 8 large buns
Prep time: 2 hours (including proving)
Cook time 18-20 minutes
Bun Ingredients:
-150ml OGGS®Egg Alternative Aquafaba
-200ml almond milk
-50g margarine, melted
-450g strong bread flour
-7g/ 1 sachet of dried yeast
-45g caster sugar
-1 tsp cinnamon
-½ tsp mixed spice
-200g raisins
Cross ingredients:
-50g plain flour
-6 tbs warm water
Glaze ingredients:
-50ml OGGS® Egg Alternative Aquafaba
-3 tbs apricot jam
Method:
1. Gently whisk your OGGS® Egg Alternative Aquafaba with a whisk or fork 'til the
aquafaba is pale and frothy. Then add the milk and melted margarine and continue
whisking.
2.In a separate bowl, add all of your dry ingredients and stir with a wooden spoon so
everything is well mixed. In batches of three, add the liquid mixture, giving it a good
stir in between each addition. When all the liquid is in, you should have a lovely thick
and sticky dough.
3. Move the dough onto a lightly floured surface and knead for about 10 minutes'
til the dough is stretchy and smooth. Pop it into a lightly oiled bowl and cover with cling
film or a damp cloth. Transfer your dough to a warm spot where it will prove for an hour. We love the oven for this job, with no heat but the light turned on.
4. Once the hour is up, your dough should have doubled in size. Take it out from your
warm spot and punch out any air that might be in it. Next, spread the dough out into
a rectangle with your hands, and add the raisins into the middle leaving 2 inches around the side. Fold over the edges to the middle, gathering all the raisons into the
middle, and continue kneading for another 5 minutes.
5. Divide your dough into 8 balls, rolling them out into a smooth shape with the palm of your hands and place them onto a tray lined with baking paper. Leave them to prove
for another 20 minutes.
6.During this time, preheat the oven to 180'c/gas mark 4 and make the 'icing' for the
cross. Combine the flour and water and mix well 'til you have a thick pasty mixture.
Once the buns have finished their second stage of proving, transfer the mixture into
a piping bag and with a 5mm nozzle and pipe the crosses over. It doesn't matter if
the buns are touching at this point…it all adds to the charm.
7.
Pop the buns in the oven for 18-20 minutes until they have goldened. In this time,
combine the OGGS® Egg Alternative Aquafaba with the apricot jam and mix well
until a glaze has formed. When the Hot Cross buns are out of the oven, quickly glaze
this over the top whilst their warm, to ensure they go lovely and sticky!
Top Tip:
-If you tap on the bottom of the bun and they sound hollow…they're perfect
OGGS® Tomato and Spinach Quiche recipe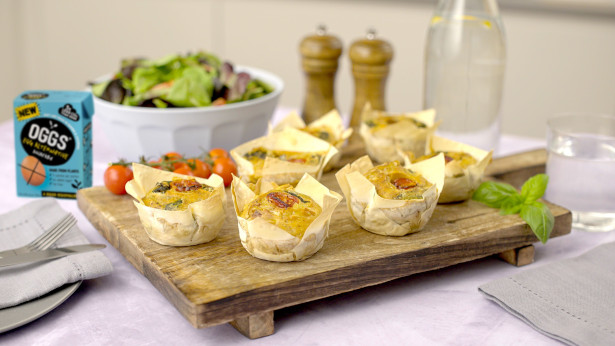 TOMATO AND SPINACH MINI QUICHES
The perfect light lunch… quiche! We've made your favourite snack into little bite sizes that
are perfect for picnics and parties. This recipe is for the classic tomato and spinach quiche,
but truth be told, you can jazz it up in loads of delicious ways
…
PREP TIME 40 MINUTES
-COOK TIME 30 MINUTES
– SERVES 1-2
MINI QUICHES INGREDIENTS#
 2 tbsp olive oil, plus extra for frying
 1 small or medium white onion, finely sliced.
 2 cloves of garlic, crushed.
 250g plain flour
 1 tsp baking powder
 1 tsp paprika
 200ml OGGS® Egg Alternative Aquafaba
300ml water
150g favourite dairy-free cheese
4 sheets of filo pastry
100g frozen spinach, thawed, and drained well.
3 medium tomatoes
 Salt and pepper, to taste.
METHOD
1. Start by softening your onions for the filling. Heat a big splash of oil in a pan and
cook the sliced onion with a splash of water over a low heat for 15-20 minutes until
softened. Stir in the garlic and cook for a couple of minutes more then season well.
Set aside to cool.
2. Preheat the oven to 180°C/ gas mark 4 (160°C if using an electric fan oven).
3.In a large mixing bowl, combine all the dry ingredients and set aside.
4.Whisk up your OGGS® Egg Alternative Aquafaba in a clean bowl until it's reached soft
peaks and begins to leave a trail. This will take roughly 2 minutes. Then, pour it into
the bowl with the dry ingredients, followed by the water. Mix well to make a thick mixture.
5. Grate the cheese and add it to the mixture, along with the 2 tbsp olive oil and mix thoroughly.
6.Time to focus on your pastry.
We like to line each medium muffin tin hole with four squares of filo pastry . Unroll the pastry on a board, layering four sheets on top of one another. Divide and cut equally into 12 squares
Place four on top of each other, at an angle, and push into a hole in the muffin tin. They don't have to be neat – in fact, they look better a bit skew-whiff
. Do the same with the other pieces until all the holes are filled.
7.Now that your onion mix has cooled, add it to the batter along with the spinach.
Season with salt and pepper, and anything else you fancy. Chillies and fresh herbs are always a winner…
8.Spoon the mixture into the filo cases until they are around three – quarters of the way full. This wi
ll give them space to puff up in the oven.
9. Finally, slice your tomatoes and squish them into the top of each quiche. Don't worry if the batter goes through them, it will make the most awesome pattern on top and
still taste amazing.
10. Now that all the elements have come together (hallelujah), it's go time! Pop them in the oven and let them do their thing for 30 minutes until the filo pastry has turned
crisp and slightly brown, and the quiches are firm to touch. Take them out of the tin when they're still hot.
TOP TIPS
1.If there are any leftovers, the quiches will last up to 3 days in the fridge.
2.If you've any cheese to spare, don't hesitate to whack some more on the top. There's no such thing as too much cheese … ever!
3.If you have any vegetables in your fridge that need using up, simply fry them alongside the onion and pop them into the quiches
– it's a great way to reduce waste and we're sure they'll be totally scrummy.
Made using OGGS® Egg Alternative Aquafaba, these delicious recipes are suitable for those following a flexitarian or plant-based lifestyle. OGGS® has plenty of recipes on its website. www.loveoggs.com/recipes/
OGGS® Egg Alternative Aquafaba for cooking and baking. Low fat, no added sugar, and just 9 calories per serving, OGGS® Egg Alternative Aquafaba is the ideal plant-based liquid egg alternative for all your cooking and baking requirements. Replace your eggs with OGGS® Egg Alternative Aquafaba to give you consistent results in cooking and baking. Not to mention that the CO2 used to produce aquafaba is five times less than the amount needed to produce eggs.
OGGS® Egg Alternative Aquafaba is good for you, the animals, and the planet!
Available in Sainsbury's, Waitrose, and ASDA stores nationwide and various online outlets with an RRP of £1.95.
Not a baker, not a problem, pick up OGGS® cakes for an Easter treat from Waitrose, Sainsbury's, Ocado, ASDA, and various online outlets including The Vegan Kind Supermarket.
www.loveoggs.com @loveoggs