EAT, DRINK AND BE SCARY THIS HALLOWEEN WITH HELP FROM TESCO

The spookiest night of the year is approaching and Tesco has a selection of frightfully good food, props and costumes to help families create a Halloween party to remember.
Ghoulish Party Food
Add some extra theatre to your bone-chilling banquet with Tesco's range of Halloween party food.
Tesco Mini Midnight Devil-Dogs (pack of 8), £2, 3 for £5 Raise the Howl-o-ween stakes with Tesco's Mini Midnight Devil Dogs. This finger food comes as a pack of eight pork cocktail sausages in black buns, with a gory green ketchup dip.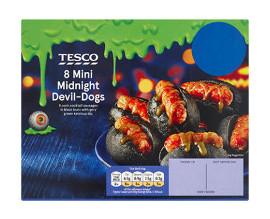 Tesco Hubble Bubble Pumpkin Pasties (pack of 12), £2, 3 for £5 Hubble bubble toil and trouble, you'll be cooking these pasties on the double. Present guests with these devilishly deep-filled pumpkin and chorizo pasties.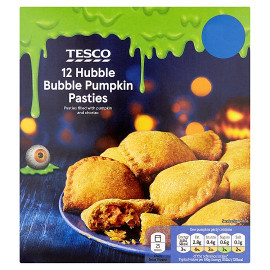 Tesco Witches Fingers (pack of 12), £2, 3 for £5 Put a spell on your guests with Tesco's Witches Fingers – mozzarella cheese coated in green breadcrumbs with an oozing tomato and herb centre. Suitable for vegetarians, these cheesy fingers are ready in only 12 minutes.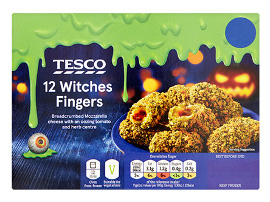 Tesco Chicken Witches Hats (pack of 10), £2, 3 for £5 Tesco's Chicken Witches Hats help add some magic to any frightful feast. Southern fried, these hat-shaped chicken dippers come with a black ketchup dip.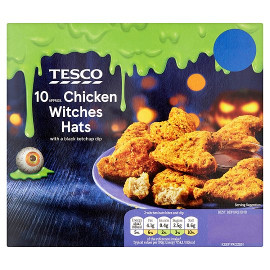 Tesco Mini Spooky Custard Slices (pack of 16), £2, 3 for £5 A vanilla flavoured custard filling is sandwiched between layers of flaky puff pastry in Tesco's Mini Spooky Custard Slices. These miniature desserts are topped with a layer of orange fondant and ghostly decoration.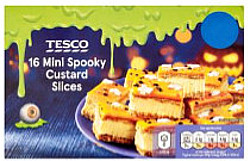 Pumpkins Pumpkin, £1; Large Pumpkin, £2; Giant Pumpkin, £3 Tesco's pumpkins come in three different sizes, making them ideal for pumpkin-carving competitions and creating a haunted house. Get the little ones involved with a regular pumpkin, or carve a giant one to add a frighful touch to the décor.

Creepy Costumes
Children's Costumes, from £10 Halloween wouldn't be the same without a scary costume, and this year Tesco has a range of looks to choose from. Exclusive to Tesco and designed by 10-year-old competition winner Gabrielle Whitehead, Tesco's Skeleton Mermaid features a glittery front panel, skeletal tail and lacy sleeves.
The Scientist Halloween costume comes with a white lab coat, crazy spectacles and a wild wig. For those who fancy something a little more glitzy, the Zombie Prom Queen embellished dress comes with a prom queen sash and sparkly tiara.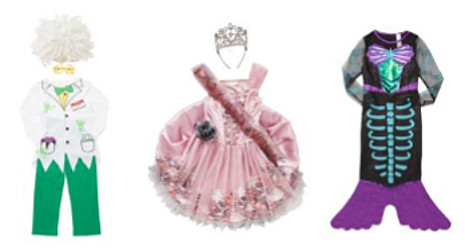 Toddler Costumes, £9 Little ones can join in the Halloween fun with Tesco's toddler costumes. These are available in various characters including F&F Frankenstein's Monster, a winged bat costume with hood and googly eyes, and a Ghost tutu complete with headband. These costumes really bring the phrase 'mummy's little monster' to life.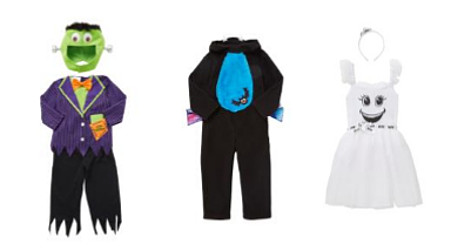 Dressing up as a group, from £10 Children's Cheerleader, from £10 ; Children's American Footballer, from £12 ; Adult's Cheerleader, £16 ; Adult 's American Footballer, £16 Get your scare on as a family with these matching American football themed player and cheerleader costumes. With 'mini-me' versions for the little ones, the footballer costumes come complete with skull football masks, whilst the cheerleader outfits come with pom poms to cheer your crew on.