Eliza Cross from blog www.happysimpleliving.com ! BOOK!! Finally the ultimate guide literally called "SMALL BITES.. Skewers, Sliders, and other party eats"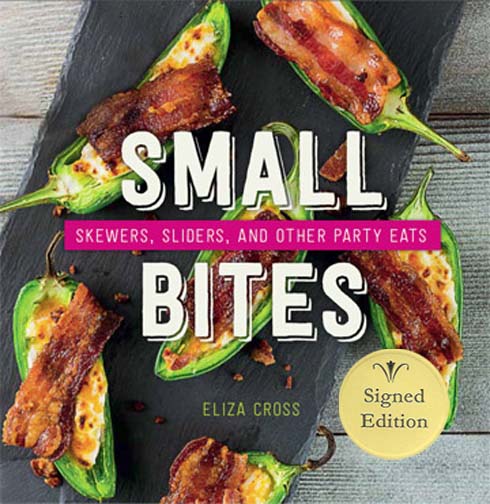 FACEBOOK | GOOGLE+ | TWITTER | PINTEREST | GOODREADS | INSTAGRAM
These Crab Avocado Nachos are from my her new cookbook, "Small Bites." They are easy to make, and people love the combination of crispy blue and yellow corn tortilla chips, creamy avocado, melty cheese, spicy jalapenos and mild crab..
Credits: Recipe from "Small Bites: Skewers, Sliders, and Other Party Eats" (Gibbs Smith, 2017) by Eliza Cross and photographs by Jessica Nicosia-Nadler..
Crab and Avocado Nachos
Serves 6
Ingredients:
1 tablespoon butter
1 jalapeño pepper, ribs removed, seeded,and finely diced
1 cup cooked fresh, canned, or frozen(thawed) corn kernels, well drained
1/2 teaspoon cumin
1/2 teaspoon chili powder
1 pound jumbo lump crab meat
1/2 cup sour cream
Salt and freshly ground black pepper totaste
Blue and yellow corn tortilla chips
1/2 cup grated Monterey Jack cheese
1 avocado, peeled and cut into 1/4-inchcubes
2 green onions, finely chopped
Directions: Preheat an oven broiler on medium heat. Line a bakingsheet with aluminum foil and spray with nonstick cooking spray; reserve.
In a small skillet over medium heat, melt the butterand cook the jalapeño until it starts to soften, 2–3 minutes. Add the corn,cumin, and chili powder and cook, stirring occasionally, until mixture bubbles,about 4 minutes. Add the crab meat and sour cream and heat, gently stirring,until mixture is combined and just starts to bubble, 3–4 minutes. Season withsalt and pepper.
Arrange a generous layer of chips on the preparedbaking sheet and spoon the crab mixture evenly over the top. Sprinkle evenlywith the cheese. Broil, watching carefully, until cheese melts, about 2–4minutes. Remove from oven and transfer nachos to a serving platter. Sprinklewith the avocado and green onions.