'Absorbing and disturbing.'
ALEX MARWOOD
THE
ESCAPE
C.L. TAYLOR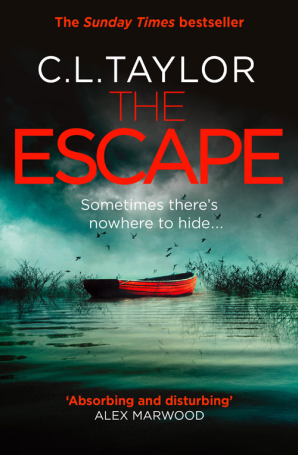 23 March 2017
Paperback Original * £7.99
The Sunday Times best-selling author returns with her most electrifying book to date
'Look after your daughter's things. And your daughter…'
When a stranger asks Jo Blackmore for a lift she says yes, then swiftly wishes she hadn't.
The stranger knows Jo's name, she knows her husband Max, and she's got a glove belonging to Jo's two year old daughter, Elise.
What begins with a subtle threat swiftly turns into a nightmare as the police, social services and even Jo's own husband turn against her.
No one believes that Elise is in danger. But Jo knows there's only one way to keep your child safe – RUN.
About the author: C.L. Taylor lives in Bristol with her partner and son. She started writing fiction in 2005 and her short stories have won several awards and have been published by a variety of literary and women's magazines.
In 2014, The Bookseller named C.L. Taylor as one of the year's Bestselling Adult Fiction Debut Authors for The Accident. The Lie and The Missing were Sunday Times top 10 bestsellers in paperback, and both books hit the #1 spot on the Kindle bestseller list. She has sold 1 million books to date.
For further information, or to arrange an interview or written piece please contact:
Victoria.Gilder@harpercollins.co.uk / (0) 208 307 4263
or
Deborah.Elliott@harpercollins.co.uk / 07941 172319
Turn over to read praise for C.L. Taylor
Praise for
C.L. Taylor
'Excellent… A dark, scary page-turner with complicated female friendships
and a plot that kept me guessing.'
GOOD HOUSEKEEPING
'Haunting and heart-stoppingly creepy, The Lie is a gripping roller coaster of suspense.'
SUNDAY EXPRESS
'5/5 stars – Spine-chilling!'
WOMAN MAGAZINE
'Packed with twists and turns, this brilliantly tense thriller will get your blood pumping.'
FABULOUS MAGAZINE
'An enjoyable rollercoaster of a suspense novel with multiple twists.'
DAILY MAIL
'This dark and creepy book is a must read.'
THE SUN
'An excellent psychological thriller.'
HEAT MAGAZINE
'Utterly compelling. I could not put this gripping, heart-stopping page-turner down.'
ROWAN COLEMAN
'No one does broken families and friendships like Cally Taylor and The Missing is no exception.'
SARAH HILARY
'The Missing has a delicious sense of foreboding from the first page, luring us into the heart of a family with terrible secrets and making us wait, with pounding hearts for the final, agonizing twist. Loved it.'
FIONA BARTON