Everything you need to know ahead of the 2019 Rugby World Cup
The countdown to the 2019 Rugby World Cup in Japan has already begun, with 20 teams preparing to battle it out for supremacy. New Zealand are the current holders and with three titles to their name, are the most successful team in World Cup history. Understandably, the Kiwis are the outright favourites to win the Rugby World Cup 2019 with Betfair Exchange. But ahead of the tournament, here's all you need to know.
The format
Since the 2011 tournament, 12 of the available 20 positions have been filled by automatic qualification, with these teams seeded. The final eight places are decided by nations qualifying for the tournament and these places are decided by region – this year with Oceania and the Americas receiving two places; Africa and Europe, one place; and the final two places were occupied by the Americas and Oceania via a play-off.
When it comes down to the proper tournament, the 20 teams are split into four pools of five teams, with each team playing each other once. The bonus points system is in use during the pool stage of the tournament. The top two teams (winner and runner-up) from each pool then go through to the knock-out stages, contesting quarter-finals, semi-finals and ultimately, the final. The losers of the semi-final also battle it out for third place.
The hosts
Japan are this year's Rugby World Cup hosts and not only is it the first time the country has hosted the tournament, it is also the first time it has been held in Asia. Matches will be played in 12 stadia, including on the islands of Hokkaido (Sapporo Dome) and Kyushu (Oita Bank Dome and Egao Kenko Stadium).
The opening match between Japan and Russia in Pool A will be contested at the Tokyo Stadium in Chōfu, with a capacity of 49,970; while it was announced that the final on Saturday 2nd November will be won (or lost) at the Yokohama Stadium in Kanagawa, which has a much larger capacity of 72,327.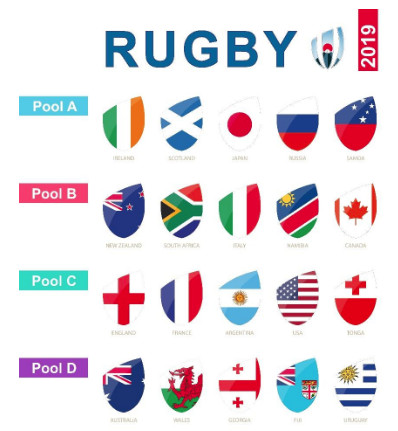 The teams
Pool A
Ireland
World ranking: 3rd
Best finish: quarter-finals (1987, 1991, 1995, 2003, 2011, 2015)
Last World Cup finish: quarter-finals
Scotland
World ranking: 7th
Best finish: semi-finals (1991)
Last World Cup finish: quarter-finals
Japan
World ranking: 9th
Best finish: pools (1987, 1991, 1995, 1999, 2003, 2007, 2011, 2015)
Last World Cup finish: pools
Russia
World ranking: 20th
Best finish: pools (2011)
Last World Cup finish: did not play
Samoa
World ranking: 16th
Best finish: quarter-finals (1991, 1995)
Last World Cup finish: pools
Pool B
New Zealand
World ranking: 1st
Best finish: winner (1987, 2011, 2015)
Last World Cup finish: winner
South Africa
World ranking: 5th
Best finish: winner (1995, 2007)
Last World Cup finish: bronze final
Italy
World ranking: 13th
Best finish: pools (1987, 1991, 1995, 1999, 2003, 2007, 2011, 2015)
Last World Cup finish: pools
Namibia
World ranking: 23rd
Best finish: pools (1999, 2003, 2007, 2011, 2015)
Last World Cup finish: pools
Canada
World ranking: 21st
Best finish: quarter-finals
Last World Cup finish: pools
Pool C
England
World ranking: 4th
Best finish: winner (2003)
Last World Cup finish: pools
France
World ranking: 8th
Best finish: runner-up (1987, 1999, 2011)
Last World Cup finish: quarter-finals
Argentina
World ranking: 11th
Best finish: semi-finals (2007, 2015)
Last World Cup finish: bronze final
USA
World ranking: 14th
Best finish: pools (1987, 1991, 1999, 2003, 2007, 2011, 2015)
Last World Cup finish: pools
Tonga
World ranking: 15th
Best finish: pools (1987, 1995, 1999, 2003, 2007, 2011, 2015)
Last World Cup finish: pools
Pool D
Australia
World ranking: 6th
Best finish: winner (1991, 1999)
Last World Cup finish: runner-up
Wales
World ranking: 2nd
Best finish: semi-finals (1987, 2011)
Last World Cup finish: quarter-finals
Georgia
World ranking: 12th
Best finish: pools (2003, 2007, 2011, 2015)
Last World Cup finish: pools
Fiji
World ranking: 10th
Best finish: quarter-finals (1987, 2007)
Last World Cup finish: pools
Uruguay
World ranking: 19th
Best finish: pools (1999, 2003, 2015)
Last World Cup finish: pools