Experience Erika's Tea Room
Customized High Tea & Scone Gift Sets!
'Summer Essentials & Vacation Staycation ideas!'
Keeping Summer Alive! Summer Tea Parties are a wonderful must-have experience! Many women and men call Erika's Tea Room ahead of time to ship a complete take home High Tea Experience to enjoy outdoors in your backyard, at city parks and gardens or as a way to cool off in your air-conditioned home – with your best friends, family and your entire summertime party.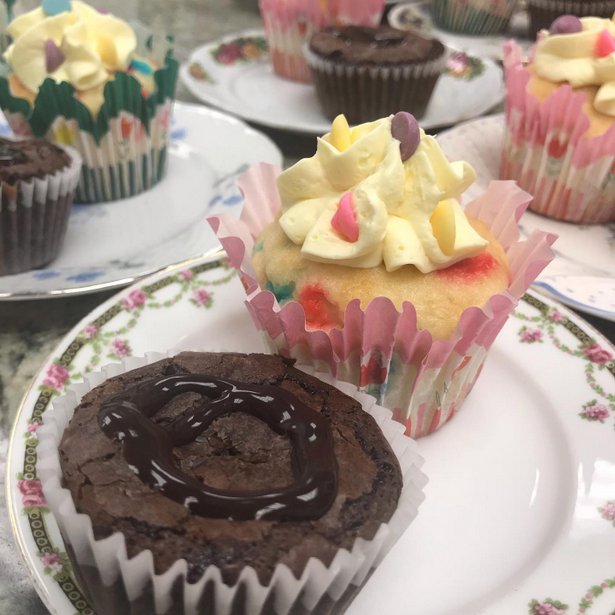 Mommie's Night Off – For Summer Party Fun! Create your own Mommie's Night Off High Tea Party Themes with your other 'Mommies' and girlfriends! Popular with their new online purchasing 24/7/365 program … to celebrate fun tea parties at home for staycations and away on vacations for special parties, bachelorette / wedding parties, family events, birthdays, anniversaries, mother-daughter connections, year-end holidays and as a very different thoughtful celebration any day of the year. Creating your own Summertime Girl's Day Out, a Mommie's Night Off or even a Bachelorette Tea Party is an easy, fun and exciting new way to help you enjoy the summer season.
Summer High Tea Parties: You can easily order a Summer High Tea & Scone Party – In A Box! Customized catering of flavorful teas and delicious scones will make any girlfriend's group, mom's, family, wedding weekend or bachelorette event a big hit with a High Tea & Scone Experience. Tea Parties make a great summer Mommy-Daughter experience! A fun Summer High Tea & Scone Party is perfect for moms to celebrate summer fun with your little girls and teen women. You can add your own festive summer party decorations, finger sandwiches and other fun party foods.
Virtual Summer Tea Parties! Whether face-to-face or with safe 'Social Distancing; Virtual High Tea & Scones Parties are possible to have fun with your girlfriends this summer – by having High Tea & Scone Party Gift Sets shipped to everyone you want to invite, before you set a date for everyone in your party to meet online. You can add any extra theme and special flavor you want to spice up your virtual girl's day out tea parties!
Leila Shanoff, the Head Sconista at Erika's Tea Room Scones has created some very special liquor and liqueur-based flavor scones and High Tea Gift Packages that appeal to all fun-loving girl's day out & night off party hosts to enjoy with friends and family. Their fresh custom made scone gift sets are made with a variety of regular, gluten-free and sugar-free flavors. Besides their most popular flavor favorites listed on their website, they will also be happy to customize any High Tea & Scone Gift Package with a fun variety of fresh scone flavors. They just launched 12 delicious new flavors for this summer! They have a 'Tea Barista' and a 'Tea Sconista' on hand, so you can call for a complimentary consultation about your Tea Party!
Popular Adult High Tea & Scones Party Packs Include:
Bourbon Pecan Scones with Bourbon Black Tea
Bailey's Irish Cream Scones with Bailey's & Cream Green Tea
Rum Raisin Scones with Rum Raisin Herbal Tea
Summer Birthday Parties! Celebrate the season with a great new Summer Birthday Tea Party experience for any group of friends, women, men and families.
Customized Summer High Tea & Scones Party Gift Sets: Erika's is set up to quickly ship you a High Tea & Scones Party & Gift Sets with assorted 6 to 12 packs or more of freshly baked scones and a variety of teas. For those who really wish to splurge their tea experiences with some extra panache, they also offer fabulous tea sets and tea accessories from their wonderful international giftware collection. More complete High Tea, Scone & Gift Sets are available in any price range from $135 to $250+ with tea pots, tea cups and accessories! There are plenty of fun teapots, tea cups and accessories to choose from — that will complement your party themes.
Extra Take-Home Tea Party Gifts: Erika's Tea Room Scones will be happy to custom create smaller take-home gifts boxes for everyone who attends your special summertime parties! Your invited party friends and family will truly enjoy an extra gift box of tea and scones – to enjoy 'after' your Summer Essentials / Vacation Staycation Party!
If ever in the Orlando USA area, Erika's Tea Room is a wonderful place to celebrate Summer Escape Essentials / Vacation Staycation outings, New Mom outings, brides to be, bridal showers, wedding weekends, birthdays, anniversaries, baby showers, new moms, retirement and other special occasions – with advance reservations. They have the perfectly safe and elegant ambience for guests to make memories while enjoying the pleasures of an afternoon tea or a scrumptious lunch. Their special tea room features vintage china on beautiful linens. With over 60 different teas to select from and a delicious, customizable menu, Erika's Tea Room is the perfect location to spend your day and make memories to last a lifetime.
We will be happy to share detailed information for your InTouch Rugby 'Foodies' on:
The Healthy Benefits Of Tea!
How To Select The Perfect Tea For You!
How To Brew The Perfect Cup Of Tea!
Erika's Tea Room Scones have gained national popularity with thousands of their delicious fresh-made scones and tea sets being shipped. Scones will always arrive fresh in a handsome gift box with easy-to-follow instructions.
To place an order for any Summer Essentials & Vacation Staycation High Tea & Scones Parties or more information on Erika's Tea Room Scones, contact: Erika's Tea Room, located at 787 West Montrose Street, Clermont, FL 34711 USA. Phone: 908-670-2305, email: ErikasTeaRoom@GMail.com or visit: www.ErikasTeaRoom.com.