Explore Cuisine, Specialist Pastas made from beans, peas, lentils and rice! Recipe Black Bean Spaghetti & Red Curry Paste!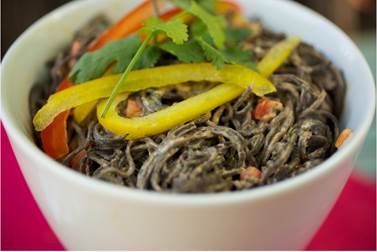 FACEBOOK | TWITTER | INSTAGRAM | PINTEREST
Due to Explore Cuisine products being high in protein and fibre, it is a delicious and healthy way to repair muscles after exercise and a great alternative for somebody looking for a healthier alternative to regular pasta.
BLACK BEAN SPAGHETTI WITH RED CURRY SAUCE RECIPE

25 MINUTES
SERVINGS: 4 PEOPLE
Ingredients for 4 people
– 1 box Explore Cuisine of Black Bean Spaghetti
Sauce:
– 1 can coconut cream (400g)
– 2 tablespoons Red Curry Paste
– 2 tablespoons grated Ginger
– 2 tablespoons chopped coriander
– 2 tablespoons Olive oil
– Black pepper
– Salt
– Red/yellow Pepper slices1 of each (275g in total)
– Grated parmesan cheese (suggested)
–
Instructions
Cook the Black Bean Spaghetti by boiling 8 cups of water with a table spoon of olive oil and a pinch of salt, add spaghetti to the boiling water then simmer gently for 5-6 minutes or until cooked through. Immediately, drain it.
For the sauce, pour coconut cream, red curry Paste, ginger and coriander into a pot and bring to boil. For the peppers, heat olive oil in large nonstick skillet over medium heat. Add the peppers and cook for 4-5 min. Mix the organic Black Bean spaghetti with the sauce and add the peppers and stir. Serve hot with grated parmesan cheese on top.
About Explore Cuisine
Explore Cuisine markets and distributes innovative foods using plant-based organic ingredients of the highest quality. Explore Cuisine's selection of pasta from across the globe integrates beans, peas, lentils and rice to provide consumers with nourishing meals that are easy, quick, naturally colourful and most importantly delicious.
Explore Cuisine's brands are available in over 20 countries worldwide and sold in leading retailers. Explore Cuisine is committed to trading fairly and supporting farmers and their communities, so everyone benefits along the way.
UK Stockists and RRPs: £3.00 Asda, Sainsbury's, Morrisons, Ocado, £3.29 independents, £3.35 Holland & Barrett.
The range includes: Red Lentil Spaghetti 250g, Red Lentil Penne 250g, Chickpea Spaghetti 250g, Chickpea Fusilli 250g, Green Lentil Lasagne 250g, Green Lentil Penne 250g, Black Bean Spaghetti 200g, Edamame & Mung Bean Fettuccine 200g, Soybean Spaghetti 200g, Edamame Spaghetti 200g.
To learn more about Explore Cuisine, where to purchase and recipe ideas, visit: www.explorecuisine.com