Your Favorite Travel Companion
On Amazon >> amzn.to/2K4cWkC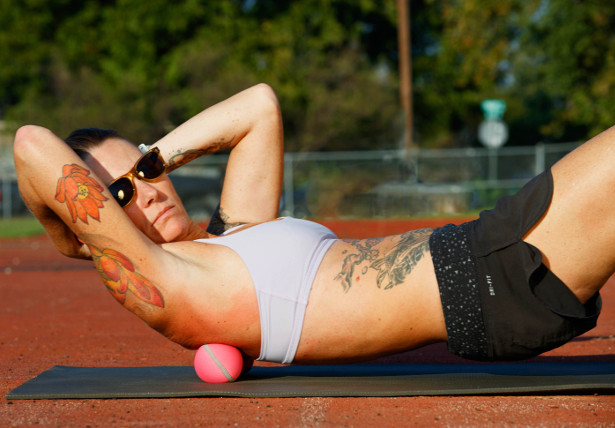 FACEBOOK | TWITTER | INSTAGRAM
The Original Worm is perfect for summer travel be it family vacations, camping, sporting events, beach trips, long flights and more. Summer travel is always fun but getting there can be stressful and leave your body stressed. Whether traveling by plane, train, car, boat or on foot, The Original Worm will be sure to become your favorite travel companion! Roll away stubborn knots and tension from your neck down to your feet in minutes with The Original Worm. The Original Worm is a portable body and muscle massage roller with a unique "worm-like" design that can easily mold to any individual's body contours to provide support and comfort. It combines the benefits of therapy balls and a foam roller to relieve stiffness, pain, and stress in muscles and joints. The Worm's unique 4 ball design will melt away your travel woes and leave you energized to enjoy your journey and also to use at your destination.
Its uses are unlimited and unlike a traditional massage roller, The Original Worm's compact size can be tossed in your carry on, gym bag or purse with ease. Whether you are stuck in the middle seat in coach or experiencing numbness and back pain from a long drive, The Original Worm will be like having a personal massage therapist with you on your journey. The Original Worm is available in two sizes and two colors, starting at $24.99.
On Amazon >> amzn.to/2K4cWkC
The Original Worm price and sizing: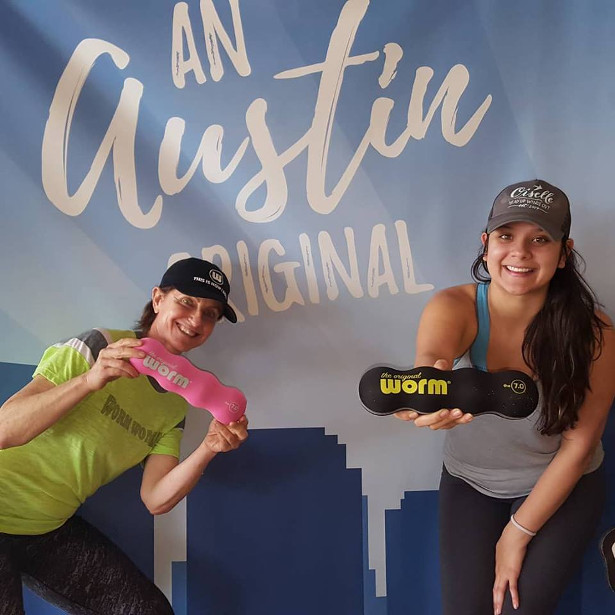 Size 6.3- $25: (4) solid 6.3 cm balls, encased in neoprene cover. This size is perfect for getting into the tight spots and for smaller framed folks. Available in pink or black.
Size 7.0- $34: (4) solid 7.0 cm balls, encased in neoprene cover. This size is ideal for larger body frames and larger muscle groups. Also available in pink or black.
To purchase The Original Worm go to http://www.theoriginalworm.com/buy-now.html. Also available at Amazon.com and select retailers nationwide.
About The Original Worm:
Created by avid athlete Karen Atkins, Wormwide Products LLC, The Original Worm is the portable, multi-tasking body roller that combines the benefits of therapy balls with a foam roller. From your neck to your feet, this multitasking body roller delivers a therapeutic session that successfully alleviates body aches, pains anywhere you roll. Physical and massage therapist approved, The Original Worm is like having your own personal massage therapist with you at all times. For details and to see more, go to http://www.theoriginalworm.com/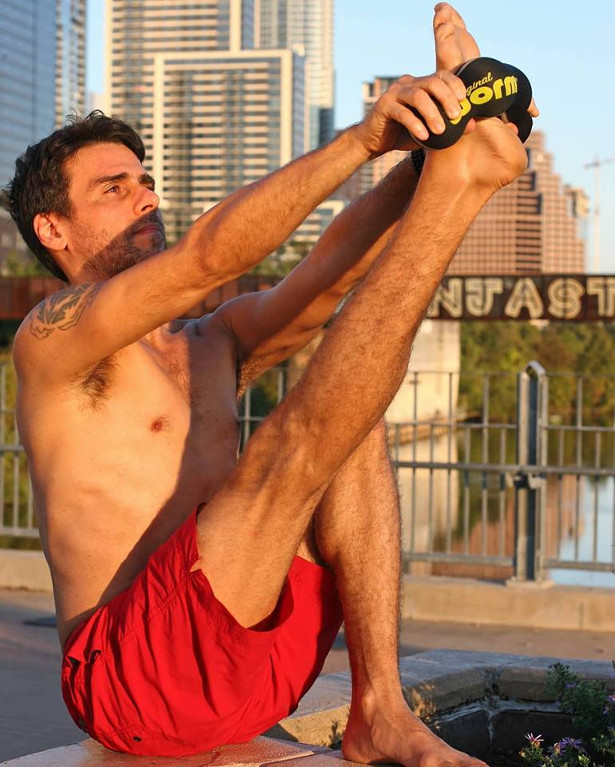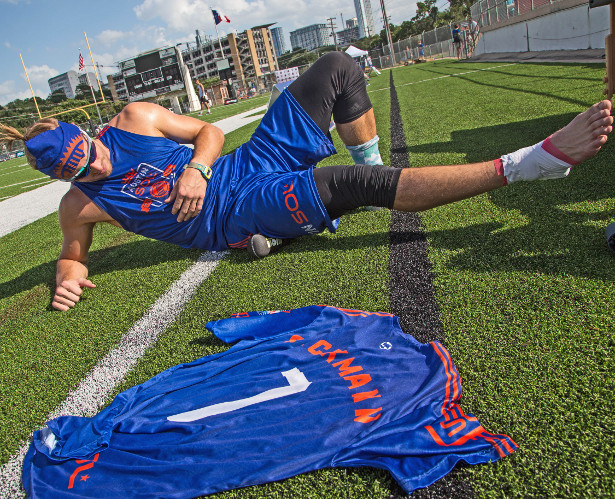 The ULTIMATE Taste Sensation Cheese Sandwiches
Cheesy basil, pesto and beetroot sourdough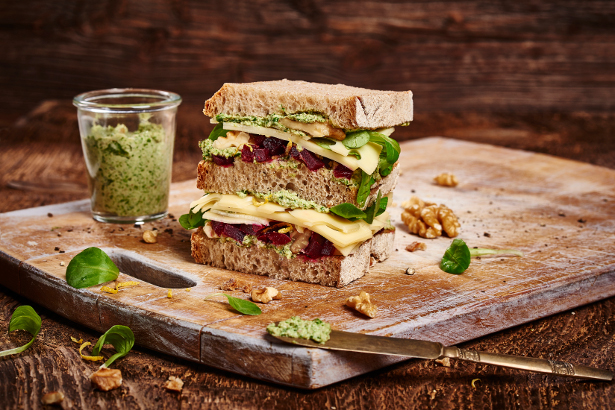 Ingredients:
Fresh sourdough bread
Leerdammer Original slices
½ pre-cooked beetroot
Handful of baby spinach
Handful of chopped walnuts
Generous helping of green pesto
Method:
1. Cut thick slices of fresh sourdough bread, or your favourite fresh crusty bread
2. Spread a generous layer of green pesto onto both pieces of bread
3. Chop the beetroot up into small chunks and place on top of the green besto
4. Layer with slices of mild and nutty Leerdammer to add a delicious twist to your sandwich
5. Top with a layer of baby spinach and sprinkle with chopped walnuts
6. Cut in half to reveal the mouth-watering layers of Leerdammer cheese – and get ready to enjoy the ultimate taste sensation sandwich!
For more recipe inspiration visit www.leerdammer.co.uk
Spicy chorizo and nutty Leerdammer ciabatta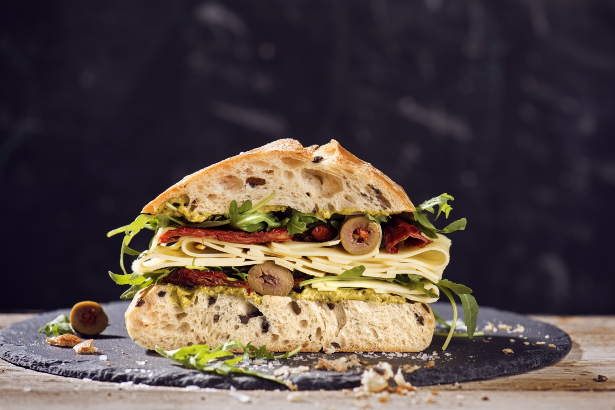 Ingredients:
Fresh ciabatta
Leerdammer Light slices
Handful of pitted green olives
Spicy chorizo slices
Handful of rocket
Green pesto
Method:
1. Cut the ciabatta into two thick slices and spread each slice with a thin layer of green pesto
2. Chop a handful of pitted green olives in half and sprinkle a few on one side of bread
3. Next add slices of spicy chorizo and rocket leaves for a bit of a kick
4. Fold up a generous amount of Leerdammer Light cheese slices and layer onto the sandwich base
5. Top with more olives, chorizo slices and rocket
6. Add the other slice of ciabatta and tuck in!
For more recipe inspiration visit www.leerdammer.co.uk
Super salmon, avocado and cheesy slice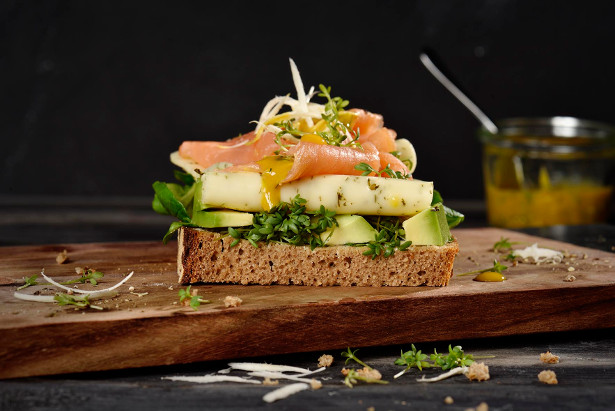 Ingredients:
Fresh rye bread
Leerdammer Light slices
Smoked salmon slices
Handful of watercress
½ avocado
For the honey and mustard dressing:
4 tablespoons of mayonnaise
1 tablespoon Dijon or English mustard
1 tablespoon of honey
2 teaspoons of lemon juice
Method:
1. Cut a thick slice of fresh rye bread and add butter if preferred
2. Slice up half an avocado and place on the rye bread
3. Sprinkle the bread with a generous amount of watercress
4. For a cheesy twist, next add a folded slice or two of Leerdammer Light
5. Top with smoked salmon and garnish with a sprinkling of watercress
6. To make the honey and mustard dressing, add all of the dressing ingredients to a small mixing bowl and stir until fully mixed
7. Drip the honey and mustard dressing over the sandwich and enjoy your delicious creation!
For more recipe inspiration visit www.leerdammer.co.uk
Cheesy basil, tomato and parma ham ciabatta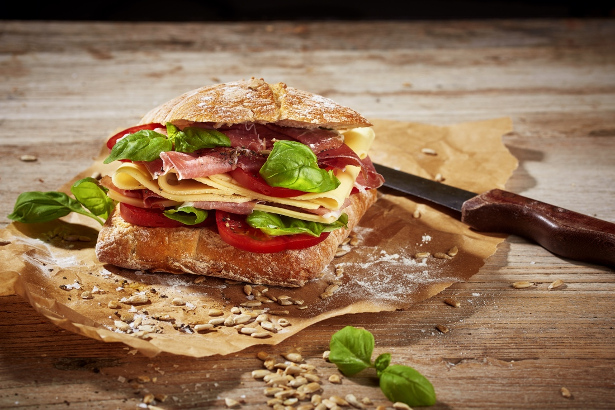 Ingredients:
Fresh ciabatta
Leerdammer Original slices
1 large tomato
Handful of fresh basil
Parma ham slices
Method:
1. Cut the ciabatta into two thick slices and add butter if desired
2. Chop the tomato into thick slices and layer onto the bread
3. Add a handful of basil on top of the tomatoes
4. Layer slices of parma ham onto the sandwich
5. Fold up a generous helping of nutty Leerdammer Original slices and place onto the bread
6. Top with more tomatoes, basil and a final helping of parma ham before tucking in!
For more recipe inspiration visit www.leerdammer.co.uk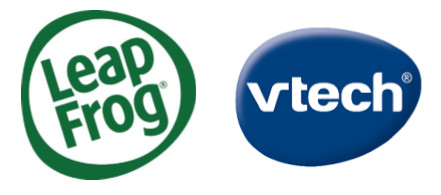 Smart Toys
Kidizoom Action Cam 180°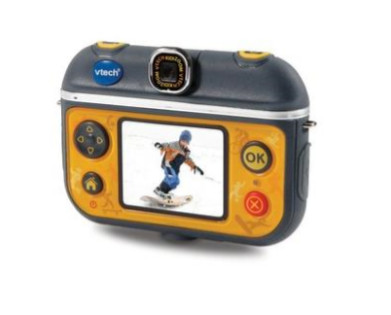 Kidizoom® Action Cam 180° is a light and multi-functional action camera for children! Take great photos and shoot exciting videos on the move, choosing from lots of cool visual effects! Play through three fantastic games, or create fun stop motion, slow motion or fast motion videos with a great selection of background music to choose from. Use the time-lapse photo recording function to capture great and creative actions shots! Includes a waterproof case which allows you to take underwater photos or great shots in the rain, and mounts that allow you to attach the camera to a bicycle and more!
Kidizoom Smart Watch DX Blue

Kidizoom Smart Watch DX is the next gen smart watch just for kids! This durable and multifunctional smart watch features a camera for on the go photo and video taking, over 50 different 3D style digital and analogue clock faces and 8 great games. Connect to the Learning Lodge and download more apps and games! Add fun effects, frames and filters to your photos and videos. Pedometer and Action Challenge activities use the motion sensor. The Time Master activity helps children learn to tell the time! There's also a calculator, calendar, alarm, stop watch, timer, voice recording function and more!
Kidizoom Duo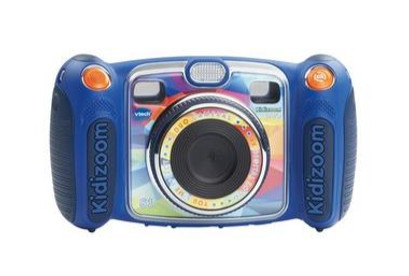 Take great selfies and pictures of your friends with this all new dual lens Kidizoom camera! The two lenses can be swapped between at the touch of a button, making photo taking of any occasion effortless. Add fun distortion effects, stamps and frames, or use the auto-portrait feature to take photos automatically. You can also film movies, adding animations along the way. Record your voice and add funnyeffects to it! Other great features include 4x digital zoom, You and Me photo effects, 5 great games, Wacky Photo Shaker, photo editor and Silly Face Detector. All of this is easily seen on the large 2.4 inch colour screen.
Touch & Teach Tablet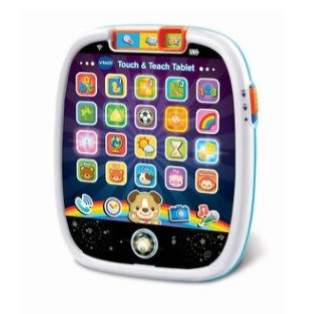 Your little one will have a tablet of their very own with the Touch & Teach Tablet by VTech!. When they tap the 25 pretend light up app buttons to explore, discover and learn early skills including numbers, shapes, animals, colours, letters and much more. Little ones can also take virtual pictures, make pretend phone calls and check the time! Features 3 modes of play; Explore, Music and Learn. Light up glowing home button and swiping along the buttons triggers fun light patterns. Includes 3 sing along songs and 20 melodies. this fun-packed toy will keep little ones engrossed for hours.
PJ Masks Time to be a Hero Learning Tablet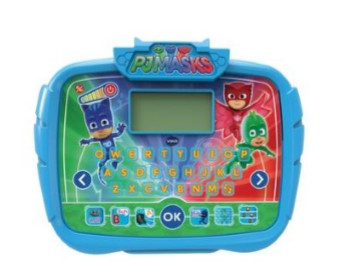 Join Catboy, Owlette and Gekko as they go into the night to save the day! The VTech® PJ Masks Time to Be a Hero Learning Tablet features six exciting activities that help to reinforce the learning of letters, phonics, rhyming, vocabulary, matching, problem solving and much more! Tablet features 26 letter buttons, left & right cursor buttons & activity buttons, 3 character buttons introduce your favourite PJ Masks friends. With fun animations, cool sound effects, character voices and more, your child will love to join this learning adventure with the PJ Masks! Encourages language development, visualisation & memory and imaginative play.
LeapFrog Epic™ Academy Edition

LeapPad™ Ultimate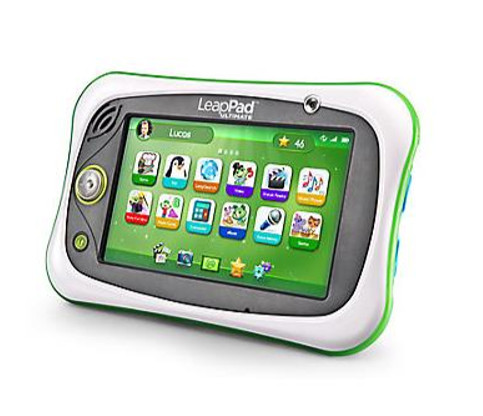 Pongo – Hands Through The Forest is the perfect gift for both Mothers and their children!
Gold Coast author "saved" by orangutans
www.hellopongo.com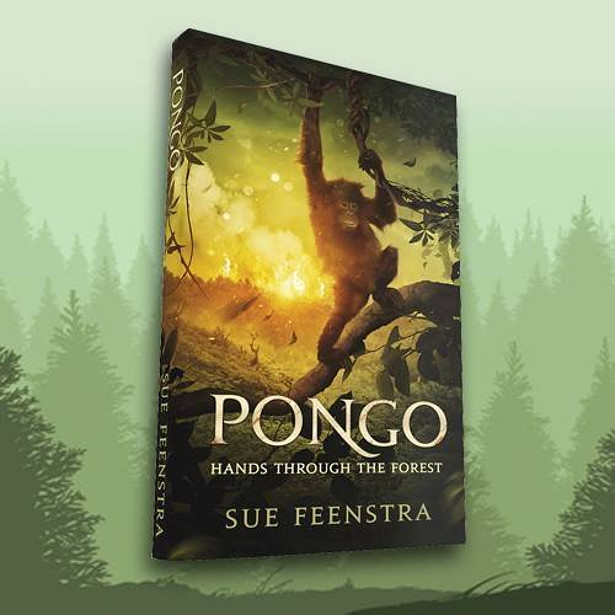 INSTAGRAM | FACEBOOK | TWITTER
A former Gold Coast gym owner and aerobics instructor who endured a debilitating back injury credits orangutans with saving her life.
Sue Feenstra had dedicated her life to attaining and promoting health and fitness until she sustained a back injury so serious that she was told she would remain bedridden for an undetermined length of t ime, possibly indefinitely.
With the only hope of recovery a complicated surgery, Sue faced a difficult road ahead. Instead of giving up, Sue let her mind wander through the forests of Borneo and created the children's novella "Pongo – Hands Through The Forest".
Born in the "Year of the Monkey" and having always felt an affinity for our primate cousins, Sue has had the plight of the orangutans in the back of her mind for many years. She is genuinely perplexed as to why nobody has really delved into their world via a literary platform before now.
"They are such a gentle species," said Sue.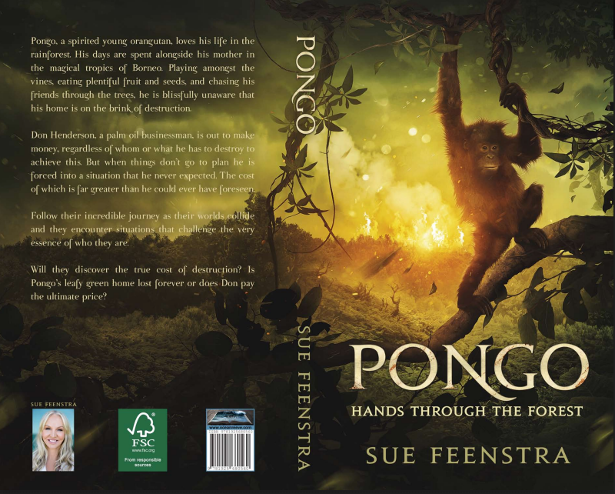 "People have written stories featuring all kinds of animals, and I was waiting for someone to write one about orangutans, but it just never happened.
"This is a story that was waiting to be told."
Aimed at young teens and set for release in June this year, Pongo is a fictional t ale about a young orangutan named Pongo who enlightens t he reader of the plight of deforestation threatening his species.
A story set to educate and inspire those setting off on their own journeys into high school and beyond, Pongo encourages conservation and protection of our precious planet.
Teaming with the Orangutan Foundation International Australia and its founder Kobe Steele, an inspiration and advocate herself, Sue has pledged 15% of all book sales to go directly toward bringing the orangutan back from the brink of extinction before it's too late, and with the recent loss of Sudan, the last male white rhino in existence, this message of conservation could not come soon enough.
Sue does not see herself as an activist or a conservationist; but an advocate. She genuinely wants to start a movement, and used what could have been the end of everything to kickstart a new beginning.
Living proof that any situation can be tur ned into a positive with the right attitude, Sue believes that as we are the caretakers of the world, we must come together to protect those who cannot protect themselves.
This is a sentiment shared by many, with even Her Majesty The Queen getting in on the act. In her recent ITV documentary with David Attenborough entitled "The Queen's Green Planet", Queen Elizabeth II expresses her love of the environment, and how she hopes that many generations to come will still be able to enjoy the flora and fauna of today.
For more information about Pongo – Hands Through The Forest, or to pre-order, please visit: www.hellopongo.com