Selfie Skin (https://selfieskin.com.au/) is the new IPL Hair Removal Handset that allows you to remove hair by laser from the comfort of your own home.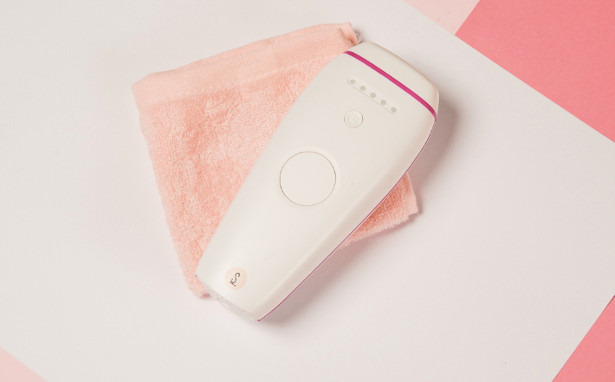 No more waiting for an appointment, travelling to a clinic or paying top dollar to get a stranger to laser or wax you. No more harsh chemicals on your skin. No more razors being thrown into the oceans. Now you have a solution that is a one-off cost that you can use anytime.
Mother's Day
by Produced in Kent
The best of Mother's Day gifts from the Produced in Kent membership.
Produced in Kent is an organisation dedicated to supporting & promoting food, drink and crafts made inb Kent. For more gift ideas visit www.producedinkent.co.uk
Romney Marsh Wool Natural Corrugated Gift Set Tri, £20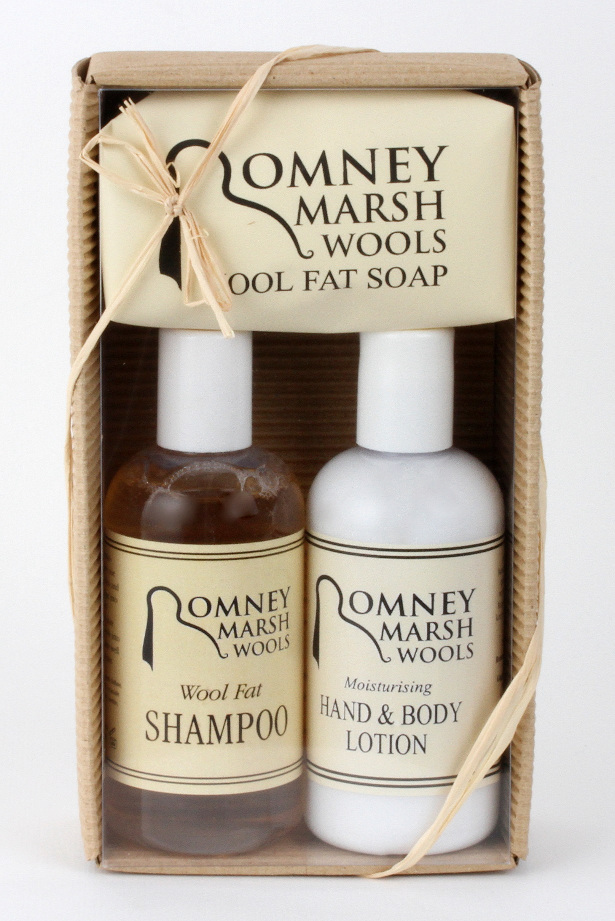 We are family farmers on the Romney Marsh in Kent with over 1,000 Romney Ewes. The lanolin is the naturally occurring fat in wool. It has many beneficial attributes; it is gentle, rich and soothing and helps keep skin hydrated. Used regularly, our own brand of wool fat soap, shampoo and moisturising hand and body lotion will help keep skin soft and smooth. Only the highest quality of ingredients, including the purest and most preservative free wool fat is used in our range and they are not tested on animals.
RRP £20 across Kent and the South East www.romneymarshwools.co.uk
Fudge Kitchen's Cherry Bakewell Caramels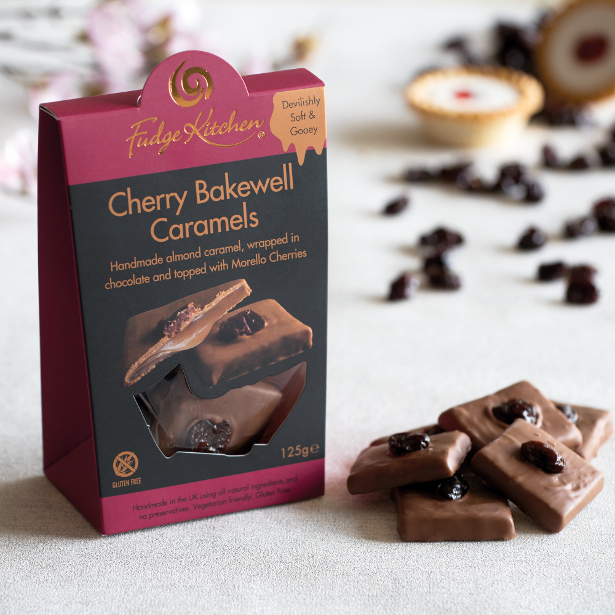 these multiple Great taste Award-winning delectables range features ten lines of luxury nut brittles and enrobed caramels, all hand made in small batches, hand worked for the perfect snap or the creamiest texture and all hand decorated individually. A tribute to a legend of Great British baking, their Cherry Bakewell Caramels uncannily replicate that winning combination in smooth, soft caramel infused with almond, topped with a sour morello cherry and covered in thick milk chocolate – as an added bonus!
£6.50 for 125g Bag. www.fudgekitchen.co.uk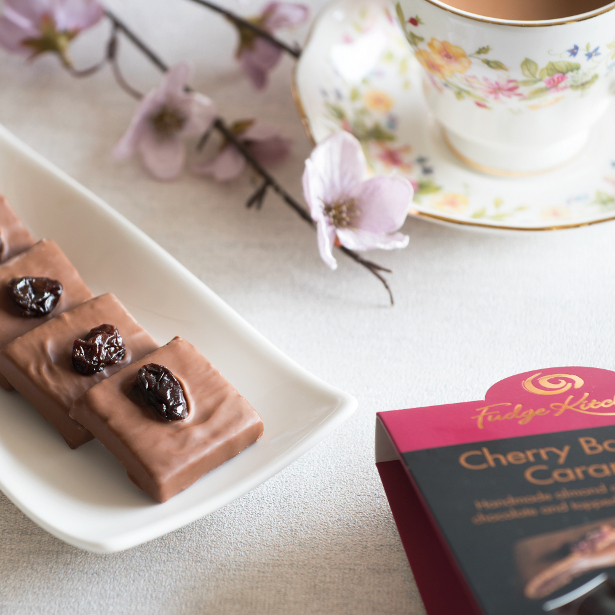 SHOW YOUR LOVE THIS MOTHER'S DAY WITH
THE PERFECT HAMPER FROM ITALIAN DELI DIFORTI
Treat your mum to a taste of Italy, with the ultimate Mother's Day gift from Italian delicatessen Diforti – the special Mother's Day Hamper.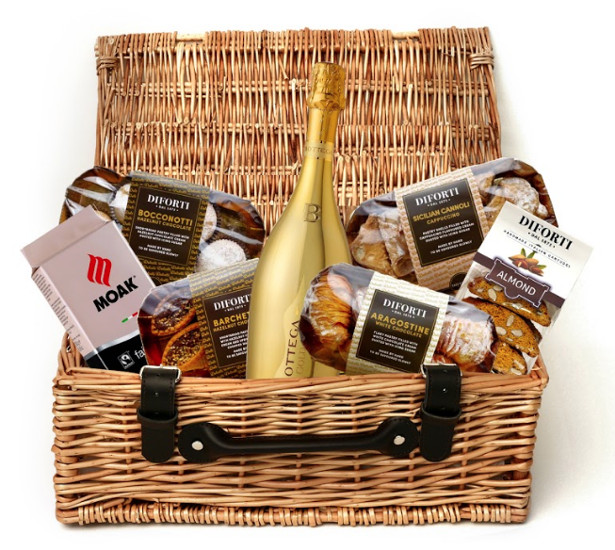 Housed in a beautiful wicker basket, each of the items included in the Mother's Day Hamper have been handpicked by the Difortis, brothers and owners Andrea and Carlo. Filled with rich Moak Arabica Coffee, a selection of mouth-watering and indulgent sweet treats such as the decadent Sicilian Cannoli Filled With Cappuccino Cream, moreish Almond Cantuccini, and a bottle of Bottega Gold Prosecco, there is plenty to delight even the most discerning palette.
Carlo Diforti, Director of Diforti, said: "At Diforti, we have two great loves: food and family, so it probably comes as no surprise that we know plenty about both. All mums deserve to feel special, especially on Mother's Day, which is why we have put together the perfect Mother's Day Hamper, making it easy for you to spoil your Mamma or Nonna."
Diforti's Special Mother's Day Hamper contains:
Bottega Gold Prosecco 75cl
Aragostine Filled With White Chocolate Cream 150g
Bocconotti Filled With Hazelnut Cream 150g
Sicilian Cannoli Filled With Cappuccino Cream 150g
Almond Cantuccini 200g
Barchette With Hazelnut Chocolate 150g
Moak Arabica Coffee 250g
Priced at just 77.99, including free delivery, ordering your Mother's Day Hamper couldn't be any simpler.
Available until Sunday 31st March, or until stocks last, this superb Mother's Day gift joins the Diforti's sensational collection of hampers, all filled with Italian treats, and available on the website.
Diforti is a family run business which has become synonymous with traditional, quality Italian produce. Founded in 1875 by Michele Diforti, in the picturesque village of Caltanissetta, Sicily, it is now run by great-great-grandsons Carlo and Andrea, who took the helm of Diforti in 2005, and continue to bring a traditional taste of Italy to the UK through the online delicatessen.
Diforti's ethos is based around traditional family values and their Italian heritage, which is at the centre of everything they stock. The brothers hand-pick each offering with specially selected suppliers in order to give their trade and retail customers a truly unique product.
To find out more about Diforti's extensive range of Italian treats visit: shop.diforti.com or call: 0208 953 5453 for trade customers, call: 0203 876 8690 for private customers.
Luckies
Lunch Bag
If you're sick of the same old plastic tupperware and need something to brighten up your lunch on days when it's boring leftovers, then the Lunch Bag is perfect.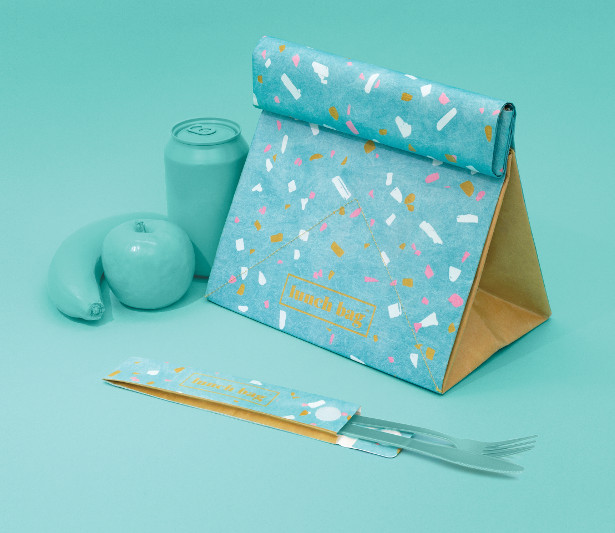 Insulated to keep your food warm, or cold, depending on what you're packing, there's also a handy pocket for your cutlery, and with it's unique design, you can even fold it out to use it as a placement.
No more balancing your sandwich on you chin whilst you simultaneously open you packet of crisps and keep all your food off the public bench. And even if you do have an accident, your Lunch Bag is leak-proof and wipe clean. Chew on that.
Features
Material: Tyvek sheet, 300gsm card, insulation foil, magnets, velcro
Hard-wearing and tear-proof
Folds out to placemat
Insulated to keep food cold/warm
Leakproof
Wipe clean
Magnetic fastening
View product on company website:https://www.luckies.co.uk/product/lunch-bag/
Price: £15.95
My Photo Art website allows customers to upload a photo and choose from a selection of art styles, My Photo Art then turn the photo onto the chosen artwork and print on a choice of canvas, cushion or poster.
My Photo Art – https://www.myphotoart.co.uk/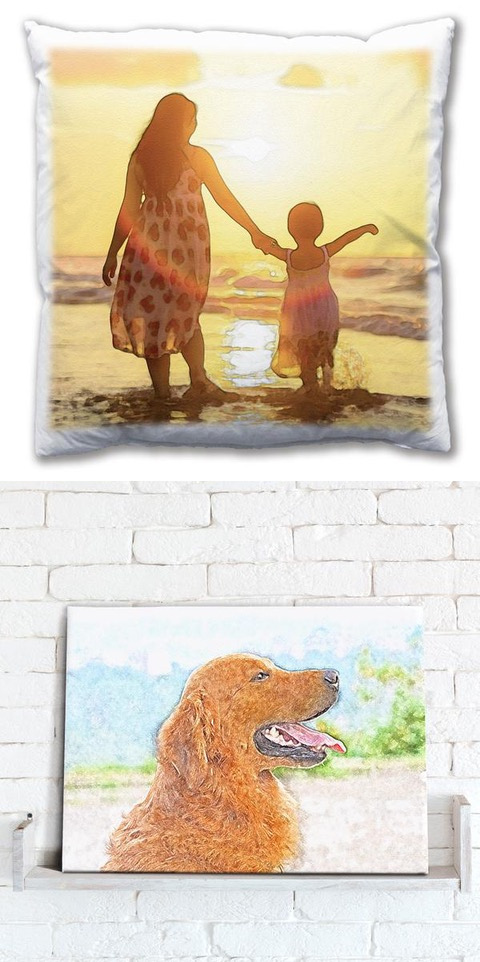 TREAT YOUR MUM THIS MOTHERS DAY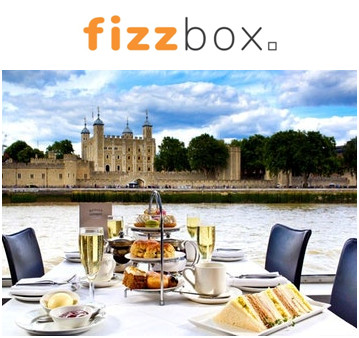 Mothers Day is on the 31st and there is no time like the present to say thank you and treat the special ladies in your life to a little indulgence. Here are group bookings and experiences specialist Fizzbox.coms top activities for you and your Mum:
Afternoon Tea Cruise London £36.50 per person
https://www.fizzbox.com/products/418-afternoon-tea-cruise
For a luxurious and memorable way to celebrate Mothers Day this year, why not take in the stunning sights of the Capital, with this fabulous Afternoon Tea cruise, it combines breathtaking views, food, drink and music as you set sail along the River Thames.
Two course meal, a side and a glass of Prosecco at Jamies Italian (Selected cities nationwide) £19.50 per person
https://www.fizzbox.com/products/117-two-course-meal-a-side-and-prosecco-at-jamie-s-italian
Afternoon Tea Bus in Brighton £38.50 per person
https://www.fizzbox.com/products/894-afternoon-tea-bus
Treat your mum to a fun day at the coast with this stunning Regency Routemaster bus Afternoon Tea experience in Brighton. It really is a perfect seaside delight, here you will board an iconic restored British Routemaster bus and take in the sights of the gorgeous South Coast, passing Brighton's famous landmarks which include: British Airways I360, Palace Pier and The Royal Pavilion whilst enjoying some tasty teas and traditional afternoon tea delicacies.
Wine Tasting in London £24.90 per person
https://www.fizzbox.com/products/328-prem
(minimum 4 people)
For those who appreciate the finer things in life Fizzbox.com offers a wine tasting activity which will add a touch of sophistication and luxury to any Mothers Day. Not only will you get to taste six different kinds of wine, you'll learn all about them. This interesting tasting session is led by an expert wine Barista, who'll tell you all about them; you'll learn how they're made and what to look out for when you taste them. Not only this but a sharing platter, or spuntini (Italian for sharing), is there for you to enjoy that complements each of the wines perfectly. This experience is a perfect activity to learn something new and enjoy whether you or your mum are wine connoisseurs or not!
Wilful Ink creates tropical wallpaper and homewares
www.wilfulink.com

An independent wallpaper boutique specialising in bespoke designs. Illustrated homewares featuring botanical and zoological themes. All products are made in the UK. The latest collection includes velvet cushions and cotton homewares. Unique botanical gifts and home accessories.
Mother's Day.
With the day fast approaching, Photobox is on hand to help give a beautifully personal gift.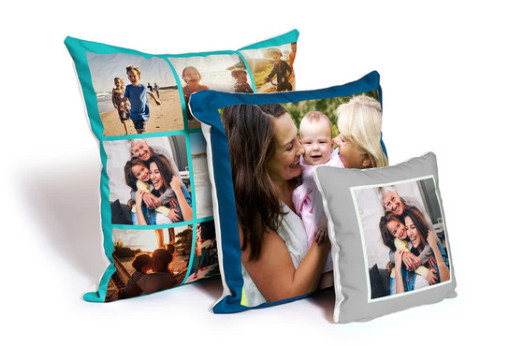 Whether she loves practical, everyday items like our Photo Cushion or that one signature piece such as a Collage Canvas or Photobook, Photobox can help find the perfect present for every mother.
Personalised Cushions
Whether it's that special moment that means so much, or a picture of the family, give your mum a personalised Photo Cushion this Mother's Day. Available in a range of sizes and themes, the cushions ensure cuddles are never too far away!
Price: From £24.99
Personalised Tins
Whether it be for hiding away treasures, or using every day, Personalised Tins allow you to make your loved ones a permanent fixture in your home. When they're available in round or rectangular shape, as well as several sizes, why waste a perfect photo ever again?
Price: From £14.99
A4 Landscape Photobook
It if isn't broke, why fix it? A traditional A4 Landscape Photobook allows you to send a simple, yet loving message showing them you care.
Price: £34.99
Mum Photobooks
Show your mother how special she truly is with a dedicated Special Edition Mum Book. Cramming all of your favourite snaps into this special 26-page book gives them a collection of memories they can revisit over and over.
Price: From £34.99
Personalised Aprons
Perfect for the foodies you love on Mother's Day, the Personalised Apron is a sleek mix of utility and fun. Whether you don't mind covering dad's face in flour or know mum needs a new apron, you can choose the perfect shot for their style!
Price: £19.99
Collage Canvas
Tell whatever story you want by making your own Collage Canvas. Available in three shapes and five sizes ranging from compact right the way up to 100x75cm. What photo would make your mum smile this year?
Price: From £17.99
Colour Bright Mug
Sometimes you just can't beat a good, old-fashioned mug. For the tea and coffee loving mum, our Colour Bright Mug makes it easy to secure the position of 'favourite mug'. With several themes to choose from, pick what you know she'll love.
Price: £11.99
Fabric Pouch
Those who just can't get enough of organisation need a pouch for every occasion! Whether they need a style upgrade, or you simply want to send a heartfelt but useful gift, the Personalised Pouch comes in three sizes and can be used to store many different things.
Price: From £9.99
Photo Block
Display your best moments anywhere with a free-standing Photo Block. Stylish? Memorable? Silly? Your favourite pictures can help set the tone of a room. Available in four sizes and different colours, the photo blocks are a simple yet brilliant way to say Happy Mother's Day.
Price: From £12.99
Small Framed Prints
From a picture of the little ones in the snow to a family snap from years gone by, ensure that perfect photo never gets lost and frame it for all to see this Mother's Day with our Small Framed Prints.
Price: From £12.99
Living Eighty Twenty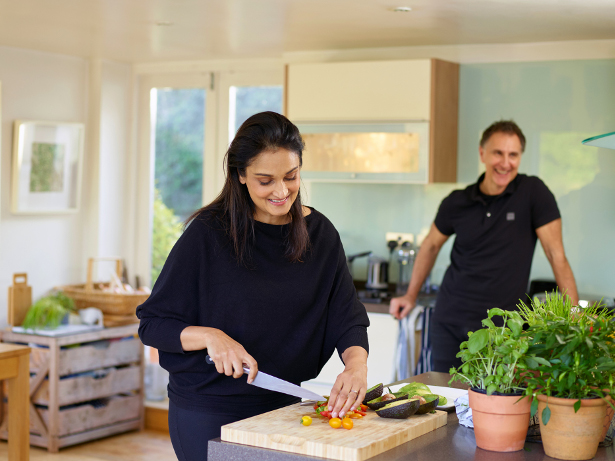 A movement and wellness platform for people of all ages developed by two lifestyle specialists from Surrey who have a superb track record in health and well-being.
Living Eighty Twenty is like having a lifestyle coach in your own home.
www.livingeightytwenty.com
Founded by the creators of Living Retreats, lifestyle specialists Luke and Jo Gray, Living eighty twenty is a brand new online hub for wellbeing, nutrition and movement.
For just £147 for a 12-week programme, subscribers can access weekly recipes, wellness tips and movement videos that are centred around the eighty twenty principle of eating healthily and exercising for 80% of the time and doing what you fancy for the other 20%.
With 20 years of experience in the wellness industry, Jo and Luke found their clients achieved the fastest, and most importantly sustainable, results when working to this principle. Living eighty twenty's 360° lifestyle approach is perfect for those that are time poor but still want to make a positive change.
It's the equivalent of having a lifestyle coach in the comfort of your own home. The 12-week programme includes wellness tips that are individual to the subscriber. Starting with a questionnaire, the lifestyle platform will identify whether a customer needs a plan that focuses on issues such as sleep deprivation or stress. Those choosing the advance payment option of £147, will receive a one-month supply of free supplements worth £24 which are individually tailored to their needs be it sleep, stress or the brain power.
Over the years, Luke and Jo have helped everyone from brides-to-be and company executives to A-listers and professional athletes, and will bring their wealth expertise and sustainable lifestyle changes to this online platform. Earning a Sports Science degree at Loughborough University, Luke Gray set up one of the first personal training companies in London before founding the hugely successful Living Retreats where he has prepared clients for a variety of endeavours including marathons and climbing Mount Kilimanjaro.
As part of Living eighty twenty, Luke will provide one movement video a week with a full body approach. The 20 minute videos will be centred around the ethos that doing the correct exercises in an efficient way will provide more effective results than spending two hours at the gym. From Pilates, yoga and functional training using body weight, all the videos will be demonstrated in beginner through to advanced levels.
As part of the programme Living eighty twenty will provide a bank of five recipes on sign-up, with an additional five recipes and one recipe video released each week, so that subscribers have plenty of choice. With a range from vegan, fish and meat, each dish will be created by Jo who studied Sports Psychology, Nutritional Therapy and Personal Training at City University.
With an eighty twenty approach, to relieve any food guilt, Jo ensures subscribers eat healthily with recipes such as chicken tarragon lettuce cups and mushroom filo parcels but that during the 20% portion of their week no food is 'off limits' making a healthier lifestyle truly sustainable. A vegan burger packed with flavour complete with a pillow-y brioche bun, cabbage slaw, chunky tartare and sweet potato wedges is just one of the tasty recipes included in the 20% section.
In addition to the 12-week programme, Living eighty twenty will also develop subscriptions specialising on gut health, family lifestyle and getting ready for a special occasion. These programmes will include recipes to share with family and friends that offer helpful healthy food swaps and more.
Subscriptions to Living eighty twenty start from £147 for 12 weeks, including a one month supply of supplements worth £24, advanced payment only. Monthly payments start from £49 per month for 12 weeks.
@weareliving_
Swap flowers for supercars this Mother's Day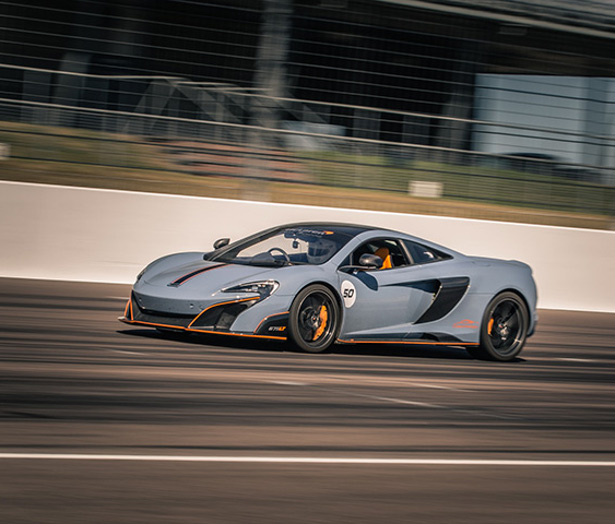 Forget the flowers this Mother's Day (31 March) and give Mum a day she won't forget at The Supercar Event 2019. The exhilarating day features once-in-a-lifetime passenger rides in some of the world's most iconic supercars from just £20 and activities for the whole family to enjoy. You don't want to miss out!
The event takes place on the 1 June at the iconic Goodwood Motor Circuit in Chichester. 100% of the proceeds go directly to The Children's Trust charity, helping children with brain injury.
It promises to be packed with a stunning array of supercars and attractions, including; Caterham Sevens, hovercrafts and water zorbs.
For those with a head for heights, affordable helicopter rides will be available to take passengers over the circuit. Younger guests can also take a fire engine ride, try the Mini Monster Truck Mania, enjoy bungee trampolines and much more.
You might even spot a celebrity or two, with well-known names such as Chris Evans, Shane Richie, Phil Tufnell and Nick Whale taking part in previous years.
ITV Host, Andrea McLean, who has previously visited The Supercar Event comments: "Having visited the event with my family, I know what a fantastic event it is! A ride in a Supercar and an adrenaline filled day with the family is the perfect Mother's Day and makes a truly unforgettable experience. Knowing it's all for a good cause – helping The Children's Trust – makes it extra special."
For the chance to win Mum a ride in a supercar, visit:
www.thesupercarevent.com/mothersday and answer the following question:
How long is the Goodwood Circuit?
2.4 miles
20.7 miles
240 miles
T&Cs of competition
Prize is one supercar ride.
Prize is non-transferable and not for re-sale.
Family ticket (2 adult, 2 children aged 4-16) £30, adult ticket £12, child and concession tickets £8. VIP tickets £160. Supercar rides must be purchased separately. Book now, visit thesupercarevent.com
A gift to glide through Mothers Day
Mother's day is an important time to show your mum just how wonderful she is, especially for those new mummy's having their first Mothering Sunday. So dad's as your little one might be to young to get buying that present for mum, it's time for you to treat your baby mummy and give her a truly magical mothers day.

But what to buy? Flowers? Chocolate? Keyrings? Well here at Obaby we believe we have the perfect gift for all mummies.
The Obaby deluxe reclining glider chair and stool are the perfect place to rest and relax with your baby whilst enjoying the utmost comfort. No matter what the occasion, be it feeding time, reading a story or just a much needed time out, the gentle gliding motion of the chair soothes your little one to sleep whilst helping mum to relax. The gliding stool perfectly mimics the motions of the chair ensuring nothing gets in the way of your tranquil time.
So if you're looking for the idyllic place for mummy and baby to share some precious moments, the Obaby glider chair and stool are exactly what you need.
For more information on the product have a look at the website:
https://www.obaby.co.uk