Four ghoulish healthy vegan recipes from STRIPPD.
The recipes all include STRIPPD Vegan protein which can be purchased from Superdrug stores across the UK.
INSTAGRAM | TWITTER | FACEBOOK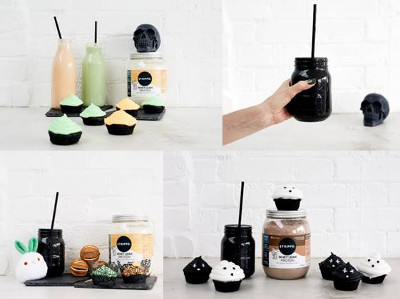 These recipes will help you create some tasty yet healthy Halloween treats, whether your hosting a party or handing them out to trick or treaters.
STRIPPD's vegan protein contains hemp which has fantastic cholesterol lowering qualities and is also packed full of fibre, as well as vitamins A, C and E. STRIPPD vegan protein costs £19.99 for 490g, and can be purchased from Superdrug or strippd-uk.com
Pumpkin and matcha smoothie with vegan vanilla protein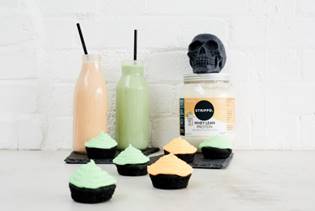 Ingredients
2 scoops of STRIPPD Vegan Lean Protein Powder Vanilla
1 frozen banana
120g of greek yoghurt
1/4 of Tsp of ground cinnamon
120ml of almond milk
30ml of maple syrup
1/4 of Tsp of pumpkin spice and 150g of pumpkin puree or 2 tsp of Matcha Green Tea powder
200g of ice
Method
Lay out all ingredients on the table. Decide between pumpkin or matcha
Add all ingredients to a blender and blend until smooth.
Pour smoothie mix into a glass and top with preferred toppings
Macha frosting charcoal cupcakes with vegan chocolate protein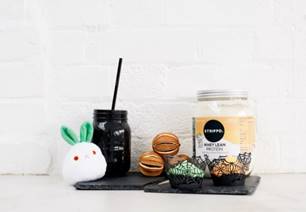 Ingredients
Base
1 scoop of STRIPPD Vegan Lean Protein Powder Chocolate
1 Tbsp apple cider vinegar
330ml almond milk
250g plain flour
200g caster sugar
2 teaspoons baking powder
1/2 teaspoon baking soda
1/2 teaspoon salt
120ml melted coconut oil
1 Tbsp Charcoal powder
Frosting
1/2 cup room temperature vegan butter
3 cups icing sugar
1/2 tsp salt
1 tsp pure almond extract
1/2-2 tbsp non-dairy milk
1 1/2 Tbsp Matcha Green Tea
Method
Preheat your oven to 170 degrees Celsius
Mix the vegan chocolate protein powder, apple cider vinegar, almond milk and plain flour (with whisk or electric mixer)
Mix the caster sugar, baking powder, baking soda, salt, coconut oil, and charcoal powder (with whisk or electric mixer)
Combine both bowls and mix together until smooth. The mixture should be thick
Spoon the batter into a tray of 12 cupcakes
Bake the cupcakes for about 20 min until golden brown and firm. Leave to cool before adding any toppings
Combine the vegan butter, icing sugar, salt, almond extract, non-dairy milk and matcha green tea (with whisk or electric mixer)
Generously frost each individual cupcake
Ghost charcoal cupcakes with white frosting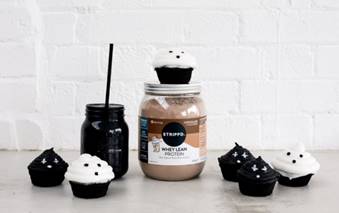 Ingredients
Base
1 scoop of STRIPPD Vegan Lean Protein Powder Chocolate
1 Tbsp apple cider vinegar
330ml almond milk
250g plain flour
200g caster sugar
2 teaspoons baking powder
1/2 teaspoon baking soda
1/2 teaspoon salt
120ml melted coconut oil
1 Tbsp Charcoal powder
Frosting
1/2 cup room temperature vegan butter
3 cups icing sugar
1/2 tsp salt
1 tsp pure almond extract
1/2-2 tbsp non-dairy milk
Method
Preheat your oven to 170 degrees Celsius
Mix the vegan chocolate protein powder, apple cider vinegar, almond milk and plain flour (with whisk or electric mixer)
Mix the caster sugar, baking powder, baking soda, salt, coconut oil, and charcoal powder (with whisk or electric mixer)
Combine both bowls and mix together until smooth. The mixture should be thick
Spoon the batter into a tray of 12 cupcakes
Bake the cupcakes for about 20 min until golden brown and firm. Leave to cool before adding any toppings
Combine the vegan butter, icing sugar, salt, almond extract and non-dairy milk (with whisk or electric mixer)
Generously frost each individual cupcake
Charcoal protein smoothie with vegan vanilla protein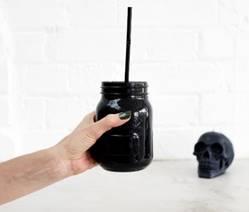 Ingredients
1 scoop of STRIPPD Vegan Lean Protein Powder Vanilla
200ml of almond or coconut milk
1 Tbsp of activated charcoal powder
1 frozen banana
Agave syrup or Sukrine Gold to taste
Method
Lay out all ingredients on the table
Add all ingredients to a blender and blend until smooth
Pour smoothie mix into a glass and top with preferred toppings