Jason Leonard launches The Front Row Club an Off Shoot of the Atlas Foundation both of which raise funds for the atlas foundation helping under privileged communities around the world, just £10 for membership with lots of benefits >> www.frontrowclub.com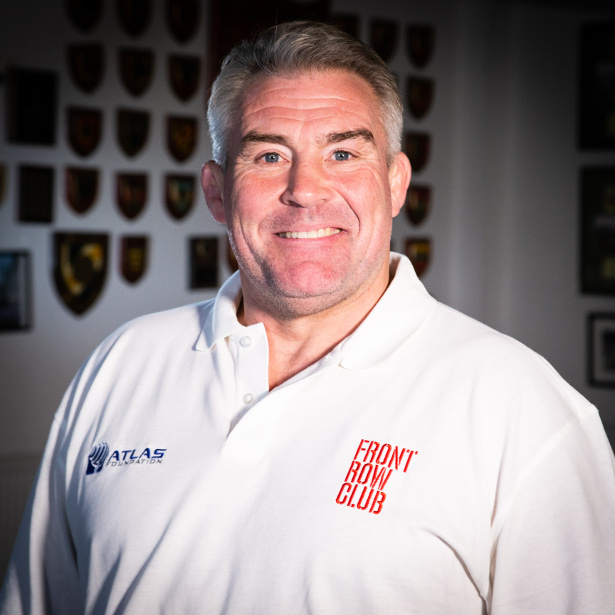 What is The Atlas Foundation?
"We started The Atlas Foundation three years ago and it now helps some of the poorest kids in the poorest places, many living in terrible circumstances, helping them through the power of rugby and the respect, fun and enjoyment of what rugby brings.
You could have a project with health, education and feeding programmes, unfortunately some of our kids their dads are no longer around but we can get them to a local rugby club or school to do a bit of rugby and make it fun. We can put food in front of them, which could be their best meal that week, and we unearth some great players no matter whether we are in Argentina or Africa."
What inspired the formation of The Atlas Foundation?
"Since retiring I've run a charity dinner every year and it was getting bigger and bigger, I would donate the money to a small charity and we thought after that success to launch a foundation with trustees and employ best practice and all with a focus of helping these kids. I've been lucky enough to play rugby in some of the richest places in the world and you can be right beside a shanty town or slum, and through Atlas we are able to help out."
See more at :- www.theatlasfoundation.org.uk
Social Media
Facebook: www.facebook.com/theatlasfoundation
Twitter: www.twitter.com/JLeonardAtlas
What is The Front Row Club?
"The Front Row Club is a membership club which people can sign up to for just £10. I played in the front row, most front rows are very social and it's an online club where you can keep in touch with other members. There are incredible prizes up for grabs and discussion platforms, it can be serious questions or someone could be moving countries with a job and use the club to get connections in that country.
The proceeds will go directly to The Atlas Foundation and we wanted to make it a bit if fun so we're giving members access to competitions for prizes such as tickets to the World Cup Final this year where people can meet up with me for a meal amongst other things! The most important thing is raising more money to help these kids."
See more at :- www.frontrowclub.com
www.frontrowclub.com/banter
Social Media
Instagram : https://www.instagram.com/frontrowclub123/
Twitter: https://twitter.com/frontrc123
Facebook: https://www.facebook.com/frontrc/
What a great year for rugby?
"Yes I think it will be interesting to see how the Premiership goes. It is one of, if not the, hardest leagues in the world so we will have an interesting finish. Then the Champions Cup with the Irish and French sides battling it out and Saracens will also want to play their part.
For the Six Nations, England and Wales are just behind Ireland and Scotland have improved, they can be a banana skin to anyone, the tournament is shaping up really well. The World Cup in Japan will be a unique occasion and a fantastic trip for those heading over. It will be a special event and it's obviously a showcase for our game and with the Olympics just around the corner we know Japan will throw everything behind it!"
Very best wishes.
Jason Leonard OBE.
Interview conducted by the Rugby Rep Curator.
Jason Leonard was speaking as part of the launch of The Front Row Club, a new charitable initiative giving fans unique access to tickets and events and the views of some of the biggest names in rugby. For more information visit www.frontrowclub.com