GB Para Cycling Medallist Matt Ellis finds PhoneHug® a vital aid for training
Matt and Rachel Ellis have found PhoneHug® to be a great addition to their sporty and active lifestyle.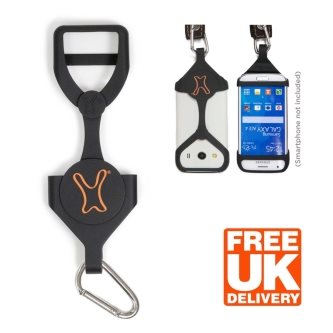 FACEBOOK | TWITTER | INSTAGRAM
Matt was diagnosed with the degenerative eye condition Retinitis Pigmentosa when he was 17, however he has not let this hold him back in striving to achieve his dreams.
In 2013 at the age of 22 he was accepted onto the GB track cycling team and competed as part of a tandem team in the Kilo and sprint events.
He won a bronze medal in the national sprint championships and a silver medal at the international cup. In 2014 he was part of the Welsh cycling team for the Commonwealth games in Glasgow and won a bronze medal.
Matt has just confirmed (Monday 19th November) that he will be competing with Barney Story in the world Para Cycling cup in 4 weeks, shared by Dame Sarah Storey on twitter
Rachel Ellis, a qualified PT and GP referral instructor, manages everything to do with her husband's sports career.
Rachel says:
"A large portion of Matts training is on a turbo trainer which uses an app to track his progress. He has previously dropped a phone onto his wheel during a sprint effort and the phone ended up in several pieces.
Due to his eye condition he needs the phone close to be able to read the data. Using his PhoneHug® he can securely attach the phone to the handle bars, read the data clearly and complete his efforts with confidence his phone is safe.
The carabinar clip that comes with PhoneHug® is fantastic when we want to attach our phone to our bag whilst at the gym or at the track.
I particularly like being able to use the lanyard whilst at the side of the track, this means I can cheer Matt on whilst capturing photos and video footage.
It is great knowing that I'm not at risk of dropping my phone in the stands or onto a hard surface.
Having 2 young children and 3 dogs means there are a lot of opportunities for phones to get knocked out of our hands.
We can now keep phones secure with us using the lanyards or even hang up out of reach of the little ones. "
Achieving great things through Matts participation in para sport is not only for himself but to inspire others. Many people with disabilities either feel they can't, or simply don't have the confidence to get involved in sport. He wants people to see their disability as an opportunity not a barrier.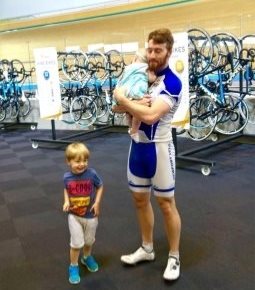 Matt is a father to 3 year old Zayn and Reeva who is 11 months old- she will be 1 on the 5th Dec. Reeva has been confirmed to have the same gene as Matt so will be monitored closely for Retinitis Pigmentosa. Showing his daughter, the amazing things you can achieve even with a disability, has given him extra motivation to achieve his dream of a Paralympic gold medal success.
Following on from his Commonwealth success and the retirement of his tandem pilot, Matt decided to move into the world of Athletics. By the end of his first season competing he had shown great potential and was invited to be part of the talent development team with GB athletics as a T13 classified athlete. He has a string of medals from several competitions including the English Championships where he won the bronze in the 100m and a gold in the 200m.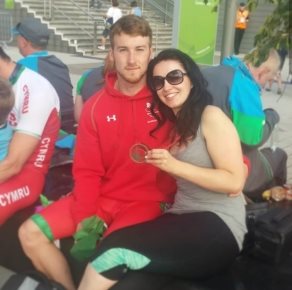 His top UK rankings were number 1 in the Long jump and 60m and number 2 in the 100m and 200m. His Long jump distance put him 12th in the world standing after just a handful of competitions making him a great medal potential for the future. However, a lower leg injury made training and competing difficult and inconsistent and he made the decision to return to cycling over the summer of 2018.
Matt has returned to cycling with an incredible passion for the sport and the determination needed to get to the very top. Each day revolves around his training, nutrition and recovery. In just 5 short months he has been selected for a talent ID day with British Cycling and after showing great potential he has been invited back for the 2nd stage of selection.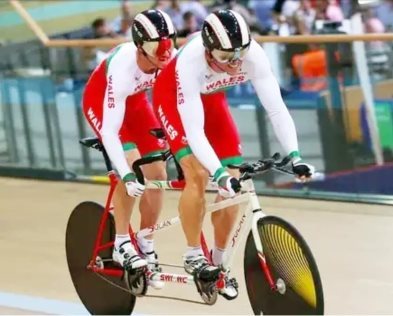 Matt has recently competed at the Para cycling League at Derby Velodrome. His pilot for this event, Dave Hartley, set up Ilkeston Cyling club which in the first 12 months grew to over 400 members. Dave along with Ilkeston CC have been a great support to Matt rejoining the world of cycling and are now looking to support more visually impaired cyclists as the club grows.
PhoneHug® designer Sam Fairbrother says: "We're really proud and feel privileged to join Matt and Rachel on this very exciting journey."
The retail price is £8.95 per PhoneHug®. An affordable item and ideal stocking filler gift! Available here: https://phonehug.co.uk/collections/all
For most this price it is a no-brainer, the price of one month's phone insurance.
The UK spent £5 million on repairing smartphones in the last 2 years.
3 million Brits damaged or broke their phone last year.
500,000 people in the UK have their phone stolen every year.
Stockist info: https://phonehug.co.uk/collections/all
Lanyards RRP: From £3.45
PhoneHug® RRP: £8.95