GET 'NURISHED' ON-THE-GO WITH BRAND NEW NURISHMENT BOTTLES!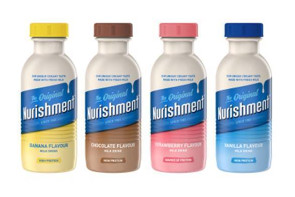 The UK has been enjoying Nurishment, the popular nutritionally enriched milk drink, for over 30 years, and now the brand, best known for its trademark ring-pull can, is launching new handy-sized bottles!
Refrigerator-friendly, the 100% recyclable bottles mean there are now even more ways to enjoy Nurishment, anywhere and at any time of the day.
Nurishment bridges the gap between nutritional & indulgent milk drinks, being packed with protein and fortified with vitamins, as well as being delicious! What's more, thanks to its new bottle it is even easier for on-the-go enjoyment making it the perfect drink for consumers with busy work and personal lives looking for a mid-morning pick me up or nutritious sweet treat.
The new bottles come in Nurishment's four hero flavours of Vanilla, Strawberry, Chocolate and Banana, and are available to buy in most high-street retailers and some Asda and Tesco's stores from May 2020.
Fans of the can need not to worry as they will still be available to buy alongside the new bottles, and both types of container are fully recyclable.