GET INTO A SNOWBALL FLIGHT THIS CHRISTMAS WITH WARNINKS AND ORIGINAL SIN
www.dekuyper.com/liqueurs-spirits/creams-advocaat/warninks-advocaat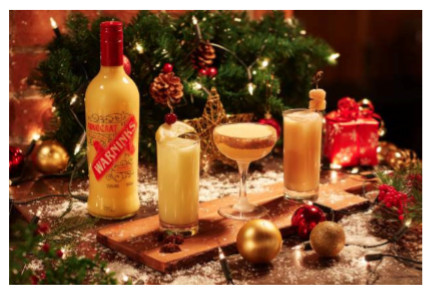 FACEBOOK | YOUTUBE | TWITTER | PINTEREST | INSTAGRAM
Without Warninks it wouldn't be Christmas; and this year Warninks liqueur is putting a contemporary twist on the classic Snowball cocktail with its sinful Snowball Flight at Original Sin, Stoke Newington. Owner, Ali Burgess, has put three different spins on this classic festive favourite (originally made using Warninks advocaat, lemonade and lime) each celebrating a different aspect of Christmas. The Snowball Flight is Christmas in every sip.
As with all seasonal revelries a traditional celebratory toast is in order, so start the Snowball Flight with a little fizz. The Snowflake features Warninks mixed with gin, maraschino liqueur, and topped with cava and lemon juice. This sparkling cocktail is a lighter rendition of the classic and an ideal contender for pre-dinner tipples or New Year's cheers.
Up next is the Garland made using Warninks, amontillado sherry, spiced rum, topped with ginger ale and garnished with candied ginger. Advocaat, along with notes of raisin and nut from the rum and the sherry, creates a Christmas pudding flavour with added ginger ale for that underlying spice – it's Christmas cake in a glass.
Finally, warm those cockles with something hot. Enjoy the Saint Nick, a delicious blend of Warninks, Calvados, triple sec, fresh lemon juice, topped with mulled Breton cider, a Christmas cinnamon rim and garnished with a zesty orange disc. A collision of two classic wintery drinks; the Saint Nick is the classic Snowball meets mulled cider, sure to be this year's go-to toasty tipple.
Jennifer Farrell, UK brand manager for Warninks, said: "The Snowball is a generations-old iconic cocktail that elicits a sense of festive nostalgia in many people. While the classic drink is, and will continue to be loved, the collaboration with Ali from Original Sin is a wonderful opportunity to showcase how versatile Warninks is. It goes to show how Warninks can be mixed with different ingredients and spirits to create a variety of exciting tastes for the festive period. Sparkling, heated, or with spiced rum, people are jumping
on the current trend rediscovering retro liqueurs, like Warninks, to create new and innovative cocktails at home."
Get into a Snowball Flight at Original Sin, £14 for the flight of three cocktails, or recreate the excitement at home – recipes below. Warninks is available in Tesco, Sainsbury's, Asda, Morrisons, Waitrose and any good convenience stores at an RRP of £12.00 for a 70cl bottle.
"IT WOULDN'T BE CHRISTMAS WITHOUT WARNINKS…"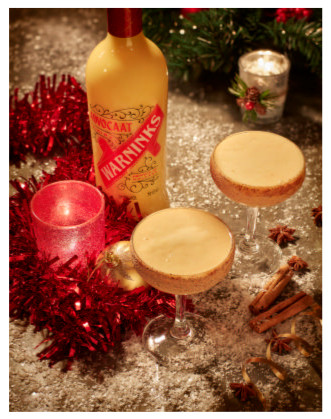 A traditional Christmas delight among many, Warninks Advocaat returns this winter for a retro treat. Warninks is synonymous with the infamous Snowball cocktail, a deliciously festive serve made from Warninks Advocaat, freshly squeezed lime juice, lemonade or soda and topped with a hint of cinnamon. Make at Home: Original Snowball § 50ml Warninks Advocaat § Lemonade or Soda § 0.25ml Fresh Lime juice/ Lime Cordial
Shake the Advocaat and lime juice or lime cordial together. Pour into a highball filled with ice. Top up with lemonade or soda.
Pairs perfectly with: Mince Pies and Christmas Pudding
To Buy: All major supermarkets in the UK, RRP: £12, ABV 17.2%, 70cl
To Explore: Get into a Snowball Flight at Original Sin, Stoke Newington Owner, Ali Burgess, has put together three different spins on this classic festive favourite, each celebrating a different aspect of Christmas. The Snowball Flight is Christmas in every sip. Where? www.originalsin.bar How much? £14 for the flight of three cocktails How long? Until 31st December 2017