ICONIC HORROR FILM SCENES RECREATED IN PUMPKIN FORM FOR SKY CINEMA HALLOWEEN CHANNEL LAUNCH
This Halloween, some of the most acclaimed horror movies have been brought to life in the most fitting way.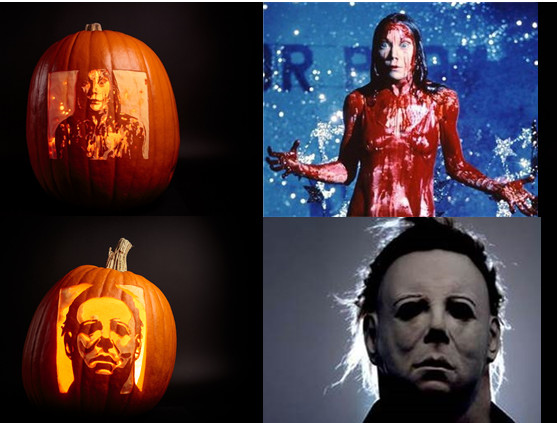 Dave Finkle, world record pumpkin carver has teamed up with Sky Cinema to showcase five Silver-Scream ready pumpkins – each a hand-made intricate recreation of an iconic scene from one of the scariest Halloween movies of all time to celebrate the dedicated Halloween channel.
The pumpkins and scenes were carefully crafted by world record pumpkin carver Dave Finkle, who Sky Cinema partnered with for these one-off creations. Whether you're an avid pumpkin carver or just a film fanatic, you can watch the detail of how the famous Stay Puft Marshmallow Man was carved in this behind-the-scenes video from Dave's workshop, here. For those hoping to craft themselves, Dave has also compiled an easy to follow 'How To' video, available to watch here.
The picture-perfect pumpkin scenes include the chilling beam in alien film classic The Thing (1982), the eerie resurrection of the beloved cat in Stephen King's Pet Sematary (1989), the Stay Puft Marshmallow Man storming the streets of New York in Ghostbusters (1984), Carrie (1976) drenched in blood during her 'time-to-shine' prom moment, and the spine-chilling mask from Halloween (1978).
Halloween- Restaurants for Ghost Hunters

With Halloween just around the corner, OpenTable, the world's leading restaurant booking service, has created an insider guide to restaurants for ghost hunters across the nation. Whether a welcome antidote to a nearby ghostly spot, or a pub crawling with its own ghost stories, these restaurants will guarantee an incredible dining experience on the spookiest night of the year.
The Mermaid Inn Restaurant, Rye
www.opentable.co.uk/the-mermaid-inn
The grade II listed Mermaid Inn, which dates back to 1420, lies within the ancient town of Rye. Between 1720 and 1740 the Mermaid Inn was used by local smugglers, known as the Hawkhurst Gang, whose presence can reportedly still be felt within the inn's four walls. Well-known as a spooky must-visit spot following an appearance on Most Haunted, the Inn's history and rich tradition of ghostly happenings make it the perfect dining location for thrill seekers this Halloween.
Skirrid Mountain Inn Abergavveny: Restaurant 1861, Abergavveny
https://www.opentable.co.uk/1861-restaurant
The Skirrid Mountain Inn is a public house dating back over 900 years. Rumour has it that the inn dates all the way back to the Norman Conquest in the 11th century, and it is said that the spirits of those who were hung from the old oak beam still haunt the pub to this very day. A haunting experience at the Skirrid Mountain Inn is sure to leave even the bravest souls needing nourishment. Intrepid foodies can head down to nearby Restaurant 1861 for a cosy, welcoming dining experience that is far removed from the haunted happenings of the nearby inn.
Epping Forest: Haywards Restaurant, Loughton, Essex
www.opentable.co.uk/haywards-restaurant
Epping Forest's paranormal legacy lies in its reported ghostly sightings, unexplained sounds and the bizarre happenings on Hangman's Hill. Cars parked nearby have been known to defy the rules of gravity and suddenly roll up the hill. Local legend has it that this paranormal phenomenon is the spirit of a hangman who was known for dragging an unfortunate criminal to his execution. The ghost of legendary highwayman Dick Turpin is even said to haunt the forest. Visitors shouldn't be too disappointed if the forest proves too spooky to stay in for long. Instead they can make the short journey to Haywards Restaurant, located on the outskirts of Epping Forest, for a tranquil, traditional British dining experience.
30 East Drive: The Calverley Grill at Oulton Hall, Woodlesford
www.opentable.com/calverley-grill-at-oulton-hall
Yorkshire ghost hunters will surely have heard of 30 East Drive, Pontefract, described by many as the most haunted house in Britain, and home to one of the UK's most violent poltergeists – the Black Monk of Pontefract. The 2012 film When The Lights Go Out is based on the story of the Pritchards; the last inhabitants on 30 East Drive, who's time in the house was marked by ghostly happenings and terrifying sights. Considering previous visitors have lasted less than five minutes before fleeing the house, it's a good thing that there are alternatives for an evening out nearby. The Calverley Grill at Oulton Hall is a great alternative for a serene and intimate dining experience in the Oulton Hall's magnificent mansion surroundings, just a short drive away from the sinister spirits of 30 East Drive.
Highgate Cemetery, Highgate: The Bull and Last, Highgate
https://www.opentable.co.uk/the-bull-and-last
Highgate Cemetery is, by day, one of the loveliest nature reserves in London. Once the sun sets, however, the cemetery transforms into an otherworldly space, plagued by stories of ghostly apparitions, unexplained figures and even rumours of a vampire. The cemetery is not only known as the most haunted historic graveyard in the country, but rumour says it is also home to a coven of witches who have been gathering in the cemetery for years. Londoners who dare to visit on All Hallows Eve will be relieved to escape the unnerving atmosphere of the cemetery and take a short walk to The Bull and Last for outstanding seasonal food with a traditional British pub ambience.
This Halloween Uncover the Grim Tales of London's Past
They say you're never more than three feet away from a rat in London. But how far are you right now from an old opium den, a baby farmer's house or an execution site?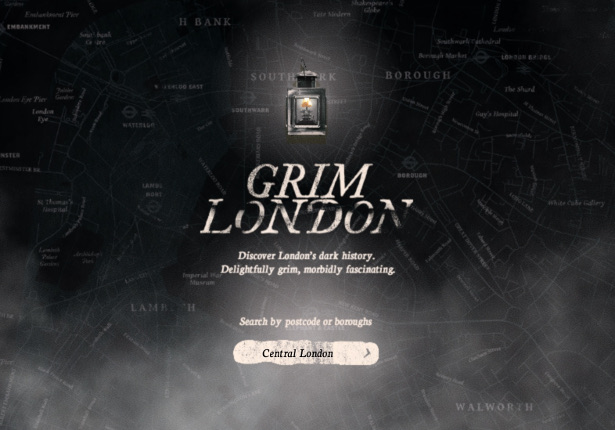 London is full of grim history and strange oddities… and its grisly past is closer than you think. Could your office be built on top of a plague pit? Is your neighbourhood a hot spot for hauntings? Was your local pub the scene of a brutal murder? Enter your postcode or borough into the Grim London website to discover the dark past and terrifying tales of London's streets.
Designed by creative agency Impero, Grim London brings you heaps of horrible tales to keep you entertained and spooked over Halloween. Every X on the map marks the spot of a creepy event from London's past, allowing users to delve into the gruesome history of their local area and learn about the harrowing events that once to took place across this sinister City.
Discover the plaguing secrets underneath Aldgate Station, the floral ghost that shadows the former home of Nell Gwynne, the unsolved murder of Emily Armstrong beaten to death in 1949, or take a trip to the Vauxhall pleasure gardens…
From hauntings and oddities to murders and executions, Grim London brings the bleak and terrifying history of London screaming back to life this Halloween. Screw Werewolves and Vampires, nothing is quite as terrifying as the real events that took place right on your door step only a few hundred years ago.
Visit www.grimlondon.com to uncover more…

HALLOWEEN TREATS (NO TRICKS!) FROM CO-OP www.coop.co.uk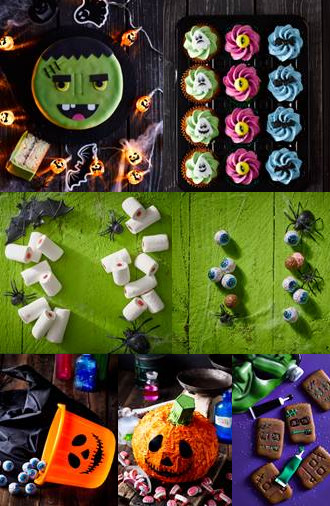 TWITTER | FACEBOOK | YOUTUBE | LINKEDIN | INSTAGRAM
Halloween is creeping up on us and this year at Co-op there's even more petrifying party favourites for entertaining big and little monsters.
Whether it's sweets for visitors that come knocking, party decorations or yummy treats for the family, Co-op has everything you need for a hauntingly successful Halloween.
Party Essentials:
Co-op Pumpkin Piñata, £6.00
Fill with tasty treats or tricks for the little monsters.
Co-op Frankenstein Cake, £6.00
Vanilla flavoured sponge filled with a layer of gooey raspberry jam and buttercream, covered in gruesome green icing and topped with edible decorations.
Co-op Irresistible Grecula 75cl, £6.99
From Benevento – a region steeped in witchcraft and magic, this award-winning Italian white is much more than just a label with honeyed-rich notes of lemon and tone fruits.
Co-op Zombie Head Jug,
Serve up terrifying tipples in this novelty jug. Perfect for parties it's guaranteed to be the finishing touch to your authentic decorations.
For 'Trick or Treaters':
Co-op Halloween Cupcake Platter 12s, £6.00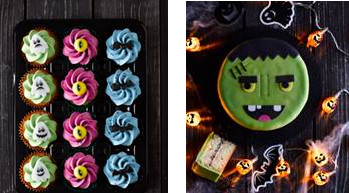 12 spooky assortment of sponge cupcakes. Choose from chocolate sponge with blue frosting and vanilla sponges with either green or pink icing and ghoulish ghosts and icky eyeball toppings.
Co-op Mallow Bones, £1.00
These marshmallows 'bones' have a gooey red 'marrow' centre. Perfect for trick or treaters, if you don't eat them first.
Co-op Gooey Candy Eyeballs, £1.00
Back by popular demand, creamy milk chocolate balls filled with a gooey strawberry jam centre and a sprinkling of popping candy in the centre.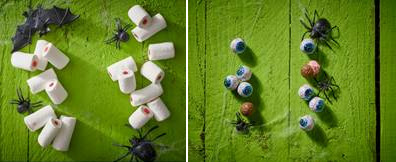 FULL HALLOWEEN RANGE LIST
Non-food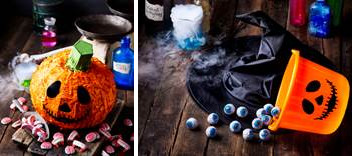 Co-op Pumpkin Piñata each £6.00
Co-op Halloween Face Paints each £2.00
Co-op Spiders in a Web each £1.00
Co-op Halloween Monster Mask each £2.00
Co-op Halloween Devil Mask each £2.00
Co-op Halloween Vampire Mask each £2.00
Co-op Pumpkin Carving Set each £2.00
Co-op Halloween String Lights each £3.00
Co-op Halloween Bucket each £1.00
Co-op Halloween Balloons 10pk £1.00
Cakes
Co-op Frankenstein Cake, £5.00
Co-op Creepy Cupcake Platter, £6.00
Co-op Creepy Cupcakes Twin Pack, £1.50
Co-op Freaky Mini Fairy Cakes x 12, £2.00
Confectionery
Co-op Frankenstein's Brains, £1.00
Co-op Dracula's Fangs, £1.00
Co-op Popping eyeballs, £1.00
Co-op Pumpkin and tombstone net, £1.00
Co-op Mallow bones, £1.00
Co-op Pumpkin in top hat lolly, £1.00
Co-op Ghost with lantern lolly, £1.00
In-store Bakery
Co-op Creepy Cats grab bag, 8 pack, £1.00
Co-op Pumpkin Spiced Brownie, 8 pack, £1.00
Co-op Gingerbread flapjack grab bag, 8 pack, £1.00
Co-op Frankenstein DIY Kit, £2.00
Co-op Scary doughnuts, 2 pack, £1.00
Co-op Spooky Stars, 8 pack, £1.00
Co-op Pumpkin DIY kit, £2.00
Co-op Gingerbread pumpkin lollipop, £TBC
Co-op Gingerbread Pumpkin heads grab bag, 8 pack, £1.00
Don't get spooked by property prices this Halloween. Find out if you could afford these haunted homes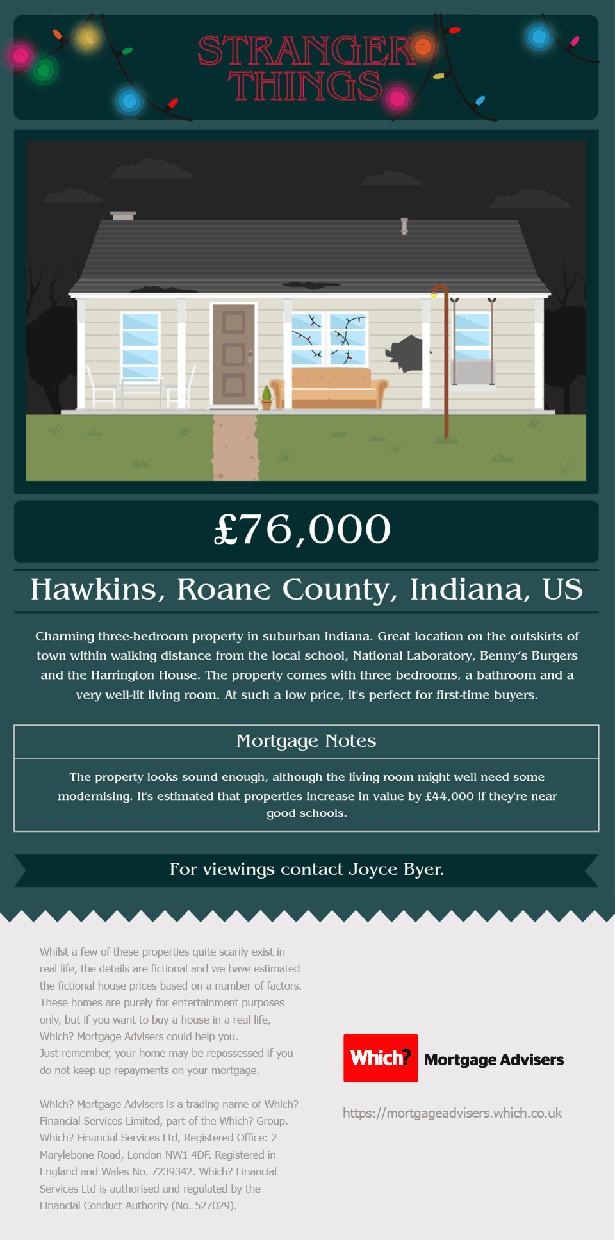 Fancy living in the farmhouse from The Walking Dead? Set your heart on the property in Stranger Things? Ever wondered what the mansion in The Woman in Black would set you back? Find out if you could afford them with new research from Which? Mortgage Advisers.
Which? Mortgage Advisers has calculated the cost of eight of the most famous fictional haunted homes, mortgage considerations, and how much you would need to afford a 10% deposit.
David Blake, Principal Mortgage Adviser, Which? Mortgage Advisers said:
"Whether you're moving home or looking to take your first step on to the property ladder, it is important not to get spooked by property transactions. It is vital to know how much you should be paying and what else you need to budget for. Seeking independent advice from a reputable mortgage adviser can also help you to get the best possible mortgage deal."
Five of the haunted homes are uncovered here. To check out the full list, visit:
1) Stranger Things, Hawkins, Roane County, Indiana, United States – £76,000
Charming three-bedroom property in suburban Indiana. Great location on the outskirts of town, within walking distance of the local school, National Laboratory, and the Harrington House. The property comes with three bedrooms, a bathroom and a very well-lit living room. At such a low price, it's perfect for first-time buyers.
Mortgage notes: The property looks sound enough, although the living room might well need some modernising. It's estimated that properties increase significantly if they're near good schools.
A 10% deposit would cost you £7,600.
2) The Walking Dead, Greene Farmhouse, Senoia, Georgia, United States – £448,000
Magnificent Georgian farmhouse located just outside of Senoia. Unlike many of the other properties nearby, the farm has its own generator and five wells providing fresh water. It also boasts spectacular views of the creek and woodland. Unfortunately, the barn is temporarily occupied until further notice.
Mortgage notes: Properties with outbuildings, such as barns, can be tricky to mortgage. The lender would want to understand whether the property is to be run as a working farm or has any agricultural ties. Buying with vacant possession would be a must.
A 10% deposit would cost you £44,800.
3) IT, 29 Neibolt Street, Derry, Maine, United States – £288,000
Spacious 5,000 sq. ft. property in a quiet location, perfect for a family looking for a fixer-upper. With its unusual architecture, authentic wooden cladding and impressive spiral staircase, this house has huge potential. You will soon find out there is more to the house than meets the eye.
Mortgage notes: As this property is not habitable, any potential buyer looking for a mortgage will need to look at specialist refurbishment finance in order to return the property to its former glory. Once it is habitable, you could look to sell or potentially remortgage back into the mainstream market.
A 10% deposit would cost you £28,800.
4) The Woman in Black, Eel Marsh House, Crythin Gifford, Northumbria, UK – £1,440,000
Spectacular gothic-style estate located just outside Crythin Gifford. The property comes with many intriguing features including its high ceilings, intricate stained-glass windows, impressive chandeliers and a large angular staircase.
Due to its complicated history, the legal documents are still being finalised, which could delay the buying process. Viewings can be booked through Keckwick and should be made before high tide.
A 10% deposit would cost you £144,000.
5) Beetlejuice, Winter River, Connecticut – £589,000
Due to recent renovations, this property has become quite desirable since entering the market. Updates include the addition of an avant-garde porch, a newly fitted kitchen with stainless-steel appliances and striped bands at the base of the house. Due to legal issues, the previous owners are still quite involved in the property and tend to appear unannounced. This is currently under review.
A 10% deposit would cost you £58,900
Mortgage notes: Buying a property from someone who is going to continue living there can be difficult, as lenders will be concerned about their ability to repossess the property if they have to. As such this unique property may require a more bespoke lender.
Disclaimer: Whilst a few of these properties quite scarily exist in real life, the details are fictional and we have estimated the fictional house prices based on a number of factors. These homes are purely for entertainment purposes only, but you want to buy a house in real life, Which? Mortgage Advisers could help you. Just remember, your home may be repossessed if you do not keep up repayments on your mortgage.
Halloween Health HAZARDS!
Research last year showed that kids can consume a whopping 3,000 calories over Halloween. Did you know that letting your kids graze on trick-or-treat goodies is creating a dangerous acid bath in their mouths?! And those freaky Halloween contacts all over the high street could give you a scary case of conjunctivitis – or even worse – blindness!!
It's true, Halloween really does have a scary side to it…our experts can provide tips and guidance for staying safe and healthy this Halloween (while still indulging a little and donning your fancy dress – come on, we're not total party-poopers!)
· Eddie Coyle, Clinical Director of Oasis Dental Care – Eddie can talk about what happens to your teeth when so much sugar is consumed. Often parents assume restricting Halloween goodies to 'little and often' is a good idea, but when it comes to teeth it's the worst thing they can do!! The acid levels in your mouth rise sharply every time you have some sweet, and then take an entire hour to return to normal. Therefore, it's best to consume in one sitting, rather than grazing throughout the day or weekend…
· Diabetes UK – commentary on the rise of Type 2 diabetes and the message Halloween candy consumption can send to families
· Dr Nigel Best, Clinical Spokesperson at Specsavers – thousands of kids buy novelty contact lenses off the internet or on the high street without realising the dangers these can pose.
Paranormal activities: One in five blame strange noises, TVs switching on, doors creaking and leaking taps in their homes on the supernatural

More than half of homeowners (53%) say they have seen or felt a ghost in their home, HomeServe Hallowe'en study finds
1.5% who have experienced a household problem admit they have brought in an exorcist to rid themselves of unearthly spirits
One in three simply left the problem as they didn't want to disturb potential ghosts, and one in eight say they turned to a "ghostbusting" home assistance engineer
Almost one in five homeowners in the UK blame a range of household problems – from creepy creaking doors, cold patches and dripping taps to electrical equipment switching on by itself and unexplained noises – on the paranormal.
A spooky study of more than 2,000 UK homeowners, commissioned by leading home assistance provider HomeServe, revealed that 18% per cent of people blame a range of household and DIY problems on the supernatural or unexplained.
And a further 25% said they weren't sure if the household problem was caused by ghostly goings on or not….but thought it was spooky anyway.
Although 12% turned to a home assistance partner like HomeServe to become their own personal "ghostbusters", more than one in three (35%) have simply left the dreaded DIY disaster alone….whilst another 1.5% admit turning to an exorcist.
The ghastly goings on caused 9% to want to leave their homes until the problem was fixed, 18% admitted that they and their pets became very nervous and a further 4% simply couldn't sleep.
The frightening findings come as more than half of homeowners – some 53% – admit to having seen or felt ghosts in their homes.
"The results of this study are certainly hair-raising" said HomeServe Membership CEO Greg Reed. "It's fascinating that so many people blame simple household problems on the supernatural or unexplained. So often we find that's not the case and it's usually much easier to fix.
"We know that many common household problems – broken boilers, blocked drains, cold patches in our homes – can be a personal nightmare when they strike. But our ghostbusting engineers usually have the answers and can keep people's lives moving after a quick visit."
Only recently, a HomeServe Customer called Nazreen Feroze from Derby (pictured) experienced a frightful flickering of her electrics on the upper floors of her home.
Despite fearing the house was haunted, Mrs Feroze called her HomeServe engineer who solved the problem within minutes.
"The house was pitch black and the flashing and flickering of our lights on the landing gave me the heebie-jeebies," added Mrs Feroze. "But thankfully the HomeServe engineer busted my electrical ghosts and advised me to switch to energy-saving LEDs. Now my home is comfy rather than spooky."
The main household problems UK homeowners put down to the supernatural or unexplained in the 2017 HomeServe Hallowe'en study were:
1. 18% – Mysterious sounds/noises in the house (strange creaking/groaning)
2. 14% – TV/radio/electronic devices switching on by themselves
3. 12% – Doors creaking/opening on their own
4. 9% – Cold spots
5. 5% – Noises on the roof
6. 4% – Wind howling in and around the home
7. 4% – Noisy boiler/banging noises
8. 4% – Dripping/leaking taps
9. 4% – Creaking water pipes
10. 4% – Heating switching off/cold radiators
11. 3% – Scratching sounds (i.e. animals)
12. 2% – Strange flooding/drainage problems (i.e. toilet flushing by itself)
Bonfire burglaries
Keep the home and pets' safe with the Somfy One this Fireworks Night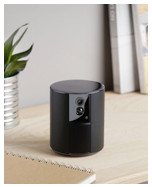 30th October 2017 – With most burglaries taking place when the house is empty, it's unsurprising that Bonfire Night is one of the worst days for theft and damage to properties in the UK. With opportunists using the cover of night and the loud bangs of fireworks to go unnoticed, here's just a few ways in which the features of Somfy's smart security system can help keep the home safe whilst families enjoy the fun…
Best-in-class camera – Providing peace of mind, the Somfy One boasts a wide-angle, full-HD camera that allows homeowners to view footage of their property both day and night. Designed with an 8x zoom that streams live footage to any phone or tablet, users can remotely monitor the home and garage whilst at a fireworks display. What's more, all footage is stored in the Somfy cloud free of charge for up to 24 hours ensuring it can be easily reviewed.
Two-way microphone – A built-in speaker and microphone ensures that home owners can hear and speak clearly through the Somfy One. Ideal for communicating with pets that get nervous from the crashes of fireworks, animal lovers can use this feature to remotely calm the 45 percent of dogs in the UK that show signs of fear when they hear fireworks. *
Immediate downloads – Four in ten homeowners admit to regularly leaving their windows and doors unlocked**. With the excitement of hosting a fireworks garden party and friends coming and going, it's important to remember that burglars will take advantage of any easy points of entry into the home. In the event of a break-in the Somfy Protect app sends a notification that allows homeowners to download 10 seconds of video footage. Stored in the Somfy cloud in order to prevent the footage from being destroyed by an intruder, the footage can also be used as evidence to share with police and other authoritative figures.
A loud siren – Car theft rises on average by 20 percent** on 5th November. When keeping a car in a garage, deter opportunists with the Somfy One's built-in 90+dB siren that triggers automatically when intruders are detected.
Somfy One
Retailing at £229, the Somfy One is an all-in-one security solution that combines a security camera, motion sensor and alarm. The Somfy One also boasts important features including a unique privacy shutter (that automatically covers the camera's lens and microphone when users come home) and is open to a broader product ecosystem, allowing owners to upgrade their home's security level based on their needs. Pet lovers will also love 'selective detection' which allows individuals to define areas that they want to protect and ignore. Ensuring that pets can roam around the house without the risk of triggering the alarm.
Halloween Candy – Lovely Candy Company
There is nothing scary in their ingredient lists as they only offer Consciously Crafted candy – better for you options of people's favorites that are made with only a few premium ingredients.
Juicy Chews™ Fruit Chews: Individually wrapped for trick or treaters, these all-natural fruit chews are made with real fruit bits and do not contain any artificial colors
& NEW products too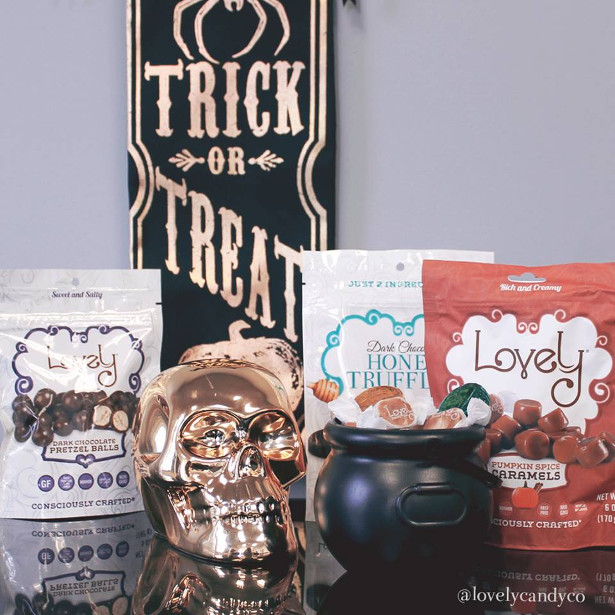 NEW! Honey Gummies are the first gummy candy that lists honey as its primary ingredient and are made without gelatin and peanut free.
NEW! Dark Chocolate Honey Patties are individually wrapped made with only three ingredients: honey, cacao and a little bit of flavor. The patties do not contain dairy, artificial ingredients or gluten. They are peanut free and are made with 99% cacao and sweetened only with honey.
Additional products in the Lovely portfolio include: Soft Caramels, Hula Chews™, Gluten Free Licorice and Gluten Free Pretzel Balls. Please let me know if you have any questions or if are interested in additional information.

Get your Hallowtee-shirt on with Absolute Cult's Creepy & Cool Collection
FACEBOOK | TWITTER | INSTAGRAM
As one of the UK's leading pop culture retail brands, Absolute Cult sell officially licensed apparel for men, women and kids themed around music, movies, comic book superheroes, TV shows and other pop culture characters worldwide.
Celebrate Halloween in style with Absolute Cult's special collection of spooky film and TV themed T-shirts, sweatshirts and hoodies.
From 'The Nightmare Before Christmas' to 'A Nightmare on Elm Street', the choice from Absolute Cult will suit the Trick or Treater in everyone.
With chilling images of Pennywise from Stephen King's IT or Jason Voorhees from Friday 13th this limited collection will add an eerie tone to your Halloween wear.
Inspired by TV, music and film with a retro feel Absolute Cult T-shirts are the staple fashion item for any pop culture fan and their huge selection of official merchandise is there to suit all ages.
Visit the collection available at www.absolutecult.com
ABSOLUTE CULT | Be Part of Something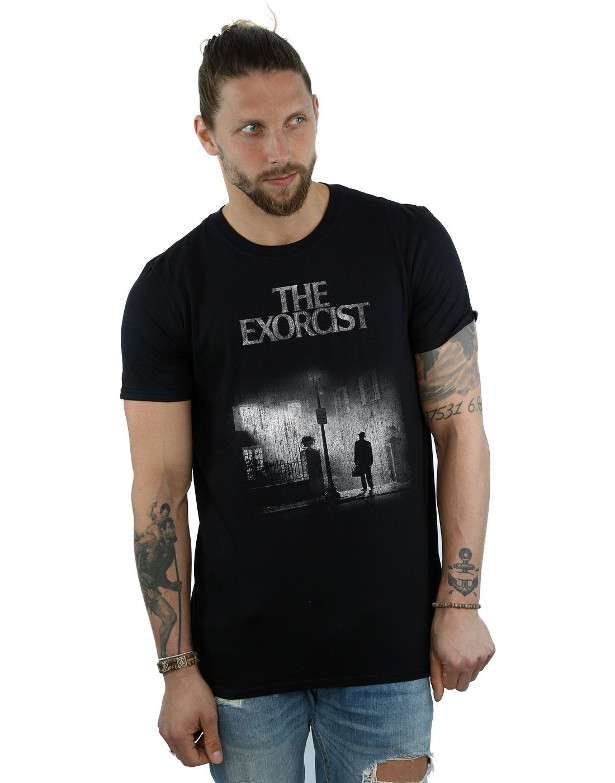 |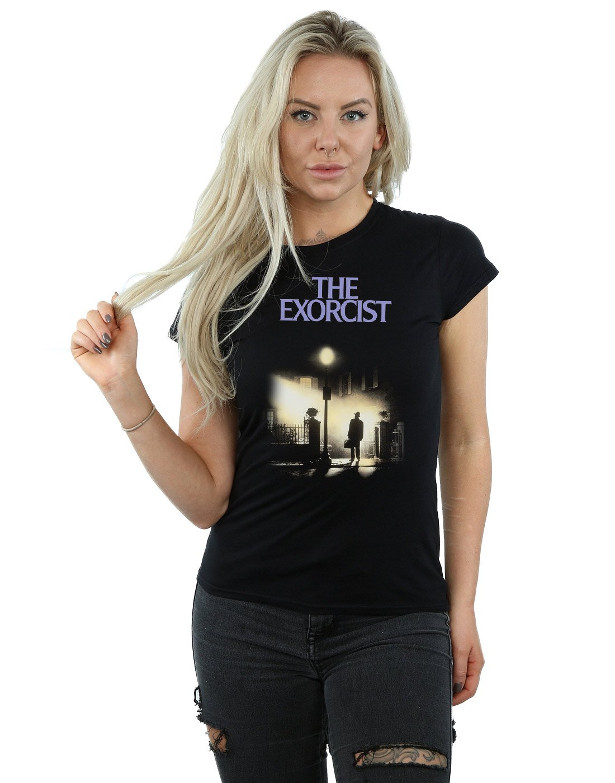 |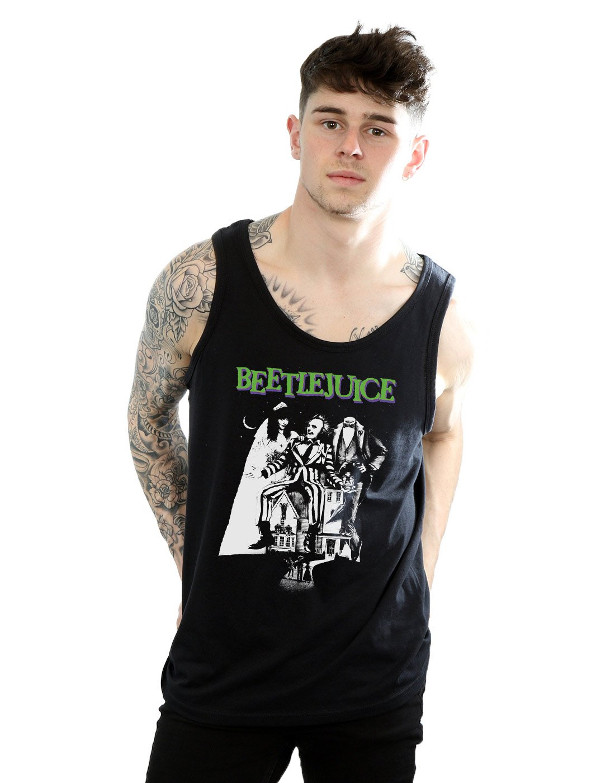 |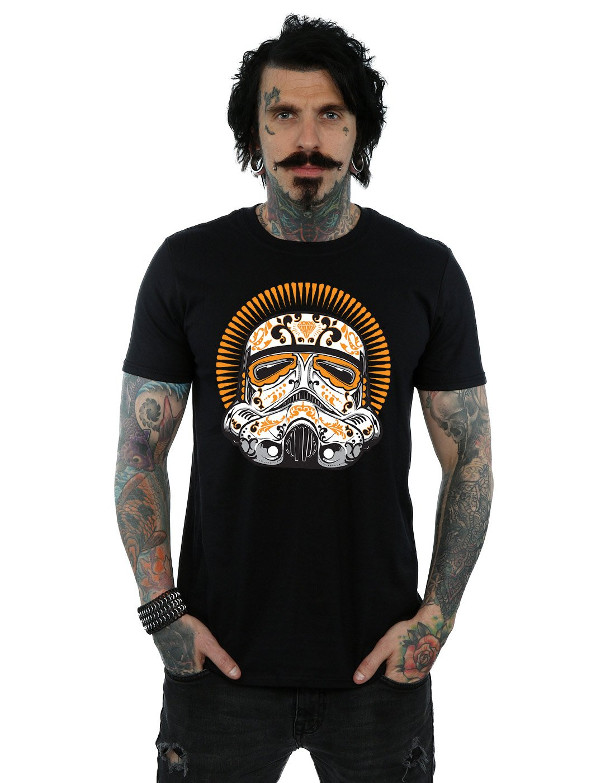 |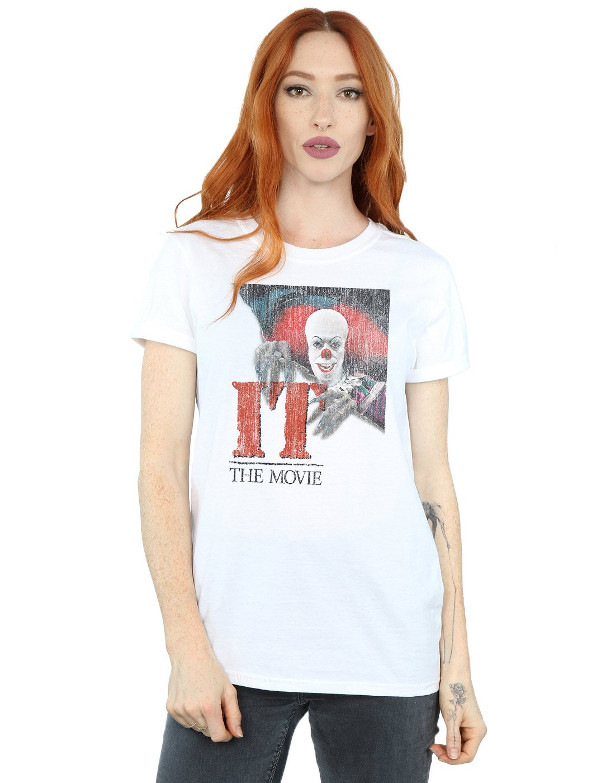 Tinto House Hotel, just outside of Biggar in the Scottish Borders will be hosting a Murder Mystery Evening on Sat 28th of October. The night will be themed in prohibition times – New York City. It is 1923 New York City and the inhabitants have not taken well to the act of prohibition. The supply of liquor has gone underground and criminals capitalise on its trade. At one particular speakeasy a select few gather for an important meeting but a deadly intention awaits them inside the Back Room.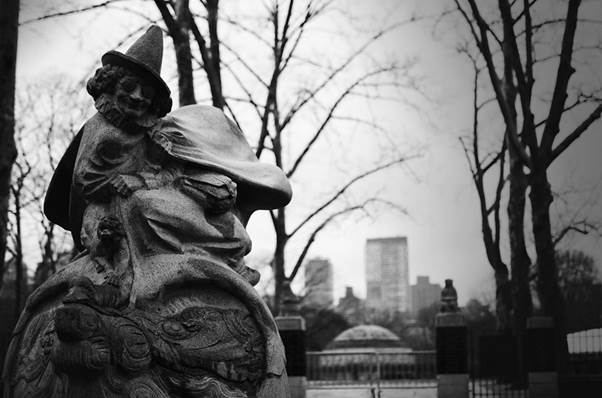 Join them for another fantastic Murder Mystery evening to test your skills of observation. Can you figure out who has done the deed? This mystery contains some bad language and is recommended for over 16's only.
Guest are invited to take their seats for dinner at 7pm, after the Murder Mystery portion of the evening a manned disco will play until 12.30am.
Ticket only £35 per person includes meal and show. There are also packages available for overnight stays: 1 night stay £59.50 per person includes dinner, bed, breakfast and show – 2 night stay £99 per person includes dinner, bed, breakfast and Saturday show – 3 nights for £135 per person includes meals & Saturday night live entertainment.
Tinto Hotel
44 Biggar Road . Symington
Nr Biggar . South Lanarkshire
ML12 6FT
http://www.tintohouse.com/
MYCOOKIEDOUGH gets spooky for Halloween
As the warm autumnal colours descend upon the world, it means that Halloween is just around the corner and delicious treats are creeping up everywhere. MyCookieDough, the innovative and delicious baked cookie dough company, has launched a limited edition of its signature warmed cookie dough treats to celebrate the festive season: My Cookie Dough's Sweet Pumpkin Pie.
Witches hats on and broom in hands, come down to Westfield Stratford to sink your fangs into a deliciously ghoulish baked caramelised cookie dough based with sweet pumpkin topped with caramel sauce. The kooky warmed treats pack the perfect sweet punch and will get you in the Halloween spirit.
My Cookie Dough's Sweet Pumpkin Pie is available for £4.50 until 5th November at MyCookieDough's store in Westfield Stratford.
MyCookieDough, the brainchild of New Product Developers, Angie and Ricki brings you cookie dough with a difference, it's all baked! Allowing you to experience the warm gooey goodness of delicious cookie dough and ice cream, just how cookie dough was intended to be enjoyed.

Trick or Treat burger (v)
Ingredients (to make this even easier, replace the chocolate cake burger with a cookie from our in store Bakery)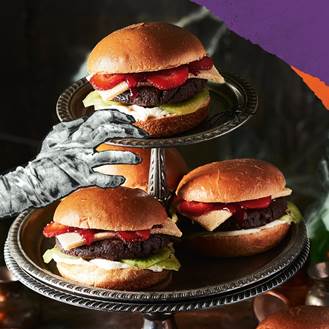 1 Co-op Madeira cake
100g Co-op mascarpone
¼ tsp vanilla extract
1 tsp golden syrup
75g Co-op milk chocolate (Fairtrade)
25g Co-op Fairtrade dark chocolate
24g golden syrup
50g Co-op unsalted butter
75g hulled strawberries
75g Co-op raspberry jam
150g Strawberries, thickly sliced
3 Kiwi fruits, sliced
4 Co-op brioche burger buns Feeds 8, ready in 1 hour 30 mins
Recipe
1. To make the cheese, cut 2 long, thin slices (about 4mm thick) from the middle of 1 Co-op Madeira cake, cut each in half then wrap
in clingfilm. Blitz 150g of the remaining cake into crumbs.
2. Mix 100g Co-op mascarpone, ¼ tsp vanilla extract and 1 tsp golden syrup to make the mayonnaise and set aside.
3. Melt 75g Co-op milk chocolate (Fairtrade) and 25g Co-op Fairtrade dark chocolate, broken up, with 24g golden syrup and 50g Co-op unsalted butter in a heatproof bowl over a pan of simmering water, making sure it doesn't touch the surface. Remove, and stir in the cake crumbs.
4. Pour the mixture onto a tray lined with greaseproof paper and shape into 4 even circular portions to make the burgers. Chill for 1 hour.
5. Mash 75g hulled strawberries with 75g Co-op raspberry jam to make a relish. Thickly slice another 150g strawberries for the tomatoes, and peel and thinly slice 3 kiwi fruits for lettuce.
6. Halve 4 Co-op brioche burger buns and spread the mayo on the bases. Top with the lettuce, burgers, cheese slices, tomatoes and relish. Slice in half and serve.
What better way to keep away the cold night air on the 5th November than sipping a luxurious Feeney's Irish Coffee: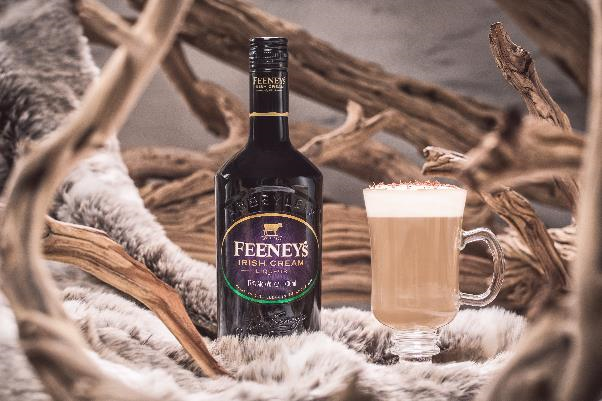 Heat gently 100ml Feeney's Irish Cream Liqueur with 1 cup of freshly brewed coffee. Pour into a toddy glass and top with 1 teaspoon of whipped cream and chocolate shavings.
1 litre bottles available from: Tesco, 31Dover.com. RRP £15.00 ABV: 17%
70cl bottles available from 31Dover.com, masterofmalt.com and Amazon. RRP: £12.50 ABV: 17%
http://www.tesco.com/groceries/product/details/?id=290315622
For over 25 years Tom Feeney produced wonderfully luxurious Irish creams by blending real dairy cream from Irish farms around County Laois with rich chocolate and Premium Irish Malt Whiskey. Today, Feeney's is made in Abbeyleix, County Laios, with the same quality and craftsmanship that Tom originally inspired. It takes 24 hours from dairy to distillery giving Feeney's a fresh creamy taste.
THREE LAUNCHES ONE OF A KIND CLUB FOR TV BINGEING BRITS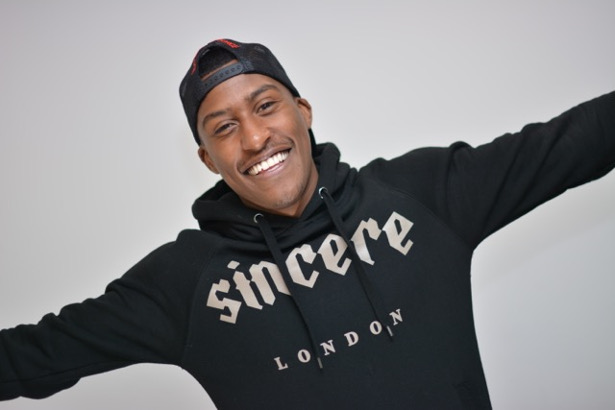 Episode One of the 'Binge Club' goes live on 31st Oct to give Brits the ultimate group chat experience on the hottest new shows, beginning with Stranger Things 2
· The 'Binge Club' is a UK first from Three that brings together fans and superfans alike to discuss the latest shows and weirdest fan theories, all hosted by their favourite influencers.
· The trailer for Episode One, which is hosted by internet sensation 'The Wall of Comedy', can be viewed here
· It is inspired by extensive research from the mobile network into the nations' bingeing habits
· It also arrives hot off the back of Netflix's recent announcement that over 8 million viewers have powered through a series, in its entirety, within 24 hours of its release in a behaviour titled Binge Racing
As a nation, our love of binge watching knows no bounds. In fact we are currently devouring our favourite shows at a faster rate than ever before. The thing is: once you've raced through an entire season in one sitting, where can you go to discuss what you've just experienced with other like-minded bingers? The answer is the 'Binge Club' from Three: a live, interactive online show for bingeing Britons to indulge in spoiler-filled conversations, discuss fan theories and continue satisfying their series fix on the final episode.
Each show will be hosted by a different fan-favourite social influencer. Like the modern-day equivalent of the classic book club, Three's Binge Club will bring together enthusiastic bingers across the UK to enable a no-holds barred conversation about hit programmes of the moment. If there's one thing binge watchers like almost as much as watching shows, it's talking about them.
The first Binge Club will centre on the Netflix original, Stranger Things 2 and be hosted by YouTube sensation Wall of Comedy, who will lead a lively discussion on the latest plot developments and craziest fan theories around the latest season. The catch, however, is that it will air on the evening of October 31st, just days after the entire series of the heavily anticipated show first premieres on Netflix. This means those tuning in to the Binge Club will all need to have already watched the new season in its entirety if they want to avoid any spoilers.
Three's Binge Club is inspired by one of the largest studies into the nation's bingeing habits to date in which it was revealed that a whopping two-thirds (67%) of us admit to having devoured an entire TV series in a single-sitting*, with one in five (21%) saying that bingeing is now the only way to watch our favourite shows. This comes as Netflix announced the discovery of 'Binge Racers', who make their way through their favourite series within 24 hours of a show's launch.
The phenomenon has even edged itself into our everyday lives, with 29% of those polled by Three saying they watch programmes to feel a part of conversation with friends and family. But these new behaviours come with a watch-out, as 26% of us say that spoilers can be a concern when it comes to discussing shows in day-to-day life, meaning the launch of Three's Binge Club (which will unite equally eager binge watchers that have watched every episode of the season in focus) arrives at just the right time.
Binge Club from Three will continue to satisfy the collective appetite of the binge-obsessed British public, following on from the launch of its unique Go Binge service – which allows customers to stream from selected services, including Netflix, without it counting towards their monthly data allowance – earlier this year.
Georgie Carter at Three said: "For decades, fans of novels have had a place where they can meet up to discuss, debate and delight in what they've just read: the book club. However, there hasn't really been an equivalent for TV shows, beyond online forums, and in this golden age of TV, where shows create more discussion and influence popular culture like never before, that really needs to change. The Binge Club is that change: providing an almost immediate outlet for binge watchers to continue debating shows long after the credits roll in a unique, interactive and hugely enjoyable environment."
The first episode of 'Binge Club' with Stranger Things 2 is due to go live on 31st October.
SKY CINEMA REVEAL SILVER SCREAM PUMPKINS FOR HALLOWEEN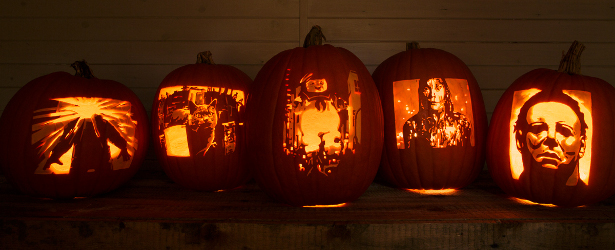 – WORLD CHAMPION PUMPKIN CARVER DAVE FINKLE RECREATES A RANGE OF ICONIC FILM SCENES IN PUMPKIN FORM
– HAUNTING 'HALLOWEEN' MASK AND THE CHILLING SNOW SCENE FROM 'THE THING' DISPLAYED IN INTRICATE DETAIL
– WATCH DAVE CARVE THE MOMENT STAY PUFT MARSHMALLOW MAN STORMS THE STREETS OF NEW YORK IN THIS BTS VIDEO: https://youtu.be/OzIywfoH6tg
– DEDICATED CHANNEL SKY CINEMA HALLOWEEN AVAILABLE UNTIL 31 OCTOBER, SHOWING SOME OF CINEMA'S GREATEST SCARY MOVIES
26th October 2017: Sky Cinema has teamed up with world record pumpkin carver* Dave Finkle to create five silver scream-ready pumpkins to celebrate its new channel, Sky Cinema Halloween. Each design is a detailed recreation of an iconic scene from some of scariest movies of all time, all showing on the dedicated Halloween channel, available on Sky channel 303 until 31 October.
The picture-perfect pumpkins took just 24 hours to carve with scenes including the chilling beam in the alien film classic, The Thing (1982), the eerie resurrection of the beloved cat in Stephen King's Pet Sematary (1989), the Stay Puft Marshmallow Man storming the streets of New York for Ghostbusters (1984), Carrie (1976) drenched in pig's blood during her 'time-to-shine' prom moment, and the spine-chilling mask from Halloween (1978).
Whether you're an avid pumpkin carver or just a film fanatic, you can watch the detail of how the famous Stay Puft Marshmallow Man was carved in this behind-the-scenes video from Dave's workshop: [https://youtu.be/OzIywfoH6tg]. Available to download here.
Dave Finkle said "It was certainly a challenge to carve some of these incredible film moments – by the time I finished, I resembled something from a horror film myself! However, it was a really fun experience that got me in the mood for Halloween. I can't wait to watch some of the classics on Sky Cinema Halloween over the next week, and I hope these pumpkins inspire people to go out and try their own carvings, too."
All five of the films featured on the pumpkins are part of an extensive line-up of Halloween movies on Sky Cinema Halloween, with other classics including the chilling Rosemary's Baby (1968) and The Silence of the Lambs (1991). The channel runs until 31 October on Sky channel 303 and is available at no extra cost to Sky Cinema subscribers, with the collection also available On Demand and via NOW TV.
Sky Cinema brings Halloween to life with film inspired pumpkins in celebration of the dedicated Halloween channel, available now until 31 October
Why not try the Blood Orange Rum Punch Recipe to get you in that spooky mood!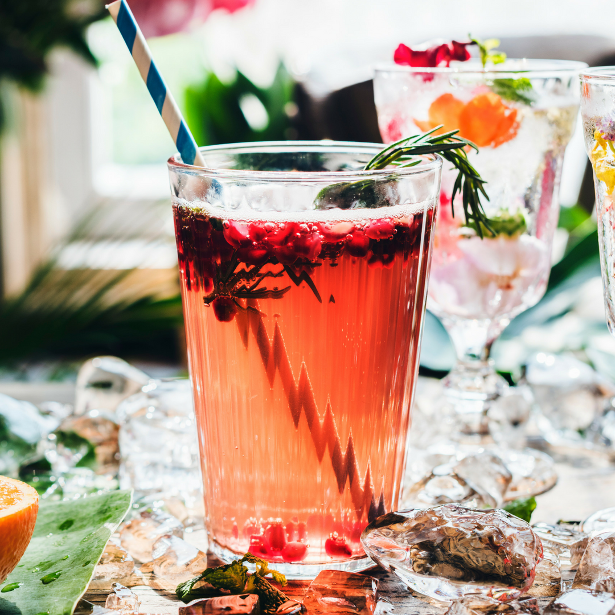 Blood Orange Rum Punch Recipe
1tbsp Frozen Cranberries
Slices of Blood Orange
40ml Rum
Dash of Angostura Bitters
50ml Orange Juice
50ml Cranberry Juice
1tsp Orange Zest
100ml SodaStream Sparkling Water
Sprig of Rosemary
Add rum to bottom of a highball, along with both the fruit juices and Angostura Bitters. Stir to mix.
Add the zest and the SodaStream sparkling water. Tip in the frozen cranberries and blood orange slices and add a sprig of rosemary to serve.
To get your own SodaStream and mix up the haunted cocktails for yourself visit www.sodastream.co.uk
TRUMP OR TREAT?
BRITISH KIDS TO DRESS AS DONALD TRUMP THIS HALLOWEEN
U.S PRESIDENT ENTERS HORROR HALL OF FAME
Trump named NO.1 'scariest celebrity face' and earns a place in top 10 Halloween outfits choices for kids alongside Voldemort and Frankenstein's monster
Halloween second only to Christmas in kids favourite annual events – knocking Easter into third place
Donald Trump named scariest looking celebrity by British parents, followed by Marilyn Manson and Kim Jong-un
Study commissioned by the classic comic and digital platform Beano.com to celebrate how big Halloween has become – www.beano.com
Donald Trump has trumped his rivals to be named the 'scariest celebrity face' in a new study, which also sees him ranked in the top 10 Halloween outfits choices for kids alongside Voldemort and Frankenstein.
The new study, by the classic comic and digital platform Beano.com, polled 2,000 British parents with kids aged 4 -14, reveals just how big Halloween has become for children across the UK as shops overflow with themed products.
Half of all British parents said (51%) their children thought Halloween was second only to Christmas in the annual events calendar – knocking chocolate-laden religious festival Easter into third place.
The top ten outfits parents would find SCARIEST to dress their kids in this Halloween as follows;
Zombie (56%)
Devil (42%)
Grim Reaper (38%)
Skeleton (37%)
Day of the Dead theme (36%)
Ghost (35%)
Frankenstein's monster (32%)
Clown (30%)
Voldemort (27%)
Donald Trump (26%)
Asked who would scare their kids the most on a cold dark night – 44% said the American president would give their child the biggest fright.
Beano reader Jonathan McCarthy aged 6, took to the streets of Central London today styled as 'Scary Donald' trundling a cartoon-style comedy bomb to test reactions to his outfit ahead of Halloween night.
Jonathan said 'My costume got quite a few laughs. Though one man said I shouldn't make jokes about American politics. Trump's a pretty scary-looking guy so I didn't need loads of horror make up. It should do pretty well when I go out trick or treating with my friends on October 31st.'
The top ten scariest looking celebrity faces are revealed as:
Donald Trump (54%)
Marilyn Manson (41%)
Kim Jong-un (40%)
Donatella Versace (37%)
Ozzy Osbourne (34%)
Vladimir Putin (33%)
Katie Hopkins (31%)
Theresa May (30%)
Nigel Farage (27%)
Boris Johnson (26%)
Over four in ten said (44%) their children thought Halloween was their favourite annual event because it offers them an opportunity to be naughty and rebellious. Over 85% of UK children are planning to dress up this Oct 31st.
Four in ten (44%) of parents said their children start planning their costumers and preparing the house for Halloween more than THREE weeks in advance, whilst 38% estimate they will be spending upwards of £50 on a Halloween party this year with one in ten spending up to £200.
Beano Boffin, Mike Stirling said: "There's no fake news here! With Trump in our Halloween Top 10 it just goes to show that when it comes to things that scare us, reality can be more frightening than fiction. Trump aside, we can expect to see mini Kim Jong-uns and perhaps even the occasional Theresa May out trick or treating on October 31."
The parents surveyed also revealed the most popular pranks kids had played on them at Halloween as:
Throwing eggs (31%)
Water balloons (18%)
Throwing flour (14%)
Shaving cream on windows of car or house (11%)
Toilet roll scattered in the garden/front yard (11%)
7 Tips For Creating A Mystical Halloween Party
By WildFlower
wildflowermysticalentertainment.com/mystical-halloween-party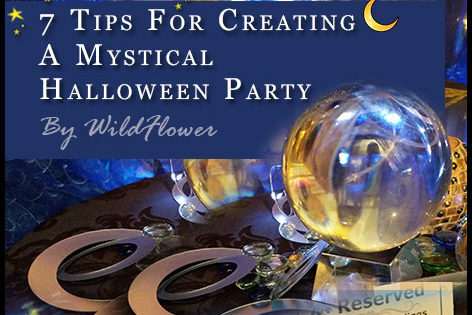 If you're feeling a little more like walking on the mystical side this year for your Halloween party, consider having a mystical themed Halloween party that will engage your guests on a whole new level by inviting them inside a mystical world of magic and mystery.
Creating a mystical event begins with creating an environment that helps the guests feel as though they have stepped out of their regular everyday lives and into a mystical reality. How do we do that? We begin by looking at how we can modify the event environment to engage as many of the guests' senses as possible. Think about a nightclub in Las Vegas and how when you walk into one of the higher-end clubs like Tao, which has a mystical Buddha Focus, they engage your senses in many ways by providing dim lighting, mystical end table settings and food from around the world which creates a different type of environment then people are typically used to.
Before we begin first you'll want to decide on a mystical theme for your event. This can range from Victorian Era Psychic Parlor to a Witch and Wizard or a Renaissance style theme or anything that has an air of mystique to it. The decorations for the theme of the event is something that your guests will see the moment they walk through the door and will help them transcend their everyday life and immediately feel as though they have stepped into another reality, a reality that I like to call the Mystical Zone. As you read through the following tips, keep in mind the era that you are looking at embodying with your theme and try to stick with types of activities and event decorations that really speak to the era that your theme takes place in. For instance, if you have a Victorian Era Psychic Parlor type party, you'll want to keep your eyes open for some old fashioned candle holders or lamps that can help you to really set the stage quickly 4 your mystical event. And PS, you can do this on the cheap by checking out your local thrift stores.
Since I began producing parties, special events and conferences at a variety of nightclubs and venues in 2002, (like Aria Las Vegas, Jackpot Junction Hotel & Casino, Muse Event Center, St. Paul Winter Carnival & more) I have learned the do's and don'ts of how to create a mystical event throughout the years, so here are 7 of my top tips to help you create a mystical party of your own that your guests will remember for a lifetime.
Ghosts busted: Beyond the Fear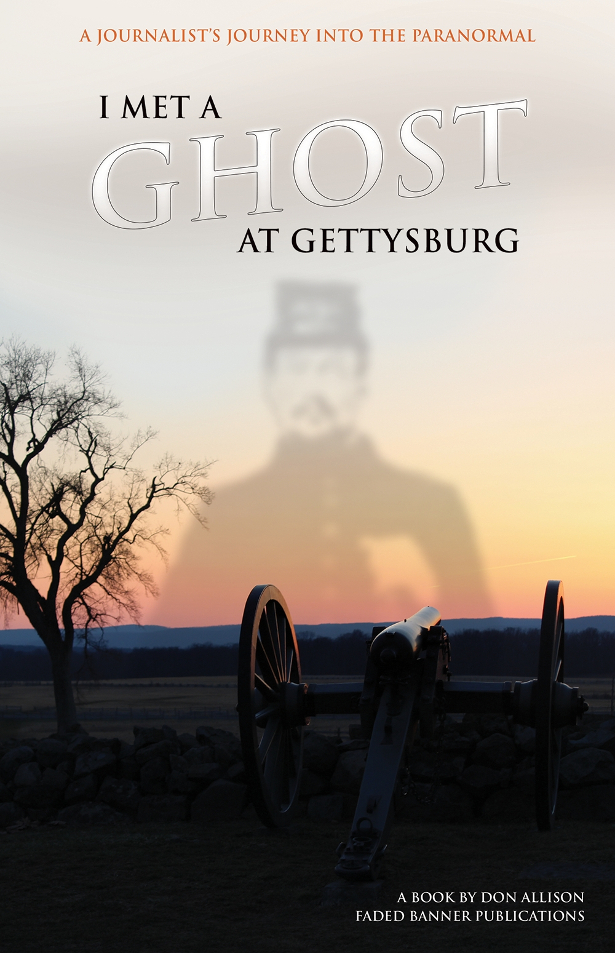 Veteran award-winning daily newspaper editor Don Allison, prompted by personal experience, has tackled an improbable topic. His latest book is "I Met a Ghost at Gettysburg: A Journalist's Journey into the Paranormal." This book takes a hard look at an often trivialized topic.
Allison concludes that testimony and evidence from throughout recorded history proves beyond a reasonable doubt that ghosts, or energy giving us the impression of ghosts, do indeed exist. People of impeccable reputations, with no reason to lie, have sworn to paranormal encounters.
For whatever reason – perhaps fear, perhaps superstition – many people refuse to even consider the possibility of spirits and belittle those who do share their experiences. "I Met a Ghost" goes beyond the fear and the superstition, challenging us to look at the science behind it all.
Allison used to be among those devout skeptics, even going so far as to doubt his own grandmother's claims of experiences in a haunted house. But after encountering the unexplained many times, he reluctantly concluded he indeed has experienced the paranormal. Eventually, after what he described as a mind-blowing paranormal encounter at Gettysburg, Pa., he could contain his curiosity no longer. He decided to write about his experiences, and to go a step further – to share the science behind what he has encountered.
The result is the latest volume from Faded Banner Publications, "I Met a Ghost at Gettysburg: A Journalist's Journey into the Paranormal."
This is not a collection of ghost stories. Any incidents Allison relates are actual personal experiences, viewed through a skeptical eye and analyzed as actual evidence. He would like to convince people to embrace and investigate – certainly not fear – the paranormal.
In his review of the book, noted paranormal investigator and author Mark Nesbitt wrote: "Great read. Very entertaining … I think you've created an 'Everyman's' explanation of paranormal experiences. Most people ignore or rationalize away true paranormal events. Your book covers the many types of paranormal events AS paranormal events, and explains how you came (reluctantly, in some cases) to those conclusions."
Allison said fear of people's reactions to a book on this topic made him think long and hard before tackling this project. "Once I decided to proceed with this book," he explains, "I realized I could hold nothing back. I am treating the paranormal as I would any other topic. I am sharing my own experiences and what I have learned from research. I am passing on what other people have told me about the subject and in some cases their own perceptions of what I have experienced."
-30-
Contact Don Allison at 419-636-2719 or don@fadedbanner.com
"I Met a Ghost at Gettysburg: A Journalist's Journey Into the Paranormal"
ISBN 978-0-9659201-5-5; 128 pages; Illustrated; Available at www.amazon.com
NATALIE SARABELLA
www.nataliesarabella.com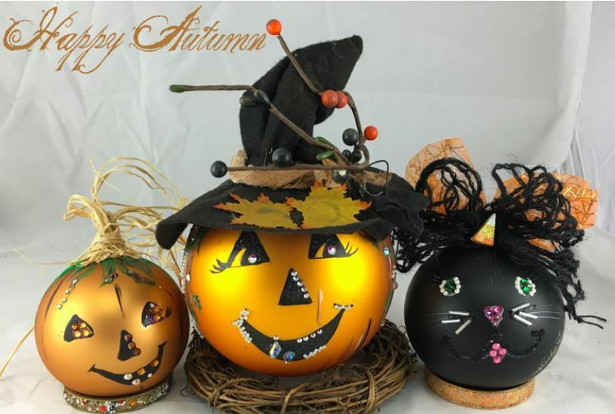 Sarabella Creations started in 1994 and has become Natalie Sarabella, LLC. World renowned for excellence and quality. For 20 years Sarabella's been sold in the finest department stores, major hotels and boutiques around the world. Custom creations, private commission, worked within the Movie, TV, Music and Sport industries as exclusive corporate gift ornaments (The Grinch, Disney's Fantasia, the 3 former Presidents of the United States).
Sanctioned by The Swarovski Brand, the ornaments now have the official Swarovski tag with Sarabella's own sanction number. Continually developing and creating new and innovative designs and products for the wholesale and retail gift industry.
ABOUT
Natalie Sarabella
The Rock Star of Christmas Ornaments
Innovative, creative, unsurpassed quality is what the Sarabella Brand stands for.
Notable clients include President Bill and Hillary Clinton, Mr. and Mrs. Jerry Jones, owners of the Dallas Cowboys, and Maestro Luciano Pavarotti.
Proudly made in the USA. https://youtu.be/Mgp9HH-PnBk
Battersea's Ali Taylor offers her top tips to help keep your dogs and cats safe and calm on Bonfire Night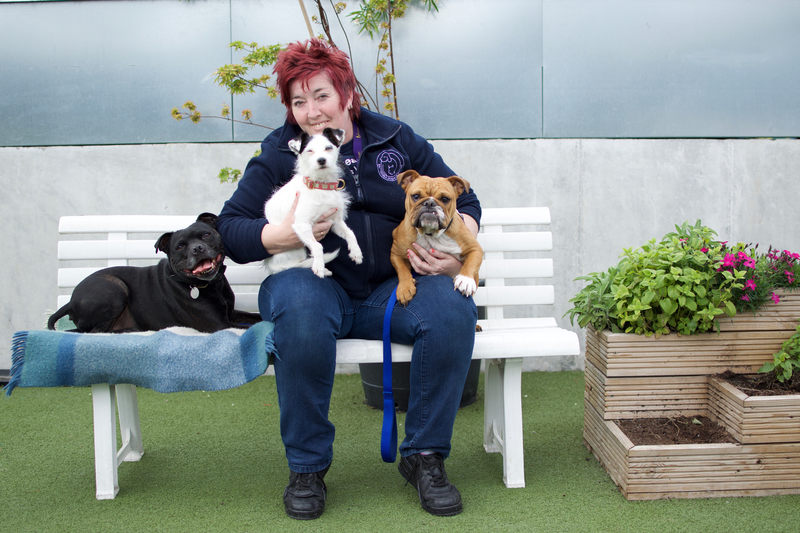 With Bonfire Night just around the corner, Battersea Dogs & Cats Home is offering some helpful advice for all animal owners out there who want to keep their dogs and cats as safe and secure as possible during what can be an unnerving time of year for animals. Ali Taylor, Head of Canine Behaviour at Battersea and star of ITV's Paul O'Grady: For the Love of Dogs has collated some of her top tips below, along with a short, fun video to accompany the advice, co-starring one of Ali's very own dogs, Squirt.
Halloween Event: Terror in the Trees now until October
Best Western Beamish Hall presents Terror In The Trees… A 3-week extravaganza of pure evil.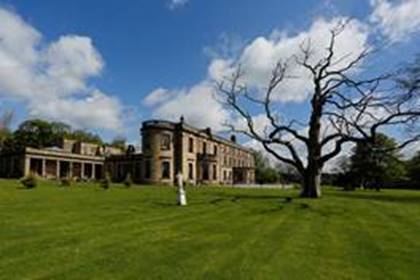 Based in County Durham, Beamish Hall has the look of a stately home so it's the ideal setting for an outdoor event like this, which we believe to be pretty unique in the UK hotel scene…
Enter on a truly terrifying journey through the woods, gripping tightly to your loved ones for dear life. Witness unyielding horror and breath-taking dread as Beamish Hall introduce an underworld of terrifying adventure the likes you've never seen before. A head torch will be provided to guests on entry.
Here's a little video teaser they have prepared: https://www.facebook.com/beamish.hall/videos/799895373512292/
Tickets are £21 per person. Tickets can be booked online here.
For an overnight stay prices start from £75 based on a stay for two in a standard double room on 19th October 2017 and can be booked here: https://www.bestwestern.co.uk/hotels/best-western-beamish-hall-hotel-83931
Fear Factor: Brits still terrified most by The Exorcist…44 years after first screening
The 360-degree head spinning possession in The Exorcist revealed as the scariest screen moment by Brits
With Stephen King's IT recently smashing records and being named the most successful horror film in the past 44 years*, it may come as a shock to find that, despite the popularity of the new film, horror lovers are still terrified by the classic movies.
New research from ScS, the sofa and carpet specialist, reveals the top ten scariest moments from film and television, with only two of the scariest moments taking place in the past ten years.
The study asked film and TV buffs to choose which horror moments had them hiding behind their sofas. Psycho, Nightmare on Elm Street and UK favourite Dr. Who all made the top ten when it comes to spooking the nation.
The top ten scariest film and TV moments rated by Brits are:
1. The Exorcist (1973) – When possessed child Regan's head spins 360-degrees – 20%
2. Psycho (1962) – the dramatic murder of Marion Crane as she takes a shower – 16%
3. A Nightmare on Elm Street (1984) – The scene when Freddy murders Tina in her dream – 12%
4. The Silence of the Lambs (1991) – Hannibal Lector`s first encounter with Clarice Starling – 11%
5. Dr Who (2007) – 'Blink' an episode about killer statues that move when you're not looking at them – 7%
6. IT (2017) – The scene in which Georgie Denbrough meets the terrifying Pennywise the first and last time – 6%
7. Dr Who (1963) – The Daleks first appearance – 6%
8. Twin Peaks (1990) – Maddy's vision of the demon BOB stalking her – 5%
9. The X Files (1996) – 'Home' an episode in which a deformed baby's body is found buried in a baseball field – 5%
10. The Sixth Sense (1999) – The line "I see dead people" – 5%
And it doesn't stop there. Other terrifying moments that have the nation hiding behind their sofas are the 2008 horror movie, The Strangers, when the masked intruders scare homeowners by stalking them outside their home; the chest popping scene in Alien (1979); and Jaws (1975) when the shark attacks Richard Dreyfus and his team.
Cardiff is home to the UK's biggest scaredy cats with one in three people admitting to being terrified by The Exorcist, while one in five of Manchester residents may be scared to have a shower after viewing the iconic Psycho shower scene.
Vicki Burns, Communications Executive at ScS, said: "Horror seems to be going through a renaissance period, with the new IT film, a new series of Stranger Things and American Horror Story hitting our screens, it seems we can't get enough of being scared.
"Overall, our study shows that we all still love to be spooked by those classic horror moments and that all generations are enjoying an evening in on the sofa with a timeless classic. With autumn officially in full swing, and winter on the horizon, it's the perfect time to curl up in front of the box for a fright night with a favourite horror. You can always hide behind the sofa if it gets too much!"
How Halloween can turn into a legal 'fright night'
Halloween is generally a 'spooktacular' time for all but a few bad apples can spoil the fun. So what can you do if someone chooses to play a trick and damages your property? And can you intervene to stop property damage? Are you responsible if a child is allergic to the sweets you gave them?
Simon Roberts of DAS Law has the answers to these questions and others to avoid making this Halloween a truly blood-curdling event.
If a child damages your property with a 'trick', can you recover repair costs from the parents?
Damage to property is potentially a criminal offence as well as a civil matter. Halloween is a busy time for the police and they may receive a high volume of calls, so before contacting them consider whether the matter can be resolved amicably. However, if you are harassed and concerned about your safety then you should contact the police.
Generally speaking, parents are responsible for supervising their children but are not liable for the acts of their children and cannot be directly responsible for damage they may cause to your property. So you would ordinarily have to take civil action against the child as there is no minimum age at which a child can be held to be negligent – this would entirely depend on the circumstances and their understanding. But this may not be a realistic way forward as a child is unlikely to have assets to pursue for damages, so it would be preferable to hold the parents responsible if possible.
Parents are responsible for ensuring their children are supervised in certain circumstances, although this will vary depending their age i.e. older children are less likely to require supervision as they will have a greater responsibility for their own actions. Therefore, the other option is to consider would be whether it may be possible to sue the parents in negligence for failing to supervise or, if they did supervise at the time, for failing to control their children. This, of course, would be dependent on proving the elements of negligence.
How far are you allowed to go to stop a child from playing 'tricks' on you and your property?
A landowner is entitled to the peaceful enjoyment of their land and to protection from any unlawful interference with their use or enjoyment of it. If you are in fear for your safety and/or harassed, then you should contact the police as these are criminal matters. From a civil point of view, it could be argued that a regular stream of people invading your property whilst 'trick or treating' would amount to a legal nuisance.
Normally, you could look at legal action and remedies such as damages and an injunction. If nuisance is proved, a key question would be who could an injunction be taken out against? Due to the transient nature of the nuisance, it would be difficult to bring a claim against a one-time offender as would be the case with Halloween. However, if someone persistently posed a nuisance, then it would be more likely to succeed in a claim against them for trespass or nuisance.
I would advise against any physical interactions and, as above, if the situation escalates you should report the matter to the police.
What can you threaten or can you physically intervene if an act of vandalism is taking place on your property by a minor?
Any damage to property is potentially a criminal offence and you could threaten to report the perpetrator to the police. Further, you could also seek to take a civil claim for damages to compensate you and put you back in the position you were before the damage.
I would advise against any physical interactions as the situation could escalate. If you assault a child, this could be reported to the police and it may be difficult to justify whether this response was reasonable in the circumstances and you could risk criminal sanctions.
If you give a child sweets for Halloween and they choke or have an allergic reaction, are you responsible?
This would of course depend on the circumstances. Assuming the sweets have not been interfered with, a claimant would have to prove you have been negligent in order to hold you responsible for any injuries. To establish negligence the court will look at whether the defendant owed the claimant a duty of care, there has been a breach of that duty and this has caused the claimant loss. The loss must also be foreseeable.
In practical terms it may be difficult to establish negligence if you simply gave a child a sweet and they choked as this could be down to any number of reasons, for example, the child's own behaviour contributing to the incident. The child would be assuming a certain level of risk and therefore, if any claims were brought, you would look to argue either a voluntary assumption of risk and/or contributory negligence as a defence. However, the circumstances may be different if you gave a baby or toddler sweets as they may be less likely to detect certain dangers so extra care should be taken.
GET INTO THE HALLOWEEN SPIRIT THIS YEAR WITH COMMAND PRODUCTS FROM 3M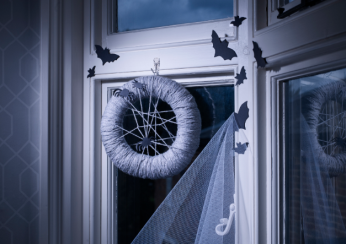 Halloween seems to get bigger and bolder every year, so we think if you can't beat them, join them; but why not add a bit of extra style with Command Products from 3M? Want to be the talk of the town and create the very best instagrammable content? Stick with us.
This year, the Command Brand from 3M has teamed up with some of its favourite interiors bloggers and style hackers, TigerLilly Quinn, Little Big Bell and Sarah Akwisombe, to create a range of simple, fun and super spooky spaces.
With our range of ingenious adhesive strips and hooks that allow home lovers to hang decorations and much more without the hassle of nails, screws and tacks, throughout the home – everyone can get involved in creating boo-tiful decorations! And best of all? Once the scary season has passed, Command Products from 3M stretch cleanly away, leaving no frightful marks or surface damage.
SPOOKY SPIDER'S WEB
Nothing says Halloween quite like spiders and bats! Command and TigerLilly Quinn have just the look for you!
We've created the ultimate Halloween wreath by wrapping grey wool around cardboard circles. It really is that simple. Keep wrapping until your wreath reaches the desired thickness, then create the web by pulling the wool tight across the open hole until you are happy with the finished look!
Then using a Command Clear Small Wire Hook hang the wreath in place. We chose to hang ours in the window to scare the neighbours as well as our guests!
Halloween's a 'Scream' with Soreen's delicious snack range

Soreen, the beloved British malt loaf baker, is bringing back its limited edition Halloween 'Scream' range due to popular demand.
The Halloween 'Scream' range will be available in two delicious flavours; Chocolate and Blood Orange, made using natural blood orange and milk chocolate chips, alongside the Toffee Apple with apple puree and gooey toffee pieces.
Available in five individually wrapped Lunchbox loaves, with spooky Halloween-themed packaging, these wickedly sweet treats have a RRP of £1. They will be listed in Tesco and Morrison's from the 18th September to 31st October, perfect for trick and treaters or to add character to an afternoon snack.
JML offer a range of great homes, garden, beauty and pet gadgets and have just released their Star Shower Slide Show- a moving fully coloured projector which will allow you to celebrate the day of the dead with a decorated home.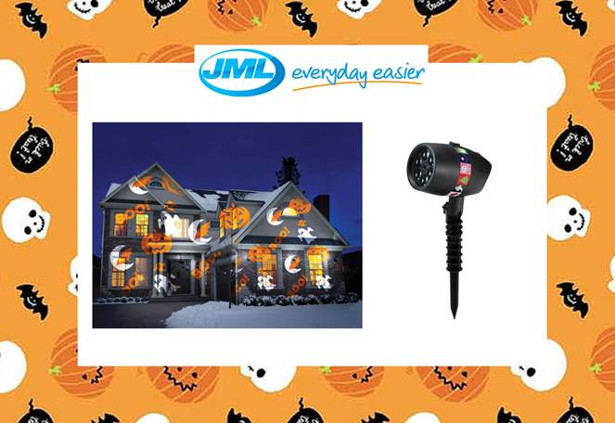 Star Shower Slideshow is the brightest, most colourful way to illuminate your home, inside or out, for the holidays or any special occasion. With specially-designed outdoor-friendly sliding technology, Star Shower Slideshow projects images of vampire bats, pumpkins, ghosts, snowmen, presents, baubles, Christmas trees and all kinds of great festive illustrations, swirling and overlapping on the walls of your home.
With a choice of twelve slides on various holiday themes, you'll never run out of images for all your celebrations and festive occasions. Use outside in all weathers or, thanks to the indoor base, use it indoors for great parties and holiday get-togethers.
Fully coloured-in images in three different speeds.
Because Star Shower Slideshow is a projection and not a laser-drawn image, the bright, crisp LED-lit images are fully coloured-in and not single-colour outlines, so you really get the fully-illustrated feel of Christmas, Halloween and birthdays. Plus, you can adjust your slideshow to one of three speed settings – choose from 'slow', 'fast' and 'freeze' to suit the mood of your celebration.
Easy to install, even easier to use.
Unlike the hassle of traditional exterior festive lights, setting up Star Shower Slideshow is so easy you can do it in seconds. With a water-resistant casing, Star Shower Slideshow is safe in snow and rain, so just attach the ground stake and stick it into any soft lawn or garden area where it best suits the exterior of your house, and the indoor base allows you to create amazing party interiors too. Then, plug it into a single electrical outlet and it's ready to go. To use Star Shower Slideshow just choose one of the 12 great slides, insert it and press play- it couldn't be easier! Thanks to the super-efficient LED lights and projection motor, you never have to worry about energy costs, so you can leave your Star Shower Slideshow running as long as the holiday season lasts.
Look Hot For Halloween With Crimes of Beauty
Tis the season to show your mischievous side

Feelin' the Halloween vibe, but don't have the energy to dress up? Whether you're channeling a gorgeous goth or wicked witch, take your spooky look to the next level with Crimes of Beauty! Pick your poison and pair it with avant-garde beauty buys ranging from makeup bags to shirts, sweatshirts, graphic tees, hats and even necklaces from Crimes of Beauty.
Let's face it – you're boo-ti-ful and you know it. Creep it real with the frightful flair from Crimes of Beauty:
All I Care About Is Rosé, Late Nights & Red Lips Women's Crew Neck Shirt: Whether you're hanging on the couch on All Hallow's Eve or feasting on your favorite candy, keep calm and Halloween on with this comfy and uproarious crew neck shirt!
Toffee Apple Ice Cream Created For Halloween
The flavour innovation team at Simply Ice Cream in Kent has created a Toffee Apple ice cream with Halloween in mind.
Simply Ice Cream Toffee Apple flavour is made with real Kentish apple pieces, toffee sauce and crunchy honeycomb pieces, which are combined with autumnal spices in the Simply Ice Cream kitchens. All flavours are made the old fashioned way in small batches by hand, to combine the toffee'd apple mixture with Simply's signature indulgently rich ice cream. All Simply Ice Cream is made using real natural ingredients, all locally sourced (where possible). The result is a creamy caramelised appley flavour, a real taste of Autumn giving a new twist to traditional Halloween fayre.
"Perfect for kids, all our ice creams are made only with natural ingredients and no added preservatives. We actually sell nearly as much ice cream in the autumn and winter as we do in the summer months, and this toffee apple flavour is incredibly moreish. It's interesting enough to enjoy on its own or delicious served with a seasonal pudding like apple tart." Comments Sally Newall of Simply Ice Cream.
The new Toffee Apple flavour will be joining Simply Ice Cream's multi-award winning range for a limited time only. It will be available from mid-August in 120ml and 500ml tubs from regional farm shops, fine food stores, delicatessens, cafes, tea rooms and restaurants across London, Kent, Sussex, Essex and Surrey.
Sally Newall ran a catering business for over 20 years and it was incredible feedback for her homemade ice cream that led Sally to start Simply Ice Cream. That was in October 2005 and Simply Ice Cream now supplies its most popular flavours nationally to over 500 outlets including Waitrose, Ocado, Morrisons and Co-op stores.
The Simply Ice Cream range includes nearly thirty taste sensations, including the award winning Heavenly Honeycomb Crunch, Divine Chocolate, Brown Bread and Stem Ginger and Marmalade, to name only a few. As ever flavour is hade-made from scratch, you can request to have a bespoke flavour made exclusively for an outlet, promotion or special occasion.
www.simplyicecream.co.uk
Jägermeister has launched 10,000 bespoke Halloween 2cl miniatures featuring four mythical characters, 'The Cursed Four', from the 'Things Aren't Always As They Seem' videos.
Keeping to the classic and vibrant recipe of 56 hand-selected herbs, roots and spices, there is no better way to enjoy Jägermeister than in its purest form, served ice-cold and, of course, still in its iconic green bottle, These Jäger miniatures are sure to make your Halloween a spooktacular one,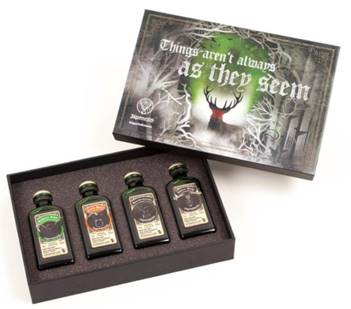 The eye-catching packaging makes the perfect gift or why not give your party an added thrill and have your box on full display for everyone to see.
Beware, these bottles will sell frighteningly fast so grab your limited edition Halloween Jäger now before they're all gone, priced at £9.99 https://www.jagershop.co.uk/limited-edition-halloween-bottles/-/jg-071.
Halloween revellers can also find the exclusive bottles around London as Meat Liquor, London Cocktail Club, Belushi's and Stonegate Pub Company will all offer the bottles.
Add bite to Halloween with Mrs. Renfro's Ghost Pepper products – Mrs. Renfro's Ghost Pepper Salsa, Mrs. Renfro's Ghost Pepper Nacho Cheese Sauce and Mrs. Renfro's Ghost Pepper Barbecue Sauce.
All three are made with one of the hottest peppers on the planet. Mrs. Renfro's Ghost Pepper products are just right for sending the fear factor off the Scoville scale. The heat may terrify your taste buds, while the flavor leaves you screaming for more. Beware…they're scary hot!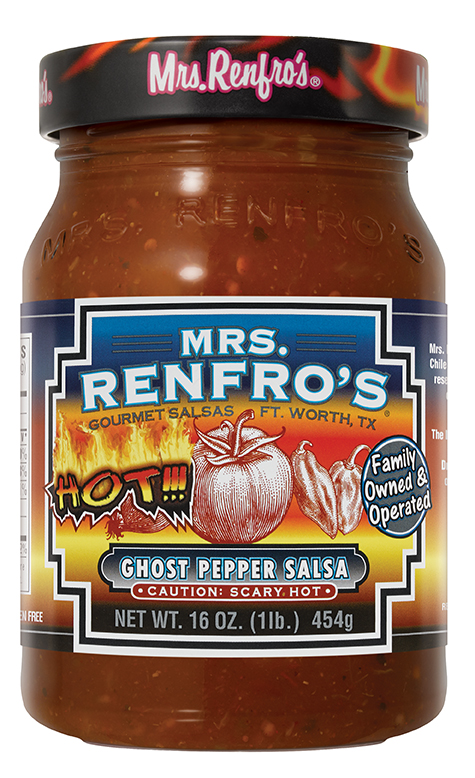 Bakery Lorraine adorable sweets for people of all ages to enjoy. From witch fingers and ghost moonpies, to mummy tarts and pumpkin macaroons, these pastries are the perfect Halloween treat.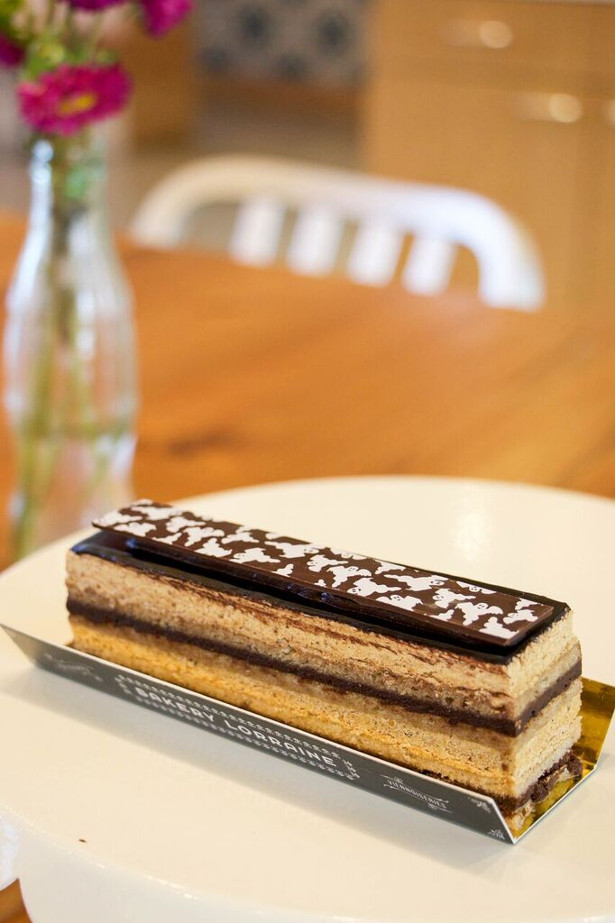 Halloween Sweets at Bakery Lorraine:
The Great Pumpkin Mac -4" macaron shaped as a pumpkin with a pumpkin spice cream cheese filling
Witch Fingers -Éclair filled with pistachio cream topped with a glaze and white chocolate nail
Mummy Tart -Lemon curd filling with a lemon meringue topping
Pumpkin Spice Cake -Pumpkin spice cake with layers of a cream cheese filling
Graveyard Tart – Caramel with chocolate ganache
Ghost Moonpies – Graham cookie with honey marshmallow filling
Gingerbread Voodoo Dolls – Gingerbread cookie decorated with royal icing
Blackberry Cassis Cake – Layers of blackberry mousse, blackberry gelée and joconde cake topped with buttercream, a mini cassis mac and fresh blackberry
Phantom Cake – Layers of a spiced soaked joconde with pumpkin buttercream and dark chocolates ganache topped with a dark chocolate glaze *brandy soak
—
Giant Noise
giantnoise.com
www.halloweencostumes.com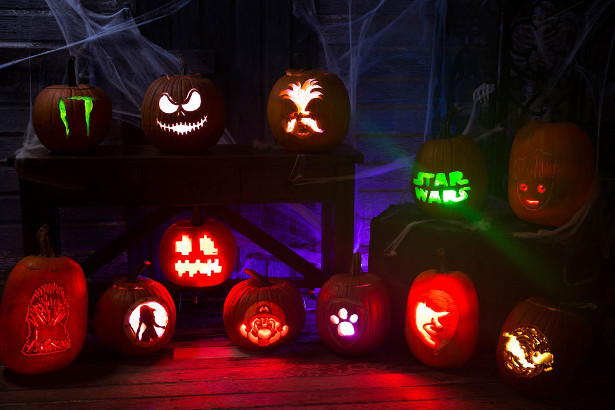 Pumpkin carving is always one of the most fun fall activities. Every year, people carve jack-o-lanterns to display proudly on their doorsteps in the lead-up to Halloween. If you're looking for something to make your pumpkins stand out, look no further because we've designed several free stencils featuring different characters that you may carve and display. This year, ditch the classic design and carve a pumpkin into character this year's top movies like Baby Groot from Guardians of the Galaxy, Pennywise from IT, or Wonder Woman!
You can check out and download all of the new designs below. We've made options that are fun for all ages with a variety of difficulty levels. Kids are sure to have a blast making a Paw Patrol or Trolls pumpkin. For adults, there are designs from TV shows like Rick and Morty and Game of Thrones. Are you up for the challenge of carving an Iron Throne jack-o-lantern? Other favorites include video game characters like Mario and a Creeper from Minecraft along with superhero movies and Star Wars. There's even a David S. Pumpkins pumpkin for those who are feeling extra festive!
https://www.halloweencostumes.com/blog/p-1090-pop-culture-pumpkins-free-stencils-for-all-ages.aspx
Spooktacular cupcakes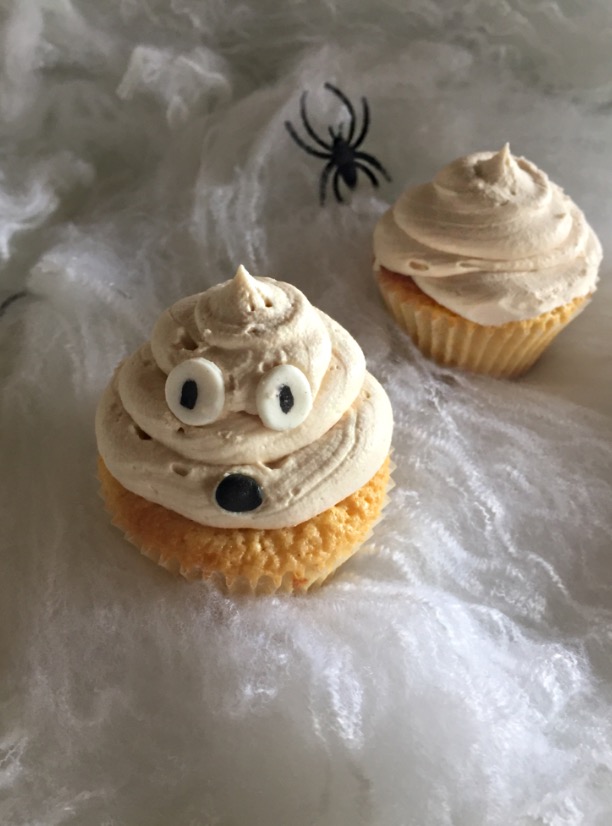 125 grams of unsalted butter (softened)
75 grams white chocolate
1 cup (220 grams) caster sugar
125 ml of milk
75 grams of plain flour
75 grams of self raising flour
1 egg
1 teaspoon of vanilla bean paste (or good quality vanilla extract)
Raspberry coulis
1 1/2 cups of frozen raspberries
1/2 cup of caster sugar
For the eyes and the mouth
A small piece of white fondant
A small piece of black fondant
Black edible pen
Small round circle (we like to use the end of one of our piping tips, around 1/2 cm in diameter)
Buttercream icing
125 grams of unsalted butter (softened)
240 grams of icing sugar
Preheat oven to 170 degrees (340 Fahrenheit).
Line a 12 hole muffin/ cupcake tin with paper cas es (make sure the tin is clean with no traces of any oils from previous bakes, otherwise this will seep onto the cupcake cases).
Melt the butter, white chocolate, sugar and milk in a small saucepan over low heat, stir until all the ingredients have melted.
Remove from heat and pour into a medium bowl, allow to cool for 15 minutes.
Once the chocolate mixture has cooled, whisk in the sifted flour, egg and vanilla. Ensure the mixture is smooth without any lumps.
Be careful not to over whisk the mixture.
Pour the mixture into the cupcake cases, approximately ¾ full. To help pour the mixture we suggest to putting the batter into a piping bag, cut the tip. Carefully pour the batter into each of the cupcake cases.
Bake the cupcakes for approximately 25 minutes, they are ready when a a skewer comes out clean and they are just browning on the edges. 0;
While the cupcakes are baking make the eyes and the mouth.
For the eyes, roll out a piece of your white fondant on a clean board, not too thin but not too thick.
Sprinkle a small amount of corn flour on your work surface if you find the fondant sticks to your surface.
Use your circle to cut "eyes" out from the fondant.
With your fingers make the circles slightly oval in shape.
Set aside to harden, this should take about 10-15 minutes.
Once the white fondant has hardened, use your black edible ink to draw eyes, be careful not to press too hard if the fondant is still a little soft.
Roll out small pieces of black fondant for the mouth, and again make them into an oval shape.
Repeat this process for all the cupcakes you have baked.
Once your cupcakes are done, leave them in the tray, place on cooling racks and cover with a clean tea towel.
This helps to keep the cupcake wrapper from peeling away from the cupcake.
Allow the cupcakes to cool completely.
Using an apple corer (or even a sharp small knife) remove a small section of the inside of each cupcake. Try not to core right down to the wrapper.
Once a small hole has been made in the centre, fill it with the raspberry coulis.
Now frost the cupcakes with the buttercream.
Put a large piping tip into a piping bag (we use an 11 piping tip), add the buttercream.
Starting from the edge, slowly pipe around the cupcake and make your way up to form the "swirl".
Once all the cupcakes are frosted, add the eyes and the mouth
Buttercream
Beat the butter in a mixer (or you could use a hand mixer) until pale.
Add the icing sugar and beat again until very pale, this can take up to 10 minutes.
Raspberry coulis
Place the raspberries and sugar in a small sauce pan on a low heat.
Stir until the sugar has dissolved.
Boil the coulis.
The coulis is ready when the sugar is completely dissolved and it has thickened.
Allow the coulis to cool completely before using.
www.sweetsfortilly.com.au
Splendoorz
Designs to make Halloween come to life.
www.Splendoorz.com
Available Direct on Amazon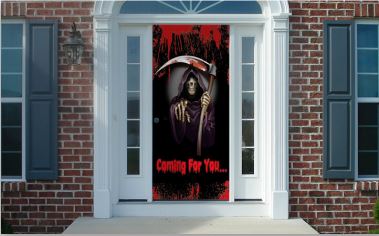 The stunning Grade II listed Crocker's Folly in St John's Wood is hosting a spooktakular craft cocktail range this October, perfect for witches, wizards and other creatures of the night to get together for some frightful fun!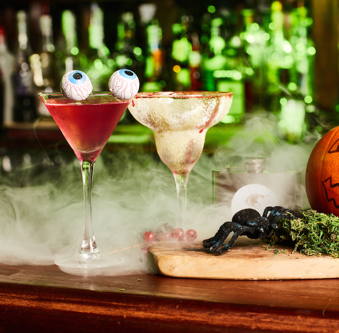 The cocktails from the Halloween collection are available at £9.50 each from 23rd – 31st October, and features fabulously freakish creations including the Witches Brew, an unearthly infusion of gin, egg white, apricot liquor, cranberry syrup ad rose wine, as well as the ominously named Undertaker, a potent potion of tequila, vinegar-shiso syrup, yuzu and apple juice.
Macabre mademoiselles and devilish dandies can enjoy their Instagram-worthy concoctions in what is reportedly one of the London's most haunted buildings. This venue has a history as long, dramatic and littered with ghost-sightings as you could hope for from a former gin palace, with ghostly happenings of its ill-fated founder reported to this day.
Make sure you check out the bar bites menu to partner with your choice of cocktail featuring small dishes perfect for sharing. Must tries include spicy Lebanese sausages sautéed in lemon and tomato sauce; mini shawarma bites; and quinoa tabbouleh.
Be sure to drop in to Crocker's Folly next week to try these ghoulishly good Halloween cocktails!
Delicious Halloween chocolates sold online and available throughout the UK by a delicious Foodtech Startup www.tabl.com and produced by The Cocoa Den a boutique London based chocolatier.

Taking a cue from the modern interiors trend for owls, antique pieces can also be on trend and what's more are a great investment. We have selected some owl themed items which set the tone for Halloween and the cold season ahead:
Wimpole Antiques – Van Clef et Arpels Owl pin – 1960s POA
The Old Corkscrew – Pair of Victorian cast silver novelty owl peppers marked for Sheffield 1897 by Hawksworth, Eyre & Co Ltd. £2,450
M&D Moir – Amazing Secessionist Kralik Corrugated square vase c 4 inches across c1900 in a bronze frame with Owls and handles to each corner. Price £980
The only fair in the UK to work in association with the top two trade associations, BADA (The British Antiques Dealers' Association) and LAPADA (The Association of Art & Antiques Dealers) means that everything is checked by independent experts to ensure that every piece for sale is genuine and correctly labelled.
There is a complimentary interiors and arts talks programme and highlight tours from an independent art advisor. Both are included within the ticket price
From 4pm until 9pm on Tuesday 31st October, there will be an exclusive Preview Event where visitors can have a first view of the incredible array of pieces on offer. Ticket prices for Preview day are £30 while standard advance admission is £15 and £20 on the door.
The Winter Art & Antiques Fair Olympia will take place at the Olympia London, Hammersmith Road, London, W14 8UX.
For more information and tickets please visit www.olympia-antiques.com
Uncover the hidden history and spooky stories behind Mercure Aberdeen Ardoe House Hotel & Spa this Halloween…
Mercure Hotels launches an exclusive 'Fireside Stories' package this Halloween, giving guests a chance to explore the spooky stories and fascinating past of this historic home – including the rumoured White Lady ghost!
Guests can explore the hidden past of the Granite City with a special walking tour designed for Mercure Hotels by local historian Fiona Jane Brown
The tour takes in both historic and haunted sites around Aberdeen
cid:image001.jpg@01D348BD.08E65D10
As the nights draw in and the days get shorter, Mercure Hotels will be offering guests at its Aberdeen Ardoe House Hotel & Spa a chance to book a unique and Autumnal package this year – celebrating the stately home's long and varied history, and giving daring guests a chance to discover the property's rumoured resident ghost, as well as some of the city's spookiest spots.
The former stately home is steeped in rich history, from Kings of Scotland to the rumoured White Lady Ghost who walks the halls at night. This Halloween, guests will be able to explore both Ardoe house and the Granite City on an exclusive walking tour – designed in partnership with local historian, Fiona Jane Brown of Hidden Aberdeen Tours.
Aberdeen itself is rumoured to be home to many ghosts, ghouls and spooky sights, and the walking tour takes in some of the city's enthralling history, as well as some of the more chilling spots for the braver amongst us. Culminating at Aberdeen Ardoe House Hotel & Spa, guests can discover more of the hotel's fascinating stories and try and track down the White Lady herself. Rumoured to be the wife of the previous owner, Colonel Ogston, the ghoulish sightings of Katherine Ogston are recorded by previous guests. Those who do hunt her down can partake in a specially designed nerve-calming cocktail in the hotel's bar afterwards!
The self-guided walking tour is provided as part of a special 'Fireside Stories' package, which includes a self-guided walking map and 'Fireside Tipple' cocktail in Blairs Restaurant, as well as an overnight stay in a newly refurbished Classic bedroom. Guests will also be able to dine in at the hotel and enjoy dinner from a locally sourced menu. The package is available from 19th October and starts from £139 Sun-Thu, £149 Fri-Sat per night.
The 'Fireside Tipple' cocktail recipe is as below:
E.G Rhubald 25ml
Gordons Gin 25ml
Apricot Brandy 15ml
1/2 Clementine Squeezed
1/2 Lemon Squeezed
2 dashes orange bitters
To book the 'Fireside Stories' package at Mercure Aberdeen Ardoe House Hotel & Spa please call 01224 860600 during office hours, or email H6626-RE@accor.com. The offer is available from 19th October 2017 – 30th November 2017.
Halloween is one of our favourite times of year. Not only is it an excuse to dress up, but also to get crafting all kinds of creepy creations.
We love trying new things at Expert Home Tips, so we were very eager to jump on the no-carve pumpkin trend.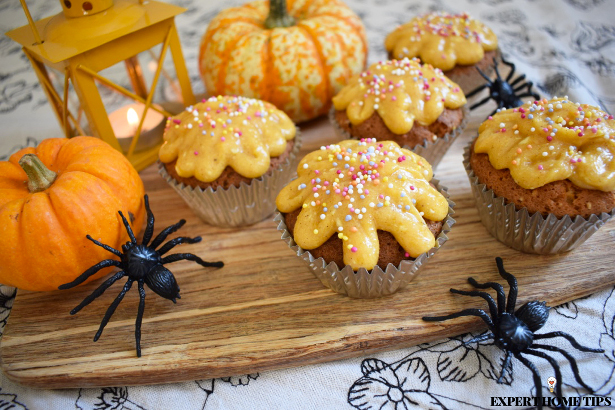 We wanted to make our pumpkin fun and colourful with a side of spooky. We started by painting it a cool, off-white colour. We then added circles of PVA glue, and scattered neon glitter over them. Our pumpkin was starting to look a little like a disco ball, so we bought it back to spooky season by adding a selection of glitter-covered giant plastic spiders – scary!
The final result was extremely eye-catching, and certainly stood out among the carved pumpkins on our road!
Although the design looks complex, it's extremely easy to create at home. Why not try something new with your pumpkin this year too?
The link to the tutorial is: https://experthometips.com/2016/10/18/will-no-carve-pumpkin-make-say-wow/
Here is the text for the cupcakes:
Just like all seasonal events, Halloween revolves heavily around food. You pick up chocolate and sweets just about anywhere, but Halloween cupcakes are much more difficult to find.
We wanted to make our own, special Halloween treats using classic Halloween ingredients in seasonal colours. We baked a tray of classic, vanilla fairy cakes, and topped them with a seriously scrumptious pumpkin spice topping.
The result was the ultimate Halloween treat, which no one could get enough of! Our creepy cupcakes are a must at any Halloween party, and are sure to impress your guests.
The link to the tutorial is: https://experthometips.com/2016/10/18/how-to-make-pumpkin-spiced-cupcakes-perfect-for-halloween/
Passion fruit Pumpkin Lolly
£5.95
www.rococochocolates.com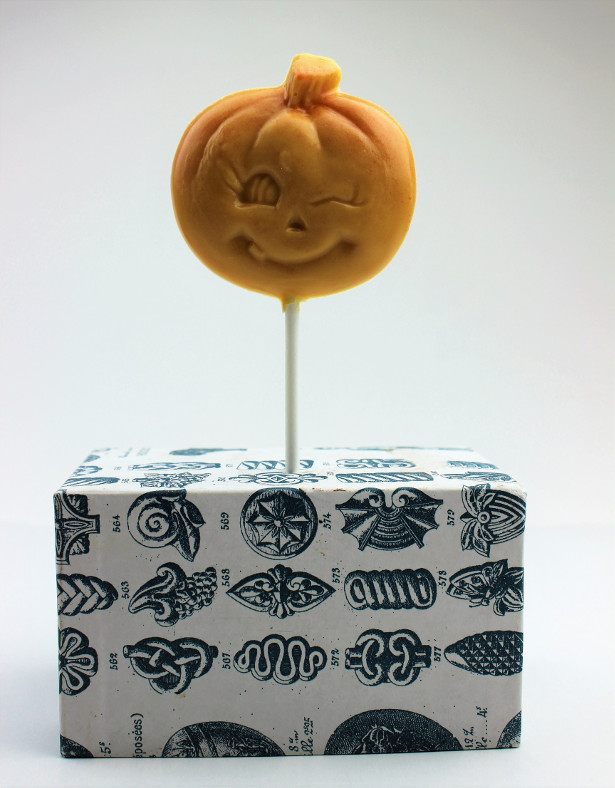 Product Ingredients Product Details Exclusive Halloween pumpkin shaped lolly made from a new Passionfruit Valrhona couverture, which contains no dairy, colours or flavours. Ingredients:Sugar, cocoa butter, dried passion fruit juice (sugar,passion fruit) (17%), strawberry powder, dried glucose syrup, emulsifier:…
For an eerie Halloween outing this half-term, the Royal Albert Hall is holding a special one-off event of The Addams Family in Concert. The 1991 hit movie will make its world premiere at the renowned music venue as it is screened alongside a live orchestra.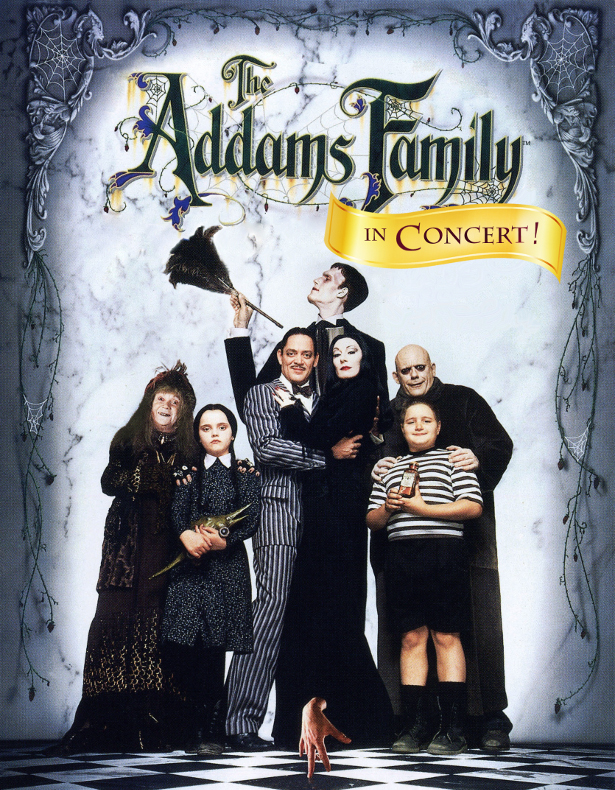 A family classic to be enjoyed by generations old and young; parents who watched it in their youth can enjoy the show and relive its creepy charm with their children. The Addams Family in Concert will bring the film to life in a new and exciting way; performed live the show will introduce children to the orchestra and demonstrate the impact of music at the movies.
No one can mistake the famous theme tune that'll have everyone in the audience clicking along, not just for the performance, but for days to follow. Guests are invited to come along dressed up in their best ghoulish attire to get in the festive spirit.
The Addams Family in Concert is part of the Royal Albert Hall's annual Festival of Film which celebrates the magic of the movies through a month long programme of events. Guests can enjoy an array of events from immersive movie and music experiences to exhibitions and talks. Highlights in the series include family special Albert Band Presents: Heroes and Heroines as well as James Newton Howard. The Festival of Film is running until Friday 3rd November 2017.
The Addams Family in Concert is being screened on Thursday 26th October. To book tickets visit at www.royalalberthall.com
Pin a token of good luck to your outfit this Halloween with this Black Cat Brooch, £5 from from Imperial War Museums Shop

Lucky black cats were carried by many front line soldiers in the First World War and were often taken to the Front Line, where luck and superstition were an integral part of trench life.
Black Cat Brooch, £5, available www.iwmshop.org.uk
High res images available on request.
FAVE FALL DRINK PACKS CALORIES
Pumpkin Spice Latte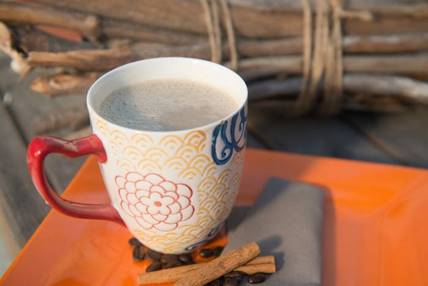 Pumpkin Spice Latte season is back! It's the drink of the season that everyone gets excited about. However, the 2017 Starbucks autumn menu reveals the blogger-fave packs a whopping 337 calories for a Grande Pumpkin Spice Latte with almond milk. If you really wanted to push the boat out, a Venti version with whole milk is 580 calories which is 29% of the average daily calorie intake recommended for women and it contains 38.9g of added sugar – the equivalent of ten teaspoons.
Fans of Starbucks' Pumpkin Spice Latte have already been downing the sweet fall elixir for weeks and this month, Starbucks announced they will be topping the sweet treat with pumpkin spice whipped cream.
Multi-channel retailer, High Street TV, the company that brought NutriBullet to the UK has developed a healthy alternative for autumn that contains just six ingredients and only 86 calories. The seasonal fave contains fresh pumpkin puree, nutmeg (which contains essential oils and boosts skin health), fresh vanilla, honey (which is proven to strengthen the immune system), coffee and unsweetened almond milk.
High Street TV Marketing Director, Francesca Woodward says, "It is scary how many hidden calories are in hot sweet beverages that millions of consumers buy from high street chains every day. We want to encourage people to make fresh, healthy versions at home this winter.
Our NutriBullet Pumpkin Spice Blast is the perfect morning energy boost, it's absolutely delicious and contains real, wholesome ingredients that are not only seasonal but have fantastic health benefits."
The NutriBullet RX, currently £129.99 features a built-in 7-minute heating cycle that creates deliciously warm coffee as well as fresh nutrient-rich soups and sauces. For more information and to see the full NutriBullet range from High Street TV visit https://www.highstreettv.com/
Pumpkin Spice Latte
INGREDIENTS
1 Tablespoon Pumpkin Puree, canned
¼ Teaspoon Nutmeg
¼ Teaspoon Vanilla
1 ½ Teaspoons Honey
½ Cup Coffee, brewed and cooled
1 ½ Cups Unsweetened Almond Milk
DIRECTIONS
Add all ingredients to the SouperBlast Pitcher in your NutriBullet Rx and extract on the 7-minute heating cycle.
If you don't have the NutriBullet Rx, extract in your NutriBullet and heat over the stovetop until warm.
Enjoy!
THE FORUM SHOPPING CENTRE, SITTINGBOURNE
Press release & photo opportunity – Saturday 21st October & Saturday 28th October: 11am until 4pm
Something wicked this way comes to The Forum Shopping Centre
Sittingbourne shoppers are in for a 'frighteningly' good treat this October half term as The Forum Shopping Centre is set to host a haunting extravaganza.
iStock-589117744Kicking off the fun on Saturday 21st October, The Forum Shopping Centre's charity of the year, Demelza Hospice Care for Children, will be hosting an exciting 'witch's broom toss'. The competition involves a ghoulish obstacle course and sees the top scorer receive a Halloween prize.
ArrivaClick, Sittingbourne's new on-demand minibus service, will also be providing a free treasure hunt throughout the day. Youngsters can search the centre for ghostly minibus posters hidden in shop windows and, once all posters have been spotted, collect a sweet treat from ArrivaClick's dedicated stand within the centre.
The Halloween half term fun continues or Saturday 28th October as the centre will be hosting a free creepy crawly roadshow. Between 11am and 4pm shoppers can get up close with a number of critters including giant spiders, snakes and snails – perfect to help get children into the spooky spirit just in time for Halloween.
Furthermore, the centre's annual Safe Trick or Treating event will be taking place throughout the day where 'little monsters' are able to hunt around the centre and find spooky themed posters in shop windows in return for free sweets.
The Forum will be hosting a fancy dress competition on Saturday 28th October which invites the town's youngsters to dress up in their scariest outfits for the chance to win a selection of Halloween themed treats. Not to forget the grown-ups – a free adult's face painter will be on hand from 2pm until 4pm to help transform shoppers into the devilish character of their choice – perfect to finish of Halloween party outfits.
Finally, throughout the Halloween period from Saturday 21st October until Saturday 28th October, the centre will also be inviting its Facebook followers to snap a photo of themselves by The Forum's spooky backdrop and upload it to www.facebook.com/TheForumCentre to be in with a chance of receiving a special £20 voucher courtesy of Peacocks.
Monica Rana, Centre Manager at The Forum Shopping Centre, commented:
"The Halloween season is well and truly here and I'm delighted we're able to host two weekends of 'spook-tacular' fun. Our annual Safe Trick or Treating hunt is always a hit with local parents as it great offers them peace of mind that their children are enjoying Halloween in a safe and secure environment. The Creepy Crawly Roadshow is an added edition to this year's event and I'm very much looking forward to meeting our reptile VIPs."
Crimes of Beauty is a dark, slightly naughty and oh so devilishly delightful line of clothing & apparel
As the years go by, adults tend to love Halloween and all things fall more and more…yet the desire to come up with a costume slowly fades away. Crimes of Beauty is a dark, slightly naughty and oh so devilishly delightful line of clothing & apparel will help you slip into the festivities this year without the need for an itchy wig cap and face paint. What started out as a passion project has quickly become a cult following in the beauty industry. Whitney Bansin, creator of Crimes of Beauty, is the criminal mind behind this bold brand. Express your obsession with all things makeup and glam with the fiery, cutting-edge apparel and accessories from! Featuring clever and creative sayings teasing the "parodies" of the beauty industry, this fashion line speaks to the urban girl who effortlessly pulls together a stylish outfit with a side serving of sass.
This year if you're feelin' the Halloween vibe, but don't have the energy to dress up, no worries! Whether you're channeling a gorgeous goth or wicked witch, take your spooky look to the next level with Crimes of Beauty!
Pick your poison and pair it with avant-garde beauty buys ranging from makeup bags to shirts, sweatshirts, graphic tees, hats and even necklaces…
Slay Jogger: Vampires slay. Werewolves slay. So doesn't that mean YOU can slay?
All I Care About Is Rosé, Late Nights & Red Lips Women's Crew Neck Shirt: Whether you're hanging on the couch on All Hallow's Eve or feasting on your favorite candy, keep calm and Halloween on with this comfy and uproarious crew neck shirt!
Bitch Face Baseball Cap: Channel your inner Wednesday Addams while you hand out candy all night long in this unmerciful, black Bitch Face baseball cap.
Ghosts busted: Beyond the Fear
Veteran award-winning daily newspaper editor Don Allison, prompted by personal experience, has tackled an improbable topic. His latest book is "I Met a Ghost at Gettysburg: A Journalist's Journey into the Paranormal." This book takes a hard look at an often trivialized topic.
Allison concludes that testimony and evidence from throughout recorded history proves beyond a reasonable doubt that ghosts, or energy giving us the impression of ghosts, do indeed exist. People of impeccable reputations, with no reason to lie, have sworn to paranormal encounters.
For whatever reason – perhaps fear, perhaps superstition – many people refuse to even consider the possibility of spirits and belittle those who do share their experiences. "I Met a Ghost" goes beyond the fear and the superstition, challenging us to look at the science behind it all.
Allison used to be among those devout skeptics, even going so far as to doubt his own grandmother's claims of experiences in a haunted house. But after encountering the unexplained many times, he reluctantly concluded he indeed has experienced the paranormal. Eventually, after what he described as a mind-blowing paranormal encounter at Gettysburg, Pa., he could contain his curiosity no longer. He decided to write about his experiences, and to go a step further – to share the science behind what he has encountered.
The result is the latest volume from Faded Banner Publications, "I Met a Ghost at Gettysburg: A Journalist's Journey into the Paranormal."
This is not a collection of ghost stories. Any incidents Allison relates are actual personal experiences, viewed through a skeptical eye and analyzed as actual evidence. He would like to convince people to embrace and investigate – certainly not fear – the paranormal.
In his review of the book, noted paranormal investigator and author Mark Nesbitt wrote: "Great read. Very entertaining … I think you've created an 'Everyman's' explanation of paranormal experiences. Most people ignore or rationalize away true paranormal events. Your book covers the many types of paranormal events AS paranormal events, and explains how you came (reluctantly, in some cases) to those conclusions."
Contact Don Allison at 419-636-2719 or don@fadedbanner.com
"I Met a Ghost at Gettysburg: A Journalist's Journey Into the Paranormal"
ISBN 978-0-9659201-5-5; 128 pages; Illustrated; Available at www.imetaghost.com