Give the gift of sleep this year with the ultimate soothing equation!
Sleep Mist + Calm.com = Sweet Dreams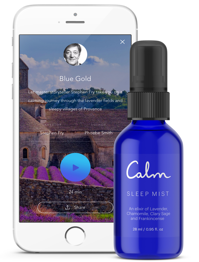 INSTAGRAM | FACEBOOK | TWITTER | PINTEREST
Sleep Mist was developed by Calm's innovation team, which tested over 1,000 formulations before arriving at the final, perfect blend – an elixir of lavender, chamomile, clary sage and frankincense.
A subscription to Calm Premium which unlocks 30+ Sleep Stories, a new meditation every day, and advanced mindfulness programs, costs £9.99/month; £35.99/year; £299/lifetime. Users can have a seven-day trial, including one Sleep Story, for free.
Give the gift of sleep and subscribe to Calm itself as an unusual and thoughtful offering.