GIVE YOUR HAIR A GORGEOUS GIFT THIS VALENTINE'S DAY

TWITTER | FACEBOOK | INSTAGRAM
If it's a hot date with the man of your dreams, or a night of pampering, Phil Smith BE GORGEOUS is on hand to make your hair look and feel gorgeous…
SUPER SMOOTH SHAMPOO – £3.50
This straightening shampoo is your fiercest weapon against kinks and frizz. The Keratin proteins help to straighten and add shine for a groomed and glossy finish. Your hair will be as smooth as your man!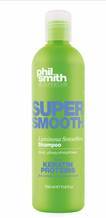 TOTAL TREAT ARGAN OIL CREAM – £4.00
The treat your hair has been asking for. This oil-in-cream treatment will miraculously transform the texture of your hair into lustrous silky locks. It helps lock in moisture to heal dry, damaged hair and restore smoothness. Prepare to be amazed by the gloss and gorgeousness.

GLAM SHINE GLOSSING SERUM – £4.00
This intense shine serum is the saviour of many a bad hair day. Just a couple of drops will transform frazzled hair into groomed, glossy perfection. The ideal handbag companion

TOTAL TREAT SHAMPOO & CONDITIONER £3.50 each
This coconut scented moisturising and strengthening shampoo helps restore damaged, dry and coloured hair to silky smoothness. Moroccan Argan Oil helps to repair and protect from heat damage whilst adding shine.
The coconut scented ultra-rich conditioner delivers top-level pampering for damaged, coloured and stressed out hair. Moroccan Argan Oil helps repair and protect, leaving locks shiny and soft.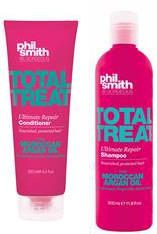 All are exclusive to Sainsbury's stores nationwide.