G&T BUT HOLD THE G!
KEEPR'S LAUNCHES ULTRA LOW ALCOHOL G&T RTD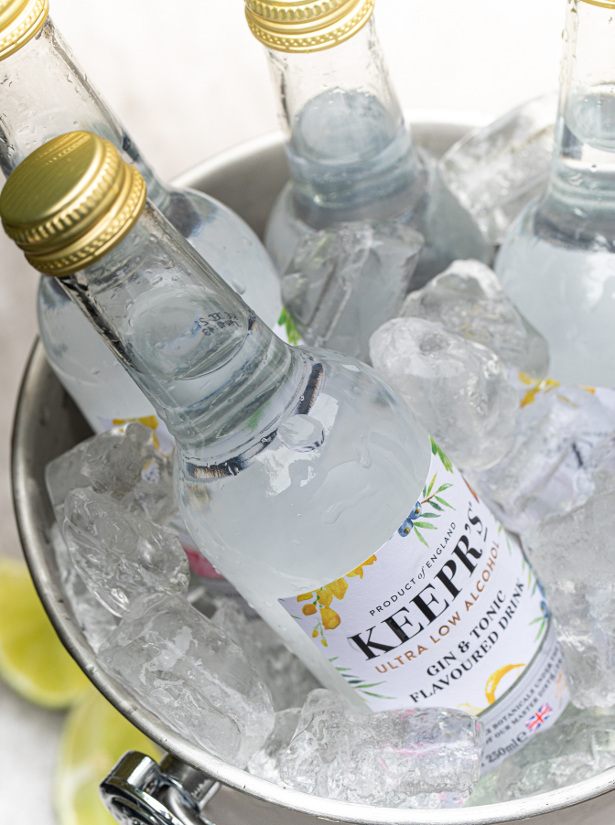 FACEBOOK | TWITTER | INSTAGRAM
For those times when you want to go less heavy on the alcohol but without sacrificing on flavour, The British Honey Company, the producer of Premium British honey-infused spirits brand, Keepr's, has launched its first Ready-to-Drink (RTD) and ultra-low alcohol option.
Keepr's Ultra Low Alcohol Gin & Tonic flavoured drink tastes as good as the real thing but with only <0.5% ABV. Infused with 12 carefully balanced botanicals and an added splash of the company's signature 100% British honey from its own fully traceable hives, the company's Master Distiller, Jamie Baggott, has expertly created this truly satisfying low alcohol G&T RTD with all the refinement of Keepr's award winning spirits.
The hints of coriander and cardamom add herbaceous and spice notes while natural quinine delivers the distinct flavour of a classic gin and tonic. Plus, the complexity of juniper and citrus gives it a clean and crisp taste. It's the G&T hit you need without the booze and the effort of measuring and mixing. Convenient and deliciously refreshing, the new launch comes ready to drink in a 250ml glass bottle or can be poured over ice with a wedge of lime and sliced fresh ginger.
Whether you are a designated driver at a socially distanced BBQ or you are simply trying to cut back on alcohol and sugar this product allows you to explore your sober curiosity. It's perfect for all those on-the-go occasions (when social distancing eases) as well as picnics in the park or it can simply be poured over ice to enjoy at home or in the garden when you fancy a fuss free G&T.
Available now via the Keepr's website and through Amazon. 250ml glass bottles. RRP £2.75. Cases of 12.