Halloween!!!!!!! This is so perfect! Day of the Dead beer range!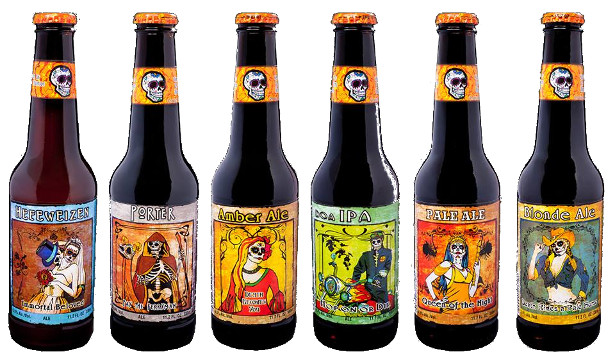 Pierhead Drinks Ltd., the official importer of the Day of Dead beer range. Have a look at their website for further information: www.pierhead.uk.com/brandsother-beers
The Day of the Dead range is available on beer specialist websites such as:
BEERS OF EUROPE www.beersofeurope.co.uk/mexican-beer
AMAZON UK www.amazon.co.uk/Day-Dead-Beer-Bottle-Mixed/dp/B00N0XTR0S
ALES BY MAIL www.alesbymail.co.uk/browse-by-brewery/day-of-the-dead/day-of-the-dead-amber-ale
This range consists of 8 different craft brews in the standard range and seasonal brews added through the year. The Range includes Pale Ale, Blond Ale, Amber Ale, Hefeweizen, Porter, IPA, Double IPA and a Chocolate Stout. These beers have seen great success within the Mexicali family. For 3000 years the Aztecs honoured the unique character of the deceased individuals in an annual celebration. Ceremonies included using parts of the skeleton, most commonly the skull, relatives placed native marigolds in the eye sockets to reflect the life that once was. Today the festive holiday is a celebration of life. Day of the dead beers are made to celebrate life and honour the traditions of this great holiday.