HALLOWEEN TREATS (NO TRICKS!) FROM CO-OP www.coop.co.uk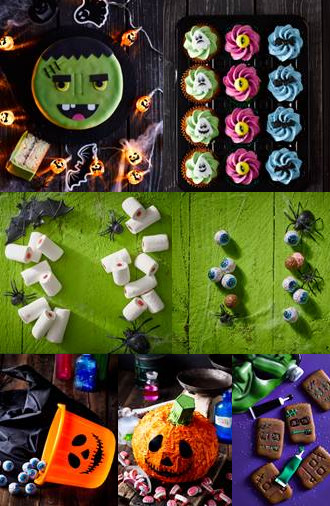 TWITTER | FACEBOOK | YOUTUBE | LINKEDIN | INSTAGRAM
Halloween is creeping up on us and this year at Co-op there's even more petrifying party favourites for entertaining big and little monsters.
Whether it's sweets for visitors that come knocking, party decorations or yummy treats for the family, Co-op has everything you need for a hauntingly successful Halloween.
Party Essentials:
Co-op Pumpkin Piñata, £6.00
Fill with tasty treats or tricks for the little monsters.
Co-op Frankenstein Cake, £6.00
Vanilla flavoured sponge filled with a layer of gooey raspberry jam and buttercream, covered in gruesome green icing and topped with edible decorations.
Co-op Irresistible Grecula 75cl, £6.99
From Benevento – a region steeped in witchcraft and magic, this award-winning Italian white is much more than just a label with honeyed-rich notes of lemon and tone fruits.
Co-op Zombie Head Jug,
Serve up terrifying tipples in this novelty jug. Perfect for parties it's guaranteed to be the finishing touch to your authentic decorations.
For 'Trick or Treaters':
Co-op Halloween Cupcake Platter 12s, £6.00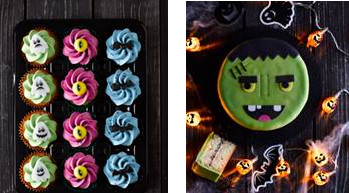 12 spooky assortment of sponge cupcakes. Choose from chocolate sponge with blue frosting and vanilla sponges with either green or pink icing and ghoulish ghosts and icky eyeball toppings.
Co-op Mallow Bones, £1.00
These marshmallows 'bones' have a gooey red 'marrow' centre. Perfect for trick or treaters, if you don't eat them first.
Co-op Gooey Candy Eyeballs, £1.00
Back by popular demand, creamy milk chocolate balls filled with a gooey strawberry jam centre and a sprinkling of popping candy in the centre.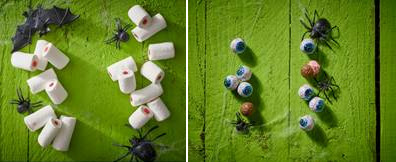 FULL HALLOWEEN RANGE LIST
Non-food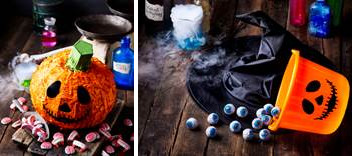 Co-op Pumpkin Piñata each £6.00
Co-op Halloween Face Paints each £2.00
Co-op Spiders in a Web each £1.00
Co-op Halloween Monster Mask each £2.00
Co-op Halloween Devil Mask each £2.00
Co-op Halloween Vampire Mask each £2.00
Co-op Pumpkin Carving Set each £2.00
Co-op Halloween String Lights each £3.00
Co-op Halloween Bucket each £1.00
Co-op Halloween Balloons 10pk £1.00
Cakes
Co-op Frankenstein Cake, £5.00
Co-op Creepy Cupcake Platter, £6.00
Co-op Creepy Cupcakes Twin Pack, £1.50
Co-op Freaky Mini Fairy Cakes x 12, £2.00
Confectionery
Co-op Frankenstein's Brains, £1.00
Co-op Dracula's Fangs, £1.00
Co-op Popping eyeballs, £1.00
Co-op Pumpkin and tombstone net, £1.00
Co-op Mallow bones, £1.00
Co-op Pumpkin in top hat lolly, £1.00
Co-op Ghost with lantern lolly, £1.00
In-store Bakery
Co-op Creepy Cats grab bag, 8 pack, £1.00
Co-op Pumpkin Spiced Brownie, 8 pack, £1.00
Co-op Gingerbread flapjack grab bag, 8 pack, £1.00
Co-op Frankenstein DIY Kit, £2.00
Co-op Scary doughnuts, 2 pack, £1.00
Co-op Spooky Stars, 8 pack, £1.00
Co-op Pumpkin DIY kit, £2.00
Co-op Gingerbread pumpkin lollipop, £TBC
Co-op Gingerbread Pumpkin heads grab bag, 8 pack, £1.00