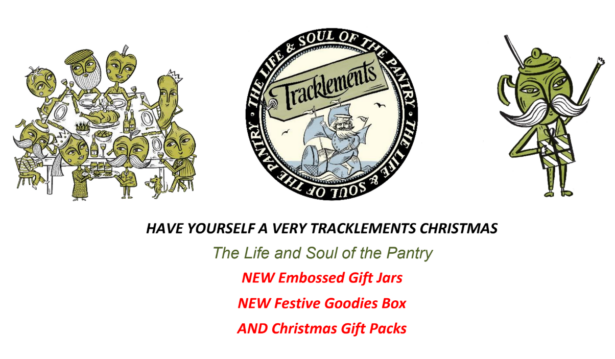 The NEW Tracklements Embossed Gift Jars have landed, just in time for Christmas. Vegan and gluten free they make a perfect stocking-filler for food-loving family and friends. You can also delight in just how quickly and easily these jars can pump up the flavour of all your festive spreads, leftovers and any sneaking snacks you're planning to serve in between.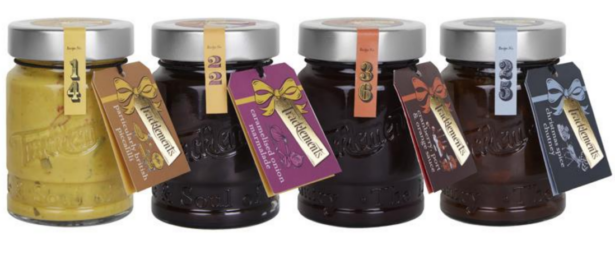 Buy all four (the best plan) or take your pick from:
• Particularly British Piccalilli, 315g, RRP £6.80 – the sharpness and crunch from this traditional British condiment is an absolute must for cheese boards, meats and crusty pork pies
• The one, the only, the original Caramelised Onion Marmalade, 400g, RRP £6.80 – made with a splish of redcurrant juice for a pleasing tang. This marvel adds cheer to your cheese and brilliance to your bangers
• Cranberry, Port & Orange Sauce, 370g, RRP £6.80 – this simply makes every festive dish, whether main or side, tastier and takes a quick Boxing Day supper of toasted cheese to a new level
• Christmas Spiced Chutney, 370g, RRP £6.80 – with the delicious aroma and sweet flavours of whole cranberries, paired with English apples and warm spices, Christmas Spiced Chutney is, quite literally, the taste of Yuletide all wrapped up in a jar. Add yet more quick and easy flavour to a honey-glazed ham and enjoy liberally with a variety of cheese, cold cuts and pies
The NEW Tracklements Festive Goodies Box, RRP £23.05, is a splendid gift for foodies filled with Christmas joy. Simply order directly from www.tracklements.co.uk and the Tracklements' elves will pack up these planet-friendly products in biodegradable bubble bags, cushioned by vegetable starch curls (which disappear in water!) in a Yum Yum Yum box and drop it down your chimney right on time.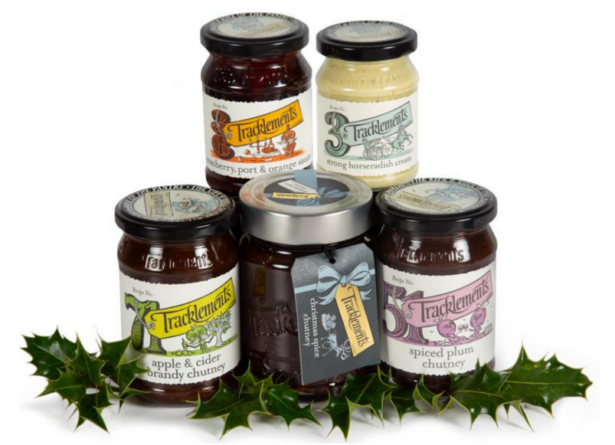 • Christmas Spiced Chutney, (new embossed jar, 370g) – Plump cranberries, Bramley apples and a host of warming spices including nutmeg, cinnamon, ginger and allspice are carefully combined to create this cornerstone of every festive pantry. It's impossible to contemplate Christmas Day leftovers without it!
• Cranberry, Port & Orange Sauce, 210g – Rather delicious for dunking, dipping and dousing, this bright, fruity sauce is Christmas in a jar. Made with whole cranberries, the tingling tartness cuts through rich meats like pork and goose – either on the side or as a marinade – is perfect for dipping a leftover roastie, and loves a turkey sandwich
• Apple & Cider Brandy Chutney, 320g – Made with Kentish Bramley apples and a liberal measure of Somerset cider brandy for a boozy kick, this is indecently good with roast pork, flinty Cheddar, blue cheeses and pork pies
• Spiced Plum Chutney, 310g – Dark, rich and fragrant, sharp fruity Stanley plums are mixed with fresh orange zest and subtle spices to create an absolute Boxing Day crowd pleaser spooned, drizzled or dolloped over pâtés, terrines, pork pies, and cheese
• Strong Horseradish Cream, 140g – Never be shy with horseradish! Generous amounts of this fiery foil turn the Boxing Day Roast Beef centrepiece, or left over slivers in a sandwich, into a distinctly British treat
Tracklements Festive Four, RRP £15.00: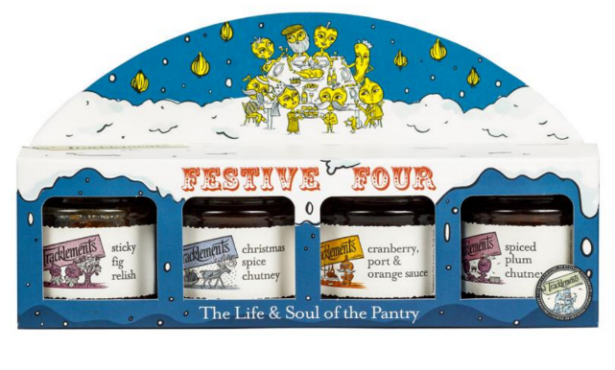 • Spiced Plum Chutney, 90g
• Christmas Spice Chutney, 90g
• Cranberry, Port & Orange Sauce, 110g
• Sticky Fig Relish, 110g
These four jars of fantastic festive flavour are ideal for the Big Day alongside the Turkey, Duck or Goose and bring delight and flavour in equal measure to the Boxing Day spread
Tracklements The Cheese Collection, RRP £18.20: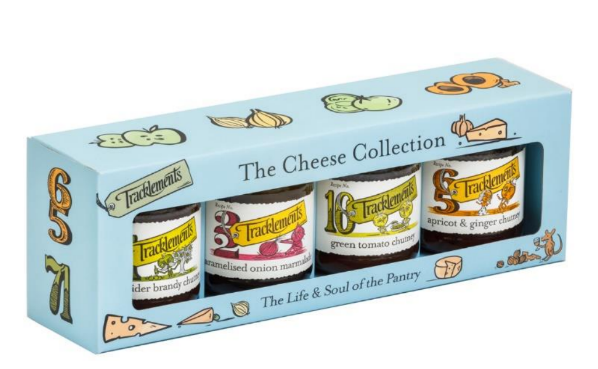 • Apricot & Ginger Chutney, 220g
• Apple & Cider Brandy Chutney, 220g
• Caramelised Onion Marmalade, 250g
• Green Tomato Chutney, 220g
Simply the fab four cheese pleasers for lovers of ALL
cheese!
The NEW Tracklements Embossed Gift Jars, Tracklements Festive Four and The Cheese Collection are available from fine food delis and farm shops nationwide and online at www.tracklements.co.uk
@tracklements #tastytracklements #LifeandSoulofthePantry