HEAD & SHOULDERS LAUNCHES
SUPREME PURIFY & VOLUME: 'SKINCARE FOR YOUR SCALP AND HAIR'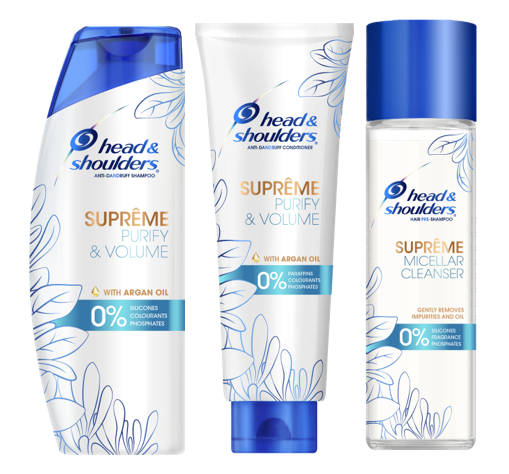 Head & Shoulders launches its first three-step haircare regime inspired by skincare. Peek inside the bathroom cabinet of anyone skincare savvy and it is likely you will find a bottle of Micellar Cleanser, a quick fix, that gently melts off make-up and dirt from the skin with zero irritation. As the skin on your scalp is the same as the skin on your face, applying a targeted approach with multiple steps using products full of active ingredients, delivers superior results.
Experts in achieving a healthy scalp and beautiful hair; Head and Shoulders introduce an innovative Micellar Cleanser in the Supreme collection, designed as the perfect pre-wash hair treatment in the shower to deep cleanse your scalp and hair, preparing it for the NEW Supreme Purify & Volume Shampoo, which is silicone free and the Supreme Purify & Volume Conditioner. Both contain active ingredients to improve the overall condition of the scalp by targeting dryness, flaking and itch and are packed with nourishing extracts, including Argan Oil to leave hair looking beautiful and with a delicate fragrance of dewy florals, white musk and precious woods. With over a third of women in the UK having fine hair, the new collection leaves the scalp and hair, healthy and with an added boost of volume.
The three-step regime has been developed to address the challenges both women and men are experiencing with their at home hair washes. Brand ambassador Claudia Winkleman says "There's nothing worse than being told 'you've got to add this to your regime', but this is super easy. You just use the micellar cleanser and your scalp feels delicious! Then you shampoo and condition as normal!"
Dr. Rolanda Wilkerson, Principle Scientist at Head & Shoulders, comments: "We have over 70 years of research and expertise in skincare, hair and scalp care, and we know that to have healthy and dandruff free hair now, and in the future, you need the scalp to provide a strong foundation. A healthy scalp is the first step for beautiful hair.
"The micellar cleanser in the Head & Shoulders Supreme Purify & Volume range is a game changer. Micelles are the ideal ingredient for a first step cleanser and that's why they have become a staple part of the skincare regime for women everywhere. They are large water-activated cleansing complexes that absorb excess dirt, residue and particles that skin – and hair – pick up from the world around us. They won't penetrate beyond the hair's fibre surface so the hair nutrient structure remains intact and the effectiveness of the cleanse prepares the scalp and hair to receive goodness from what comes next."
Dr. Antonella Tosti, Dermatologist from the Healthy Hair and Scalp Alliance comments: "Your skin does not end where your hair starts! The general makeup of our scalp skin is the same as the skin on the rest of our body and it is susceptible to same issues. Dirt and impurities build up on the scalp through exposure to the environment and day-to-day activities, adding to the natural production of sebum. This means it is very important to have a regular scalp care regimen, so you can keep the scalp as healthy as the skin on your face and body. A healthy, strong scalp will encourage the growth of healthy and vibrant hair."
The new Head & Shoulders Supreme Purify & Volume collection is available now nationwide, exclusively to Superdrug. Recommended retail price* is [£4.99] for the micellar cleanser (250ml), [£4.99] for shampoo (200ml) and [£4.99 for conditioner (275ml).
Head & Shoulders is the UK's #1 anti-dandruff shampoo brand. Follow us on Instagram @headandshoulderseu